Islander Choreographs and Stars
Islander Brieanna Bailey (19) will choreograph as well as appear in the Starry Night Theatre production of Anything Goes opening this weekend in North Tonawanda. Passengers find love aboard the S.S. America, to the tune of Cole Porter's most glorious score in this classic musical. Ms. Bailey will appear as 'Bonnie', the sidekick of Moonface Martin who are hiding out on board, trying to avoid the long arm of the law. .
Bailey has been actively involved in the theatre since 1995 when she appeared as an orphan in Oliver!. Since her debut, Brieanna has appeared in over 11 productions with the Starry Night Theatre company and over 28 productions in all. Brieanna has appeared on the stages of Martin's Fantasy Island as well as Six Flags Darien Lake. In 2003 she was honored with a scholarship to help support her education in theatre from Starry Night. Brieanna is an alumnus of Grand Island High School and is currently a sophomore at Niagara University working toward her bachelor's degree in theatre.
Shows are August 5-15 Thursday-Saturday evenings at 8:00 and Sundays at 2:00 at the Ghostlight Theatre, 170 Schenck Street, North Tonawanda. Call the theatre for more information at 743-1614.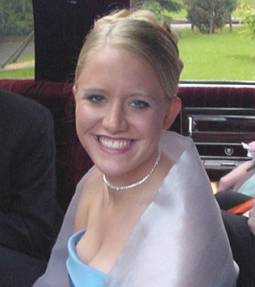 Brieanna Bailey appears as Bonnie in Anything Goes