GI Chamber Expo 2000
More than thirty-five businesses and civic organizations displayed their wares at the ninth annual Grand Island Chamber of Commerce Business and Community Exposition, last Saturday (Oct.28), in the Bible Presbyterian Family Life Center on Love Rd.
It was "a good time and a good show" according to Event Committee Chairman Rod Reisdorf, who was very pleased with the event. The Chamber is doing a follow-up survey of exhibitors to see how they can improve the event according to Reisdorf.
"The Expo was great. Quite a few (exhibitors) want to come back next year," said Chamber member and exhibitor Betty Harris of Metro Town Realty. Click here to see Betty Harris' Letter to the Editor.

Business was brisk at all the booths, including the one for IsledeGrande.com, the only source for Grand Island E-News. Editor Teddy Linenfelser, Reporter William O'Connor, and Kim Baldassare, president GIECOM.net, were busy showing off Grand Island's newest business. Grand Island E-News was introduced to hundreds of interested people. The staff also handed out coloring contest sheets (contestants, please see rules), the GI-E-News, note pads and raffle tickets for a new 500 MHz computer (all of which are still available at 1871 Whitehaven Rd.).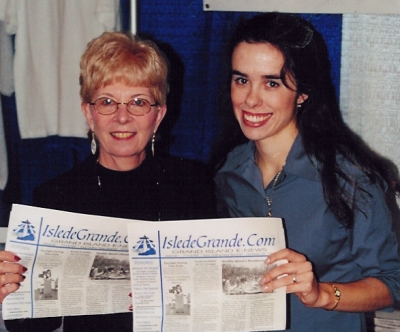 Teddy Linenfelser and Kim Baldassare show off
Grand Island E-News at the Expo. (photo by Fred Claus)

Aside from the display booths there were snacks (including kettle corn), fashion shows, and other entertainment. The Historical Society fashion show featured clothing from the 19th century.

Dianne and Layman Jones of Buffalo sport formal wear (foreground);
Julie Dee of Ransom Rd. wears a 19th century wedding dress.
Historical Society member Marilyn Randolph was the commentator. (Photo by Barbi Lare)
---
Other Grand Island Pages to Visit:
| Businesses | Churches | Email Directory | Government | Groups |
| GIHS Gradlist | Guest Book | Please sign in! | Local Artists | New! Photo Album |
| Recreation | Schools | Seneca Law Suit | Town History | UsefuLinks | Weather |
| Website Design | Wildlife | Home Page - Frames |

This website is sponsored by GIECOM.NET
1871 Whitehaven Road, Grand Island, New York, 14072-1803 USA
Copyright © 1995-2000 All rights reserved.