Grand Island Corporate Bowl 2001
Contact
Doug Dohn
---
GISBA Makes It Happen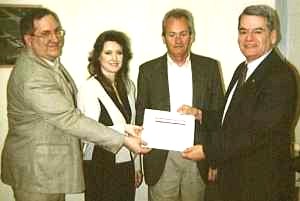 Thanks to the generosity of Corporate Bowl contributors a certificate and check for $8000 from the Grand Island School Business Alliance (GISBA) was presented to the school district. From left: Corporate Bowl organizers Doug Dohn from Fujisawa Healthcare, Deborah Robbins from American Pharmaceutical Partners, and Charlie Burngasser from Fujisawa with Superintendent Paul Fields.


---
Corporate Bowl raises $7000 for scholarships


First Place Team, Eternal Champions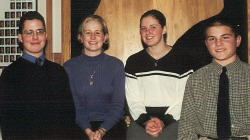 Second Place Team, The Mighty Dorks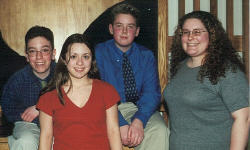 Third Place Team, Team Five
Barbi Lare photos

By Lee Cohen
Now in its third year Corporate Bowl, under the sponsorship of the Grand Island School/Business Association (GISBA), was able to increase by $4000 from last year the money available for student scholarships, thanks to the generosity of Grand Island and surrounding area businesses.
Sponsors of this year's contest, held Tuesday, March 20, were American Pharmaceutical Partners and Fujisawa Healthcare, Inc., in conjunction with the high school and Dr. James Dempsey, principal. The first place prize, $4000, will be shared among the members of the Eternal Champions team: Anna Czapla, Jennfer Falvo, Scott McMichael and Satyugit Virk.
The Mighty Dorks, in second place, will split $2000. They are Drew Armusewicz, Christian Dommell, Danielle Henry and Katherine Yaksich. Third place winners, Team Five, will receive $1000, to be shared among Nicholas Hahn, Robert Kujawa, Lauren Mergel and Anna Quider. Co-chairmen of the event were Douglas Dohn, Fujisawa Healthcare, Inc., and Joseph T. Ippolito, from American Pharmaceutical Partners, Inc. Several high school faculty members lent their talents to make the evening a success. They were Claire Cieslewicz (science) and Carrie Earnst (social studies), judges; Tim Williamson (social studies), moderator; Andrew Bowen (math) and Julie Johnson (social studies), scorekeepers; Cindy Wynne (art), program.
The teams that competed Tuesday night had emerged victorious from a preliminary round the week before with five other teams. They were the True Level Fours: Lillian Choi, Cynthia Czapla, Joanna Micco and Shannon O'Brien; The Crazy All-Star Knowledgemeisters: Jennifer Bullock, Jack Burns, Dan Kurzdorfer, Jacob Lange and Kevin Rader; Four Average Guys: Nate Maerz, Brett Rimes, Peter Sabatowski and Christopher Smith; Powersauce: Sally Head, Michelle Kalisz, Nicole Kalisz and Nicole Tourot; and Revenge of the Yetti: Ted Lee, Bryan Mesmer, Brad Namaste and Stephen Pfetsch.
The three rounds of questions both nights came from the areas of current events, science, history, geography, music, vocational/trades, languages, art/literature, people, sports and art. In addition there were a number of questions dealing with Grand Island history and politics. In addition to Fujisawa and American Pharmaceutical Partners, other companies contributing to the success of the program included Life Technologies, J&M Instrument Service, Inc., Ad Impressions, JF Machining Co., Inc., K&K Janitorial Service, Inc., Clawson Electric, Inc., First Niagara Bank, Tonawanda Environmental Corp., Precision Scale and Balance, Eaton Office Supply Co., Inc., MJ Mechanical Services, Wayside Landscape & Nursery.
Also Holiday Inn of Grand Island, The Rotary Club of Grand Island, HSBC, Grand Island Autotech, Wynne & Wynne, CPA, BOC Edwards, Delaware AV, Cinta's Corporation, Lehigh Construction Group, Inc., Sonitrol, DiVal Safety Equipment, Dobmeier Janitor Supply, Inc., Wendel Duchscherer Architects & Engineers P.C., Grand Island Optical, Century 21, Hopkins Sq. Reality.
Providing in-kind donations for students were China Wok, Subway, Pizza Hut, The Village Inn, Jaco's, Residence Inn, Buffalo Marriott, M&T Bank, Absolute Paradise, Wavelengths Hair Design, Gelose Flowers, Eckerd Drugs, Monroe Muffler, Soft & Shine, Fantasy Island, Buffalo Bisons, Grand Lady, Island Pools, True Value Hardware, Chamber of Commerce. Also Maria's Hallmark, Eddie's Art Shoppe, East Coast Images, Dival, Hector's Harware, Starline USA, X-press Dry Cleaners, Jackson Music, Fujisawa, The Limousine Service, Tops Markets, World Duty Free, Picasso's Pizza, Scott Aladeen, Rich Nassert, Vic Nole, Frontier Catering, Island Dispatch, Island Tanning, GIECOM.NET Inc., American Pharmaceutical Partners and Life Technologies.
The Fujisawa Health Care Corporate Bowl team included Tim Call, Ryan Downey, Linda Isenhart, Tony Nicola, Frank Queeno, Donald Schram, Steve Sojka, Julieann Westerman, Andrea White and Robert Zemla. In charge of technology were Gary Jackson from the high school plus Phil Grefrath and Bob Austin, from industry Artwork for the program booklet was supplied by students Matt Schumacher, Stephanie Gill and Stephanie Goris plus Rob Wynne, Wolf Group of Buffalo. The Corporate Bowl program is the brainchild of Dr. David Jayme of Life Technologies, who is being honored by the Chamber of Commerce this year in the Service to Youth category.

Chinese Auction Winners
Basket #1 L. Hines
Basket #2 Marcia Little
Basket #3 Linda Garcia
Basket #4 Jim Greene
Basket #5 Jim Greene
Basket #6 Faren Gault-Wilson
Basket #7 Family Fun Time
Basket #8 Sara Reade
Basket #9 Mike Cuzydlo
Basket #10 D. Ippolito
Basket #11 Kim Dohn
Basket #12 Mary Burngasser
Basket #13 Lori Nestler
Basket #14 Pat Sommer
All Corporate Bowl student participants, sponsors/donors, and volunteers are invited to a reception on Friday, March 30 at 2:30 p.m. in the Grand Island Senior High Cafeteria.


---
"How many atoms are in one gram atomic mass of uranium?" Can you answer this question? One of the students participating in last year's Grand Island Corporate Bowl knew the answer instantly.

The Grand Island Corporate Bowl tests the knowledge of student teams in a fast paced question and answer game format. Teams of four members each compete in this academic competition. Questions will include academic as well as current event topics. Winning teams advance to the championship round to compete for scholarship money.

The primary purpose of the Grand Island Corporate Bowl is to encourage learning while improving the alliance between Grand Island business community and school system. Last year the Corporate Bowl raised over $5,000 for scholarships for the winning teams and enhanced learning programs in the Grand Island School system. The disbursement of all funds is administered by the Grand Island School/Business Alliance (GISBA).

This year's 3rd Annual Grand Island Corporate Bowl is jointly sponsored by Fujisawa Healthcare, Inc. and American Pharmaceutical Partners, Inc. The preliminary round will be held on Tuesday, March 13 at 7:00 PM and the finals will take place a week later on Tuesday, March 20 also at 7:00 PM. Both events will take place in the Grand Island High School Cafeteria.

Our goal for 2001 is to raise $6,000 and we need the generous financial support of Corporate Sponsors. If you are interested in more information please contact Joe Ippolito at 773-0884 or Doug Dohn at 775-2244. If you cannot contribute financially, please come out anyway on March 13th and 20th to cheer on these outstanding students.

If you are interested, we can provide additional information regarding financial assistance for this event via mail or fax, or if you are on Grand Island we can drop off a flyer for you. There are four levels of sponsorship that will provide space in the program for your business to advertise its support.

By the way, the answer to "How many atoms are in one gram atomic mass of uranium?" is … 6.02 x 1023 or Avagadro's Number.
---
---
Other Grand Island Pages to Visit:
Churches | Email Directory | Government | Groups
GIHS Gradlist | Guest Book | Please sign in! | Local Artists | New!Photo Album | Town History | UsefuLinks
| Website Design | Wildlife | Isedegrande'sHome Page | GIECOM.NET'S Home Page
Please Email News Releases to Teddy Linenfelser, Thank You.

This website was created and updated weekly since September of 1997.
Our sponsor is GIECOM.Net Inc., "Grand Island's E-Commerce Network",
providing Internet Access and Webhosting to the Grand Island Community.
If you are interested in participating as a sponsor, please email.
1871 Whitehaven Road, Grand Island, New York, 14072-1803 USA

GIECOM.Net Inc. is owned by deSignet International
a "World Class Jewelry Manufacturer and Retailer"
Store Hours: Noon-5PM Tues-Friday and Saturdays 10AM-3PM, and by Appointment
1869 Whitehaven Road, Grand Island, New York, 14072-1803 USA, 1-888-RARU.COM
Copyright © 1995-2002 All rights reserved.