---



Elect Michael Coutu Grand Island Town Justice - 2005

September 8, 2005 . . .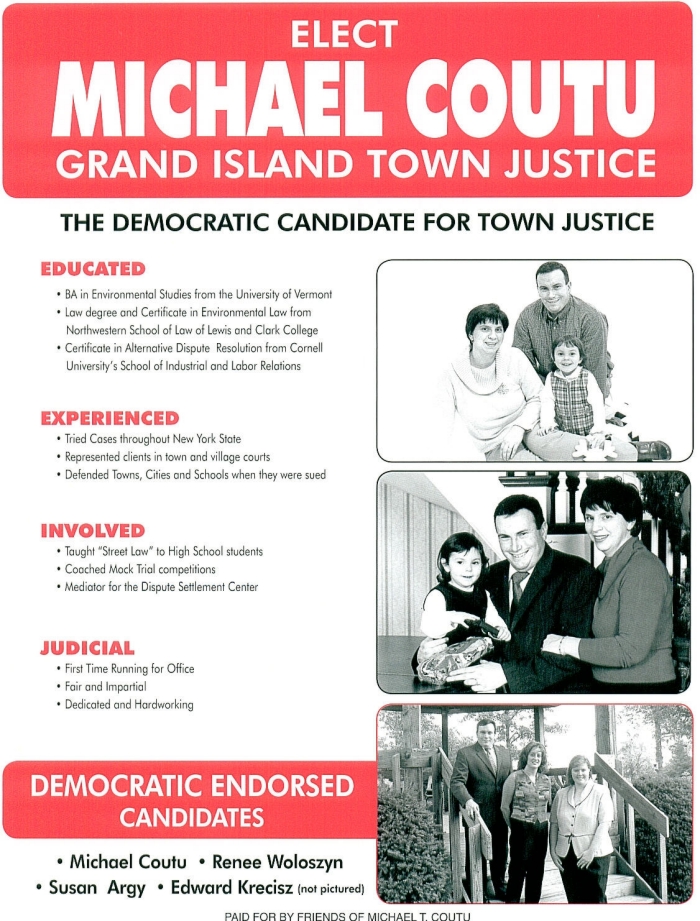 ---



Coutu Announces Support For The Use Of Writing
Assignments To Reduce Repeat Traffic Violations And Increase Safety - 2005

September 1, 2005 . . . Today, the endorsed Democratic candidate for Grand Island Town Justice, MICHAEL T. COUTU, announced his support for the use of writing assignments as part of plea agreement process.
"We need judges that promote fairness, run the courts efficiently, and understand the importance of protecting public safety. For many folks, Grand Island Town Justice Court is their first and only direct contact with the courts. Regardless of the situation, it is important that everybody feels that they were treated fairly in Court. It is also important to protect public safety and increase efficiency by reducing repeat appearances in Grand Island Town Court. This is especially true for traffic violations," Coutu said.
"To promote fairness, increase efficiency and promote public safety, if elected Grand Island Town Justice, I will include the use of writing assignments as part of the plea agreement process. For example, if a person wishes a reduced plea for a traffic violation, before simply rubber stamping the plea agreement, it can be effective to require the person to write a brief report on vehicle stopping distances, as a condition of accepting the plea. This can help drivers on Grand Island understand, that even on dry roads and assuming an average reaction time (1.5 seconds), a vehicle traveling at 60 miles per hour will travel more than a football field length (312 feet) before stopping," indicated Coutu.
Coutu explained that there are many advantages of report writing as part of the plea agreement process. The advantages include, flexibility, a focus on changing behavior rather than simply collecting fine money and surcharges, an opportunity to educate, confirm understanding, reduce repeat appearances and protect public safety. "The benefits of writing assignments far outweigh any associated costs, which are limited to paper work and the investment of time to read the reports. If elected Grand Island Town Justice, I will work hard. I will be fair. I will be impartial. I will apply the law. I will take the time to read reports written as part of the plea agreement process." said Coutu.
Coutu is a registered Democrat. Coutu is endorsed by the Grand Island Democratic Committee. You can vote for Coutu in the Democratic primary election on September 13, 2005.


---



Michael T. Coutu, Esq., Candidate for Town Justice - 2005

August 16, 2005 . . . Michael T. Coutu, Esq. announces his Democratic Endorsement as a candidate for the office of Grand Island Town Justice. The following was submitted by Mr. Coutu.
I am the endorsed Democratic candidate running for Grand Island Town Justice. I have never run for office before. I am running now so that I have the opportunity to serve and improve the community which brought my family to Grand Island. I want to do something positive and constructive for my community. I can best serve as Town Justice because I have experience in the courtroom, in the classroom, and in facilitating out of court resolution through mediation, arbitration and negotiation. In addition to work in local village and town courts ranging from small claims to misdemeanor defense, I have varied courtroom experience defending towns, cities, schools, and other public and private entities and individuals when they are sued.
I was born in Burlington Vermont. I grew up in a small Vermont town (although it is now suburban by Vermont standards). Growing up we (my brother, sister and I) learned to share (or inherited) our mother's commitment to the betterment of our community. My mother, in addition to teaching fulltime, has been either the Recreation Commissioner or committee chairwoman for more than two decades. Growing up I developed not only a strong commitment to my hometown, but was also active in town recreation and planning issues for many years. Grand Island reminds me a great deal of where I grew up. My wife, Sarah and I look forward to raising our children on Grand Island and instilling in our children the same work-ethic and commitment to education that brought us to Grand Island.
I believe the lifelong commitment to hard work and self-improvement through education will allow me to best serve Grand Island as Town Justice. From being paid by the pound to pick berries at a local berry farm, to clerking at the local convenience and hardware store, I always worked my way through school. I earned my Bachelors Degree at the University of Vermont, majoring in Environmental Studies. After working for a year as a Teacher's Assistant in a second grade classroom, I moved to Portland, Oregon to enroll in the nation's top ranked environmental law school, Northwestern School of Law of Lewis & Clark College. I graduated from Lewis & Clark with my law degree and a Certificate in Natural Resources and Environmental Law.
After graduating from Law School, we moved to Western New York so that my wife could attend Pharmacy School at the University at Buffalo. While my wife started at UB, I volunteered at the Volunteer Lawyer's Project before I began practicing law at Altreuter Habermehl in 1998. I am currently a senior attorney at Sliwa & Lane, in Buffalo. I have tried cases in courtrooms from the Bronx to Buffalo. I have learned from what I have seen in the courtroom and can use the knowledge to improve our Grand Island Court.
Since law school, I have completed the 6-course certificate program in Alternative Dispute Resolution offered by Cornell University's School of Industrial and Labor Relations. I have also obtained a certificate from the National Institute of Trial Advocacy, a ten-day intensive trial technique program held in Albuquerque, New Mexico. I have spoken widely on varied legal issues at programs sponsored by the International Young Lawyer's Association, the New York Bar Association, and other entities.
I am strongly committed to education, safety and Alternative Dispute Resolution. One of the best ways to keep children out of Court is to teach them not only the consequences of their actions, but to empower them to resolve disputes constructively. I have had the opportunity to work with folks of all ages as a volunteer mediator for the Dispute Settlement Center and Child and Family Services of Erie County. Mediation and other forms of Alternative Dispute Resolution empower people to resolve legal problems creatively and completely, reducing repeat offences and saving Court resources.
Before profiting from all that Grand Island has to offer, I hope to be able to serve Grand Island. It would be an honor to serve Grand Island as your next Town Justice.
Mike lives on East River Road with his wife, Sarah and their daughter, Zoe. The Coutus are expecting their second child in October.