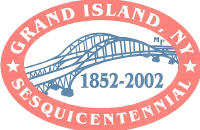 Sesquicentennial Craft Show Webpage
---

Come Join the Grand Island Sesquicentennial Craft Show

RAIN OR SHINE

SATURDAY & SUNDAY, June 29th and 30th, 2002

10 a.m. - 4 p.m.

In The Center Of Town

2255 Baseline Road, Grand Island, NY


Craft Show Registration Form


Dear Crafter:
You are cordially invited to participate in Grand Island's Sesquicentennial Craft Show being held June 29-30, 2002 on the Grand Island Town Hall grounds, 2255 Baseline Road in the center of town. Coming from the north or south Grand Island bridge on the New York State Thruway, take Whitehaven Road east to the signal at Baseline Road. The town hall and fire hall (north on Baseline) are visible from the corner.
Exhibit hours are from 10 am. to 4 p.m. Exhibitors may arrive at 8 a.m. for setup. Please check in at the registration table at the gazebo to receive your assigned space.
If you have any questions, please call Robin Swedish at 773-1100 or Kathy Smith, 773-5081. This event is part of an Island-wide celebration for the town's 150th year. We look forward to seeing you.
The Craft Committee


---
If you are a member of this organization, we need your help. GIECOM.Net has partnered with the Connections program to help Grand Island as a community "Get it Together." Please visit our website G-I-Together.ORG and fill out our SURVEY. Every group on Grand Island will have its own FREE web page showing: meeting times and location, contact persons, your Mission Statement and a listing of events. We will also be linking your news events that appear in the local media and on IsledeGrande.Com, Grand Island's E-News Source, to your page, maintaining an archived journal of pictures and news. This is the perfect opportunity for your group to connect with potential new members and the community.
---
---
Other Grand Island Pages to Visit:
| Businesses | Churches | Email Directory | Government | Groups | GIHS Gradlist | Guest Book | Please sign in! | Local Artists | New! Photo Album | Recreation | Schools | Seneca Law Suit | Town History | UsefuLinks
| Weather | | Website Design | Wildlife | Home Page - Frames

Please Email News Releases to Teddy Linenfelser, Thank You.
This website is sponsored by
GIECOM.NET
1869 Whitehaven Road, Grand Island, New York, 14072-1803 USA


Copyright © 1995-2002 All rights reserved.