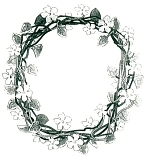 Grand Crafts On the Island Craft Show Webpage
---

SATURDAY & SUNDAY, June 28th and 29th, 2003

Grand Island Town Commons

2255 Baseline Road, Grand Island, NY


Craft Show Registration Form


Dear Crafter:
You are cordially invited to participate in Grand Crafts On the Island Craft Show being held June 28-29, 2003 on the Grand Island Town Hall grounds, 2255 Baseline Road in the center of town. Coming from the north or south Grand Island bridge on the New York State Thruway, take Whitehaven Road east to the signal at Baseline Road. The town hall and fire hall (north on Baseline) are visible from the corner.


Exhibit hours
10 am. to 6 p.m. on Saturday
10 a.m. to 5 p.m. on Sunday



Exhibitors may arrive at 8 a.m. for setup. Please check in at the registration table to receive your assigned space.
If you have any questions, please call Robin Swedish at 773-1100 or Kathy Smith, 773-5081.


---



Craft Show Photos - 2003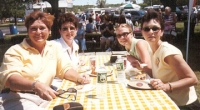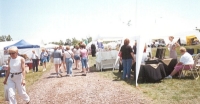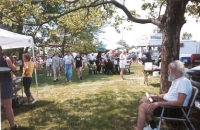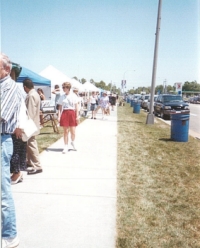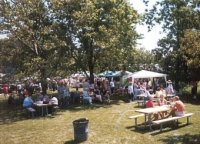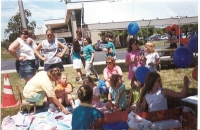 Pictured left are Show Chair Robin Swedish, her sister, Maureen Glor, her niece, Brinn Rice and her sister JoAnn Rice. Taking a break in a lawn chair on the left of the third picture is Isle resident George Rowe. Recognize anyone in the crowd scenes?
Kathy Smith Photos - Click for larger view
"Grand Crafts On The Island," held Saturday and Sunday, June 28-29, 2003 had a record 76 booths which was 20 more than last year's show and vendors came from as far away as Pennsylvania and Rochester. Among Island groups who took part by providing food and beverages were the Youth Advisory Board, Zonta Club, Fire Company Ladies Auxiliary, Democratic Women, GI Soccer Club, and Friends of Library. The Craft Show Committee has announced that the show will be scheduled around the same weekend in 2004.


---



Sun Shines On "Grand Crafts on the Island" - 2003


Amy Davis is shown promoting her new venture called "Krazy Krunch." This delicious snack treat is an old family recipe that Amy has turned into a successful business.
Fred Claus Photo - Click for larger view
The 2nd annual craft show/sale at the Town Commons on Saturday and Sunday, June 28-29, 2003 was a huge success with hot and sunny weather all day Saturday and mostly sunny skies on Sunday. Lines of vendors in tented booths were spread around the perimeter of the Commons and through the middle of the park, with picnic tables available for eating, resting, listening to the sounds of the group, Jerry D'Amico & Brimstone, and visiting. "Grand Crafts on the Island" Chairmen Robin Swedish and Kathy Smith heard all positive comments from the crafters, many of whom are already planning on coming back next year. Rounding out the "Grand Crafts" committee were Susan Berger, Barbara Wilson and Mary Neuhaus.


---



Craft Show To Feature 60+ Crafters - June 2003
"Grand Crafts on the Island" will open for its second year on Saturday and Sunday, June 28-29 at the Town Commons at Baseline and Whitehaven roads. Hours on Saturday are from 10 a.m. to 6 p.m. and hours on Sunday are from 10 a.m. to 5 p.m.
The show will feature over 60 quality crafters offering jewelry, carving, pottery, candles, woodwork, tole, florals, rugs, painting, soaps, basketry, ceramics, metals and more.
Entertainment features are Art on Wheels and Jerry D'Amico & Brimstone on Saturday. Brimstone returns for the Sunday show. Other entertainment includes clowns, face painting, "Tattoos," Hair Wraps and Nail Painting.
Food and beverages will be available at booths selling roast beef, hot dogs, kettle corn, blomin' onions, pizza apple fritters, potato crisps, ice cream, lemonade and soft drinks.
For further information call Robin Swedish, 773-1100 or Kathy Smith, 773-5081. Scroll up or down for other information on the craft show.


---



Major Craft Show Scheduled for June 2003


"Grand Crafts on the Island" committee members from left are Co-chairwomen Kathy Smith and Robin Swedish, and Susan Berger of Flower A Day. Missing from the photo are Barb Wilson and Mary Neuhaus.
Megan Harman Photo - Click for larger view
The craft show committee from the Sesquicentennial event will host another craft show on June 28-29, 2003 at the Town Commons. "Grand Crafts on the Island" will be the name of this exciting community event which includes crafts, food, music by Brimstone both days, and family fun. Crafters and food vendors who are interested in participating are asked to call Robin Swedish (773-1100) or Kathy Smith (773-5081) for an application. Applications will be accepted until April 30, 2003.


---
If you are a member of this organization, we need your help. GIECOM.Net has partnered with the Connections program to help Grand Island as a community "Get it Together." Please visit our website G-I-Together.ORG and fill out our SURVEY. Every group on Grand Island will have its own FREE web page showing: meeting times and location, contact persons, your Mission Statement and a listing of events. We will also be linking your news events that appear in the local media and on IsledeGrande.Com, Grand Island's E-News Source, to your page, maintaining an archived journal of pictures and news. This is the perfect opportunity for your group to connect with potential new members and the community.
---
---
Other Grand Island Pages to Visit:
Churches | Email Directory | Government | Groups
GIHS Grad List | Guestbook | Please sign in! | Local Artists | Photo Album | Town History | Useful Links
| Website Design | Wildlife | Isledegrande's Home Page | GIECOM.NET'S Home Page
Please Email News Releases to Teddy Linenfelser, Thank You. .


This website is sponsored by
GIECOM.NET
1869 Whitehaven Road, Grand Island, New York, 14072-1803 USA


Copyright © 1995-2002 All rights reserved.