Grand Crafts On the Island Craft Show Webpage
---
SATURDAY & SUNDAY, June 26th and 27th, 2004
Grand Island Town Commons

2255 Baseline Road, Grand Island, NY

Craft Show Registration Form



Grand Crafts On The Island A Success For Third Year - 2004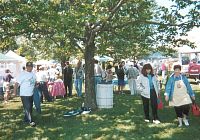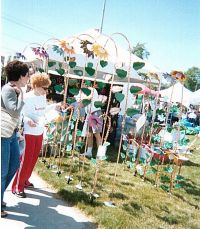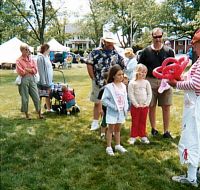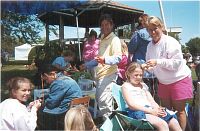 Click photos for larger view
"Grand Crafts on the Island," held Saturday and Sunday, June 26-27, 2004 was a major success for the third year in a row. Tables and tables of crafts of all kinds were on display during the weekend event, first held in conjunction with the Island's Sesquicentennial in 2002. Bottom photos are of Mrs. Cynthia Wynne's Grand Island High School Art Club members who did face painting and hair wraps.
Music provided by Jerry D'Amico and his band, "Brimstone" and numerous food and beverage booths added to the home town event.
Show committee members were Co-Chairmen Robin Swedish and Kathy Smith, Sue Berger, Barb Wilson, and Mary Neuhaus.


---



It's Show Time - June 2004
The third annual Grand Crafts on the Island will be held Saturday and Sunday, June 26-27, 2004 from 10 a.m. to 5 p.m. at the Town Commons. The first show was part of the town's sesquicentennial celebration. It was such a big success, that organizers decided to make it an annual event.
The committee consists of Chairperson Robin Swedish, Kathy Smith, Barb Wilson, Mary Neuhaus and Sue Berger. It is an independent, non-profit group who would like to provide Grand Islanders with a fun-filled weekend of arts and crafts, along with great food and music.
Crafts will include fine and funky jewelry, soaps & lotions, wood carving, metal sculpture, painted glass and pottery, pet items, fiber and clothing, and much more.
Food vendors will make sure no one goes away hungry. Tim Horton's will be there with coffee and doughnuts, American Legion members will be cooking hot dogs, and the Pie Ladies from Island Presbyterian Church will be selling homemade pies. Many other Island groups will be there with a wide variety of tasty treats, and who can forget those blooming onions from last year?
Music will be provided by Jerry D'Amico with his band, "Brimstone" for your listening and dancing pleasure. There will also be hands on space for children with a variety of crafts, bubbles, tattoos, face painting, hair wraps, and much more.
"Come join us for a fun weekend. There's plenty of parking and no admission fee. It doesn't get any better than this!"



••••••••••••••••••••••

Dear Crafter:
You are cordially invited to participate in Grand Crafts On the Island Craft Show being held June 26-27, 2004 on the Grand Island Town Commons, 2255 Baseline Road in the center of town. Coming from the north or south Grand Island bridge on the New York State Thruway, take Whitehaven Road east to the signal at Baseline Road. The town hall and fire hall (north on Baseline) are visible from the corner.


Exhibit hours
10 am. to 5 p.m. on Saturday
10 a.m. to 5 p.m. on Sunday



Exhibitors may arrive at 8 a.m. for setup. Please check in at the registration table to receive your assigned space.
If you have any questions, please call Robin Swedish at 773-1100 or Kathy Smith, 773-5081.


---
If you are a member of this organization, we need your help. GIECOM.Net has partnered with the Connections program to help Grand Island as a community "Get it Together." Please visit our website G-I-Together.ORG and fill out our SURVEY. Every group on Grand Island will have its own FREE web page showing: meeting times and location, contact persons, your Mission Statement and a listing of events. We will also be linking your news events that appear in the local media and on IsledeGrande.Com, Grand Island's E-News Source, to your page, maintaining an archived journal of pictures and news. This is the perfect opportunity for your group to connect with potential new members and the community.
---
---
Other Grand Island Pages to Visit:
Churches | Email Directory | Government | Groups
GIHS Grad List | Guestbook | Please sign in! | Local Artists | Photo Album | Town History | Useful Links
| Website Design | Wildlife | Isledegrande's Home Page | GIECOM.NET'S Home Page
Please Email News Releases to Teddy Linenfelser, Thank You. .


This website is sponsored by
GIECOM.NET
1869 Whitehaven Road, Grand Island, New York, 14072-1803 USA


Copyright © 1995-2004 All rights reserved.