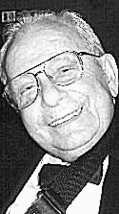 05/31/09 06:37 AM
Joseph Chimento, school administrator, musician
July 27, 1923óMay 28, 2009
Joseph S. Chimento, a musician and Grand Island school administrator, died Thursday in Sisters Hospital after a long illness. He was 85.
Mr. Chimento, of Williamsville, was born in Alia, Sicily. He graduated from Canonsburg Pa., High School in 1941.
He served in the Army in Alaska, playing the tuba and upright bass in the 414th Army Service Forces Band.
After discharge in 1946, he attended Duquesne University as a music education major and earned a bachelorís degree in music education in 1950 from Fredonia State College.
From 1946 to 1965, Mr. Chimento worked as a professional musician in Lee Barrettís and Russ Romeroís big bands, and the Musician Union Band. In 1950, he was hired as district music supervisor and band director at Chartiers-Houston School District in Houston, Pa.
He received his masterís of education in guidance and administration in 1957 from the University of Pittsburgh and in 1965 began working as a guidance counselor at Grand Island High School. He became assistant principal in 1968, a position he held for 20 years until his retirement in 1988.
He worked the next 20 years as supervisor of student teachers at Niagara University.
Also, from 1965 to 2009, he played the upright bass and guitar bass in a number of local bands, including the Joe Chimes trio, which was a regular at the Grand Island Holiday Inn every weekend for 20 years.
Survivors include his wife, Connie; two daughters, Marilyn and Susan; a son, Joseph; a brother, Santo; and a sister, Anne Portale.
A Mass of Christian Burial for will be offered at 10 a. m. Monday in St. PiusXChurch, 1700 North French Road, Getzville, following prayers at 9:15 a. m. in Amigone Funeral Home, 2600 Sheridan Drive, Town of Tonawanda.