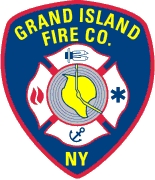 Can We Count On YOU?
The Grand Island Fire Company is wrapping up its annual fund drive.
We are counting on your support to make this year's fund drive a success.
With the help of friends and neighbors like you, we will provide the best service possible.
If you sent your donation in, please accept our thanks, you have helped make our drive a success.
If you have not sent your donation, please use the following information.
Grand Island Fire Company
2275 Baseline Road
Grand Island, NY 14072
Please be sure to include your name and address for our records.
Everyone's donation is important to ensure steady growth and up-to-date
equipment for our Grand Island Fire Company's future.
All Donations Are Tax Deductible
---
Chief Greg Butcher and all the members of the Grand Island Fire Company
extend their thanks to the community for their generous
2008 Fund Drive contributions and continued support.
Have a Safe and Happy Holiday Season!