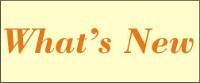 Worth a look is 30 Day Gourmet, "The Best Freezer Cooking Site On The Web." The site was mentioned in a Buffalo News article and it has recipes that would be great in preparing ahead for a large group.

10/4/04 - Barry Conway will be at the Tops Cooking School on Thursday, October 28, 2004. The menu is titled New England Dinner and will feature Corn Pudding, Savory Apple Roast, Roast Pork with Apple Mushroom Cream Sauce, Stuffed Acorn Squash and Pumpkin Pie with Praline Topping. To register go to Top's Cooking School, print the registration form and pay at any Top's Market.

8/2/04 - Just received information that Barry Conway is cooking at Top's Friendly Markets again. Classes are Tuesday, August 3rd at the Amherst (Maple Road) Tops and Thursday, August 5th at the West Seneca (Old Seneca Mall) Tops. Reservations can be made at 515-2000. Our recipe section will feature more "Bear Man" grilling recipes this week.

7/29/04 - Hanzlian's Homemade Sausage is made by two brothers from Buffalo, Dave and George Hanzlian. Their father, George, started the tradition many years ago while working for a Cheektowaga meat market. Since 1999, the brothers have been selling their sausage at local markets throughout the area. Delicious mild and hot Italian sausage, fresh Polish sausage, chicken Polish sausage, chicken mild and hot Italian sausage, breakfast sausage and patties are available. Find the Hanzlians at the North Tonawanda City Market on Tuesday-Thursday & Saturday, the Niagara Falls City Market on Friday and the Super Flea on Walden on Saturday & Sunday.

Watch for Barry Conway as the featured chef at Top's Cooking School for two dates in August.