Announcing our Annual Harvest Party!
Whitehaven Road Baptist Church
Saturday, October 28, 2006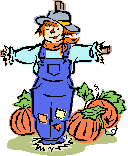 6:00 PM- 8:30 PM
The Harvest Party is open to anyone 4 years old through 5th grade.
The Harvest Party is a wholesome, God-centered party…a place for the children to have a good time and celebrate God's goodness. Costumes are optional, but no scary or evil costumes are allowed!!! We ask that you sign up for the party so that we can get an idea as to how many we need to plan for, however, last minute friends are welcome!
You can expect this to be a night of fun (cheese curl hurl, pie in the face, jump rope, bounce house, candy corn relay, donut eating contest, and much more!) as well as a night of worshipping the Lord and an awesome pumpkin carving!
The optional "price" of admission is one canned good to stock our food pantry for the upcoming holiday season. You can sign up in the church concourse or call Donna Linenfelser at 773-3622 to sign up or if you have any questions. See you on October 28!