High School Merit Roll
The following Grand Island High School students were named to the merit roll for the first quarter, 2000-2001 school year:
Grade 9: Michael Antonelli, Henry Belding, Arielle Blanton, Paul Bucholtz, Jeffrey Bull, Erica Burns, Kristen Burns, Lisa Burns, Kelliann Camey, Ashley Davis, Thomas Dewey II, Christine Donner, Christopher Dziwulski, Paul Eberhard, Ashlee Edwards, Anthony Fanara, Michelle Fox, Bryan Funk, Holly Gallagher, Patrick Gannon, David Garcia, Christine Gilbert, Alex Gregorski, Kevin Hajnos, Terry Hashley, Nicole Herman, Gretchen Hildebrandt, Thomas Hooven, Sean Hoyt, Nathan Jayme, Kari Johnson, Nicholas Jones, Emily Kowzan, Francesca Kustra, Christine Lang, Donald LoVullo, Christopher Mahiques, Amanda Mallwitz, Laura Massaro, Jason McInerney, Matthew Mergel, Caroline Miller, Lauren Nedwick, Christa Pawlowski, Shane Pingray, Omar Raza, Ashley Remmes, Danial Rossiter, Ashley Ruckinger, Michael Steckelberg, Christina Stickl, Karen Stipp, Peter Sukmanowski, Michael Vallina, Jason VanDusen, Kelly Voltz, Christina Warner, Earl Webb III, Ginny Wilkinson and James Wright Jr.
Grade 10: Jeffrey Adamek, Mark Anderson, Brienna Bailey, Christina Basta, Ashleigh Bennett, Jessica Booker, Christina Breier, Joseph Burns, Angel Busch, Christi Busch, Kimberlee Carter, Delene' Collins, Erica Cook, Rachelle Cote, Shawn Crowley, Brian Culp, James Dahlquist, Alan Damiani, Karla Darby, Douglas DeLucca II, Joseph DeMarco, Thomas Digati, Rene' Dodge, Jamie Dougherty, Stacey Edwards, Alicia Fahrner, Nicole Firnstone, Sara Franklin, Jamie Fuhr, Danielle Gatti, Krystina Geschwender, Alex Giangreco, Kara Glose, Matthew Hagen, Peter Hardman, Leah Harris, John Havens, Glenn Holler, Robert Hopkins, Ryan Jankowski, Naven Kang, Derek Kirkendall, Meghan Kurzdofer, Aaron Lloyd, Eric Lloyd, Krista LoPresti, Manuel Martinez III, Laura McDonnell, Christopher Miller, Joy Monaco, Andrew Moran, Kali Mordaunt, Katie Newell, Stefanie Penque, Morgan Perry, Laura Piccolo, Brett Pietras, Jenna Podlucky, Crystal Robbins, Jeremy Roberts, Nicholas Rossi, Matthew Royal, Stephen Rumsey, Chad Ruzich, Kevin Sharpe, Robert Shoemaker, Bikramjit Singh, Sara Slater, Lindsey Smith, Eric Snyder, Justin Sobol, Alyssa Sacone, Ronald Stipp, Kari Sumner, Michael Valentin, Tanya Violanti and Kimberley Walker.
Grade 11: James Blocho III, Heather Brenon, Anthony Brindisi, Bryan Brown, Traci Certo, Ashly Cinelli, Laura Cobello, Lynn Conschaffer, Jonathan Dann, Michelle DelZoppo, John Dougherty, Shannon Freer, Shauna Freiermuth, Michael Gallagher, Joseph Gnacinski, Andrew Golemblewski, Lindsay Hahn, Christina Hall, Jennifer Hansen, Jamie Holmes, Justin Hoover, Holly Jellison, Michael Judson, Brian Kopf, Michael Krisch, Jonathan Lacki, Jill Lochren, Adam Lock, Christopher Martello, John Martello, Carmella Martinez, Adam Mazenauer, Shannon McCormick, Michael Mehltretter, David Michaels, Amy Millar, Angela Miller, Stephanie Miller, Derek O'Brien, Anthony Paolucci, Karin Perkovich, James Pioli, Robert Podlucky, Luke Price, Kevin Rader, Christina Reaser, Adam Reisdorf, Amanda Rodriguez, Anthony Rossi, Valery Runick, Kimberly Shoemaker, Jason Snug, Lauren Spacone, Jonathan Steele, Julie Sturtz, Joseph Walf and Stephanie Wiesnet. Grade 12: Steven Ackendorf, Kimberly Beland, Charles Bernoski, Robert Berry, Sally Brzezinski, Erica Buriano, Robin Call, Maria Casey, Jill Cassert, Steven Coe, Lesley Connell, Colleen Coughlin, Nicholas Covatto, Kris Crowley, Diana DeLorenzo, Joseph Edwards, Erich Enser, Melissa Fabio, Anthony Florio, Erin Frieday, William Garrison Jr., Kristia Gatti, Stephanie Gill, Shawn Goss, Angela Goulah, Cynthia Gratton, Fawn Gross, Mark Hajnos, William Hillman, Ashley Hollinger, Adam Horrigan, David Jakubowski, Kristie Jankowski, Heather Keller, Kathryn Kendall, Christina Knight, Sarah LaRocque, Crystal Lewis, Jonathan Louth, Megan Makowski, Mark Maloney, Eric McCarthy, Meagan McCormick, Stephanie McGinn, Adam Mills, Valerie Mondoux, David Montemage, Mary Moore, Kathleen O'Keefe, Timothy O'Laughlin, John Ochtyun, Heather Oishei, Sara Otto, Philip Razem, Cheryl Reagan, Katie Remus, Jessica Ritzenthaler, Zachary Roberts, Crystal Rumsey, Hunia Saghir, Nicole Saj, Matthew Schumacher, Timothy Shea, Ryan sherman, Krystalore Stegner, James Stockman Jr., Joel Stoorza, Mary Szczerba, Stacey Szczerbiak, Nicole Vanderbrook, Alyssa Vergan, Matthew Waddington, James Walsh, Elizabeth Webb, and Jennifer Williams.


Rotary/PTSA Students of the Month
| | | |
| --- | --- | --- |
| | | |
| Jessica Trippy | Rachelle Colosi | Brian Griffin |

Jessica Trippy
Jessica Trippy has been active in both school and community activities throughout her four years of high school. She takes the most pride in her participation in the high school music and drama departments. She has participated in Choir and Concert Choir for the last four years, for which she has earned a letter in music, and during her junior and senior years has been a member of Vocal Jazz and Madrigals. She has had parts in musicals such as "Hello Dolly," "My Fair Lady," "Babes in Arms," and is currently rehearsing for "The Wizard of Oz," in which she is the Wicked Witch of the West. She is also vice president of Spotlighters, and she has appeared in all of the Drama Club's productions, including "You Can't Take It with You," "The Beverly Hillbillies," "Mash," and "Up the Down Staircase." As well as being involved in music and drama, Jessica is a member of National Honor Society, Art Club, Students Against Drunk Driving (SADD), GIFTS, and Grand Island Volunteers.
Jessica also finds great gratification as a member of Having Empowered Leaders as Peers (HELP), which is an organization based on promoting AIDS awareness, for which she helps to design informational presentations for both the middle and high schools, as well as assisting AIDS infected and affected families in the Western New York area. She enjoys sculpting and writing in her free time, as well as performing in her band "From Tulsa." Jessica strongly believes in giving back to her community and she is an active volunteer for the Alzheimer's Association of Western New York and the March of Dimes. She plans to major in music technology at a college in New York City and pursue a career in recording and production for a major recording studio.
Rachelle Colosi
Leading a very active lifestyle is an aspect that has become very familiar to Rachelle Colosi. Throughout her high school career she has developed a variety of different interests leading her in many different directions. She has excelled in several different fields including academics, sports, cosmetology, as well as involvement and leadership in her school, community, and church youth group.
Throughout high school Rachelle has been an active participant and student leader in several extra curricular activities. She has been a member of in the leadership aspect of these teams. Her involvement has included two years of soccer, one year of varsity cross country, in which she was appointed captain, one year of JV basketball, where she was elected captain, and one year varsity basketball, plus four years of varsity track, two in which she also held the position of captain.
In addition to sports she has also been an active student leader. As a junior she was elected and is currently vice president of VICA (Vocational Industrial Clubs of America) at the Ken/Ton Career Center where she is enrolled in the cosmetology program. Furthermore, as a senior she was elected to serve as secretary of her class and has also been elected a member of the National Honor Society.
In addition Rachelle has been a very active member in her church youth group the last four years and has recently become a member of the Student Active Leadership Team. Even though Rachelle is an active participant in a variety of extracurricular activities, her number-one priority has been to successfully maintain excellence in her academic studies. She has recognized the important of her studies. As far as her future is concerned, Rachelle is going to attend a liberal arts college in pursuance of a physical education degree.
Although Rachelle believes that her studies, as well as extracurricular activities, are important, she also feels the need to invest time and effort into the people of the community. She has assisted with the Vacation Bible School run by her church, Whitehaven Road Baptist, and she has attended several work weekends cleaning the grounds at Word of Life Bible Camp. Last winter she spent her time as a volunteer basketball coach for an eight-and-under team. Another awesome opportunity in which Rachelle was able to give back to the community was attending a mission trip to El Centro, California last summer. While there she was given the opportunity to interact with Hispanic children who live in an economically depressed area through a Vacation Bible School directed by her mission team. Rachelle is a true believer that the Lord has blessed every person with talents and resources, and it is their obligation to use those talents in order to help others.
Brian Griffin
Brian has been very active in the community since he moved here at the beginning of 9th grade. He has been active in the Boy Scouting program since he was five years old, and his involvement has allowed him to learn a lot, as well as help the community. He has participated in food drives, flag retirement ceremonies, and projects that have contributed to his involvement on Grand Island. As a requirement for his attainment of the Eagle Scout rank, the Boy Scouting program's highest honor, he organized and gave leadership to a blood drive at St. Stephen's Church and succeeded in collecting 20 pints of blood. He is also involved with the Order of the Arrow, which is an honor society of Boy Scouts. He gives leadership to the membership of northern Buffalo, Niagara Falls, Grand Island, and Tonawanda. The main ideal of the organization is service to the community as well as the scouting program, and the organization has performed many projects in the Buffalo area.
In addition to his involvement with the Boy Scouts and the Order of the Arrow, he participated in the High School Wind Ensemble, Pit Orchestra, and Jazz Band, where he plays the trumpet. He has performed solos for acceptance into All-County and All-State bands and was selected to participate in the Area All-State Band in November at Fredonia. Brian also holds two part-time jobs, at Media Play and Holiday Inn Grand Island, while maintaining honor roll status, a class rank of 47 of 216, and an accumulated GPA of 3.4. He plans to attend Union College in upstate New York or Pace University in New York City for a six-year accelerated law program.


---
Madrigals perform
at Wilcox Mansion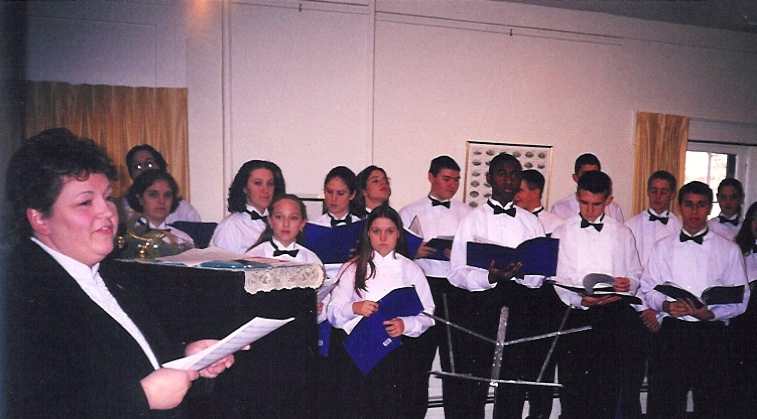 Pictured above are the Grand Island High School Madrigal Singers performing Sunday, December 3rd at the historic Wilcox Mansion on Delaware Ave., Buffalo. The Madrigals are a long standing choral group that performs at many venues for organizations throughout Western New York.
Madrigal Advisor Carolyn Lokken praised the 26 member group for their excellent work ethic, noting they meet at 6:30 a.m. for their practices and dutifully take care of their other responsibilities, including jobs, sports, and school.
The singers and their families toured the historic Wilcox Mansion after their performance. The mansion was built in 1838 for a US Army installation. It was later purchased by the Wilcox family. In 1901, the mansion was the inaugural site for US President Theodore Roosevelt, immediately after the assassination of President William McKinley who was shot while visiting the Buffalo Pan American Exposition. Today,the building serves as a historical museum and banquet facility.
On Monday, December 4 the Madrigals performed at the M&T Bank in Downtown Buffalo. For more information or to have these talented, hard working Grand Island singers perform at an upcoming event, call 773-8868.


---
Students Left Off Honor Roll


The following Grand Island High School students were left off the first quarter honor roll and inadvertently placed on the merit roll.
Grade 9: Andrew Asbach, Dana Brindisi, Jennifer Cammarano, Callan Fernandez, Mark Goff, Gabrielle Lanich, Christina Petit, and Christopher Sica.
Grade 12: Jeffrey Critelli, Michelle Elmer, and Janelle Sturtz.


---
High School Honor Roll


The following Grand Island High School students were named to the honor roll for the first quarter, 2000-2001 school year:
High Honor Roll
Grade 9: Karen Hutzler, Margaret Kiehl, Allie McLean, Shannon O'Brien, Jaimie Stickl, Mohsin Syed, Stefanie Szczykulowicz, and Meghan White.
Grade 10: Caren Bartosz, John Colosi, Ingrid Dahlberg, Christian Dommell, Jo Anna Goulah, Christopher Heftka, Danielle Henry, Brian Kim, Robert Kujawa, Jacob LaLiberty, Sigrid Maerz, Kathryn Manijak and Patrick McCarthy.
Grade 11: Jolie Dahlstrom, Sally Head, Phillip Lee, Scott McMichael, Lauren Mergel, Joseph Pasqualichio, Anna Quider, Neil Reddien and Emily Zimdahl.
Grade 12: Jennifer Bullock, Daniel Kurzdorfer, Michael Pfetsch, Mark Rotella, Peter Sabatowski, Satyugjit Virk and Katherine Yaksich.
Honor Roll
Grade 9: Stephanie Affuso, Keriann Armusewicz, Andrew Asbach, Kelly Beatty, Kyla Berger, Shelbey Bidell, Michael Blocho, Andrew Boron, Cortney Bota, Puneet Brar, William Breier, Dana Brindisi, Heather Burkman, Scott Buyer, Jennifer Cammarano, Patricia Carminati, Meghan Casey, Lillian Choi, Robert Christopher, Cynthia Czapla, Michelle D'Addieco, Branden DeLong, Charles Dewey, David Dillen, Andrew Dlugosz, Alicia Ellson, Amanda Elsaesser, Michael Feathers, Callan Fernandez, Lindsay Fetzer, Stephanie Fick, Matthew Fields, Nicholas Forysinski, Alishea Gainer, Katharine Gaudy, Nicholas Gerace, Nicholas Giddings, Mark Goff, Monica Greco, Nicholas Hahn, Hannah Hardy, Carly Hudson, Douglas Ingraham, Amanda Kaiser, Scott Kaniecki, Rochelle Kennedy, Brett Kern, Kelly Knab, Kimberly Kraft, Mary Kucharczak, Sarah Lang, Gabrielle Lanich, Brian Lipp, Claire Maddi, Carey Marrinan, Joanna Micco, Nicole Miller, Rachel Morgan, Rikke Nawotka, Emily Newsome, Kelly O'Brien, Christina Petit, Emily Pici, Danielle Podlucky, Joseph POdlucky, Thomas Rayhill, Corinne Razen, Jennifer Reisdorf, Laura Remmes, Joshua Roberts, Brittany Rogers, Nichole Ryan, Jonathan Savage, Rebecka Schaber, Lindsay Schiffhauer, Jessica Shanor, Christopher Sica, Jessica Skelly, Amy Snyder, Lauren Stipp, Alexandra Sutherland, Timothy Szczykutowicz, Eric Ther, Johanna Turnwall, Benjamin Valentine, Christine webb, Nathan Wolinski, and Steven Zippier.
Grade 10: Michael Amato, Lauren Angelo, Drew Amusewicz, Stephen Asbach, Taralyn Blelaski, Joshua Bonaquist, Caitlin Bozek, Stephanie Brown, Jonathan Burchfield, Shayna Burzynski, Kevin Buzzelli, Kristin Cadro, Christopher Ciechoski, Colleen Clarke, Christina Coates, Richard Coe, Jonathan Crossley, Ashley Darin, Devon Drost, Steven Duggan, Jessica Feeley, Michael Ferro, Marcella Ford, Ethan Gietz, Brett Gleason, Rebecca Goelz, Jason Gonda, Jade Gormady, Ann Marie Goss, Daniel Gray, Eleanor Henderson, Aaron Hesson, April Hooper, Natalie Ianni, Deborah Jones, Sara Knab, Benjamin Kozar, Andrea Kurpiewski, Theodore Lee, Katherine Loiselle, Jennifer Long, Elizabeth LoTempio, Marinos Maroulis, Elizabeth Masse', Jessica McIntyre, Caitlin Meaney, Malcolm Merriweather, Bryan Mesmer, Mindi Mietlicki, D'anna Mock, Christopher Monaco, Gabrielle Montemage, Bradford Namaste', Stephanie Nardozzi, Cara O'Donnell, Rosanne Oliverio, Lisa Otta, Matthew Payne, Jessie Petit, Stephen Pfetsch, Diane Pierce, Mitchael Pingrey, Thomas Rajczak, Catherine Remmes, Rachel Ritzenthaler, Sara Rodriguez, Jennifer Rogan, Blaise Roman, Kera Sauer, Paul Scappechio, David Schimley, Gretchen Schumacher, Corinne Sexton, Balbir Singh, Melissa Sipos, Francis Sirianni, Tierney Smith, Michael Stanko, Savannah Stolzenburg, Kelly Strano, Larissa Thompson, Nicole Walker and Melissa Wilbert.
Grade 11: Margaret Anderson, Diana Barun, Amanda Benko, John Black, David Blonski, Cory Bota, Jennifer Breier, Kyle Bullock, Jeannette Buscaglia, Kaitlin Certo, Allison Dinsmore, Dawn Drozdowski, Christopher Duff, Kelly Duncan, Shannon Ellson, Adam Fetzer, Laura Fik, Sean Ford, rachael Fraser, Christy Gibney, christopher Goetz, Stephanie Goris, Alexandra Heaney, Terri Ingraham, Darryl Johnson, Michelle Kalisz, Anup Kang, Robyn Kania, Christine Knab, Kimberly Knab, Jillian Leffler, Matthew Laupple, James Lichtenthal, Jessica Lundquist, Cindy Mao, Joseph Martino, Adam McCollum, Dylan McLean, Alexis Mioducki, Kathleen Mitchell, Brian Monaco, Kathleen Moriaty, Alexandra Naumovich, Katherine Neely, Katherine Rebmann, Harrison Rogers Jr., Nicole Saxbury, Allison Siehnel, Jeffrey Sipos, Megan Szymkowski, Amber Tempest, Renee' Torchia, Joshua Turnwall, Melissa Vrba, Vaninder Walia, Danielle Wasson, Hannah Weinknacht, Tristan Wilkinson, Jodi Wroblewski, Timothy Yore, Marvin Zimmerman and Nikki Zito.
Grade 12: Gerald Asbach, Aaron Beauregard, Janelle Becher, Nicholas Bergman, David Boyce, Beatrice Bruno, Rebecca Chamberlin, Lindsay Chambers, Rachelle Colosi, Jeffrey Critelli, Anna Czapla, Jennifer Davide, Stefanie DiPasquale, Jamie Disarno, Lindsey Dotson, Michelle Elmer, Jennifer Falvo, Jordan Funk, Sara Garcia, Amy Golden, Michael Golden, Jade Greenwood, Brian Griffin, Mackenzie Hassan, Kelly Hayes, Michael Henderson, Alison Hudson, Nicole Kalisz, Leanne Kern, Jee Kim, Kevin Kloesz, Joshua Kruk, Patrick LaLiberty, Jacob Lange, Rachel Lazelle, Jenny Leckey, Nathan Maerz, Jamie Mangus, Erin McCanna, Maureen McCarthy, Rachel Morgan, Jeannie Morrison, Ashley Northrup, Vanessa Ovitt, Amy Padowski, Patrice Paolucci, Rachel Parrino, Shannon Peters, Drew Pierce, Rachel Pierce, Leanne Pizur, Jennifer Raham, Melissa Rayhill, Daniel Rees, Brett Rimes, Benjamin Rossiter, Jennifer Shoemaker, Christopher Smith, Coletta Steizer, Janelle Sturz, Asif Syed, Nicole Tourot, Jessica Trippy, Kristin Ungaro, Lori Vaylen and Rachel White.

---
If you are a member of this organization, we need your help. GIECOM.Net has partnered with the Connections program to help Grand Island as a community "Get it Together." Please visit our website G-I-Together.ORG and fill out our SURVEY. Every group on Grand Island will have its own FREE web page showing: meeting times and location, contact persons, your Mission Statement and a listing of events. We will also be linking your news events that appear in the local media and on IsledeGrande.Com, Grand Island's E-News Source, to your page, maintaining an archived journal of pictures and news. This is the perfect opportunity for your group to connect with potential new members and the community.
---
Other Grand Island Pages to Visit:
| Businesses | Churches | E-mail Directory | Government | Groups |
| Guest Book | Please sign in! | Local Artists | New! Photo Album | Recreation |
| Schools | Seneca Law Suit | Town History | UsefuLinks | Weather |
| Website Design | Wildlife | Home Page |