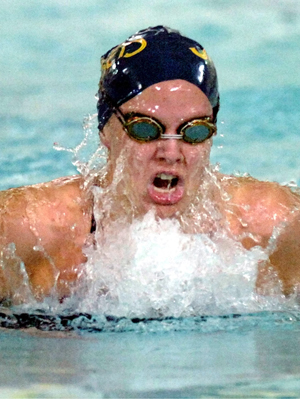 Karen Gromer
The Union College women were crowned as the 2006 Swimming and Diving Champions of the Liberty League at the Speegle-Wilbraham Aquatic Complex on the ground of the University of Rochester. Rochester posted a strong second place finish. It was Unionís second consecutive Liberty League swimming crown.
TEAM SCORING:
Women: Union 842.50, Rochester 669.5, RPI 549, Vassar 413, Hamilton 372.5, St. Lawrence 352, Skidmore 135.5, William Smith 133, Clarkson 95.
Men: Rochester 839, RPI 812, Hamilton 504, Union 416, St. Lawrence 360, Vassar 238, Clarkson 220, Skidmore 125.
Unionís Scott Felix was chosen as the Coach of the Year. Sydnie Wells (Bolton Landing, NY/Bolton Central) was named the Womenís Swimmer of the Year. The Womenís Rookie of the Year was Aimee Catroppa (Scotia, NY/Burnt Hills-Ballston Lake) of RPI. The Womenís Diver of the year was Unionís Molly Freeman (Barrington, IL/Barrington).
Wells won three individual events Ė the 200 IM (2:14.41), the 400 IM (4:44.92), and the 200 butterfly (2:11.24) plus swam the third leg on Unionís winning 400 medley relay (4:05.74) which set a Liberty League record.
Catroppa was seventh in the 200 IM (2:20.00), swam the second leg of RPIís 200 medley relay (which was second in 1:56.17), fifth in the 100 butterfly (1:02.24), second in the 200 butterfly (2:14.02), and swam the third leg of RPIís 400 freestyle relay (which was second in 3:43.55).
Freeman won both the one (379.05) and three meter boards (369.95).
Womenís competitors broke three Liberty League records and tied a fourth. Rochesterís 200 freestyle relay of Kari Joyce (Tucson, AZ/University), Nora Hoefer (Fayetteville, NY/Manlius), Jill Endres (Grand Island, NY/Grand Island), and Karen Gromer (Round Rock, TX/Cedar Park) swam a 1:41.36, breaking the mark of 1:41.79 set by Hamilton in 1999.
Unionís 400 medley relay of Amy Nestlerode (Endicott, NY/Union-Endicott), Brianne Phillips (West Hartford, CT/Conard), Mary Larkin (Conklin, NY/Susquehanna Valley), and Christa White (Washington, DC/Choate Rosemary Hall) swam, a 4:05.74, breaking the mark of 4:05.87, set in 2004 by Hamilton.
Rochesterís Michele Gruen (Hamden, CT/Hamden Hall CDS) won the 1650 freestyle in 18:10.81, breaking the record of 18:12.79, set by Jackie Crane of Union in 1996.
Joyce, who led off the record-setting 200 free relay for Rochester, tied the Liberty League record in the 200 freestyle with a 1:58.54. The mark was set by Allison Geer of RPI in 2002.
All in all, Joyce won three individual events (500 freestyle Ė 5:15.89), 200 freestyle (1:58.54), and the 100 freestyle (0:54.43) and swam the leadoff leg on the two winning relays Ė the 200 freestyle (1:41.36) and the 400 freestyle (3:43.39). Hoefer, Karen Gromer, and Gruen joined her on the 400 free relay.
Gromer was fourth in the 400 IM (4:49.68) with Gruen 6th (4:58.21), Denise Moseman 7th (5:05.05), Sara Tomaski 10th (5:09.85), Megan Miller 12th (5:11.45), and Kelly Fischer 15th (5:14.44).
Gruen (5th, 2:02.40), Hoefer (8th, 2:03.81), and Elizabeth Cavagnaro (13th, 2:06.17) all made the top 16 in the 200 free. Fischer was 8th (1:12.88) and Moseman 9th (1:13.27) in the 100 breaststroke. Kathleen Floberg was 15th (1:17.11).
Hoefer was clocked in 5th place (1:04.17) in the 100 backstroke, followed by Mary Carol Karl in 11th (1:06.32). Megan Miller was 5th in the 1650 (19:01.84) behind Gruenís record-setting performance. Sonja Brun was 9th (19:31.22) with Cavagnaro 10th (19:58.41) and Tomaski 14th (20:13.45).
Joyce was 2nd (2:12.33), Karl 9th (2:21.58), and Hoefer 10th (2:22.18) in the 200 backstroke on Saturday afternoon. Hoefer tied for 10th place in the 100 freestyle (0:56.91) with Christa White of Union. Jill Endres was 16th (0:57.63).
In the 200 breaststroke, Fischer was 5th (2:37.65) with Moseman 8th (2:38.08), Brun 12th (2:44.55), and Karl 13th (2:44.69). Gromer was third in the 200 fly (2:15.63) by three one-hundredths of a second. Miller was 16th (2:33.72).