William M. Kaegebein Elementary School
News Page 2007
1690 Love Road
773-8840

Click for Kaegebein School News 2008
Click for Kaegebein School News 2006
Click for Kaegebein School News 2005
Click for Kaegebein School News 2004
Click for Previous Kaegebein School News

Kaegebein Elementary School District's Website

Principal
John Wiertel



Kaegebein Elementary's Annual Musicale - 2007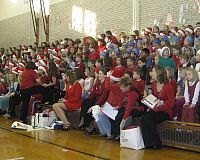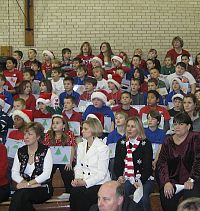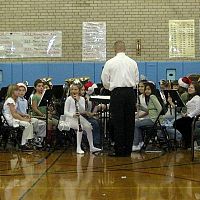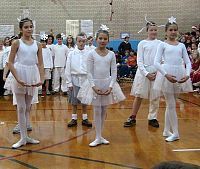 (left) Fifth Grade Concert Band - (right) Fifth Grade dancers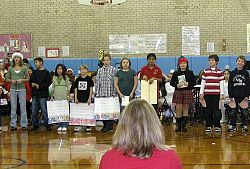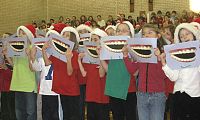 (left) Fourth Grade students - (right) Mrs. Maria Seibert's students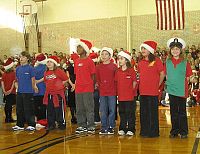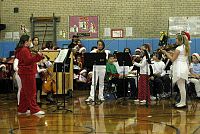 (left) Mrs. Maria Seibert's students - string orchestra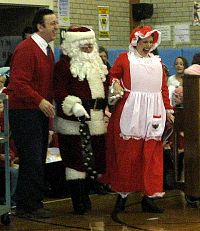 Principal John Wiertel with Santa and Mrs. Claus

Kim Schopp Photos - Click for larger view.
The annual Kaegebein Musicale was presented Friday, December 21, 2007 in the gym, with all grades participating. The 5th grade concert band performed along with the orchestra and the choir.




Kaegebein Third Graders Enjoy Holiday Party - 2007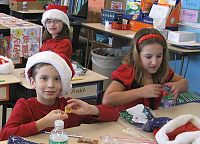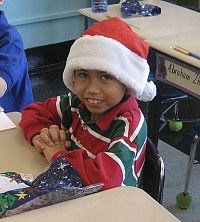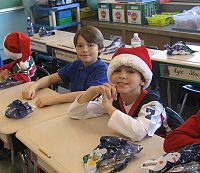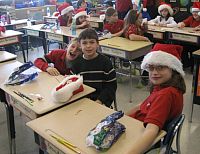 Kim Schopp Photos - Click for larger view.
The classes of Kaegebein Elementary School third grade teachers Mrs. Hope Hartman, Mrs. Maria Seibert and Mrs. Karen Reddien enjoyed a great Christmas Party on December 21, 2007.




Kaegebein PTA Announces Reflections Competition Winners - 2007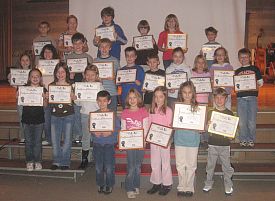 Reflections winners.
Jodi Robinson Photo - Click for larger view.
The National PTA believes all children deserve a quality arts education and encourages students to pursue artistic expression through participation in its annual arts Reflections Program. The program offers students the opportunity to create works of art for fun and recognition. Students in preschool through grade 12 are encouraged to create and submit works of art in four areas: literature, musical composition, photography, and the visual arts (which includes art forms such as drawing, painting, print making, and collage. In its more than 30-year history, the program has encouraged millions of students across the nation and in American schools overseas to create works of art. The Reflections Program was started in 1969 by then Colorado PTA President Mary Lou Anderson.
Designed to enhance rather than replace a quality arts education, the Reflections Program provides opportunities for students to express themselves and to receive positive recognition for their artistic efforts. The 2008 Reflections Program Theme was "I can make a difference by...". The following winners from Kaegebein Elementary School will be moving on to regional judging.


Visual Arts: Melissa Ullrich, Robin Neary, Lauren Chadwick

Literature: Sara Wolcott, Bridget Frederico, Kassidy Wozniak

Photography: Shannon Dreiss, Michael Archer, Charles Hegarty

Music: Andrew Riederer, Andrew Dyet

Film: Abigail Lizewski, Emma Lizewski, Jessica Faso

Other Winners: Jacob VeRost, Kobe Bruyere, John Blando

Other Kaegebein School Winners:

Visual Arts: Cross Kalp, Heidi Scouten, Alex Geary

Literature: Thomas Muscoreil, Allison Sorri, Brianna Wik

Photography: Sam DiBello, Paige McDonough

The following students received Honorable Mention:

Chloe McQuestion		David Matthews
Katherine Riederer		Kayla Staub
Nicholas Phinney		Keegan Hirtreiter
Abigail Czerwonka		Spencer-Jon Zukic
Savanna Stoddard		Ben Graziano
Nick Anzalone			Caitlyn Less
Spencer Wiktorowski		Travis LeFevre
Philip Gentz			Levina Navarro
Jenna Cook




Kaegebein Third Grade Visits Eco Island - 2007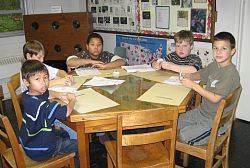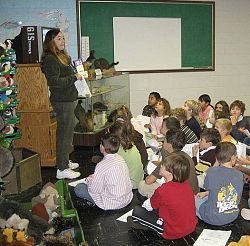 (right photo) Mrs. Hope Hartman
Kim Schopp Photos - Click for larger view.
The classes of Kaegebein third grade teachers Mrs. Hope Hartman, Mrs. Maria Seibert and Mrs. Karen Reddien took a ride to Eco Island on November 21, 2007. There the students learned about the owl species, watched a movie, dissected owl pellets and had lunch before returning to their classroom where they made corn muffins.




Colonial Days at Kaegebein - 2007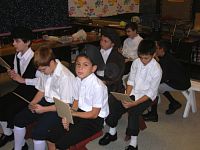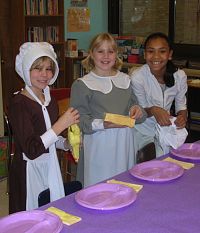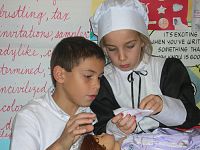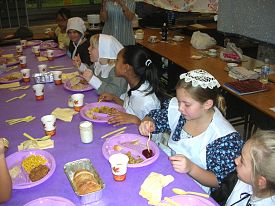 Students of Mrs. Chadwick during Colonial Days.
Click for larger view.
Mrs. Kathy Chadwick's fourth grade classroom at Kaegebein School has gone back in time the day before Thanksgiving break for many years. On Wednesday, November 21st, Colonial Day transported the classroom to the 1700's. The students dress the part and the boys stay on one side of the divided room working on colonial schoolwork such as memorizing poems, multiplication tables and the Colonies. The girls were busy on the other side of the room preparing food for the luncheon feast. They cut apples, potatoes, made bread and pies to go with the traditional turkey, stuffing and cranberry sauce. After lunch the girls were scheduled to have a tea party and to learn cross stitching, while the boys learned to play chess. Other activities scheduled were soap making, soap carving, calligraphy and stenciling.




K-12 "Artist of the Month Award" - 2007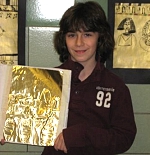 Joseph Farrell
Click for larger view.
The Art Department of the Grand Island School District is pleased to announce Joseph Farrell as the third recipient of the K-12 "Artist of the Month Award." Joseph, a 5th grader at Kaegebein Elementary School, also participates in after school Art Club. He enjoys drawing, painting, and working with clay. Joseph credits his brother, Mike, for encouraging and influencing him with his artwork. A true Renaissance boy, Joe is also an accomplished musician who plays in Kaegebein's concert and jazz bands. The Art Department applauds Joe's hard work and wishes him continued success with his future artistic endeavors.


---



"Night-Out Book" Fundraiser at Kaegebein - 2007
The Kaegebein PTA will be participating in the very popular "Night-Out Book" fundraising program this year. The Night-Out Book is a Dining, Recreation, and Services discount program that contains hundreds of premium offers from area merchants. The Night-Out book offers thousands of dollars in valuable savings and sells for only $25! In addition, when you buy one you get one FREE! That's TWO books for only $25. WOW!!! Sale started November 5th and will end on November 16th. Money is due at the time of your order (checks payable to Kaegebein PTA). To place an order, contact Denise Delmont via email at dee@buffalo.com with a subject of "Night-Out Books" or call her at 773-6409




Great Costumes At Kaegebein Elementary - 2007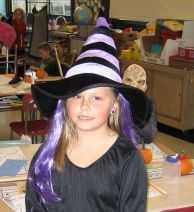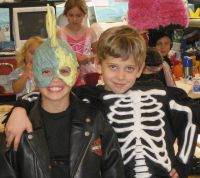 Students in Mrs. Kathy Fik's second grade class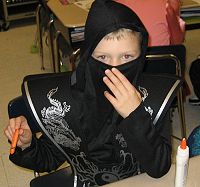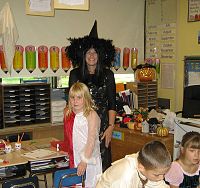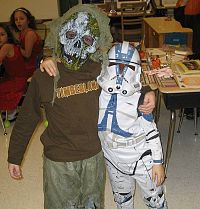 Students in Mrs. Cyndi Booker's second grade class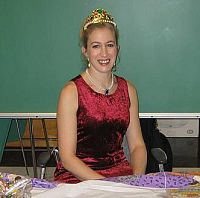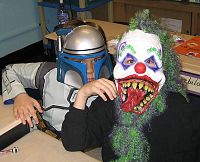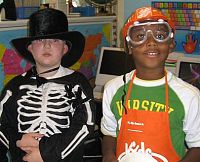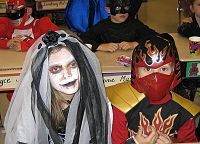 Mrs. Maria Seibert (left) and students in her third grade class

Kim Schopp photos - click for larger view
Kaegebein Elementary School students celebrated Halloween 2007 in style with costume parties held in most classrooms on Wednesday, October 31st.




Fire Company Visits Kaegebein for Fire Prevention Week - 2007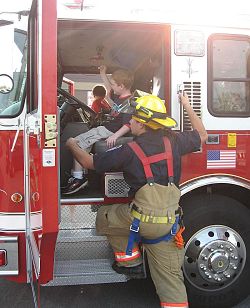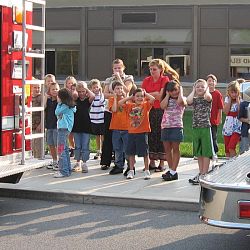 Before and after student blows the horn on firetruck.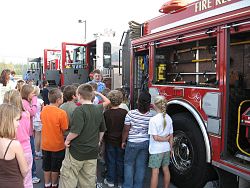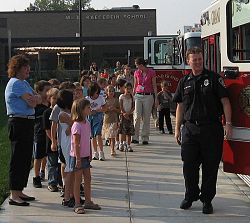 Left: Fire Cadet Don Turner Jr. shows the students fire truck equipment.
Jodi Robinson Photos - Click for larger view.
The Grand Island Fire Company visited Kaegebein Elementary on Tuesday, October 9 as part of Fire Prevention Week. The students gathered in the auditorium to take part in and see demonstrations of stop, drop and roll, CO2 extinguisher, identification of safety/fire hazards and a power point presentation of fire safety and fire victims' stories. Following the assembly, the students got a first hand look at some of the Fire Company's vehicles and equipment. The Fire Company will hold an Open House from 5 p.m. to 8 p.m. Friday evening, October 12th at Fire Headquarters located at 2275 Baseline Road.




Kaegebein Second Graders Learn About Hawaii - 2007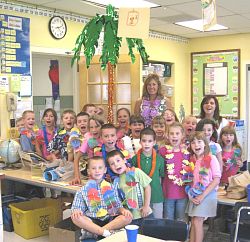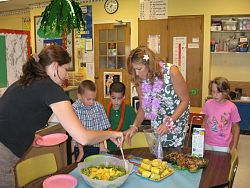 (left) Mrs. Cyndi Booker's class with student teacher Shayna Burzynski.
(right) Mrs. Lisa Buzby and Mrs. Cyndi Booker help serve the students.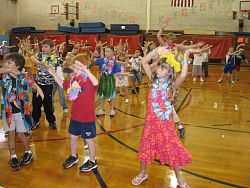 Hula dancing in the gym.
Jodi Robinson Photos - Click for larger view.
The first week of October was dedicated to Hawaii by the second grade classes of Kaegebein Elementary. The students learned everything about the island state including customs, history and geography. The students got a chance on Thursday, October 4th to taste different items grown in Hawaii and to also dance the hula. On Friday morning, Sidway kindergarten teacher Ms. Barb Goldman, played a ukulele accompanied by her student singers and it was viewed via computer at the Kaegebein classroom of Mrs. Cyndi Booker.




Kaegebein Picture Day - 2007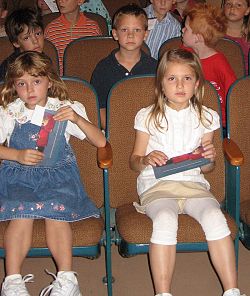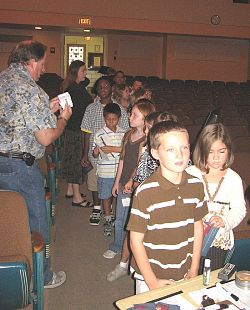 Mrs. Kathy Fik's second graders wait their turn. right: Mrs. Maria Siebert's 3rd grade class.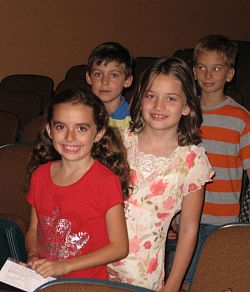 Jodi Robinson Photos - Click for larger view.
Wednesday, September 26th was picture day at Kaegebein School. This year, PTA mom Mrs. Bernice Schoener was in charge of making sure everyone looked super before the photographer zoomed in.


---



Apple Day At Kaegebein - 2007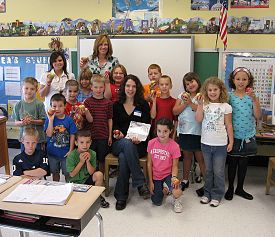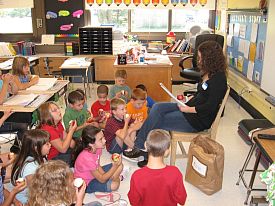 Left: Adults from left: Student teacher Shayna Burzynski, teacher Cyndi Booker and mom/guest reader Denise Delmont.
Jodi Robinson Photos - click for larger view
For many, many years, the Kaegebein PTA has commemorated Johnny Appleseed's birthday, which was on September 26, 1774 or 1775. A guest reader is invited into the classroom and brings a bag of apples for the students. This year's story was "The Little Red House with No Doors and No Windows and a Star Inside." Second grade students in Mrs. Cyndi Booker's class enjoyed their apples as Mrs. Denise Delmont, mother of student Logan Delmont, read the story.


---



Recycling Fundraiser Helps Beat The Budget Crunch at Kaegebein - 2007
Students/members of Kaegebein's PTA have been earning free cash by participating in the FundingFactory Recycling Program. They collect empty laser and inkjet cartridges and used cell phones from the community and send the waste products to FundingFactory in exchange for their choice of technology and recreation products, or even cash.
Companies interested in demonstrating a commitment to education and the environment can participate free of charge in the FundingFactory Business Support Program. FundingFactory will send each supporting business free, postage-paid shipping boxes for the return of collected cartridges and cell phones. By donating to Kaegebein's PTA, businesses help them earn the funding they need to support different programming at Kaegebein which may not normally be available to its students.
Community and business supporters can also drop off cartridges and cell phones at the following locations:
Kaegebein School, 1690 Love Road, Grand Island
Chamber of Commerce, 2257 Grand Island Blvd.
To learn more about supporting Kaegebein's PTA, please contact Denise Delmont at 773-6409/Dee@Buffalo.com or visit www.FundingFactory.com. Businesses can select Business Support and use ID #104882 to choose us as the beneficiary organization.


---



Kaegebein Moving-Up Day - June 2007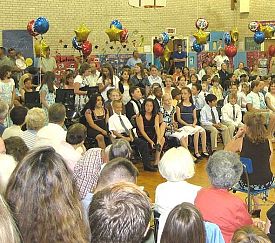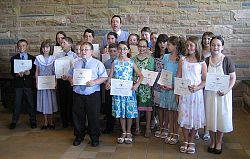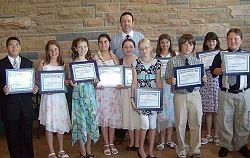 (Left) Fifth grade students - (center) President's Award Winners - (right) K-Pin Recipients.
Kim Schopp Photos - Click for larger view
The Kaegebein Elementary Moving-Up Day ceremony was held on Friday, June 15, 2007. The band directed by Mr. Michael Robertson played "Pomp & Circumstance" as the students entered the gym. After welcoming everyone, Principal John Wiertel announced the winners of the President's Education Awards. Grand Island Senior Soccer star Alicia Barnaby addressed the students. Fifth Grade teacher and PTA officer Mrs. Stacey Zahradnik put together a slide presentation as a 5th Grade Scrapbook of the year. Mr. Wiertel also anounced the Gold "K" winners. The program ended with the fifth grade students singing "Old Irish Blessing" directed by music teacher Mrs. Renee Michki.


 
 
Presidential Awards 
 
Natalie Baldassarre       Magdalyn Chauby 
Emily Kernin                 Emma MacIntyre 
Anna Nicolia                Lillian von Reyn 
Marissa Ruffolo            Addison Joslyn 
Zachary Jones               Ciara Howley 
Jacob McMahon             Gregory Nicolia 
Gabriella Liberatore      Justin McCarthy 
Alexandra Montesano     Jillian Sheehan 
Elliott Michki                 Brentyn Mendel 
Justin Lavis 
 
 
 
Gold K Winners 
 
Sierra Besl 
David Holler 
Marissa Ruffolo 
Jillian Sheehan 
Joshua Everett 
Emily Kernin 
Alexandra Montesano 
Magdalyn Chauby 
Anna Nicolia 
David Cich III
 


---



Kaegebein 2nd Grade Field Day - June 2007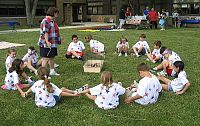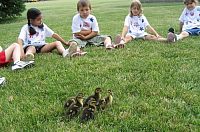 Mrs. Patricia Ludwiczak's 2nd grade class and baby ducks.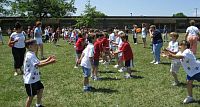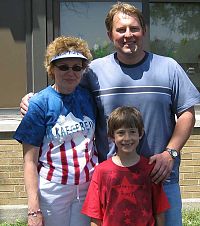 (right) Mrs. Kathleen Fik and former student Joe Chadima and present student Joe Chadima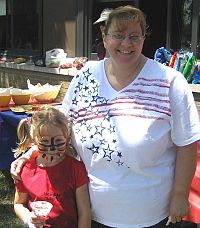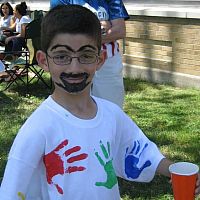 (left) Mrs. Renee Mitchki and daughter Heather, (right) Nick Rallo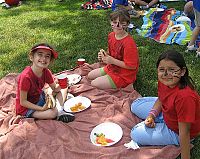 (from left) Genna Baldassarre, Katelyn Newbould and April Adams.
Kim Schopp Photos - Click for larger view
The Kaegebein Elementary second grade students enjoyed a beautiful day for their field day festivities on Thursday, June 14, 2007. Prior to the start of the field days, Mrs. Patricia Ludwiczak's 2nd grade class brought baby ducks, born in their classroom, outside for the first time.
The students enjoyed a picnic lunch, face painting, sno cones, crafts, races and a water balloon toss.


---



Kaegebein Celebrates Flag Day - June 2007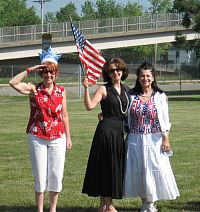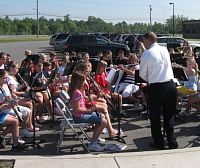 (left)Patriotic teachers, Mrs. Barbara Leifer-Lavitz, Mrs. Alexann Incao, and Ms. Linda Zimmerman.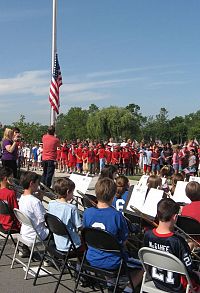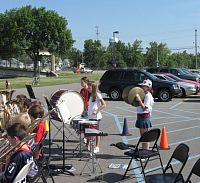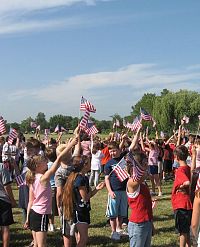 Jodi Robinson Photos - Click for larger view
The Kaegebein School Flag Day celebration was held on Thursday, June 14th. The advanced band led off the festivities playing the "Star Spangled Banner" as the flag was raised. Band Director Michael Robertson led the band in the playing of"Grand Old Flag" and school song, "The Red and The Blue." A special flag was used after being sent from Afghanistan. Mrs. Susan LaTona's fifth grade class has been corresponding with soldiers from the ODA396C Company, 3rd Battalion throughout the school year. The soldiers sent the flag to the students to recognize their efforts, saying the flag "had flown in the face of the enemy" from August 15, 2006 - March 1, 2007.
Music teacher Mrs. Renee Mitchki directed the second graders in singing "This Land Is Your Land" and "I Love My Country." Principal John Wiertel ended the celebration with a description of what Flag Day represents.


---



Kaegebein Fifth Graders Visit Botanical Gardens - May 2007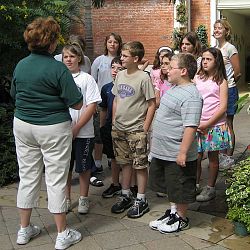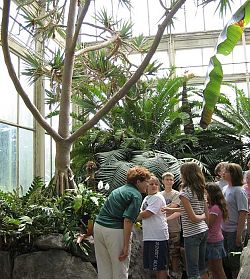 Kim Schopp Photos - click for larger view
Kaegebein Elementary School students from the classrooms of Mrs. Susan Skrabacz and Mrs. Susan Latona were given a guided tour of the Erie County Botanical Gardens on Monday, June 11th. The fifth graders took a tour of the facility, visited the Century Cactus Plant, and then went to learning stations where they experimented with soil samples, seeds and plants.




Historical Society's 4th Grade Historic Tours
Kaegebein Elementary School Fourth Graders Visit Historical Sites - June 2007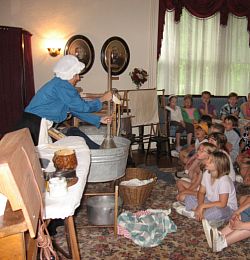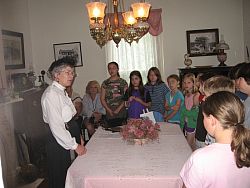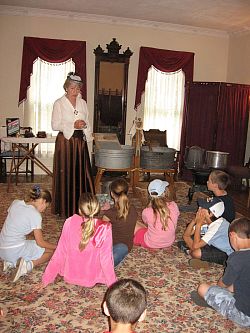 Click photos for larger view
Jodi Robinson Photos
The fourth grade students of Kaegebein School and their teachers visited River Lea on Friday, June 1, 2007 and toured historic sites around the Island, courtesy of the Historical Society. The Grand Island School Board provided the necessary funds for transportation. The bus tour includes River Lea, Ferry Village, the ice house on East River Road, the site of what was the Whitehaven Sawmill Settlement on the Holiday Inn property, the SS Corona off of Kirkwood Drive and a tour of the Town Hall.






Kaegebein Mini-Relay For Life - 2007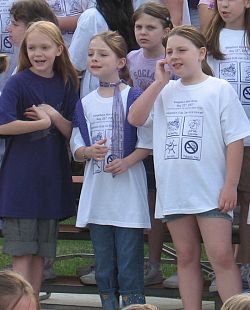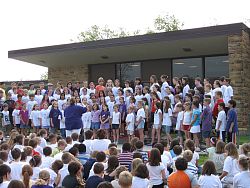 Left: Waiting to perform. Right: Chorus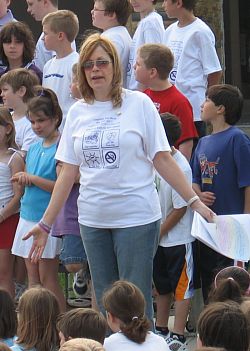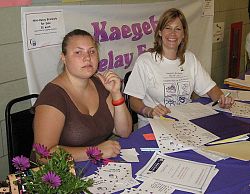 Left: Chairman and second grade teacher Cyndi Booker. Right: High School intern Alicia Camizzi and Chairman Cyndi Booker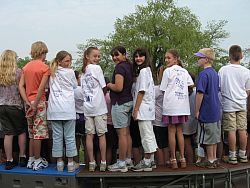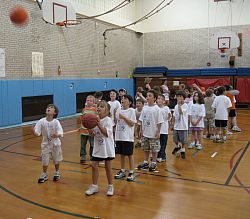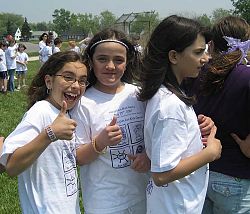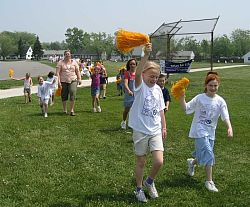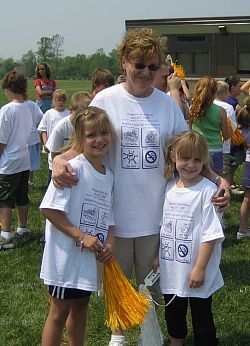 Mrs. Kathy Fik and Students
Jodi Robinson & Kim Schopp photos - Click for larger view.
The students of Kaegebein Elementary were very busy for the month of May. Besides doing well with their school work, the Relay for Life Kaegebein Mini Relay was happening. Funds of over $6,200 were raised through a Cutest Baby Photo (teacher) Contest, having a hat & sun glasses day (pay a buck to wear) and coin donations. The final day was Friday, May 25th and it started with an assembly in front of the school where music teacher Mrs. Rene Michki led the chorus in song. Relay coordinator and second grade teacher Mrs. Cyndi Booker welcomed everyone and then introduced Grand Island coordinator for American Cancer Society, Mrs. Jane Dent who thanked everyone for participating. The students were sent out four classes at a time and went to a "track" and walked as a class three times around, just like at the real Relay.


---



Kaegebein Memorial Day Tribute - May 2007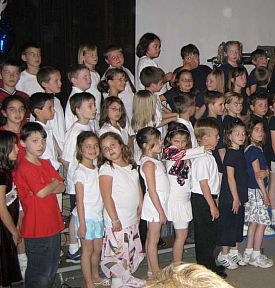 2nd Graders.
Kim Schopp Photo - Click for larger view
The Kaegebein School second grade classes performed a Memorial Day tribute entitled "My Country" on Thursday, May 24. Music teacher Mrs. Renee Michki directed the students in singing "This Land Is Your Land" and "America The Beautiful." There were also two dozen student speakers who spoke of good behavior and patriotism.


---



Kaegebein Student Plant Sale - May 2007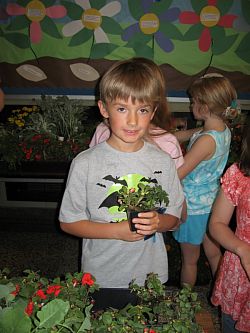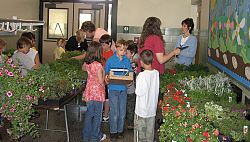 Left: Brennan from Miss Francine Young's 2nd grade class.
Jodi Robinson photos. Click photo for larger view
Kaegebein Elementary School PTA holds a plant sale every year in May. The day after the sale, all the leftovers are deeply discounted and the students are invited to purchase flowers and vegetable plants. This year's sale took place on Tuesday, May 22nd.




Kaegebein Students Participate In Choir Invitational - Spring 2007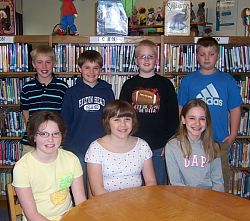 Front left: Nancy Dahlquist, Genevieve Davis, and Rebekah Gaydosh; (back) Andrew Reiderer, Eric Reiderer, James Moore, Ryan Marlin
Seven fourth graders from the Kaegebein Elementary School choirs recently participated in the Western New York Children's Choir Invitational Weekend at Westminister Presbyterian Church in Buffalo. The invitational took place on April 28-29, 2007. The students worked with children's choir conductors from the Buffalo and Toronto area. Lessons on singing, acting and drumming were also presented. A concert for the public was held on April 29th.


---



Kaegebein Students Help in the Fight Against Cancer - 2007
Students at Kaegebein Elementary School will be participating in a Mini-Relay for Life to benefit The American Cancer Society on Friday, May 25, 2007.
A Mini-Relay for Life is an abbreviated version of The American Cancer Society's signature event – Relay For Life. Event Coordinator and Second-Grade Kaegebein Teacher, Cyndi Booker said, "This is a great program that provides resources for the teachers so they can, in turn, teach the students about ways they can prevent cancer." Each week classroom activities have incorporated messages about cancer prevention. The themes included Eating Healthy, Exercise, Sun Safety, and Being Tobacco Free.
Kaegebein Elementary School has spent a great deal of effort planning and preparing for the Mini-Relay for Life. Since fundraising is an integral part of the event, students spent the month collecting pledges for the walk. Second and fourth-grade students have been busy making purple and white inspiration bracelets to be sold at the event for $1.00 - $2.00 each and over 300 t-shirts have been sold to students, staff and parents to wear the day of the event. Some friendly competitions have developed between classrooms in a race to see who can collect the most spare change. This is keeping second-grade students very busy counting and rolling change daily. Once the containers are emptied and counted, the students are tracking the totals by entering the information in a spreadsheet on the computer.
Other fundraising opportunities include luminaria sales. Students are collecting donations from friends, family and neighbors to honor the memory or life of a loved one. The bags are then decorated with the name of the person being honored and will be placed around the track during the mini relay.
Teachers have also joined in the spirit of it all by participating in the "Cutest Baby Contest". Voters place spare change in the cup labeled with the number of their favorite choice. The baby picture that raises the most money will win. The winner will have the honor of wearing the coveted bib all day.
Opening ceremonies are scheduled to begin at 9 a.m. when the chorus, led by music teacher Mrs. Michki, will sing a song titled "Everyday Heroes". At intervals throughout the day, students will walk a course on school grounds in an effort to raise money from pledges they had collected all month. When students complete the walk, they will participate in a basket shooting contest in the gymnasium. Prizes will be awarded at the end of the day to the children who collect the most donations.


---



Kaegebein Play "The Mystery of the Library" - May 2007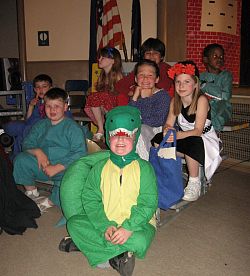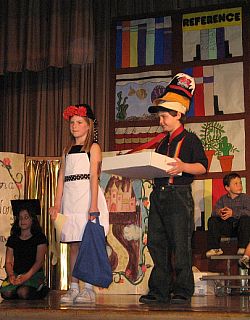 (left) Lyle Crocodile and friends.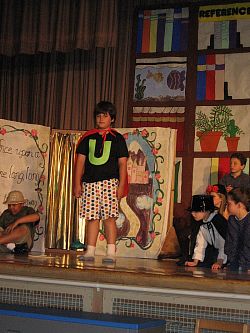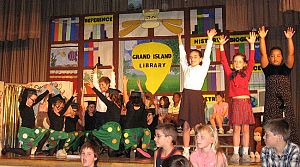 (left) Captain Underpants
Jodi Robinson Photo - Click for larger view
The second grade students of Mrs. Susan Kupiec, Mrs. Patricia Ludwiczak and Mrs. Karen Cartwright put on a play Friday, May 11th titled "The Mystery of the Library." Written by Mrs. Kupiec and Mrs. Ludwiczak, the play was about students being locked in the library the night before a big project was due. Some of the students had not started their report while the three "Brainiacs" had theirs on the computer. When the electricity goes out and the computers don't work, everyone is left in the same situation, no report. Through advise from the bookworms, librarians and many characters from books, the children are able to complete their report and get out of the library. The costumes, sets and actors were all wonderful.


---



Mother's Day Presentation - May 2007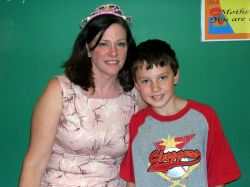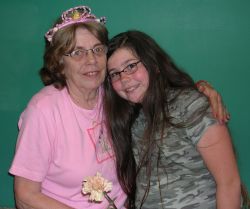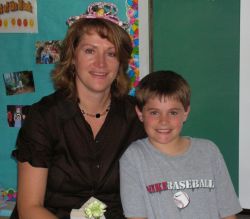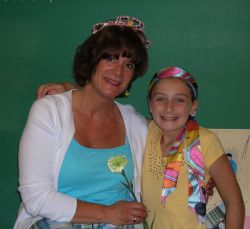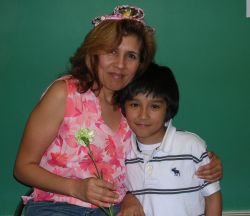 Mother's Day Presentation
Jodi Robinson Photos
Mrs. Kathy Chadwick's fourth grade students invited their mother (or significant female like grandmother or aunt) to a Mother's Day Presentation on Friday, May 11th. Each student created their own presentation to honor that person. Some examples were cards, posters, poems, playing their instruments, and powerpoint presentations. Each student presented their mother with a carnation and the mothers were treated to cookies, tea, lemonade, and coffee.




You're Invited To Kaegebein Memorial Day Show - Spring 2007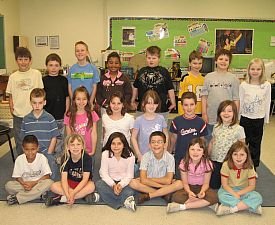 Mrs. Susan Kupiec's second grade class takes a break after rehearsal.
Jodi Robinson Photo - Click for larger view.
Students in the second grades at Kaegebein Elementary are hard at work preparing for the annual Kaegebein Memorial Day Show. This year's program, My Country, which will include a slide show of relatives and other loved ones who are/were in the military, will be presented at 2 p.m. on Wednesday, May 23, 2007 in the school auditorium. Families, friends and community members are invited to join the Kaegebein school students as they honor our country's service men and women. Kaegebein music teacher Renee Michki is program director.




Kaegebein Elementary Students' Art Displayed At School - May 2007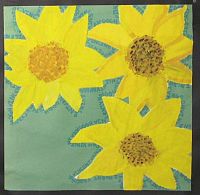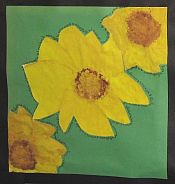 Vincent Van Gogh Sunflower Paintings By 4th Grade Students




Vincent Van Gogh Sunflower Clay Pieces By 5th Grade Students
Jodi Robinson Photos - Click for larger view.
Kaegebein Elementary students have been busy with art projects that are now on display in the halls of the school. Art teacher Mrs. Alexann Incao has had help from a "fantastic" student teacher, Miss Kim Walker, who is a former Kaegebein Elementary School student of Mrs. Incao and is attending Mrs. Incao's alma mater, Daemen College. Miss Walker created the Global Project, "Culturally Diverse Paper People," that the 2nd grade students completed.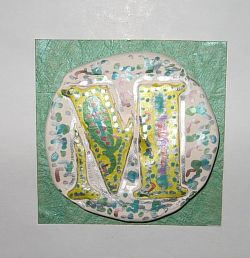 Illuminated Manuscript Letters By 3rd Grade Students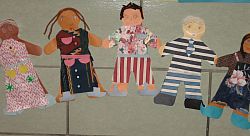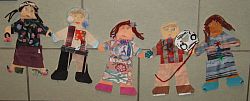 "Culturally Diverse Paper People" By 2nd Grade Students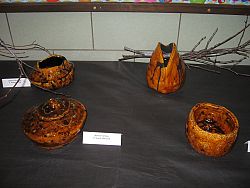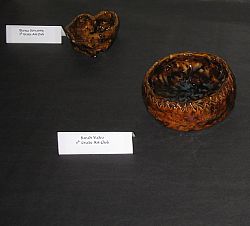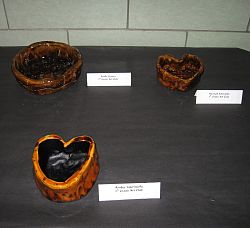 Ceramic Pots created by 5th Grade Art Club Members.




Kaegebein Students, Teachers Learn About Relay For Life - Spring 2007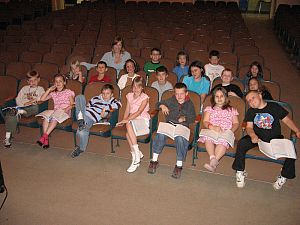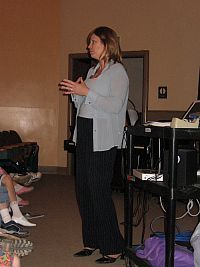 (left) Mrs. Booker and her second grade class
(right) Mrs. Booker addresses the students.
Jodi Robinson Photos - Click for larger view.
Kaegebein second grade teacher Cyndi Booker has been the team captain for Kaegebein's Relay For Life team for the past four years. This year she is getting all the students involved in their own mini-relay. A presentation regarding all of the educational and exciting things they will take part in was made to the teachers and students on Monday, April 30th. Throughout the month of May students will be learning how to prevent cancer and to live a healthier lifestyle. Mrs. Booker has put together a comprehensive program for the teachers that will include nutrition, preventive measures, physical fitness and sun safety. Along the way there will be a Cutest Baby contest with teachers pictures, and an opportunity to make a donation and get a chance to vote. On Hat & Sunglasses Day, students will be able to make a donation and so they can wear a hat or a pair of sunglasses for the day. T-shirt sales, donations from family and friends and luminaria sales will all add to the experience of a real relay. On Friday, May 25th the classes (teams) will be given a set time to walk a track that is being devised by the school gym teachers. The teachers were given a purple folder with all the information and a purple bow to display. May 1st was "Paint the Town Purple Day" and students were invited to wear purple to school. The relay theme is "Kaegebein Kids Can Give Cancer A Kick."




Kaegebein/Huth Road Schools Enjoy Captivating Author Visit - Spring 2007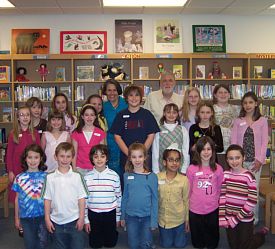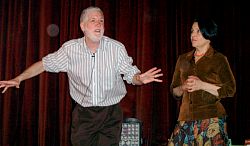 (left) Huth Road Elementary Students are shown with authors
(right) Storytellers Mitch Weissand and Martha Hamilton as they appeared at Kaegebein Elementary.
Click photos for larger view.
The students at Huth Road Elementary School and Kaegebein Elementary recently had a wonderful opportunity to listen to the Beauty and the Beast Storytellers spin their tales and enjoy the art of storytelling. This program was part of the annual author visit organized by the librarians at Huth and Kaegebein, Ms. Vinnie Passanese and Mrs. Pat Rizzuto, and sponsored by the PTA.
Beauty and the Beast Storytellers is a husband and wife team of Mitch Weiss and Martha Hamilton. Winning audiences and critical acclaim throughout the United States, Canada, Europe, and Asia since 1980, they are renowned for their work in teaching the art of storytelling, and are also award winning authors and recording artists.
In preparation for their visit, students at both schools were exposed to literature and folklore from many countries around the world and participated in a variety of creative writing and storytelling activities. The authors spent a day at each school (April 3rd and 4th) where they gave four performances throughout the day, one for each grade level. At Huth Road, the librarian arranged a breakfast before school so teachers could mingle with the guest authors. An "Authors Luncheon" for students followed the morning presentations. Students in each class were asked to write an essay about why they would like to have lunch with the authors. One student from each class was selected to represent their class at a special lunch in the library with Mitch Weiss and Martha Hamilton.
At Kaegebein, the authors enjoyed a luncheon with the faculty, and Kaegebein's Girls' Chorus, under the direction of Mrs. Renee Michki performed a selection from the musical Beauty and the Beast for the authors.
"Mitch and Martha's Author Day Visit" was wonderful! Their personal warmth combined with their love for storytelling left our children with a special gift…the knowledge that they to can make up and also tell great stories, and preserve this oral tradition.




---



Kaegebein Students Raising Money To Fight Cancer - 2007
(Grand Island, NY) – Students at Kaegebein Elementary are joining in the fight against cancer by raising money and walking the school grounds on Friday, May 25th beginning at 9 a.m. Kaegebein students are holding a "Mini-Relay," which is an abbreviated version of the American Cancer Society's® national signature activity, Relay For Life®. Students will be collecting donations throughout the month of May and will walk a course planned by Physical Education Teachers Mr. Andrew Curtis and Miss Kelly Greene for one class period as designated by their teachers. Students can order special T-shirts for the event and participate in some fun activities such as the Cutest Baby Contest (baby photos of the teachers), Wear Sunglasses/Hat Day and "Chip in for Cancer" (golfing event).
"It's a great opportunity for the students to make an impact in the community as well as become knowledgeable about cancer. The students feel good about themselves knowing they are doing something to help others," said Mrs. Cyndi Booker, second grade teacher at Kaegebein and the "Mini-Relay" coordinator. The "Mini-Relay" will be an all-day event, and they plan to include healthy refreshments from those in the community that are interested in donating.
The Grand Island Relay For Life will take place June 8-9, 2007 at the High School Track for the American Cancer Society's mission of saving lives from cancer. The money raised by the Kaegebein students will be donated to Relay For Life in the name of their school.


---



Kaegebein Elementary PTA Talent Show/2nd & 3rd Grades - 2007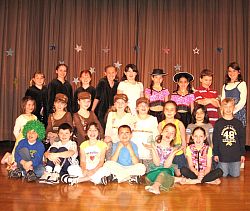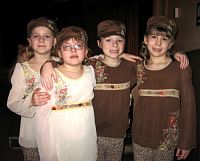 Left: Second & Third Grade Ensemble. Right: Danielle Duck, Brianna Wik, Gabrielle Robinson, Haley Melisz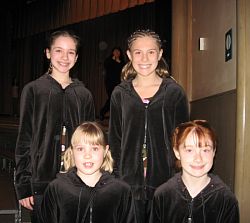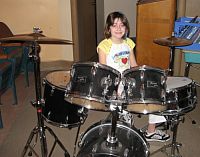 Left photo: (back) Rebekah Gaydosh and JuneAnn Chadima; (front) Taylor Cecere and Olivia Goc
Right photo: Madeline Dallesandro
Jodi Robinson Photos - Click for a larger view.
The Kaegebein Elementary PTA Talent Show was held on Friday, April 20, 2007. The morning show was made up of second and third graders, while the afternoon show was fourth and fifth graders. Performances included many fabulous dances, three piano solos, two comedy routines, a drum solo and a soloist in the morning. Special thanks go to Mrs. Deby LeFevre of Step In Time Dance Studio and parent helper Mrs. Rosanne DelSignore along with other parents, Mrs. Duck, Mrs. Melisz, Mrs. Wik, Mrs. Robinson and Mrs. Nicolia who got everyone in the right spot.


---



A Musical Play On Life Cycles At Kaegebein - 2007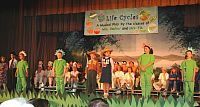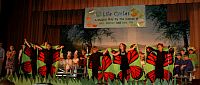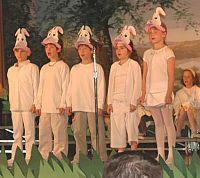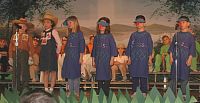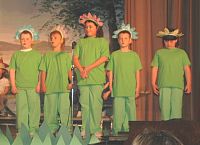 Reg Schopp Photos - Click for a larger view.
The second grade classes of Mrs. Kathy Fik and Mrs. Cyndi Booker presented a musical play on Life Cycles on April 17-18, 2007. The students dressed up as different characters including: butterflies, deer, fish, rabbits, tadpoles, plants, biologists, gardeners, zoo keepers and snakes. Each group sang a song about their lifecycle or career.




Kaegebein Elementary Spelling Bee - 2007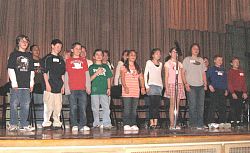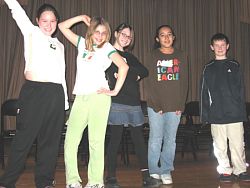 (Left) Spelling Bee Participants; (right) The winners and alternate from left: Lillian Von Reyn, Grace Scherrer, Annie Niland, Aaron Cook and alternate Cinque Foster.
Jodi Robinson Photos
Click photos for larger view.
The Kaegebein Elementary School fifth grade spelling bee was held on Friday, March 16th and was very exciting. The last two contestants vying for the alternate spot went eight rounds before they were done. The spelling bee contestants were Lillian Von Reyn, Natalie Baldassarre, Vincent Malpica, Justin Graesser, Michele Aronica, Grace Scherrer, Brian Cooper, Ciara Howley, Angela Pozantides, Sydney Quarantillo, David Madigan, Annie Niland, David Cich, Aaron Cook, Cinque Foster, Alex Montesano, Alex Cousins, Christine Herman, Zachary Jones, and Emily Valint. The winners from this spelling bee who are going to the regional spelling bee are: Lillian Von Reyn, Grace Scherrer, Annie Niland and Aaron Cook. The alternate is Cinque Foster. The fourth grade students also held a spelling bee on the same day.




Sidway/Kaegebein School News
"Read Across America Day" - 2007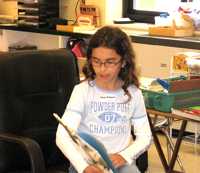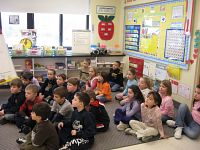 (Left) Natalie Baldassarre; (right) Mrs. Pam Shoemaker's first graders.
Jodi Robinson Photos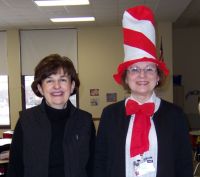 (left) Kaegebein Librarian Mrs. Pat Rizzuto and Sidway Librarian Mrs. Karen Beacher

Click photos for larger view.
Sidway School celebrated "Read Across America Day" and 50th birthday of Dr. Seuss' Cat In The Hat story on Friday, March 2, 2007. Readers from Kaegebein Elementary arrived early in the morning and in pairs were escorted by Sidway students to their classroom. Each read a book of their choosing in the classroom to the kindergarten and first grade students. After reading, the Kaegebein students were treated to cookies in the dining room before they went back to school.


---



Kaegebein Second Graders Visit Aquarium - February 2007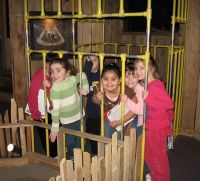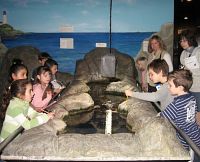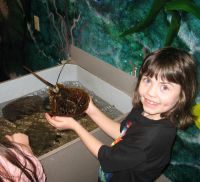 Shown are students from Mrs. Kathy Fik's class enjoying a visit to the Aquarium of Niagara along with other 2nd grade students and teachers.
Kim Schopp Photos - Click for a larger view.
The second grade classes from Kaegebein Elementary School enjoyed a visit to the Aquarium of Niagara in Niagara Falls, NY on Tuesday, February 13, 2007. The students spent the morning viewing penguins being fed, watching the sea lion show, learning about different sea creatures and their environment and experiencing the touch tank. The tank held crabs, lobsters and other ocean life. After enjoying lunch at the aquarium, the students headed back to school.


---



Kaegebein School Post Office Sponsors Two Contests - January 2007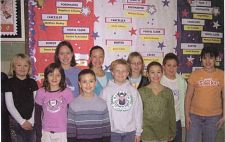 Contest winners shown are (front left) Kaitlynd Howell – Gr. 3, Lisa Fankhauser – Gr. 3, Anthony Alessandra – Gr. 3, Nolan Miles – Gr. 4, Taylor Internicola – Gr. 3
(back) Lillian von Reyn – Gr. 5, Lauren Kullerkupp – Gr. 5, Kelsey Percival – Gr. 4, Michael Podlucky – Gr. 4, Marissa Ruffolo – Gr. 5
Click photo for a larger view.
The Kaegebein Elementary School Post Office recently sponsored two contests, a Grade 3 Writing Contest and a Grades 4/5 Poetry Contest. Grade 3 Writing activity required students to write about their favorite or most memorable Christmas morning while following the rules of the activity. Grades 4/5 Poetry Contest requested students to write a poem using Christmas or winter as the theme while following the contest criteria. Participating students used their imagination and creativity to complete each activity. Winners for each contest are shown above.


---



Kaegebein Music Students Earn High Scores - Jan. 2007
Students from Grand Island Senior High School, Veronica E. Connor Middle School, Huth Road Elementary and William Kaegebein Elementary participated in the All-County Solo Auditions (Elementary, HS Jazz and Vocal Solo, Elem., H.S. Vocal Solo & Jazz All-County Solo Auditions) on Saturday, January 6, 2007 in the Depew Middle School.
Fourteen fifth graders from Kaegebein auditioned and the entire group scored 97 or above with some receiving a perfect score. The students tried out individually behind closed doors, while being judged by a adjudicator. Mike Robertson, new instrumental music instructor at Kaegebein, is to be commended as are the participating students in the Kaegebein School music program who took part for the first time.
Kaegebein Students
Ryan Allen
Marissa Atkinson
Natalie Baldassarre
Magdalyn Chauby
Heavyn Dreher
Rebekah Gaydosh
Ciara Howley
Emma MacIntyre
Elliott Michki
Alexandra Montesano
Andrew Riederer
Eric Riederer
Jillian Sheehan
Molly Smith


---
Other Grand Island Pages to Visit:
Churches | Email Directory | Government | Groups
GIHS Grad List | Guestbook | Please sign in! | Local Artists | | Photo Album | Town History | Useful Links
| Website Design | Wildlife | Isledegrande's Home Page | GIECOM.NET'S Home Page
Please Email News Releases to Teddy Linenfelser, Thank You.
This website is sponsored by
GIECOM.NET
1869 Whitehaven Road, Grand Island, New York, 14072-1803 USA


Copyright © 1995-2007 All rights reserved.