School Board News Continued:
In the correspondence section of the meeting, Grand Island School Superintendent. Dr. Paul Fields announced that October 23 – 27was School Board Recognition Week. He read several notes from schoolchildren thanking the Board for their work. One child wrote how good school was and that his favorite part is lunch.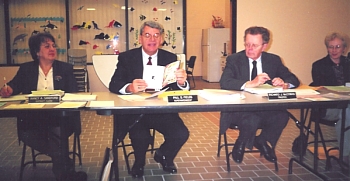 Dr. Paul Fields also read a proclamation from the Grand Island Town Board in Recognition of School Board Week.
School Transportation Director Jack Burns was congratulated for receiving an award from the NYS Department of Transportation for having greater than 95% of school bus fleet pass inspection for five consecutive years.
Burns gave all the credit to the districts four mechanics, and said that the buses fail inspection if just one of their light bulbs burn out.
Only 20 of New York State's 28,000 School transportation systems received this award.
Look for complete school news at www.isledegrande.com.
---
Other Grand Island Pages to Visit:
| Businesses | Churches | Email Directory | Government | Groups |
| GIHS Gradlist | Guest Book | Please sign in! | Local Artists | New! Photo Album |
| Recreation | Schools | Seneca Law Suit | Town History | UsefuLinks | Weather |
| Website Design | Wildlife | Home Page - Frames |

This website is sponsored by GIECOM.NET
1871 Whitehaven Road, Grand Island, New York, 14072-1803 USA
Copyright © 1995-2000 All rights reserved.