---



Mary Beth Bush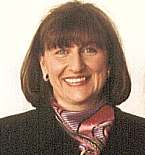 Raised on West Oakfield Road, Grand Island, NY, Mary Beth Englert Bush grew up with a keen appreciation and respect for her unique "front yard" playground known as the Niagara River.
A 1980 Niagara University graduate with a BS in Nursing, mary Beth is currently employed as the school nurse at Charlotte Sidway School as well as a nursing data coordinator for IT HealthTrack, Inc. Her nursing background includes Level 2 trauma center post anesthesia nursing where she maintained ACLS as well as PACU certifications.
Mary Beth is a member of the New York State Association of School Nurses as well as the Western New York Association of School Nurses where she served as vice-president from 1998-2000.
Mother of Brittany, a senior at Mount Saint Mary Academy, Mary Beth has been actively involved in the MSM Parent Association as well as the school ski club advisor and chaperone for the past four years.
Mary Beth's dedication to community service through the Skating Association For The Blind And Handicapped, Inc. earned her the Adult Volunteer of the Year Award for the Niagara University rink in 2002.
Other awards include the El Paso County Medical Society Award for Nursing Excellence in 1990, Nightingale Awards Nominee in 1992, Honorary Life PTA Membership in 1997, and Western New York School Nurse Association School Nurse of Distinction in 2001.
In an effort to nurture the human spirit, Mary Beth has spent her career serving the needs of others by improving their quality of life. She welcomes the opportunity to actively participate on the Peace Bridge Expansion Project to continue these endeavors for the benefit of all of Western New York and Southern Ontario residents.