You may want to visit our Grand Island History Page

"Lost Grand Island"
Examples of structures that could have been saved with a local preservation ordinance.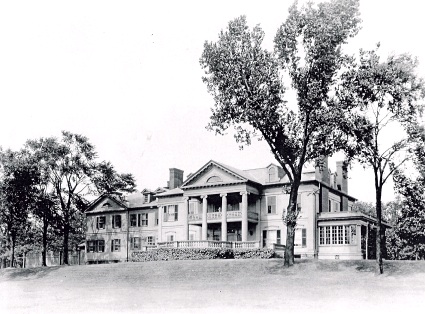 This magnificent Georgian home was built by Franklin and Charlotte Spaulding Sidway. Overlooking the Niagara River, the house became the center piece of "River Lawn," once the estate of Elbridge Gerry Spaulding. Upon the death of E. G. Spaulding in May of 1897, the three hundred and fifty acre estate passed to his daughter, Charlotte. The house and most of the out buildings, which dotted the estate, were destroyed when "River Lawn" became part of Beaver Island State Park. (From a collection of photos taken 4/29/32 by Hare Photography Studios)

---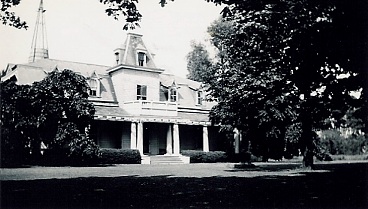 The Beaver Island Club was built on Beaver Island, the small island off the head of Grand Island, in 1852. The club, originally known as the Jolly Reefers, was made up of a group of Buffalo sportsmen, including Grover Cleveland, who enjoyed fishing the area. Charter member Charles D. Marshall eventually purchased the impressive looking club house and 40 acres of land. Remodeled as his summer home, it was known for many years as the Marshall Mansion. The State of New York took over the property which became a part of Beaver Island State Park and the Beaver Island Club finally fell victim to progress in 1941. The Beaver Island Club was one of many elaborate clubs and summer homes built during the Island's Golden Era.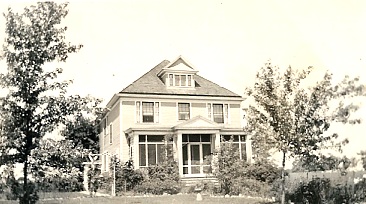 St. Stephen's Catholic Church buildings on Baseline Road, Grand Island date back to 1862. The first rectory was constructed and semi-completed in 1906 at a cost of $5,078 with most of the labor cost being contributed by members of the parish. Father Charles F. Kraehn, parish priest from 1906-1928, in a letter to Father Edward Schwegler in 1952 said, "I established residentia in the rectory of St. Stephen's Church early in 1925 after having spent the hectic years from 1916 to 1925 commuting on Sundays via ferry." The rectory was then made a comfortable residence when it was papered, floors were finished, and wiring for electricity, water, bath, and a heating plant were installed. Sadly, the house was torn down in 1993.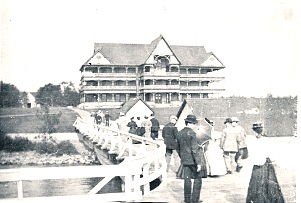 Grand Island's Golden Era took place in the later 1800s and early 1900s when it blossomed as a town of clubs, hotels and mansions. The Oakfield Club located on the west shore and upriver from the Falconwood Club, was the largest private club on the Island, at one time boasting a membership of 400. Accounts of its origin differ. One mention lists its founding as 1873, however it is shown on a Grand Island Map of 1865. It consisted of this main clubhouse, surrounded by private guest houses, a large boathouse and dock side bar. The three-story clubhouse, destroyed by fire in the 1890s, was replaced with a two-story wooden structure, nearly 80 feet in length and surrounded by a columned veranda. Though completely remodeled and not recognizable, it is still located on West Oakfield Road today.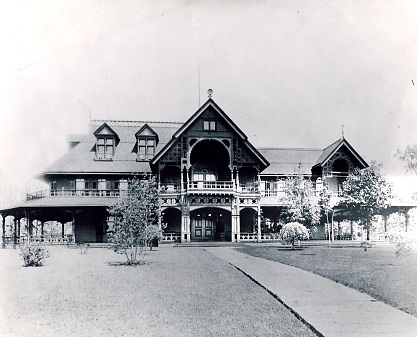 Declared a township in 1852, Grand Island in the half century that followed, changed from mainly farming country to an era that included exclusive clubs and elaborate summer homes. Lewis F. Allen's Falconwood Club opened as a resort on June 19, 1858. Its design was of the "villa" order or what would later be known as "Queen Anne." Located on 45 acres overlooking the West River on Grand Island, its twelve foot verandahs ran the full length of the site that boasted an elegant bar, bowling alley, assembly hall and a number of guest rooms. Its wharf projected 110 feet into the river. The Falconwood Club burned in the 1920s.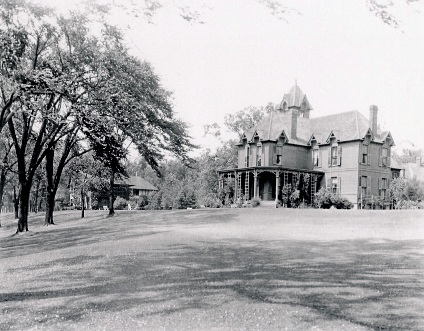 Elbridge Gerry Spaulding built this Victorian era Stick Style home about 1870 as his summer retreat on Grand Island. "River Lawn," as the estate was called, had a half mile of river front and encompassed 350 acres of broad woodlands and cultivated fields. It was in this setting that E. G. Spaulding indulged his hobby of raising some of the finest cattle in the nation. During the 1930s, the estate became part of Beaver Island State Park. In this photo the Ralph Sidway House, now the park office, may be seen on the left.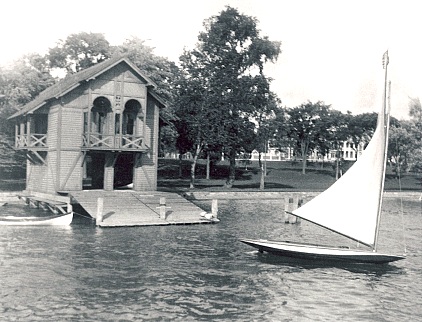 A circa 1903 photo of the Spaulding-Sidway Boathouse in its original setting on the river front of "River Lawn." Built circa 1870 by Elbridge Gerry Spaulding in the late Victorian Stick Style, the boathouse is architecturally and historically significant as a rare and outstanding example of a late 19th century recreational structure. In 1935, when "River Lawn" became part of Beaver Island State Park, the boathouse was floated up river to its present site by Franklin St. John Sidway, E. G. Spaulding's grandson. The boathouse was listed on the National Register of Historic Places in July of 1998. (from a book of photographs titled "River Lawn" produced by Bliss Brothers Photographers and dated 1903).


Historic Preservation on Grand Island


Grand Island Supervisor Peter A. McMahon, in 1998, appointed an Historic Preservation Committee and charged it with the task of writing a preservation ordinance for the town. Composed of Islanders who have demonstrated an interest in the historic fabric of the community, the committee includes Town Historian Teddy Linenfelser, Historical Society members Shirley Luther and Doris Rees, Joan Bodkin, William Koch, Joseph Macaluso, Dr. Richard McCowan, and Timothy Mordaunt, an attorney.
In an effort to emphasize the need for historic preservation, the committee put together the following statement:
As Americans we have always had a passionate belief in progress: in the built environment this progress translated into tearing down the old to make way for the new. In the 1950s a movement began to gain momentum against destroying the old. It determined that conservation of our historical and cultural heritage provides a sense of pride in who we are as well as making economic sense. Thus was born the preservation movement, a movement recognizing that the fabric of any community is a weave composed of the old and new, dedicated to preserving a community's irreplaceable resources: historical, architectural as well as natural. The built environment affects the way people view their surroundings as well as playing a role in the quality of life of a community. Preservation promotes community pride and cooperation in maintaining or restoring neighborhoods. John Conlin, local architectural historian, describes historic preservation as "simply the instinct to make the most of what we already have."
The United States Supreme Court, in a 1954 opinion written by then Associate Justice William O. Douglas, asserted that the concept of public welfare represents values that are "spiritual as well as physical, aesthetic as well as monetary. It is within the power of the legislature to determine that the community should be beautiful as well as healthy, spacious as well as clean, well-balanced as well as carefully patrolled...there is nothing in the Fifth Amendment that stands in the way."
The diversity of communities across the United States has captured the interest of an ever increasing number of people, and tourism based on historical, cultural and architectural heritage has become popular. Architectural and heritage tourism has played a major role in local efforts to boost tourism. The restoration of the Darwin D. Martin House, one of Buffalo's five Wright-designed homes, is expected to attract a large number of visitors each year and have a significant economic impact on the local economy.
Grand Island has a rich history; unfortunately many of the structures that contributed to this history have been lost, but the Island still retains its natural beauty and a significant number of early structures and sites. Located between Buffalo and Niagara Falls, it also could be an important stop on the Heritage Trail. Currently Grand Island has one structure listed on the State and National registers of Historic Places - the Spaulding-Sidway Boat House. There are other structures that go beyond local interest. For example, Lewis F. Allen's River Lea has a national connection with a former U. S. President, Grover Cleveland, and there are two architecturally significant, and wonderful old wooden churches, plus a number of farm houses as well as "cottages." It is time Grand Island recognizes the structures that contributed to its heritage and provides a means to assure their preservation. Grand Island should take its rightful place on the Niagara Frontier Heritage Trail.

Visit our Grand Island History Page
---

This website is sponsored by
GIECOM.NET
1871 Whitehaven Road, Grand Island, New York, 14072-1803 USA
Copyright © 1995-2013 All rights reserved.