Cancer: My Gift From God
by Jacqueline Giambra
175 pages; quality trade paperback (softcover); $25.00 (20% ,$5.00 directly donated to the American Cancer Society Relay For Life Grand Island, NY 2007)
~Please see a Giambra's Gift team representative for arrangements.

This book will teach you how to surpass death as Jesus has while still living an abundant life on earth. Can being diagnosed with cancer actually save your life? The answer is Yes.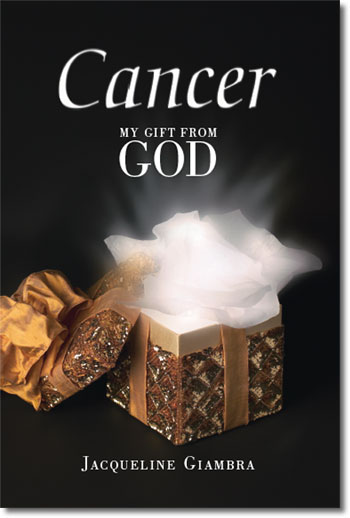 About the Book
Are you willing to surrender all that you are, and all that you know, to receive good health, long life and an inner peace that surpasses all understanding? If so, then this book was written for you. I was on the proverbial edge of a cliff and then fell off into a deep dark hole full of death; fear and anguish is what I thought the definition of cancer was, until I met Jesus.
Beyond my wildest dreams, this life changing diagnoses of cancer has transformed me into a new creation. This inspirational book will lead you out of an unhealthy circumstance, into the light of victorious healing beyond all thoughts possible.
I am a woman who lived an average life day after day, working and striving for love and peace in all the wrong places. I am a woman who has brushed the shoulders of Satan and unknown to my consciousness believed and lived in the lies he fed me, until January 10, 2003. This was the day I was told that I had Breast Cancer and this was the day Jesus came to my rescue. I have been saved by the grace of God and I will take you step by step into the presence of your mighty Father who reins in Heaven and through Jesus and the Holy Spirit you will be made of a better mind, body and soul.
All is possible with the Lord and only God the Father makes the decision when we are to go back home. Standing in the presence of the Father begins right now. I will teach you all the Lord has revealed to me that has opened the door to Heaven while still here on earth. This will b e a life changing experience that will grant you eternal life, which means a life with no ending. You will learn how to surpass death as Jesus has, for we belong to the Prince of Peace and the King of all Nations. You are about to be put on a journey that is full of love, peace and understanding beyond your comprehension. You will receive an abundance of wisdom and knowledge from the author of life, God himself.
Can being diagnosed with cancer be the best thing that has ever happened to you; can being diagnosed with cancer actually save your life? The answer is yes.
Everything written in this book is based on true facts that have taken place. Hold my hand as I walk you into the light of Jesus, and may He carry you the rest of the way.
---
About the Author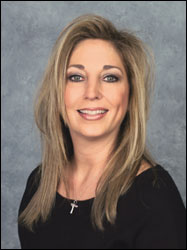 I was born on November 9, 1962 in Buffalo, New York. I lived the past forty years of my life searching and looking for love and peace in all the wrong places. On October 30, 1988 I lost my Mother to breast cancer. Her diagnoses, a brutal struggle and then her death left me paralyzed in fear, and unable to face life or death. On January 10, 2003, is when I was forced to face my worst nightmare. This was the day I was told that, I had breast cancer, and this was the day I stood before God and He introduced me to His son Jesus. What started out in the darkness of fear turned into the light of hope and peace I never would have thought possible. Through God, Jesus and the Holy Spirit I have been taught that cancer can be turned into a blessing.
I believe the Lord uses different individuals, from all walks of life to guide His lost sheep back to Him. There are no specific qualifications needed when the Lord chooses one to be a voice for all who suffer in the darkness of this world full of light. I have sat in the presence of God and He then introduced me to Jesus. Jesus then picked me up in His arms and carried me to you. He blessed me with the Holy Spirit, and this precious Spirit of God has guided every word in this book. I can take no credit, for all the glory belongs to our Father in heaven, Jesus and the Holy Spirit.
I am just a messenger.