The Model Transition Programs (MTP) of Grand Island and Tonawanda present…

At this free workshop you can address your concerns and share ideas.

· Learn ways to prepare your child to enter the adult world.

· Discover strategies to help get your child and yourself ready for this transition

· Understand how to start letting go and pass the reins over to your child

Come in with your questions and leave with a plan that you can put in to action.
When: May 5, 2008 6:00 p.m. – 8:00 p.m.

Where: Tonawanda High School

150 Hinds Street

Room 100

Tonawanda, NY 14150


Transition to Adulthood Series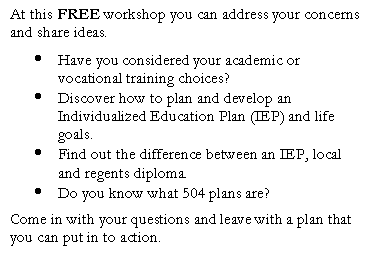 When: May 22, 2008 6:00 p.m. – 8:00 p.m.
Where: Grand Island High School
1100 Ransom Road,
Room 108
Grand Island, NY 14072
Call (716) 332-4170 or 1-866-277-4762 toll free to register.*
To download this flyer and others, go to: www.parentnetworkwny.org
Sponsored by: Parent Network of WNY