Grand Island Central School District Recognized as
"School of Distinction"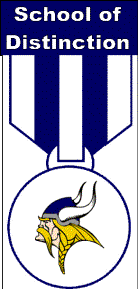 The Grand Island Central School District Athletic Program has just wrapped up a phenomenal year. The New York State Public High School Athletic Association (NYSPHSAA) has recognized Grand Island Central School District as a 'School of Distinction'.
At the end of each sports season, the NYSPHSAA honors those teams that excel in the classroom with the Scholar Athlete Team Award. To qualify for this award, a varsity team must have a minimum grade point average of 90% with several additional requirements considered. This year all 25 teams were recognized as winners of the NYSPHSAA Scholar/Athlete Team Awards therefore deeming Grand Island Central School District as a 'School of Distinction'. "I am very proud of all our athletes for their performance and also for our coaches for stressing the importance of academics" said Jon Roth, Athletic Director.
This prestigious honor recognizes any school district when 100% of their teams achieve scholar athlete status. Grand Island is one of three Western New York school districts to ever receive this recognition since the inception of this program back in the 2002-2003 season. "This is an amazing accomplishment and is truly a reflection on the efforts of our students, coaches, teachers and parents" said Robert Christmann, Superintendent of Schools.
Grand Island Central School District is honoring all varsity coaches and one player from each team at a reception to be held at the Grand Island Holiday Inn. The Holiday Inn is assisting with the costs of this event to be held on Monday, June 16.
This year NFL Championships were clinched by Girls Tennis, Girls Soccer, Boys Cross Country, Boys Track and Field, and Baseball. "This was truly an outstanding year and I am very proud of our athletes and coaches" said Roth.
See below for a complete listing of 2007-2008 scholar athletes.
FALL TEAMS HONORED AS SCHOLAR ATHLETES
GIRLS TENNIS

GPA: 93.09
Coach: Julie Neville
Alyssa Accardo
Kim Asbach
Catherine Aughey
Stephanie Aughey
Alexandra Buscaglia
Courtney Catalano
Simarjot Cheema
Anna Ferrante
Julie Hasselbeck
Tara Hook
Ashley Koerntgen
Kelsey Mash
Lauren McGowan
Brittany Papaj
Courtney Papaj
Bre Rafferty
Kaitie Samland
Brittany Stallard
Caitlin Taylor
Molly Wynne
GIRLS SOCCER
GPA:
90.00
Coach: Dave Bowman
Alexa Amato
Lindsey Boyle
Maria Buyer
Casey Carminati
Jaclyn Coe
Amber Duda
Jordan Dudish
Samantha Forysinski
Cathryn Hilliard
Jenna Hutzler
Jordan Kessler
Elizabeth Lorence
Ashley Mazurkiewicz
Mia Magliazzo
Jamie Raepple
Carly Snyder
Jordon Tripi
Kristin Wegrzyn
Alexandra Weiser
BOYS GOLF GPA: 90.67
Coach: Craig Warthling
Darren DelSingnore
Korey DiMatteo
Alexander Fry
Thomas Kalman
Alex Killian
Matt Ludwig
John Osberg
BOYS CROSS COUNTRY GPA: 90.22
Coach: Don Sauer
Christopher Carter
Jason Chadwick
Jordan Gibson
Ryan Hagen
Timothy Howley
Nicholas Masiello
Evan Shaw
Evan Tsembelis
Noah Yanicki
GIRLS SWIMMING & DIVING

90.34
Coach: Lee Herbst
Danielle Asbach
Brooke Chamberlain
Kelly Cich
Stacy Cich
Kayla Fermoil
Kelsey Fortman
Victoria Fortman
Meghan Hayes
Samantha Kahn
Caroline Kaminski
Jaime Majaris
Jennie McCoy
Megan McInerney
Kristin Miller
Chelsea Rupert
Kristin Toellner
Nikki Zimmerman
BOYS SOCCER
GPA:
90.17
Coach: Peter Kuehne
Kolby Banker
Jared Billica
Steven Boyle
Daniel DeMarco
Jeremy Figler
Joseph Fischer
Matthew Hazelet
Tristin Kessler
Samuel Kilb
Charles Lavallee
Ryan Osvath
Jordan Paolucci
Robert Ross
Joseph Shanor
Christopher Stessing
Shaun Winter
FOOTBALL GPA: 90.12
Coach: Dean Santorio
Robert Amsdill
Kyle Clayton
Shawn Davis
Greg Feathers
Christopher Fiels
Andrew Ginsburg
Anthony Gugino
Adam Helman
Matt Klock
Benjamin Kose
Alex Neutz
Christian Nestark
Joe Oliverio
Christopher Podlucky
Lance Robinson
Robert Rutland
Lee Schuster
Kyle Spratford
Joe Tanbakuchi
Nick Taylor
Nick Tomkins
Marc Velocci
Alexander Webb
GIRLS CROSS COUNTRY GPA: 91.20
Coach: Don Sauer
Allison Boron
Brittany Cieri
Bethany Cinelli
Olivia Chopra
Dominique DeGregorio
Caitlyn Driscoll
Kate Garten
Mary George
Erika Osberg
Emily Pease
Jamie Sobieski
Emily Thompson
Maritina Tsembelis
GIRLS VOLLEYBALL GPA: 90.13
Coach: John Head
Haley Breier
Tiffani Dickinson
Kelsey Foote
Chelsea Hall
Lisa Mager
Jessica Oyer
Alex Peters
Susan Pioli
Alexis Raepple
Mary Scherrer
Nicole Serra
Nicole Stickl
BOYS VOLLEYBALL GPA: 90.00
Coach: Bill Schultz
Michael Heftka
Scott Holler
Michael Karpie
Richard Karpie
Joseph Khreis
Todd Kunze
Drew Lazelle
Jared Northrup
Scott Ross
Michael Soos
Jonas Stalyga
Jeff Szczepaniak
Nick Vitello
WINTER TEAMS HONORED AS SCHOLAR ATHLETES
BOYS BASKETBALL GPA: 90.57
Coach: Greg Ross
Kolbey Banker
DJ DeMarco
Greg Feathers
Rich Karpie
Todd Kunze
Alex Neutz
Lance Robinson
Scott Ross
Jonas Stalyga
Joe Tanbakuchi
BOYS SWIMMING & DIVING GPA: 91.50
Coach: Rob Collard
Zach Adams
Joe Aladeen
Adam Asbach
Ben Bakula
Dave Benko
Evan Carey
Josh Kaplan
Mike Montaldi
Anthony Poupalos
James Sica
Ben Soos
Mike Soos
Vinnie Spada
Nick Tomkins
Jordan Toth
GIRLS BASKETBALL
GPA:
92.00
Coach:

Jenepher Banker
Makallie Banker
Amber Duda
Victoria Fortman
Mallory Griffiths
Molly Hayes
Catie Hilliard
Leanna Koslowski
Jessica Oyer
Alex Peters
Susan Pioli
Mary Scherrer
Kristen Wegrzyn
WRESTLING
GPA
: 90.48
Coach: Jeff Johnston
Joe Amsdill
Robert Amsdill
Tygue Busch
Justin Ciechoski
Anthony Genova
Eric Harnden
Jacob Killian
Nick Masiello
Lee Schuster
James Toney
Alex Webb
Eric Weigold
Noah Yanicki
GIRLS BOWLING GPA: 90.57
Coach: Craig Davis
Erica Barrett
Victoria Eldridge
Kelsey Foote
Jenna Hutzler
Mia Magliazzo
Elizabeth McLean
Nicole Serra
Elizabeth Wilson
Brianna Wojnar
BOYS BOWLING GPA: 90.29
Coach: Craig Davis
Eric Breier
Jason Davis
Zach Kelly
Joe Khreis
Zach Manuszewski
Sean Mattrey
Alex Strauss
Scott Suszcynski
GIRLS INDOOR TRACK GPA: 91.26
Coach: Don Sauer
Asst Coach: Jim Paterson
Ellen Betterson
Courtnnie Booker
Allison Boron
Simarjot Cheema
Olivia Chopra
Kelly Cich
Caitlyn Driscoll
Rahsanica Ford
Maria Grant
Chelsea Hall
Meaghan Hayes
Kelsey Mash
Katie Nordvik
Sara Orsolits
Joycelyn Rockwood
Amber Spiez
Emily Thompson
Maritina Tsembelis
BOYS INDOOR TRACK GPA: 90.17
Coach: Don Sauer
Asst Coach: Jim Patterson
Sean Burke
Chris Carter
Jason Chadwick
Joe Connors
Jay Corrao
Patrick Gallagher
Jordan Gibson
Ryan Hagen
Adam Helman
Matt Klock
Jared Northrup
Mike Rayhill
Robert Rutland
Chris Stessing
Eduardo Toledo
Evan Tsembelis
SPRING TEAMS HONORED AS SCHOLAR ATHLETES
GIRLS TRACK & FIELD GPA: 90.00
Coach: Craig Davis
Asst Coach: Ray Billica
Allison Boron
Simarjot Cheema
Jaclyn Coe
Dominique DeGregorio
Caitlyn Driscoll
Amber Duda
Melissa Fargino
Rahsanica Ford
Maria Grant
Chelsea Hall
Caroline Kaminski
Kelsey Mash
Jennifer Mellett
Sara Orsolits
Jamie Raepple
Jenna Raepple
Maritina Tsembelis
Sara Wilczek
BOYS TRACK & FIELD GPA: 90.40
Coach: Don Sauer
Asst Coach: JimPatterson
Eric Breier
Sean Burke
Chris Carter
Jason Chadwick
Aaron D'Angelo
Chris Ernst
Greg Feathers
Christian Gibson
Jordan Gibson
Anthony Grande
Ryan Hagen
Eric Harnden
Adam Helman
Rich Karpie
Nick Masiello
Jared Northrup
Michael Rustowicz
Robert Rutland
Chris Stessing
Nick Tomkins
Evan Tsembelis
Noah Yanicki
SOFTBALL GPA: 91.00
Coach: Pat Lester
Tiffani Dickinson
Jordan Dudish
Julia Fleming
Leah Gangloff
Meaghan Hayes
Molly Hayes
Amber Hultgren
Leanna Kozlowski
Ashley McRae
Jessica Oyer
Alexandra Peters
Kaileen Shoemaker
Emily Thompson
Alexandra Weiser
BOYS LACROSSE GPA: 90.04
Coach: Steve Steck
Steven Accardo,
Jonathan Anderson
Kolby Banker
Rafael Duenas
Chris Fiels
Joe Fischer
Alex Hultgren
Ryan Killian
Drew Lazelle
Matt Ludwig
Mike Magaris
Matt Major
Kyle Spratford
Mitch Stessing
BOYS TENNIS GPA: 90.46
Coach: Don Pray
Darren DelSignore
Korey DiMatteo
Kearney Erhard
Jacob Ferrante
Scott Holler
Matt Huber
Seth Kline
Todd Kunze
Stephen Mathes
David McMichael
Mike Mucci
Alexander Strauss
Jeff Szczepaniak
GIRLS LACROSSE GPA: 90.68
Coach: Nicole Marabella
Catherine Aughrey
Haley Breier
Lauren Brindisi
Brittany Cieri
Bethany Cinelli
Amy Grenke
Mallory Griffiths
Catie Hilliard
Jenna Hutzler
Sara Kurpiewski
Lauren McGowan
Susan Pioli
Michelle Rossi
Audrey Senf
Nicole Stickl
Sara Victor
BASEBALL GPA: 91.88
Coach: Dean Santorio
Joe Amsdill
Robert Amsdill
Neal DeMartin
Mike Heftka
Rich Karpie
Joel Klock
Matt Klock
Joe Oliverio
Marvin Pawlowski
Christopher Podlucky
Shawn Winter