Cheektowaga Bee - April 22, 2010
Former Grand Island, Niagara University star brings knowledge to Eagles' tennis program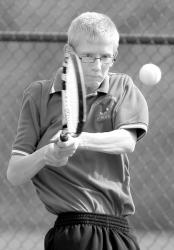 Cleveland Hill's Vinko Pavlovic returns a shot to his opponent from JFK during the Eagles' 5-0 loss to their crosstown rival last Thursday. Photo by John Rusac Purchase color photos at www.BeeNews.com Cleveland Hill's boys tennis team — which, since the school doesn't have a girls' squad is actually coed — will have a number of new faces on the courts this season.
Oh, there will also be a new face off the courts as well — a new face that knows quite a bit about the sport of tennis.
First-year coach Steve Kopf brings plenty of knowledge and experience to the Eagles' program. On top of being a former standout player at both Grand Island High School and Niagara University, Kopf has spent the last 10 summers teaching the sport at the Southampton Tennis Club in Fort Erie.
Now, thanks to getting a teaching job in the district, Kopf will bring his extensive tennis knowledge to the seven boys and 17 girls who make up this season's squad at Cleveland Hill. And with the majority of the team's female contingent comprised of eighth grade newcomers to the sport, Kopf should be a perfect fit for the program.
"We have a very young team this year, with the majority of the girls coming from eighth grade," Kopf said. "I'm just hoping we'll keep improving throughout the season, and after the first two matches, I've seen improvement already, so that's good."
Though the Eagles' matches against Eden (4-1) and crosstown rival JFK (5-0) both resulted in defeat, Kopf isn't discouraged. Junior third singles player Cody Cleveland picked up Cleveland Hill's lone point to date, while fellow junior Austin Pryor (second singles) and sophomore Vinko Pavlovic (first singles) round out the singles contingent.
Junior Chris Golinski and sophomore Seth Reed make up the Eagles' first doubles tandem, while sophomores Joe Martell and Dan Bud have played both matches so far at second doubles. Once eighth grader Lindsay Fritch recovers from her current injury, however, she figures to be in the lineup at second doubles.
"That JFK match was actually a lot closer than the score would indicate," Kopf said. "Our second singles and first doubles matches were both three sets, and we played a lot better actually than we did against Eden. We've shown that we don't give up very easily. We've got a bunch of battlers and they're improving as the sets go on, which is good."
Cleveland Hill is slated to return to action Monday against Tonawanda.
"We 're just going to keep focusing on going into our matches with a game plan and strategy, rather than just hitting the ball back and forth," Kopf said. "We don't just want to react. We want to try to do something, not just wait for the point to end."