This was posted to the Niagara Frontier Antique & Classic Boats website September 2008
http://duqpart.com/boat/html/body_home_page.html
Ohio Couple To Wed On The Dock
At Saturday's Antique & Classic Boat Show

A couple from the Cleveland, Ohio area have attended the Buffalo show in the past because it is one of the largest shows of its kind in the United States. Dennis Naylon and Kathy Bradley have been dating for eleven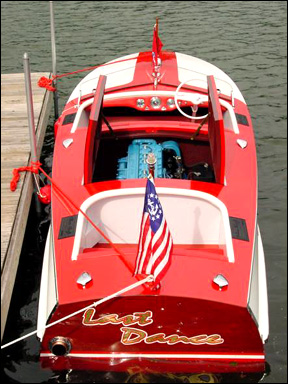 years and have been engaged for the past two.
This year, they are not only bringing a beautifully restored red and white boat ("Last Dance") to the show, but wanted to have their wedding ceremony right on the dock during this year's event. Denny Naylon had a serious health bout earlier this year and spent three months in a hospital. So, they decided now was the time to finally get married.

We will stop the running of the race boats for the ceremony. The ten minute ceremony is scheduled to begin at 11:30am. More information is posted at www.OldBoatsBuffalo.org

The Niagara Frontier Chapter of the Antique & Classic Boat Club (NFACB) is sponsoring the 31st annual Antique Boat Show and Raceboat Reunion on Saturday, September 6th, at the historic Buffalo Launch Club on Grand Island, NY. Hours of the show are 10am to 4:30pm.

Admission to the show is free.
Our American Power Boat Association (A.P.B.A.) and Antique and Classic Boat Society (A.C.B.S.) sanctioned show is one of the largest of its kind in the country, attracting 150 plus boats each year. Boats include vintage race boats, cruisers, skiffs, canoes, and sail boats dating back to the start of recreational boating industry in the United Sates and Canada. Several thousand people from the U.S. and Canada attend the show each year.

Vintage race boats will also be thundering down the course in the Niagara River in front of the Buffalo Launch Club throughout the day. Feature boats will be Miss Budwiser and Miss Vernors.
In addition to the water and land displays of vintage boats, an antique and classic car show runs conjunction with this event, and will feature 80 of the finest automobiles in the area.
Directions: Follow the New York State Thruway to Grand Island. Take the Beaver Island Park exit. Turn left at the twin radio broadcast towers.