St. Stephen's Parish Players
Celebrating 20 Years of Entertainment
1991 - 2010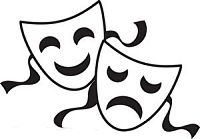 Brigadoon - 1992
2>

Karen Conboy as "Bonnie Jean" and shown with Bob Keller, had the lead in the Parish Players second production in 1992.
Click for larger view

Alice In Wonderland - Youth Production - Feb. 2001
2>

Tweedle Dum (Brianna Panzica) and Tweedle Dee (Denise Curcio)

"Alice In Wonderland" cast members front left: Flowers Meggie White, Jenna Saltzman, Kaitlin Turner; (top) Gryphon, Lauren Chopra; Cheshire Cat, Melissa Affuso; Duck, Meredith Stone; Dodo, Andrea DeRosa.

Thomas Gebhard plays the White Rabbit, Katie Gibas (right) takes the part of Alice and Gabriella Eodice is playing the Door Mouse.
(Barbi Lare photos)

Tom Sawyer - Youth Production - 2002

Paintin' the fence during a Tom Sawyer rehearsal are Jacob Paszkiewicz as Ben Rogers, C.J. Englert as Joe Harper, Patrick Towey as Jim Hollis, Lee Becker as Tom Saywer, and Patrick White as Austin

'Jungle Book,' - Youth Production - 2003

Children in rehearsal for "Jungle Book."
Rob Beach Photos

Arsenic And Old Lace - 2003

(left) Michael Lombardo as Teddy, Elizabeth Beach (Aunt Abby) and Ruth Englert (Aunt Martha); M. Lombardo, R. Panzica, J. Stone, R. Englert, E. Beach, J. Wrzos, J. Quackenbush, M. Priest; J. Stone, R. Schopp, R. Englert, E. Beach, R. LaBend and J. Wrzos.
Barbi Lare Photos - Click for larger view

Hounds Of Clackervilles - Youth Production - 2004

Shown from left members of the Hounds of Clackervilles "dance committee" - Meggie White, Katie Rustowicz, Anna Playfair and Shannon Becker in the back.
Click for larger view

Oklahoma - 2004 - Photos Not Available

Wizard Of Oz - Youth Production- 2004

(Left) Melissa Affuso rehearses her part of Dorothy - (right) Show directors Katie Deferio and Tara Lawton.
Click photos for a larger view.

Dial M For Murder - 2005

(left) Island residents Shawn Carey, playing the part of Max Halliday, and Rick Cooney, playing Inspector Hubbard.
(right) Rick Cooney, and Jeff Stone, playing Tony Wendice.


(left) Islander Michael Lombardo, as Captain Lesgate, caught red handed in the murder of Margot Wendice (LJ Fletcher, of Snyder)
(right) Michael Lombardo and Jeff Stone, plotting foul deeds.
Rob Beach Photos - Click for larger view

Godspell - 2006

Shown are Godspell cast members (front left) Christopher Steven Parada, Ryan David O'Bryne (Jesus), Valerie Stone; (middle) Mary Bobak, Sharon Priest, Linda Burkhart, Barbara Stochmialek; (top) Marty Bobak, Kevin Sampson, Adrienne Lewis
Click photo for a larger view.

Cinderella - Youth Production - 2006

(left) White horses - (front) David Conboy, James Rustowicz; (back) Brian Bobak and Nick Alizadeh
(right) Step Family Alex Davis (step-mother), Rachel Olszewski (step sister), Alex Corrao (step sister in front)


(left) Mice - (front) John-Paul Bobak, MaryElisabeth Rustowicz, Rachel Hutter; (middle) Brigid White, Catherine Merletti, Alexandra Sponn, Paval Galenza; (back) Emily Fuoco, Sabrina Lemme, and Hannah Panzica
(right) King TJ Slipko, Queen Andrea DeRosa, and Prince Christopher Michael Mucci
Click photos for a larger view.

The Robe - April 2007

Pictured are The Robe cast members: Lou Panzica (Demetrius), Kevin Rustowicz (Tribune Marcellus) and Jeff Stone (Director).

The Adventures of Robin Hood - Youth Production - 2007

Cast Picture at Rehearsal: (front left) Zoanne Gebhard, MaryElisabeth Rustowicz, Nick Panepinto, Jodie White; (middle) Tyler Cooney, Liz Restey, Annie Niland, Emily Wynne, Marielle Buffamonte, Kaitlynd Howell; (top) PJ Lemme, Brendan Stone, David Conboy, Brian Bobak, Luke Burkhart, Emilie Kovacs, Maura Bobak, Katie Rustowicz, Seth Carey


Ahh! Where is Robin Hood! (left) Emily Wynne, Brendan Stone, Tyler Cooney, and PJ Lemme
Click photos for a larger view.

Willy Wonka - Youth Production - 2008

Cast Picture at Rehearsal: Shown from left are the five Golden ticket winners - Zoanne Gebhard as Veruca Salt; Michael Bobak as Augustus Gloop; James Rustowicz as Charlie Bucket; James Bobak as Mike TeaVee; and Jenna DelSignore as Violet Bearegard


Oompas - Meghan McMurrary, Brandon Vidella, Sean Christian Rustowicz, Heather Michki, MaryElisabeth Rustowicz, Laura Bierbrauer, Taylor Internicola and John-Paul Bobak
Click photos for a larger view.

Charlie Bucket shows his Golden Ticket to his poor family.


Charlie and his Grandpa Joe meet Mister Willy Wonka himself.

The huge cast in costume bids their audience farewell to a standing ovation!


James Rutowicz, Jeremy Bobak, Ricky Englert (front)


James Rustowicz, Marielle Buffamonte, Brendan Stone, Jenna DelSignore, Annie Niland


Sean Christian and MaryElisabeth Rustoiwcz


Michael Bobak, James Rustowicz, James Bobak
Click photos for a larger view.

The Mousetrap - 2008

Director Linda Burkhart

Annie Get Your Gun - 2009

(left) Rachel Olszewski as Annie and Sean Hook as Frank
Click photo for larger view.

Charlotte's Web - Youth Production - Feb. 2009

Picture #1 - Lamb: Heather Michki
Bat: Emily Cordero
Owl: Kristianna Morell
Templeton: John-Paul Bobak
Charlotte: Laura Bierbrauer
Sheep: Amanda Brodie
Gander: Adam Frosolone
Goose: Emma Railey
Wilbur: Elliott Michki
Infant Wilbur: Clare Conboy
Picture #2 - Edith Zuckerman: Julia Shipman
Wilbur: Elliott Michki
Fern Arable: MaryElisabeth Rustowicz
Charlotte: Laura Bierbrauer
AVery Arable: Kris Masiello
Homer Zuckerman: James Rustowiczv Lurvy: Grace Olszewski
Martha Arable: Emily Wynne
John Arable: Michael Bobak
Wilbur as he grows is played by baby Clare Conboy, Shay Sommer, Julie Major, Elliott Michki; MaryElisabeth Rustowicz plays the part of Fern, and Laura Bierbrauer is Charlotte
Click photos for larger view.