By JULIE C. LOFT
News Staff Reporter
2/11/2002


Dive crews searched the Niagara River on Sunday looking for a 19-year-old Grand Island man whose car crashed through road barriers and went into the river off the banks of West River Road near Bedell Road.

His 18-year-old passenger escaped through the sunroof of the car after it hit the water, officials said. He drifted about 200 feet and climbed to shore for help, Grand Island Fire Company officials said Sunday afternoon. He was treated in Erie County Medical Center and released.

Crews found the window of the sunroof in the water, just beyond the point where the car apparently entered the river.

The search was suspended after dark Sunday and will resume today.

Officials said the car was heading north down West River Road, when it crossed the double yellow line just before Bedell and went through the barriers and into the frigid river.

A dive team from North Tonawanda and Coast Guard divers entered the river, working 15-minute shifts to search for the driver and his car in 15 feet of water.

"The rescue crews are having a hard time anchoring down out there. The bottom of the river is smooth, and the wind is really strong," said Skip Mrkall, chief of the Grand Island Fire Company, who went to the scene at 4:30 Sunday morning. Neighbors described the two young men as "nice kids" and were hoping that the missing man would survive.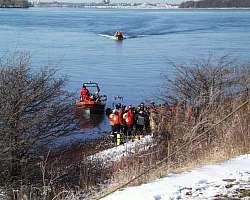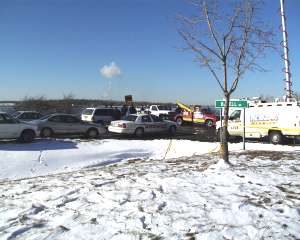 Photos taken Monday afternoon, February 11, 2002