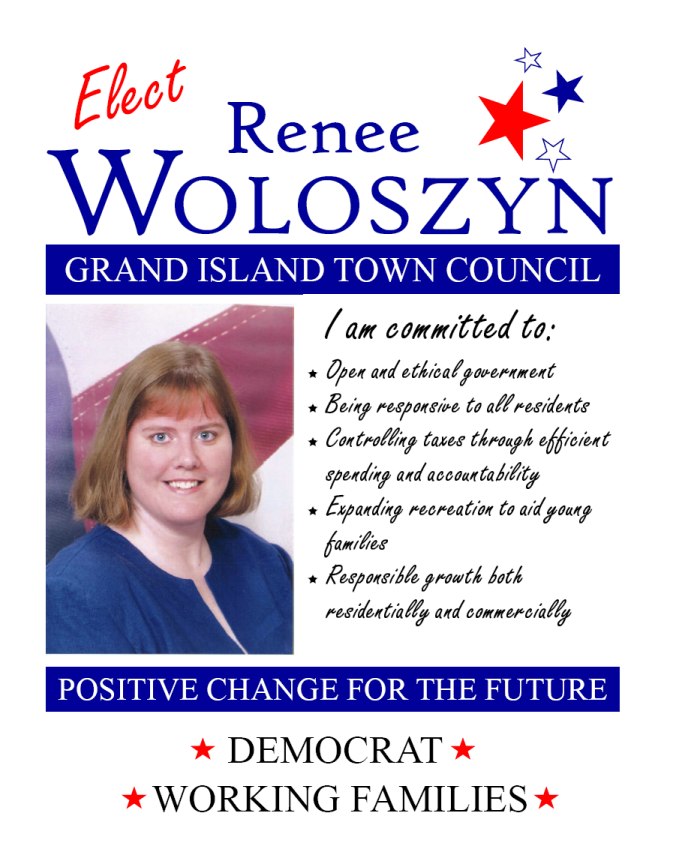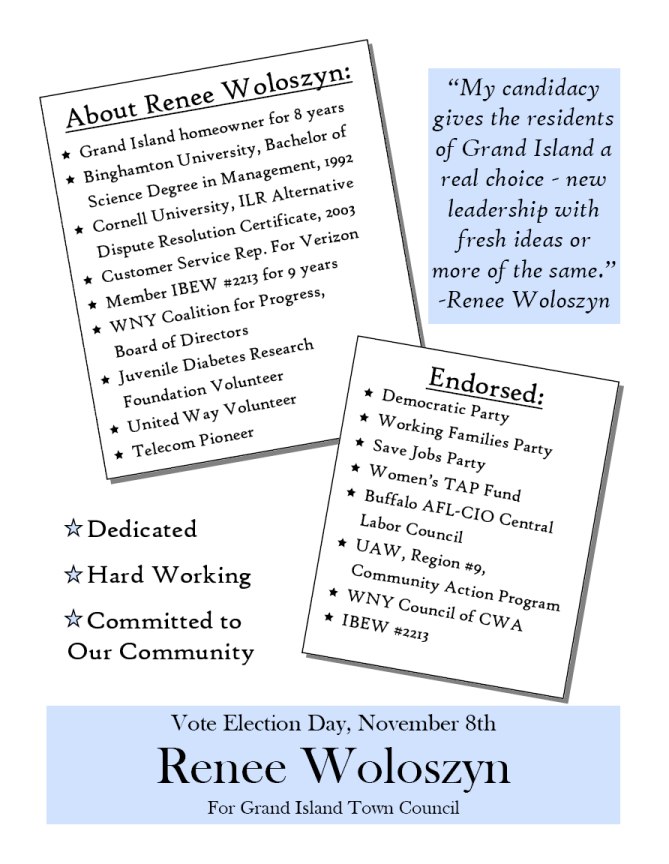 ---



Renee A. Woloszyn, Candidate for Town Council - 2005


September 15, 2005 . . . Renee Woloszyn, a resident of Grand Island for eight years, officially announced her candidacy for Grand Island Town Council. Renee is the endorsed candidate of both the Democratic and Working Families parties.
Renee has been involved in several charitable and political organizations in Western New York. Through her involvement, she has seen first hand the issues facing working families today. Renee hopes that if elected she can find ways to improve the quality of life for the residents of Grand Island.
Renee's educational background includes graduating from a public high school and a Bachelor of Science Degree in Business Management from Binghamton University. In addition, she has continued her studies through a certificate program at the Cornell School for Industrial & Labor Relations.
Renee's intention is to find new and creative ways of dealing with the issues that are important to Grand Islanders. She would first accomplish this by being more responsive and open with her constituents so that the issues can be properly identified.
Renee will make ethical decisions that are in the best interest of Grand Island. She will work toward controlling taxes through efficient spending and accountability. Another priority will be balancing commercial and residential development with the residents' needs and desires, along with improving services to aid a growing community. Renee will also try to expand recreation so that the youth on Grand Island have something constructive to do.
When asked why she wanted to run for town council, Renee responded, "I love living here in Grand Island and I would like to give something back to this community that has already given so much to me. I believe my experience, education, and work ethic give me the necessary background to successfully represent the residents of Grand Island. I hope I get that opportunity."
Renee Woloszyn lives on Laurie Lane with her husband George. She is employed by Verizon Communications.