By Teddy Linenfelser
JANUARY


Newly elected Fire Chief Kevin Koch was sworn in by his father, Ken Koch, a past chief of Kenilworth VFD.

A Buffalo man faced felony criminal mischief, attempted grand larceny and trespass charges after attempting to steal a brass sculpture on the Dunlop property near Long Road.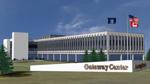 The Grand Island Town Board approved an agreement with JSJ Holdings which will result in a $2.6 million rehab of the former Dunlop building located on Long Road.

For the second year in a row, GIHS won the 14th Annual Tech Wars that took place at NCCC on Wednesday, January 12th.

A student was knocked down by a passing school bus and not seriously injured. The child's mother had previously voiced her concerns about excessive speed by drivers and the resulting danger to children who must cross Ransom Road during peak traffic hours.

Erie County Sheriff Tim Howard warned Island residents in neighborhoods near Stony Point Road to lock their cars and keep valuables and cash out of view. The warning came after the Sheriff's Department received several calls from people claiming someone went into their unlocked cars.

Grand Island firefighters responded to reports of a "house on fire" in the vicinity of Sheree and Carter Drive shortly after 6 p.m. Monday, January 24, 2011. The home sustained heavy damage.



FEBRUARY


Grand Island firefighters responded shortly after 10 p.m. Wednesday, February 9th to a report of a "structure fire" at an East River Road home. Damage was listed as $40,000 to contents and $40,000 to the building.

Grand Island Fire Company rescue personnel responded shortly after 9 a.m. Thursday, February 3rd to three separate MVAs in the south bound lane of the I-190 on the South Grand Island Bridge. Fire Chief Kevin Koch reported that a total of fifteen vehicles were involved and the accidents apparently resulted from one or more drivers being blinded by the sun's glare.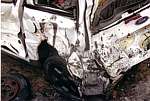 A two-vehicle MVA shortly before 1 p.m. Tuesday, February 15th in the north bound lane of the I-190 on the North Grand Island Bridge involved an Allied Waste Services (garbage) truck that collided with a minivan which had slowed down after encountering mechanical problems.



MARCH


The Grand Island Fire Company responded to a structure fire at 3998 East River Road shortly before 8 a.m. on Monday, March 7th, which had been reported by a neighbor. A four-man search and rescue team located the 79-year-old occupant in an upstairs bedroom and removed her from the home. She was apparently overcome by smoke/toxic atmosphere and resuscitation was not possible.

The Grand Island High School girls basketball team won the Class A Far West Regional Championship, the first in the school's history after four previous tries.

Island resident Trooper Kevin P. Dobson, a 14-year veteran of the New York State Police who was issuing a speeding ticket on the Youngmann Highway, was struck and killed by a passing motorist in a pickup truck.

Grand Island firefighters fought a "structure fire" on Hazelwood Ct. on March 24th. Damage was estimated at $100,000 to the structure and $50,000 to the contents.

Erie County Sheriffs Detectives Brian O'Hara and Alan Rozansky arrested two men from the Town of Tonawanda on charges of burglary, larceny, criminal possession of stolen property and possession of burglary tools during daytime break-ins at homes on East River Road and Whitehaven Road.



APRIL


Ground breaking ceremonies took place in Vets Park for the handicapped Miracle League Field Complex.

The Chamber of Commerce Citizens of the year banquet held in April honored the following: Todd and Danielle St. Onge of the Island Deli & Meat Market - Business of the Year; Jeff Stone of the St. Stephen's Parish Players - Organization of the Year; Lynn Ortiz, Educator of the Year; Pat Shaw, Community Service Person of the Year; Dr. Sherry Bradford, Civic Person of the Year; and Tom Kanaley, Business person of the year.



MAY


A midnight house fire on West Oakfield Road on May 5th caused damage estimated at $60,000. The fire was contained to an attached garage.

The Grand Island Central School District budget ($51,859,079) was approved by a vote of 1366 to 565. Proposition 1, $671,212 was approved by a vote of 1203 to 643. High vote getters for the Board of Education were Tak Nobumoto (1207), Emily Ciraolo (1083) and Joan Droit (1046). Voting took place on May 17th.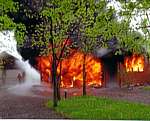 Grand Island firefighters were on the scene just after 3 p.m. Sunday, May 15th for a "structure fire" on the Stony Point property of Theodore Kose. Damage was estimated at $85,000 to the building and $90,000 to the contents.

A major two-car rollover accident occurred at Stony Point and Whitehaven roads on the morning of Monday, May 23rd. Four ambulances were requested by the Grand Island Fire Company. Several patients required extrication from the vehicles.



JUNE


After Grand Island Schools Superintendent Robert Christmann announced a $250 reward for information leading to the arrest of those responsible for an outbreak of graffiti vandalism at Grand Island High School, two arrests were made. Charged were two 16-year-old students.

A little boy accidentally drowned in June 2011 in his backyard swimming pool. Erie County Sheriff's officials tried to determine exactly what happened at the home on Old Carriage House Road.

The Town Board, Monday, June 6th accepted and approved the recommendation of the Erie County Traffic Engineer to establish a 25 mph speed limit for the school zone on Ransom Road in the vicinity of Grand Island High School and Connor Middle School.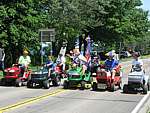 Beautiful weather and a huge crowd added to the success of this year's Lawnmower Race and Car Show held along the West River on Father's Day. The event raised $4000 for Relay for Life's fight against cancer.

The expansion of the APP Pharmaceuticals plan on Grand Island received $2.9 million in tax breaks from the Erie County Industrial Development Agency.



JULY


An early morning fight broke out on Grand Island leaving one man with a stab wound to his chest and two men under arrest. Deputies were called to Carl Road where they found a man had been stabbed in the chest with a broken golf club.

The Dick Bessel Independence Run Results follow: E. Tsemblis, 1st; C. Carter, 2nd; E. Schultz, 1st Female; and N. Masiello, 1st Jr.

Grand Island Fire Company Marine Rescue personnel responded at 11:23 p.m. Friday, July 8th to a call for assistance from the U. S. Coast Guard for a "watercraft in distress" near Strawberry Island. The vessel was found stranded in shallow shoals offshore from Strawberry Island because of a mechanical breakdown. Rescuers returned in service at 1:11 a.m. on Saturday

One woman was treated for traumatic injuries and transported to ECMC by Mercy Flight after a July 10th one-car MVA on the I-190. A second occupant was treated for multiple injuries of lesser severity and transported by ambulance to ECMC. Fire Company personnel reported that the woman was ejected when the vehicle struck a guardrail with tremendous force.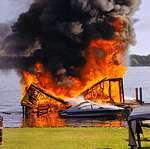 A shoreline boathouse was destroyed by fire on East River Road. Although the fire was knocked down and under control within 8 minutes, the boathouse, two vessels, and part of the wooden dock were considered a total loss, with total damage estimated at $53,000

The three children of Trooper Kevin P. Dobson, 43, who was fatally injured during a traffic stop on the Youngmann Highway in March, were awarded a total of $60,000 in educational funds from the Silver Shield Foundation. A 14-year State Police veteran, he was struck by another vehicle while out of his patrol car after pulling another driver over for speeding.



AUGUST


A Park Place structure fire at 8:36 p.m. Wednesday, August 24th, caused an estimated $325,000 in damages. The two-story "new build" under construction was fully involved when the Grand Island Fire Company arrived minutes after the alarm.

Two men were charged with stealing TVs at the Chateau Motel on Grand Island Blvd. Erie County Sheriff's Deputies spotted the vehicle in question, pulled it over and found the stolen property inside.

The Fire Company Marine Rescue Unit joined in a search by NYSP, Border Patrol, ECSD, and U. S. Coast Guard watercraft for a victim who was observed jumping off the North Grand Island Bridge around 4:40 p.m. August 25th. An extensive Niagara River search was undertaken up to the 'point of no return' warning marker but the reported victim was not located. The incident was turned over to the New York State Police.


The Miracle League of Grand Island and WNY celebrated the completion of its playing field on Tuesday, August 30th. Players from the Buffalo Sabres Foundation and Sabres Alumni were on hand to play a one-inning game for the first time with the eager children and young adults with disabilities. Hundreds of volunteers and families of the players were on hand to cheer the teams on.



SEPTEMBER


A "structure fire" at an East River Road home on Sunday morning, September 11th was confined to a garage. Damage estimate was $10,000 to the garage area and $1500 to the contents. The cause was listed as an improper placement of a fire pit containing hot coals next to the outside garage wall.

John "Jack" Pieri, the passenger who urged the driver in a hit-and-run accident to drive away after injuring two college students, including Island resident Amy Stewart who was severely injured, was sentenced to 30 days in jail. See Story



OCTOBER


A car collided with a structure at 2095 Town Hall Terrace on Sunday, October 9th and sheared off a large support post for a second-floor balcony. The driver reportedly lost control of the auto and there were no injuries.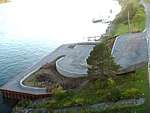 This photo was taken from the south bridge and shows the new Fishermen's Landing and the parking lot.

Grand Island Fire Chief Kevin Koch reported that a series of MVAs occurred on the south bound, South Grand Island Bridge due to sub freezing temperatures and early morning fog which created zero visibility, as well as slippery "black ice" conditions Sunday, October 30th.



NOVEMBER


Successful in the November elections on Grand Island were Mary Cooke for supervisor, and Gary Roesch and Dick Crawford for councilman. Sybil Kennedy (justice) and Patricia Frentzel (town clerk) ran unopposed.

Grand Island firefighters responded to an alarm of fire at the Country Glen Apartments on November 4th, after the occupant, Carl Krysyak, was awakened by his cat, Buddy, immediately dubbed "a real lifesaver" by his grateful owner. Damage was estimated at $5000 to the structure and $1000 to the contents.

Ayman Abdellatif, 32, of Grand Island, guilty of drug counts, was sentenced to a 46-month jail term.

A car fire on Ferry Road at 11:18 a.m. Monday morning, November 14th was fully involved when GIFC Engine #5 and suppression crews arrived on location two minutes later. The engine compartment fire was apparently caused by an electrical malfunction and resulted in an estimated $2000 damage, which would amount to a total loss.



DECEMBER


A badly decomposed body of a woman was pulled from the West River shore Sunday, December 4th. See Story

Island residents gave overwhelming approval Tuesday, December 20th to a pair of propositions that will result in renovations and improvements to all five of the Grand Island School District's buildings.


Thank You Isledegrande.com Contributors
Thanks to everyone who contributed news and pictures to Isledegrande.com this year, most especially photographer Mary Stewart who continuously provides news photos at no cost to Isledegrande.com. Our goal is and has been to provide all the news of interest to anyone with a connection to Grand Island, NY. We have enjoyed another great year and look forward to serving you in 2012.
Teddy Linenfelser, Editor