Year 2003 on Grand Island, N.Y.
---
By Teddy Linenfelser
JANUARY


Sue Berger became the new proprieter of Flower A Day Florist, an Island business which was started over 25 years ago.




Greg Butcher was installed new fire chief of the Grand Island Fire Company on January 11, 2003.

Invitrogen Corp. announced the building of a 70,000-square-foot warehouse and office expansion at its facilites at 3175 Staley Road.

Matthew Waddington, a member of the 2001 Grand Island High School graduating class, helped lead the SUNY Brockport Men's Soccer Team to an undefeated SUNYAC league record (9-0) in January 2003.

A "Knock-Out" Chili Cook-Off sponsored by the VFW 9249 Ladies Auxiliary featured "Baby Joe" Mesi as a guest/judge at the Knights of Columbus Hall with all proceeds benefitted the "Baby Joe" Mesi Fight for Organ Donations.

Retired Town Engineer John Phillips and retired Water Superintendent John Martin were hired as part time employees in their areas of expertise effective January 1, 2003.




The Grand Island PTA Council and the school district trustees hosted a community open house in the Sandy Beach Yacht Club to welcome Grand Island's new Superintendent of Schools Dr. Thomas Ramming.

In accepting recommendations from the Recreation Department and Environmental Conservation Commission, the town board adopted a pesticide policy for the town.

The Grand Island Snowmobile Club temporarily closed snowmobile trails on Grand Island in January 2003 as a result of problems with club trail insurance policies.

Erie County Legislative Minority Leader Chuck Swanick presented Grand Island Fire Chief Greg Butcher with a county grant to offset the cost of a new Zodiac rescue boat.

Grand Island firefighters on Saturday, January 18, 2003, responded to an alarm of fire at 70 Carl Road. The occupant was arrested for intentionally setting fire to the house, causing approximately $90,000 damage.

Grand Island firefighter Scott Duscher, on January 22, 2003, received Channel 23's "The Bravest of Western New York" citation, for a lifesaving rescue during a January 18, 2003 residential fire.

The Town Board unanimously approved the final environmental impact statement (FEIS) by Parkland Enterprises for a convenience store at the corner of Ransom and Stony Point roads.

The Grand Island School District Board of Education recognized all 11 fall varsity sports teams (113 Scholar Athletes) from the Grand Island High School for accomplishing Scholar-Athlete status for the Fall 2002 season.

Local schools including those in the Grand Island school district, took security precautions after being informed that a student in Arkansas the previous night received a message in an Internet chat room that there would be a Columbine-type incident in a New York school at 11:18 a.m. Thursday, January 23, 2003.




Icy weather on January 30 gave everything a coat of "frosting," as captured on film in Beaver Island Park by Barbara McMichael.



FEBRUARY





Eagle Scout Gregory Voyzey Jr., a member of Boy Scout Troop 630, was recognized Sunday, February 9, 2003 in the Knights of Columbus Hall for attaining his Eagle Scout rank.



Grand Island residents Bob Catipovic, Greg Barker, Ken Brodie Jr. and Ken Brodie Sr. were honored at the American Power Boat Association Convention held in Detroit.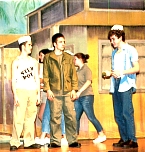 The Grand Island Senior High School presented South Pacific February 6-8th.



Former Democratic chairman of the Erie County Legislature, Charles Swanick changed party affiliation and joined the Repubican Party.

Supervisor Peter A. McMahon gave a Homeland Security Update on February 12, 2003 and assured the residents of Grand Island that there were no specific threats involving Grand Island or the Western New York region.




Bryan T. Smith EOCA was the first to be featured in our newest column, "Islanders In The Service," on February 13, 2003.

Members of the Grand Island M.S.S.A.D.D. (Middle School Students Against Doing Drugs) raised over $3000 through a Bowl-a-thon held at Island Lanes February 10, 2003. The money was donated to The Jadon Russell Garman Foundation.




St. Stephen's Parish Players' youth production of "Jungle Book" was given in St. Stephen School February 21-23, 2003.

Grand Island was awarded an $850,430 interest-free, short-term loan under the state's Clean Water State Revolving Fund.

Representatives of GIECOM.net set up a computer class for senior citizens on Tuesdays at the Golden Age Center.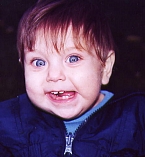 One-year-old Jadon Russell Garman, son of Scarlet and Robert Garman, had successful liver transplant surgery on Wednesday, February 12, 2003

Town Clerk Nancy J. Samrany announced that she will not seek re-election in November 2003.

High winds Tuesday, February 4, 2003 produced enough pressure on the ice field on Lake Erie to break off several pieces of the ice boom.

The Grand Island High School Boys JV Swimming Team won the NFL B Meet Championship, defeating all six teams entered with a team of only seven swimmers.

A Baseline Road car/truck crash killed a Hamburg, NY woman February 23, 2003.




St. Stephen's Parish Players production of Arsenic And Old Lace took place February 28-March 3, 2003 in St. Stephen School.

Ragtime piano player Don Burns began playing Friday evenings at River Oaks Clubhouse Friday evenings.



MARCH


"Families Attached To The Military," were asked to provide energy bars for the reserves who were being activated, and Grand Island resident Janet Landen sought help from the community in filling the request. As a result, three pallets of energy bars were donated and delivered Monday, March 3, 2003.

The World Day of Prayer service, held March 7, 2003 at Trinity United Methodist Church, drew an attendance of women from St. Stephen's, St. Timothy, St. Martin's, Huth Road Presbyterian, Riverside Salem and Trinity Church.

The Grand Island Teachers Association participated in the Spring Hospice Bouquet Sale and raised a total $2,207.




Erie County Sheriff's Office Helicopter "Air One," was used in the rescue of two Niagara Falls, NY residents when the ice they were fishing from broke loose.

A Riverdale Drive resident and his son pleaded not guilty to sex crimes Wednesday, March 12, 2003 in Niagara County Court.

The Erie County Sheriff's Department and the Grand Island Fire Company responded Sunday evening, March 16, 2003, to a call for a car over the embankment at the west end of Staley Road at West River. The driver was charged with DWI.

The Grand Island School District took the necessary steps on Wednesday, March 19, 2003 to protect students and staff in the wake of the recently elevated national security alert, according to district officials.

A press conference was held at a boat launch at the foot of Sheridan Drive in Tonawanda where residents of Grand Island gathered to hear Erie County Executive, Joel Giambra and County Legislature Chairman Charles M. Swanick speak to the group, in opposition to the Peace Bridge construction project anywhere in the Grand Island area.

Results of the March 20, 2003 Corporate Bowl finals were the Juggernauts of Genius team of Christian Dommell, Drew Armusewicz, Bradford Namaste, and Pat McCarthy in first place.

The Department of Motor Vehicles began serving Island residents and the general public at town hall on Wednesdays from 10 a.m. to 3 p.m.




Emmanuel Community Bible Church opened in early March 2003 in the former Emmanuel United Methodist Church, 1136 Baseline Road.



APRIL





Connor Middle School students received a standing ovation for their production of "Annie, Jr." in the Grand Island High School auditorium.

EMS Captain Bob Cleveland held an advisory session April 2, 2003 in Fire Headquarters on special precautions to be taken when dealing with suspected SARS (Severe Acute Respiratory Syndrome) patients.




The Grand Island Chamber of Commerce Citizens Of The Year Banquet honoring Grand Island's best in 2002 in the Holiday Inn Grand Island Resort and Conference Center, was filled to capacity despite an unseasonal ice storm.

Grand Island resident Richard A. Fernandez, charged with second-degree murder in the death of Robert A. Keller of Niagara Falls, pleaded not guilty on Friday, April 4, 2003 in Niagara Falls City Court.

The Grand Island Republican Committee announced its endorsed candidates as Gary G. Roesch for town councilman, Patricia Frentzel for town clerk, incumbent Richard W. Crawford Jr. for councilman, incumbent Sybil E. Kennedy for town justice. The Republican Committee chose not to endorse a town supervisor candidate.




The Grand Island Historical Society hosted the town's fourth grade classes on a bus tour of the Island's historic sites and a visit to River Lea.

New school crossing signs were announced by the Traffic Safety Advisory Board in April 2003.

The Grand Island Democratic Committee endorsed incumbent Peter A. McMahon for supervisor, incumbent Kevin M. Rustowicz for councilman, Michael Heftka for councilman, Robin Swedish for town clerk, and Sybil Kennedy, an incumbent for town justice.

Grand Island Fire Company firefighters responded to a chemical reaction at Edwards High Vacuum.

Grand Island Fire Company rescue personnel responded to an eight-car "chain reaction" motor vehicle accident in the south bound lane of the South Grand Island Bridge which resulted in several injuries and a massive traffic jam.

Grand Island residents Richard Shanor, 36 and his wife Genelle Shanor, 33 died Sunday and Monday, April 20-21, 2003 respectively in a boating accident in Jupiter Inlet, Florida.



MAY


The Town Board granted approval for Robert Mesmer of 2548 Love Road to construct a 44x49 ft. hangar big enough to house two airplanes.

The Conservative Party announced its endorsed candidates for the 2003 November election as incumbent Supervisor Peter A. McMahon, incumbent Councilman Richard W. Crawford Jr., Gary Roesch for Town Council, incumbent Town Justice Hon. Sybil Kennedy, and Patricia Frentzel for Town Clerk.

The Grand Island Independence Party announced its endorsed candidates for the November 2003 election as Town Clerk candidate Patricia Frentzel, incumbent Supervisor Peter A. McMahon, incumbent Town Justice Hon. Sybil Kennedy and incumbent Councilman Richard W. Crawford Jr.

The American Legion Post 1346 held a successful flower sale of 10" hanging baskets at the VFW Post.




Grand Island Little League Opening Day was held Saturday, May 10, 2003 at Veteran's Park.

An Albion, NY resident was arrested Monday, May 12, 2003 by Erie County Sheriff's Deputies as he was leaving the Wilson Farms store on Love Road. He was charged with three counts of burglary, petit larceny and possession of burglar tools.

Erie County Sheriff Patrick Gallivan announced the arrest of a West River Road resident for felony possession of marijuana.




Construction of the new Beaver Island Clubhouse was nearly complete in May 2003.

Honored guests and town officials joined members of the Grand Island Fire Company in celebrating their 65th anniversary at a Holiday Inn dinner dance Saturday, May 17, 2003.

Sergeant First Class Eugene F. Dinsmore was the guest speaker at Memorial Day services held Monday, May 26, 2003 at the Charles N. DeGlopper Memorial Park.

The Grand Island Garden Club was formed in May 2003.




McMahon's Family Restaurant began offering soft ice cream and hard ice cream from its outside ice cream stand.




Island resident James 'Jack' Breier, a paratrooper with the 101st Airborne Division, the Screaming Eagles, who served with the U. S. Army as a sergeant from December 1942 to February 1945, was presented with his Purple Heart, Good Conduct Medal, Bronze Star, Presidential Unit Citation with first oak leaf cluster, the European-African-Middle Eastern Campaign Medal with three bronze service stars, the Sharpshooter Badge with a rifle bar, the American Campaign Medal, the World War II Victory Medal, the Combat Infantryman Badge, the Honorable Service Lapel Button and the New York State Ribbon for Merit.



JUNE


The Grand Island Alumni Association, an arm of the Grand Island Foundation, held a general organizational meeting Wednesday, June 4, 2003 at the Grand Island Memorial Library.

Grand Island High School's Advanced Placement program was named among the top 4% in the nation.

The Grand Island School District budget passed by a vote of 730 to 409 and newcomer Neil R. Seaman was elected a trustee along with incumbents Francis Delsignore and David Goris.

Nine Grand Island youths were arrested Friday, June 6, 2003 after a night of vandalism in an apparent celebration of the Grand Island High School "Class Night."




Erie County Sheriff's Deputies held an Open House at the Sheriff's Department Substation #1, 1856 Whitehaven Road on Saturday, June 7, 2003.

Baseline Road resident Pam Coyle, critically injured on June 11, 2003 when struck by a car, died Thursday morning, June 12, 2003.

A potential list of Grand Island High School June 2003 graduates numbered 259.

The Grand Island Historical Society elected new president, Curt Nestark.

Grand Island American Legion Post #1346 won a first place award in Division 1 for increase in membership.

Ruth Muck, creator of the Kum On In used children's clothing store at Trinity UM Church was recognized at a Trinity Church worship service. The store closed after 20 years service to the community.




Joe Fusco III, a member of Boy Scout Troop 630, planned a Flag Retirement Ceremony as part of his Eagle Scout project.

The Coaches All-Western New York Girls Lacrosse Honor Roll recognized Grand Island's Girls Lacrosse Coach Nicole Marabella as the WNY Coach of the Year. Also recognized were Savannah Stolzenburg, Jamie Stickl and Meghan MacGuire.

Erie County Sheriff's Deputies arrested four Grand Island youths for stealing beer from Tops Market.

According to State Police, two Island teenagers broke into a building housing utility vehicles at the Beaver Island Golf Course and were arrested.

Twenty-five teachers from the Grand Island School District participated in the JP Morgan/Chase Corporate Challenge in Delaware Park.

Grand Island Boulevard received a very satisfactory clean-up when about 60 Island residents came out to do their part in sprucing up "main street Grand Island" for the July 4th parade.

Mike Blocho earned All-America Status as a Grand Island High School Viking midfielder on the school's lacrosse team.




Over 60 young entrepreneurs set up booths on the grounds of Tops Friendly Market for the 7th annual KidBiz Sale sponsored by the Grand Island Chamber of Commerce.




"Grand Crafts On The Island" had a record 76 booths.



JULY






The Dick Bessel Independence Day Run took place just before the annual parade with David Carroll of West Seneca placing first overall and Island resident Bob Merritt, second.




The Grand Island High School Class of '73 held a 30th Reunion July 5, 2003 in the Niagara Sailing Club.

The Grand Island High School Class of 1978 began its 25-year reunion weekend on Friday, July 4, 2003 with classmates and friends meeting at the Holiday Inn for the 'Blues on the River.'





A twentieth reunion for the Grand Island High School Class of 1983 was held over the July 4, 2003 weekend.





Members of the Grand Island High School Class of 1993 celebrated the 10th anniversary of their graduation with a reunion at River Oaks Golf Club July 5, 2003.

A customer at Gravinos Mobil Station, corner of Grand Island Blvd. and Baseline Road, reportedly disabled an automatic pump shut off while filling his gas tank, which resulted in a spill of approximately five gallons.

Peace Bridge consultants decided and were recommending that the existing Peace Bridge location is the only location that should be considered for the new bridge.




A reunion of troops stationed at the Nike Hercules Missile Base on Whitehaven Road was being held on July 19-20, 2003.

The Grand Island E-News at Isledegrande.com broke its old record of 1924 hits for the week when the count totaled 2075 for the week in mid July.




The Grand Island 12-year-old All-Star team competed in the New York State Little League Williamsport Sections.




The Town Recreation staff and senior citizens from the Golden Age Club presented a Junior Golf Program at the Nike Base.

A statewide smoking ban went into effect Thursday, July 24, 2003.

The Grand Island Lions Club Special Children's Picnic was held for the 48th year at the Buffalo Launch Club.

U.S. Rep. Louise M. Slaughter (D-NY28) secured funding in the amount of $250,000 for the Town of Grand Island's wastewater system.

The Town sponsored BBC concert, featuring all Beatles music, drew one of the largest crowds since the free, weekly concerts began in 1980. A chicken BBQ fundraiser in conjunction with the concert and hosted by the Grand Island High School Soccer and J. V. Lacrosse Leagues raised $2,000 for a new scoreboard.




The Grand Island Rod & Gun Club members ran a very successful Tractor Pull event.




Corinne Razem and Jessica Remmes played key roles in helping their Western Scholastic soccer team win the Gold Medal at the Empire State Games.

Grand Island's Kera Sauer, a swimmer, did extremely well in the Empire State Games.

The Sandy Beach Park Club's annual Kids Costume Parade and picnic took place in July 2003.




The Grand Island High School Class of 1988 held its 15th reunion on July 25, 2003 at BA's Saloon.




Construction of a columbarium, built on the north side of the "Old St. Stephen's Church" on Baseline Road, was completed in July 2003.



AUGUST


G.I.F.T.S. (Grand Island Families Town and Schools) provided a free, environmental learning program for 8-13-year-olds in three one-week sessions over the summer of 2003.

The new Mobile License Bureau at the town hall opened for the first time in early August 2003 and continues to be available every Wednesday.

A Buffalo man was arrested on multiple charges after entering a Grand Island home, uninvited, and starting a fight. Two children were struck in the face. The homeowner was also arrested.





The Grand Island Alumni Association's "All Island Reunion" drew over 100 Islanders including several former residents who came back to town for the event on Friday, August 1, 2003 at the Holiday Inn.

Long Road between Grand Island Boulevard and West River Parkway was closed due to construction.

Grand Island's Mike Feathers placed fifth in the young men's decathlon, in the Junior Olympic National Track and Field Championships, scoring a personal record 6,115 points. The win earned him All-American honors.

Town Hall was the meeting place Tuesday, August 5, 2003 for the local recognition of National Night Out.

U.S. Rep. Louise M. Slaughter announced that she had secured $250,000 to expand the Island's wastewater system beneath Grand Island Blvd.




VFW member Joe Synakowski and Joseph Stefaniak of the 82nd Airborne Association were presented with a proclamation from the town board, acknowledging that Grand Island is the birthplace and final resting place of Congressional Medal of Honor awardee Pfc. Charles N. DeGlopper for his heroic actions as a member of Company "C" First Battalion, 325th Glider Infantry Regiment, 82nd Airborne Division at LaFiere, France in 1944. The Town Board proclaimed August 16, 2003 as National Airborne Day on Grand Island.

A widespread power outage occurred at 4 p.m. on Thursday, August 14 2003, affecting a significant portion of Grand Island. First media reports said there were power outages in the major U.S. and Canadian cities including New York, Detroit and Toronto.




The "Grande Dames" chapter of the Red Hat Society was formed by a group of Grand Island women over 50.




The painting of the south Grand Island Bridges, a project started several years ago, continued.




Grand Island Art Society scholarships were awarded to Grand Island High School seniors Diane Pierce and Robert Hopkins.

Barry C. Conway was one of four winners of Emeril Lagasse's "Pie Contest" featured on a special Prime Time episode of "Emeril Live."



SEPTEMBER


All Grand Island schools opened on Wednesday, September 3.




A volunteer adult safety patrol of Huth Road Elementary neighborhood parents was quickly formed after they witnessed poor walking conditions for students on the first day of school due to a major construction project.




The Niagara Frontier Chapter Antique and Classic Boat Society's Boat Show was held over the weekend of September 6, 2003 at the Buffalo Launch Club.

Town Clerk Nancy J. Samrany announced on Wednesday, September 10, 2003 that primary election results of September 9th would not be official until a recanvas is made by the Board of Elections.

A Buffalo woman was charged with third-degree robbery, third-degree criminal solicitation, petit larceny and fourth-degree criminal possession of a weapon after being arrested at Tops Market for stealing twenty-one 12-packs of beer.




A 911 candlelight remembrance vigil was held September 11, 2003 at the Flag in front of the VFW Post #9249.

A broken air compressor line being used in the painting of the south Grand Island Bridge burst Tuesday morning, September 16, 2003 causing window damage to 11 cars.

Work began on the State Parks project at the site of the former East River Marina in Ferry Village.



OCTOBER


A Grand Island couple was arrested and remanded to the Erie County Holding Center, after allegedly fighting with County sheriff's deputies, and subdued with Mace spray.

It was announced that Councilman Kevin Rustowicz and Town Clerk Candidate Robin Swedish made Primary Election history by stealing lines away from endorsed candidates, the result of an overwhelming write-in campaign.

Grand Island High School's Head Coach Dean Santorio was named the Buffalo Bills' high school football "Coach of the Week."




The 50th anniversary celebration, recognizing the opening of the William M. Kaegebein School on Love Road in 1953, took place in the school gym on the afternoon of Friday, October 10, 2003. The event was attended by the student body, teachers and staffs and honored guests, including three past principals.



Alexi Salamone was chosen for the U.S. National Men's Sled Hockey Team.

Though not appointed in November, Grand Island resident Eugene F. Pigott Jr. was the leading candidate for a spot on New York State's high court.




East Park Garden Club members designed and planted a small, low-maintenance garden in the playground area of the Charlotte Sidway Elementary School and dedicated on October 15th. A plaque was erected as a lasting momento of the club's fifty years, and honors the memory of Hazel Link, a beloved member of the East Park Garden Club and lifetime member of the Sidway School P.T.A.

The unbeaten Grand Island Vikings Girls Soccer Team won the league championship.

Don Burns was guest of honor at the Grand International Jazz Society Event of 2003.

Grand Island High School Principal Dr. James Dempsey led a tour of the school before the Homecoming game, showing the recent improvements.

The Grand Island Board of Education approved the operation of the Grand Island Student Ski Club.

Four thousand chemical light sticks were made available to the Island's pre-school and elementary school children to wear, making them easier to see on Halloween night.

The Grand Island E-News celebrated its 3rd anniversary at the end of October with a record 9000+ hits for the month.



NOVEMBER


A contest, "Watch For Your Name! Play the Game," began at the Grand Island E-News in November with first winners Ryan Case and Richard Lozo Sr. receiving prizes from our advertisers.

The Grand Island Varsity Vikings Football Team won the Section VI Class A title at Ralph Wilson Stadium on Saturday, November 8 but lost to V-Victory in the Far West Regionals the following Saturday.

Grand Island's Boys Soccer Team won the Section VI Class B boys soccer final beating Williamsville East 1-0.

The Girls Varsity Soccer Team won their third consecutive Section VI Class A sectional final game against Iroquois by a score of 4-1, but lost to Burnt Hills, for the Class A State Semifinals.

Carly Jo Hudson was selected the 2003-2004 Youth Ambassador by the Grand Island Chamber of Commerce.

The Board of Elections, on November 17th, announced the winner of the Grand Island Town Council race as Gary G. Roesch. Roesch, indorsed by the Republican party, garnered a total of 3007 votes, 13 more than incumbent, Kevin Rustowicz, a Democrat, who received 2994. Patricia Frentzel (3254) won over Robin Swedish (2765) for the town clerk position.

Well over 100 residents turned out Tuesday, November 11, 2003 for the DeGlopper VFW Post #9249 Veterans Day services held in the rain at the Vets Wall in Veterans Park.

Grand Island sustained little damage when high winds gusting at times to 60 mph continued throughout the day on Thursday, November 13, 2003.




River Oaks Clubhouse was the site of a retirement party for Marge Merrill, school district bus driver since 1971.

A deer hunter from Niagara Falls was injured when he fell about fourteen feet out of a tree stand and summoned help by cell phone.




The combination restaurants Wendy's/Tim Horton's opened for business on Tuesday, November 18.

The town board approved the 2004 Grand Island budget which will increase taxes by approximately four percent over last year based on the combined general and highway figures.

The Town Board approved the rezoning of Alvin Road property for an auto dealership.

Section VI Championship Most Valuable Players included Grand Island Varsity Vikings offensive football players Mike Blocho and Chris Sica and defensive players Mike Feathers and Tom Rayhill.

The Grand Island Alumni Association hosted a mixer at River Oaks Clubhouse on November 28, 2003 - the day after Thanksgiving.

Grand Island's unofficial contribution to UNICEF totaled $2,850.97 which was $11.03 more than last year.



DECEMBER


Recreation Director Linda Tufillaro presented updated architectural renderings for a proposed recreation center in Veterans Park during the December 1, 2003 town board meeting.

Smoke detectors prevented tragedy at a 3 a.m. house fire at the Joseph SantaLucia residence on Regency Court.

The enormous task of securing our borders was the focal point of the December meeting of the Grand Island Citizen Corps Council.

Code Enforcement Officer Doug Learman addressed the Town Board Monday, December 15, 2003 by reading a lengthy letter about staffing shortages in his office.

Erie County Legislator Chuck Swanick and Town Supervisor Peter McMahon announced a new program designed to aid residents who have problems with coyotes.

Greg Butcher was returned to the Grand Island Fire Company Chief's position for 2004.

Santa Claus was on hand at the town hall on Saturday, December 20th however turnout for the children's event was poor.

Assemblymember Sam Hoyt called upon Governor George Pataki to allocate funds necessary to preserve and maintain "River Lea," a historic landmark site on Grand Island.

Isledegrande.com advertisers numbered 54 in December 2003.




Thank You Isledegrande.com Contributors
Thanks to everyone who contributed news and pictures to Isledegrande.com's E-News this year, especially Jodi Hayes Robinson, Joelle Logue, Ray Pauley, Ruth Stahl, Fred Claus, Barbi Lare, Alissa Pioli, Dan McMahon and Detective Fred C. Vincent . Thanks also to the teachers, coaches and parents who submitted school and sports news, and also to those who added organization news, church events, photos, viewpoints and news of interest to anyone with a connection to Grand Island, NY. We have enjoyed a great year and look forward to serving you in 2004. Teddy Linenfelser, Editor


---