Year 2005 on Grand Island, N.Y.
---
By Teddy Linenfelser




JANUARY


A Canadian resident pled guilty on Tuesday, January 4, 2005 to running a rubber raft across the Niagara River to the Island in June 2004, in an effort to transport a group of illegal aliens to the United States.

The ice rink at Veterans Park on Bedell was ready for skaters, with hours from sunrise to sunset. The natural ice rink depends on cold temperatures.

The Grand Island Recreation Department offered a new program, Youth Activities Night, open to boys and girls 6 – 10 years old and featuring two hours of vigorous exercise games and activities.

The Grand Island Board of Education, on Monday evening, January 10, 2005, appointed Mr. Henry Peters as interim principal for Sidway Elementary School.




A jogger on the Beaver Island Parkway bike path was heading towards Beaver Island Park on Thursday, January 13, 2005 when temperatures reached 65 degrees under sunny skies all day.

John Stark, 20, of Grand Island was killed when the car he was riding in was involved in a head-on accident Monday, January 17, 2005 on Route 219 in the Town of Ashford. Traveling with John was Jim Roberts, also of Grand Island, who was seriously injured.

Gleason's Niagara Gymnastics teams competed over the January 19, 2005 weekend in the Graffiti Invitational at Starpoint High School. Competing on the Level 9 team, Jenna Raepple led the team with first place in every event and helped the team take the gold.




Wednesday, January 19, 2005 brought eight inches of snow to Grand Island.

The Grand Island E-News at Isledegrande.com broke another record in hits (unique visitors) to the Isledegrande.com site during January 2005 - 12,438 - 882 hits higher than the past record.

An anonymous $50,000 scholarship donation was received by the school district to be used for scholarships for Grand Island High School girls entering the field of engineering.




Thomas Rayhill, a 2004 graduate of Grand Island High School, was chosen as "Special Teams Player of the Year" at the January 30, 2005 Rensselaer Polytechnic Institute Varsity Football banquet.



Grand Island Fire Company Rescue Personnel responded Friday night, January 28, 2005 to a reported "allergic reaction," affecting several youngsters in the pool area of the Holiday Inn.



FEBRUARY


Twelve new members were voted into the ranks of the Grand Island Fire Company at the general meeting February 2, 2005.

Erie County Sheriff's Deputies arrested a Buffalo man at 4 a.m. February 8, 2005 after he was found hiding inside the chimney of his girlfriend's Grand Island home. The man was charged with harassment and endangering the welfare of a child.

The Grand Island High School Lady Vikings Varsity Basketball Team clinched the Niagara Frontier League championship by beating Lockport 47-35 on February 8, 2005. The Island team remained unbeaten during the Niagara Frontier League regular season (14-0).




"Seussical" - the 2005 winter musical at Grand Island High School - on stage in the Ransom Road auditorium, February 3-5, 2005, has been tagged one of the very best musical productions in the history of the school.

Grand Island resident Rus Thompson was among organizers of a new political group, Primary Challenge and was giving serious thought to running for public office in November.




The Grand Island High School Winter Ball took place on the evening of February 12, 2005 with seniors Erik Deuble and Justine Kirsch voted King and Queen respectively.

The Grand Island Girls Varsity Basketball Team won over the Pioneer Panthers by a score of 48-35 in the Class A-1 Finals held at the Burt Flickinger Athletic Center in February 2005.

February 20, 2005 marked the first time in about 10 years that the Grand Island Varsity Hockey Team made it to the WNY Small School Championship. The Vikings took on the Cheektowaga Warriors, who handed Grand Island their only league loss earlier in the season. Final score was 2-1.



MARCH





The two story home of the Gregory J. Dinsmore family, unoccupied at the time, was destroyed by fire on Friday, March 11, 2005.

Several hundred homes in the south west areas of Grand Island lost power at 9 p.m. Tuesday evening, March 22, 2005 due to a transformer burning on Staley Road near Baseline.




The annual Corporate Bowl 2005 was held March 15, 2005 in the Grand Island High School auditorium when the 2-and-a-Half Asian Invasion team of Meher Singh, Yasmin Raza, Sofia Syed and Sara Hilliard won the first place prize of $1000 each in scholarship money.




"Snoopy The Musical" was presented by Veronica Connor Middle School students in the high school Tuesday night, March 22, 2005 to a near full house.

An Alan Court woman was transported to Kenmore Mercy Hospital about 9 p.m. Wednesday, March 30, 2005 by her 26-year-old boyfriend, who ran away when questioned by hospital personnel about the woman's injuries. The victim, who was conscious when brought in, explained to hospital officials that her boyfriend ran over her several times with his vehicle.

The Grand Island Fire Company commenced a new senior assistance program during March 2005, due to concerns over the welfare of 'senior' EMS patients. The follow-up visits were to help to determine individual progress, well-being, and the need for appropriate supportive referrals.



APRIL


The Grand Island Teachers Association recognized 244 outstanding students with the Pride of the Island awards.

A month-long grand opening celebration at Fuccillo Toyota took place in April 2005.




Approximately 400 good friends of Gene and Christine Ryshkus attended a community fundraiser for the couple on Sunday, April 10, 2005 in the Buffalo Launch Club.




A standing room only crowd of over 200 watched the nine men of Trinity UM Church who vied for the title of Miss Trinity 2005 on Sunday evening, April 17, 2005. Winning the event, a benefit for this year's Youth Workcamp in Tennessee, was Jim Ellson.




Three members of the Islettes Elite Baton Twirling Corps of Grand Island, NY were named Miss Majorette of New York State in a competition held on April 17, 2005 in Amherst, New York.

The Grand Island Board of Education, at its Tuesday, April 26, 2005 meeting, accepted the resignation of Jon Roth, longtime school district Athletic Director.




Island resident Tim Phillips, who has been racing the National Vacuum Corporation #21 in the local 360 sprint circuits, announced that he will no longer be racing, due to the fact that he has been diagnosed with prostate cancer at the age of 44.



MAY


Clarke Elliott, Grand Island instrumental music teacher of long standing, was presented with the NYSBDA Richard H. Snook Outstanding Band Director Award at the NYSBDA Symposium on March 5, 2005 in Syracuse, New York. Clarke was recognized for this honor by members of the Board of Education at their May 9, 2005 meeting.

A half-grown kitten that made its way to the top of a large tree on Ward Park and refused to come down by itself for four days, was rescued Monday afternoon, May 9, 2005.

Grand Island voters on Tuesday, May 17, 2005, rejected the school district budget of $43,156,914 in a 1153-1890 vote, the purchase of five (5) 65-passenger conventional school buses (1103-1908), and elected Richard Little and Myrna Blair to the two open seats on the Board of Education.

Choir, band and orchestra students from grades 5-12 recently participated in Evaluation Festival Performances with the New York State School Music Association. Click NYSSMA Results.

The Town Board unanimously approved the site plan and issued a special use permit for the Woods Creek convenience store and gas station on the northeast corner of Ransom and Stony Point roads.

The Huth Road Elementary School was without power and phone service on Monday, May 16, 2005.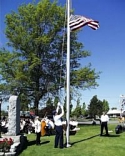 Grand Islanders came out in record numbers for the Town's Memorial Day Services at DeGlopper Park. It is estimated that over 300 were in attendance.

The Grand Island E-News at Isledegrande.com broke another record in hits (unique visitors) to the Isledegrande.com site during May 2005. In May 2004 the record hits totaled 11,556 and at the end of the day, January 31, 2005, the count was 12,438. At the end of Tuesday, May 31, 2005 the total monthly count was 12,931.



JUNE





The Asian Buffet at 1752 Grand Island Blvd. opened to the public Wednesday, June 1, 2005.




Olivia Raye Williams, born with a rare birth defect, a complete separation of her small intestine, received her second, successful transplant surgery June 3, 2005.




The students of Kaegebein School second grade teachers Mrs. Deanna Schoenberg and Mrs. Lise Leahy presented a musical play, "Over The Bridge," on Friday, June 3, 2005.




Island resident JoAnn Vanderheite's artistic guards won a 2nd place for Best of Show in the 35th Annual 100 American Craftsmen Festival June 3-5, 2005 at the Kenan Center, Lockport, NY.

Devastating news circulated throughout the Island on Wednesday, June 8, 2005 as residents began to hear of the death of a Grand Island, NY resident in Iraq. Lieutenant Colonel Terrence Crowe was killed on Tuesday, June 7, 2005.




A window replacement project was taking place at Town Hall in June 2005, part of the energy performance contract that also includes the water meter replacement, various lighting and other electrical improvements in several town buildings and traffic signal upgrades.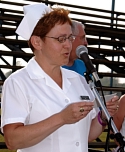 Grand Island's Relay For Life, chaired by Mary Dunbar-Daluisio (above) on Friday, June 10, 2005 raised an unofficial $85,000.

A series of violent thunder storms across Western New York in the early hours of Friday morning, June 10, 2005, dropped more than three inches of rain accompanied by high winds. The storm left many Island residents without power or phone service. The Grand Island High School and Veronica E. Connor Middle School were closed due to the power outage.

Kara Black broke a section record in the 200 meter with a time of 24.53 and a third place finish in the June 3-4, 2005 Section VI Track & Field championships.

The Grand Island American Legion Post 1346 brought back the "Blue Star Banner" program and is supplying the banners at no cost to qualified Island families.




A ribbon cutting ceremony took place at the new front entrance enclosure on the Grand Island Golden Age Center Friday afternoon, June 10, 2005.




The Grand Island High School Class of 2005 Senior Prom was held Saturday, June 11, 2005 at the Niagara Club, Buffalo Avenue, Niagara Falls.




Friends and family of Lt. Col. Terry Crowe, as well as representatives of the American Legion, the VFW and the DAV gathered at Vets Park Monday evening, June 13, 2005 to pay tribute to the fallen soldier, killed June 7 in Iraq. A scholarship fund was also set up by Niagara University in honor of alumnus Lt. Col. Crowe.

The Charles N. DeGlopper V.F.W. Post #9249 held installation of officers on Tuesday, June 14, 2005. The Post's new commander is lifelong Islander Dan McMahon.

An armed robbery late Friday, June 17, 2005 in the Burger King Restaurant, Grand Island Boulevard took place as the manager was closing around 11:05 p.m. Two men in bandannas, one displaying a silver handgun, confronted her. The pair forced the manager into an office where she complied with their request to hand over cash in a safe.




Suzanne Tomkins, a professor at UB Law School and the co-chair of the Board of Directors of the YWCA of Niagara, began riding her bike across the country on Saturday, June 18, 2005 to commemorate the opening of Carolyn's House, a supportive shelter for women and their children. Her trip started when she flew into Seattle and was to take approximately nine weeks.




A beautiful day graced the lawns of River Lea in Beaver Island State Park Wednesday, June 22, 2005 where the dedication ceremony of the gates, once the entry point to River Lea, took place and was witnessed by about 100 people. Click for Historic Gates History

A record number of Grand Island voters returned to the polls Tuesday, June 28, 2005 and most voted in favor of the Proposition #1 budget of $42,764,295.00. The bus proposition also passed. Total voter turnout was 3156. The 130 votes cast by absentee ballot was also a record amount. The Grand Island Board of Education made the decision to place another budget before the voters after Island residents voted down a $43.1 million budget on Tuesday, May 17, 2005.

Alex's Lemonade Stand, run by a group of children, was an overwhelming success raising $1175 with $85.00 in matching funds for a total of $1260.

United States Senator Charles Schumer announced on Thursday, June 30, 2005 that the Department of Homeland Security would be moving the Border Patrol Sector Headquarters from Tonawanda to Grand Island. The new headquarters will be constructed on Lang Blvd.

The Grand Island E-News at Isledegrande.com broke another record in hits (unique visitors) to the Isledegrande.com site during June 2005. The May 2005 record total was 12,931 and a total of 14,116 hits have been recorded for the month of June 2005.




The congregation of the Trinity United Methodist Church, Grand Island, announced the appointment of a new senior pastor, the Rev. J. Paul Womack.




Stacey Monaco was chosen as the Grand Island Alumni Association's award winner for 2005 by members of the Alumni Association award committee .



"Grand Crafts On The Island" took place over the June 25-26, 2005 weekend which was one of the hottest weekends ever. Co-Chairs Robin Swedish and Kathy Smith and their committee members, Barbara Wilson, Sue Berger and Toni Shaffer deserve much recognition for providing this community event that has drawn a large audience each year since its inception in 2002, the year of the town's Sesquicentennial celebration. The committee has decided that, due to other commitments, this would be the last Grand Crafts Show.



JULY


The Grand Island High School Class of 1975 reunion was held July 1 & 3, 2005 at the Holiday Inn and River Oaks. The Class of 1980 reunion was held July 1-2, 2005 at the Moose Lodge and at River Oaks. The Class of 1985 reunion was held Friday July 1-4, 2005 at the Brick Oven, the Holiday Inn, Beaver Island and the VFW after the 4th of July parade. The Class of 1995 reunion was held July 1-2, 2005 at the Brick Oven and at River Oaks.





Sun and 90 degree temperatures prevailed throughout Grand Island's Independence Day Parade down Grand Island Blvd. A huge and enthusiastic crowd estimated at about 3500 filled the Boulevard sidelines.

Overall winners of the 30th July 4, 2005 Dick Bessel 2.3-mile road race were Jim Dunlop (Men) and Rebecca Heuer (Women).

Thomas Smith, 9, and Molly Meka, 9, were winners of the boys and girls divisions of the Independence Day Kids Race on Grand Island Blvd.

Island Happenings and KidBiz, sponsored by the Grand Island Chamber of Commerce, was held Saturday, July 2, 2005 at the Town Commons with over 90 young entrepreneurs participating in the 9th annual KidBiz Sidewalk Sale.

Councilman Dick Crawford, board liaison to the Traffic Safety Advisory Board, announced at the Tuesday, July 6, 2005 town board meeting that the county has given preliminary approval for a three-color traffic signal at Staley and Baseline roads.

It was announced that the Grand Island Plaza at Baseline and Grand Island Blvd. was sold for $4,000,000.

Announcement was made that Rev. Paul E. Robinson retired as senior pastor at Trinity United Methodist Church.

Nicholas Hernandez, of Buffalo was sentenced to 20 years in prison and Jeffrey D. Cornman, also of Buffalo, received a sentence of 10 years in prison for the death of Eric Lloyd of Grand Island earlier this year.

Grand Island Soccer Club and Grand Island Parks and Recreation hosted a Britannia community soccer camp July 11-15, 2005 at Veterans Park.

A Huth Road Playground Committee, made up of parents and friends of Huth Road Elementary School, was formed to help renovate the Huth Road Playground.

Grand Island boater, Joseph P. Mash, was injured in a freak boating accident in the east Niagara River.

The Grand Island Fire Company responded to a report of a white cloud engulfing the NOCO station at Whitehaven and Grand Island Blvd. Thursday afternoon, July 14, 2005. A loud, explosive sound came from a gas pump as a customer tried to cancel a transaction when the pump would not work properly. At the same time the white explosion occurred. NOCO representatives believe it could have possibly been heat related.

Islander Jim Porter took his first career Feature win during the Southern Ontario Sprints.

Members of the Grand Island Lions Club, with assistance from several other Island organizations, hosted their annual Special Children's Picnic on Wednesday, July 21, 2004 at the Buffalo Launch Club.




The Sandy Beach Park Club's annual children's parade and picnic were held Saturday, July 28, 2005 with the parade beginning at Wallace Drive and Middle Road at 4 p.m.




After Grace Kulikowski and Mary Kneer wrote a letter to Town Supervisor Peter A. McMahon requesting help fixing up their neighborhood park, the Colonial Drive playground, volunteers spent a morning spreading new mulch under the playground equipment, weeding, painting numerous items including benches, picnic tables, swing sets, an awning and the soccer goals.



AUGUST


Under threatening skies, the Grand Island National Night Out was held on Tuesday evening, August 2, 2005.

Peter Longo, of Ward Park Road, Grand Island was sentenced to a seven-year prison term for his involvement in the death of Eric Lloyd, 18, also an Island resident.




Friday, August 5th turned out to be a beautiful evening for Islanders to gather at the river. The Holiday Inn's weekly "Jazz on the River" was the gathering spot for the Grand Island Alumni Association's second "All Island Reunion."




The Grand Island Memorial Library team was crowned champion at the 7th Annual Battle of the Books, a reading competition supported by Erie County libraries. Twenty-six teams representing twenty-three libraries and 252 middle school aged children participated in this year's competition.




Harold O. Lansberry received a long overdue Purple Heart award in a ceremony on the afternoon of Friday, August 5, 2005 in the VFW Post #9249.




Isle resident Charlotte Booth was named the America's Fair Princess at the Erie County Fairgrounds on Thursday, August 11, 2005.

A Michigan Woman was arrested Sunday evening, August 21, 2005 after leaving her 6-year-old son alone on the side of Grand Island Blvd.

Laurie McCarthy, who grew up on Grand Island, wrote and produced "Windfall," scheduled to begin airing midseason on NBC TV.

Of great interest to many Island residents was the announcement by the BRAC Commission that the Niagara Falls Air Base would remain open.




When Sierra Brooks, 8, discovered her unconscious playmate, Erica Seal, 6, she quickly brought her to the surface and yelled for help. Erica had been knocked off a 'volcano' float and sank to the bottom of a backyard pool, on the afternoon of Monday, August 29, 2005. Alert bystanders and Firefighter/Paramedics teamed up to save Erica's life.



SEPTEMBER


A Grand Island man operating a motorcycle was arrested for felony DWI September 2, 2005 following an accident on Ferry Road. The cyclist, who struck a motor vehicle, fled the scene on foot, and was located after an extensive search that include the use of the Sheriff's "Air-1" helicopter.

In response to an urgent request from the National VFW Commander for funds to assist the citizens in Mississippi, Louisiana and Alabama, the members of the Charles N. DeGlopper Memorial VFW Post 9249 and auxiliaries sent donations to the VFW Department Adjutants in the states of Louisiana and Mississippi.

Gasoline rates were being changed from one hour to the next, and some stations ran out over the September 2, 2005 weekend. The day after day news of the devastation brought on by Hurricane Katrina in the Gulf Coast area was being blamed for the alleged gas shortage panic and the stampede to the gas pumps.




Grand Island Schools opened Wednesday, September 7, 2005. The morning temperature was a comfortable 60 degrees and sunshine prevailed as students from all over the Island boarded their school buses, biked or walked to one of the five public school buildings and St. Stephen School.




The members of the VFW Post 9249 sponsored a 7 p.m. vigil at the post in memory of those who lost their lives during the September 11, 2001 terrorist attacks on the United States.

Some of the winners of the Tuesday, September 13, 2005 Grand Island primary election were Mark J. Frentzel for Town Justice candidate, Republican; Michael A. Rossi for Town Justice candidate, Democrat; Mark J. Frentzel for Town Justice candidate, Independent; Mark J. Frentzel for Town Justice candidate, Conservative; Mark J. Frentzel for Town Justice candidate, Working Families.




Island response to the Olivia's Journey Fundraiser, held Sunday, September 18, 2005 at River Oaks was "HUGE" according to committee members who put the event together to help out Roxanne and Bill Williams with medical bills that continue to include every-other-week trips to Pittsburgh for Olivia Raye's follow-up appointments.




A proclamation presented by the Town Board Monday, September 19, 2005 was in recognition of the 5th anniversary of Isledegrande.com, the web site devoted strictly to Grand Island news.

A Grand Island resident was arrested at 7 p.m. Wednesday, September 21, 2005 for Burglary in the 2nd degree, a Class C Felony, and Grand Larceny in the 4th degree, an E Felony.

Three Grand Island teenagers were arrested after a Friday, September 23, 2005 robbery at an Alan Court home.

The arrest of two men in connection with the theft of a Grand Island woman's purse and credit cards, was announced Thursday, September 29, 2005 by Erie County Sheriff Timothy B. Howard. The theft took place about 2:30 p.m. September 14, 2005 at the NOCO Gas Station on Grand Island Blvd.

The Grand Island Education Foundation has allocated $500 to the school district to be used for field trips.




Grand Island High School seniors Lauren Campbell and Chelsea DeGlopper have been named Commended Students in the 2006 National Merit Scholarship Program, as announced by Grand Island High School Principal Dr. James R. Dempsey. A Letter of Commendation from the school and National Merit Scholarship Corporation (NMSC), which conducts the program, will be presented by the principal to these scholastically talented seniors.

Rep. Louise M. Slaughter (D-Fairport), Ranking Member of the House Rules Committee, announced that the U.S. Department of Education's Emergency Response and Crisis Management Program awarded $99,810 to the Grand Island Central School District under the Emergency Response Plans for School Safety Initiative Program. The grant will help to fund the school's emergency response and crisis management programs.




Members of the Grand Island Chamber of Commerce held a ribbon cutting during the Grand Opening of their new Grand Island Blvd. headquarters on Thursday, September 29, 2005.



OCTOBER





Perfect weather prevailed on Saturday, October 1, 2005 for the Isledegrande.com birthday bash held in front of our Whitehaven Road office. The all-Island newspaper was born five years ago.




Grand Island Fire Company Rescue Personnel responded shortly before 4 p.m. Friday, October 7, 2005 to a one-car MVA on the Beaver Island Parkway near Fix Road. Harold Geiger, 71, of Grand Island, reportedly lost control of his vehicle on the rain slick roadway, and was trapped in the wreckage, after colliding with a nearby tree, according to Deputy Fire Chief Kevin Koch.




The Grand Island High School Homecoming Dance was held on the evening of Saturday, October 8, 2005 in the school.




Bonnie Janowsky retired after serving as teacher/director of the Grand Island Cooperative Nursery School for 24 years.




The Town Cafe Restaurant celebrated its third anniversary in business on Grand Island Blvd.




Lance Corporal Michael Mehltretter, United States Marine Corps, was welcomed home from Iraq by friends and family at the Charles N. DeGlopper Memorial VFW Post #9249 Friday evening, October 14, 2005.




Members of the Ladies Auxiliary of the Grand Island Fire Company held a very successful fall chowder and baked goods sale on Saturday, October 22, 2005. Hundreds of Islanders turned out to buy chowder in kettles and containers as well as plastic containers provided by the Auxiliary.




Huth Road Elementary School lunch lady Martha Muller retired after a 34-year career.




Kaegebein School Art Teacher Mrs. Alex Incao was awarded $450.00 from the Grand Island Foundation for the purchase of a set of 32 art books, each one dealing with a different artist or style.




A delegation of Chinese educators from Luyuan District, Changchun, Jilin Province met in the Grand Island School District office October 25-26, 2005 where they met with Dr. Thomas Ramming and a variety of administrators, teachers, and clerical staff.

A College Fair, sponsored by the Grand Island Youth Board, was held in the Grand Island Senior High School Large Cafeteria on Thursday evening, October 27, 2005 with approximately 85 students attending.




The Fall Festival, sponsored by the Huth Road Playground Committee in October 2005, raised over $6000.00 towards the tearing down and rebuilding of the older part of the Huth Road playground.



NOVEMBER



Jalapeno Loco, a Mexican restaurant, opened on Grand Island Blvd.

The Grand Island High School Girls Soccer Team beat Starpoint, 7-0 on Wednesday, November 2, 2005 in the Section VI Class A Soccer Semifinal.

The Varsity Vikings took the Section VI Class A championship at Ralph Wilson Stadium Saturday, November 5, 2005 with the final score, Grand Island 20, Sweet Home 14.

The Grand Island Fire Company was called to numerous locations including Pellamwood Court, Greenway Road, Baseline Road, East River Road, Calvano Drive and West River Road - all wind related on Sunday, November 6, 2005.

Councilwoman Mary Cooke and Superintendent of Highways Ray Dlugokinski were re-elected on November 8, 2005. Other winners of the November 8th general election were Susan J. Argy (council) and Mark J. Frentzel (town Justice).

The School District obtained funding for the November girls' championship soccer trip through Section VI after first being notified that the District would have to pick up about half of the cost for transporting the team to the play-offs in Binghamton. Section VI covered the full cost of transporting the team to the play-offs.

The Grand Island Lady Vikings won the Far Western Regional contest on November 12, 2005.

Little League diamonds were officially named Monday, November 14, 2005 for three men who served in the Armed Forces, two of whom made the supreme sacrifice in the defense of this nation. Field #2 will be re-titled honoring the memory of Lt. Martin Prast, Field 3 will honor Cpl. Robert B. Luther and Field #4 will honor Lt. Col. Terrence Crowe.

Allie Weiser, the Lady Vikings' star goalie, was injured during the Friday, November 17th state semifinal girls soccer competition against the Southside team that defended its Class A championship with a score of 7-2.

The Spotlighters, Grand Island High School's drama club, presented Get Smart in the high school auditorium on November 17-19, 2005.

There were only a few empty seats at a November Town Board meeting as residents adjacent to the land southwest of Fix and Baseline came en masse to protest attempts by developer John Stickl to re-zone 28.5 acres from R1-D to R-2.

Once again Grand Island had the greatest percentage of youngsters vote in Erie County! The total number of kids' ballots was 1,655, which is 46.12% of all Island kids.



DECEMBER





It was cold, but the children braved the elements to see Santa arrive by fire truck at Grand Island Town Commons on Saturday, December 3, 2005.




A tree planting close to the gazebo in the Town Commons in memory of MaryLou Lunsford took place Saturday, December 3, 2005.

The Grand Island Fire Company was called to McDonald's Restaurant on Grand Island Blvd. at 7:23 p.m. Monday, December 5, 2005 for what was reported as a gas line severed by a construction crew working around the building.




The Charles N. DeGlopper V.F.W. Post #9249 hosted a Pearl Harbor Day remembrance on a cold Wednesday, December 7, 2005 at noon.

Bedell Road resident Patricia Arcouet was struck by a car on Monday evening, December 12, 2005 in the vicinity of 1514 Bedell Road and did not survive her injuries.




Grand Island Fire Company volunteers responded early Friday morning, December 16, 2005 to a reported fire at 1866 Webb Road. An attached garage at the home of Sally and Donald Richards sustained damage estimated at $40,000.00 to the structure and $20,000.00 to the contents.

Greg Butcher was returned as Fire Chief for the coming year, as Grand Island Firefighters elected a new leadership slate during December 7th annual elections.

The Grand Island Board of Education, at its December 12, 2005 meeting, recognized the following team winners of Scholar Athlete Awards: Girls Tennis; Girls Cross Country; Golf; Boys Cross Country; Football; Girls Swimming; and Boys Soccer

In conjunction with Grand Island High School's 40th anniversary of its first graduating class, the Grand Island Foundation (for education) has established a Distinguished Alumni Award.




Lance Cpl. Michael Mehltretter, one of 14 United States Marines with the India Company of the 3rd Battalion, 25th Regiment, based in Buffalo, N.Y., received the Purple Heart on Saturday, December 17, 2005, "for wounds received in action on 4 September 2005 in Iraq."




Grand Island's Al Salamone was nominated for U.S. Paralympic Sled Hockey Team.

Over 50 families were helped with food and gift baskets for the holidays, courtesy of the Neighbors Foundation of Grand Island.




Twelve-year-old Joseph Reines called for help when he heard his newspaper customer, eighty-one-year-old Audry Yehle, pounding loudly and calling for help. Minutes later Grand Island Fire Company Rescue Personnel received the call and freed the trapped woman.

A Niagara Falls resident used the Grand Island Blvd. as a speedway on Sunday, December 25, 2005 as New York State Troopers chased him in a stolen car at high speeds, as high as 95 mph.




Thank You Isledegrande.com Contributors
Thanks to everyone who contributed news and pictures to Isledegrande.com's E-News this year, especially Jodi Robinson, Joelle Logue, Dan McMahon, Kelly Gast, Ray Pauley, and Fred Claus. Thanks also to the teachers, coaches, parents and school officials who submitted school and sports news, and to those who added organization news, church events, photos, viewpoints and news of interest to anyone with a connection to Grand Island, NY. We have enjoyed another great year and look forward to serving you in 2006.
Teddy Linenfelser, Editor


---