Year 2007 In Review
Grand Island, N.Y.
By Teddy Linenfelser
JANUARY


First Grand Island baby of the year 2007 Brady Thomas Maroni was born on January 3, 2007 at 1:20 a.m. to Tim and Julie Maroni of Colonial Dr.




Fire Chief Greg Butcher reported that Grand Island firefighters handled 18 emergency calls during a 13-hour period on Monday, January 15, 2007. He noted that freezing rain and falling temperatures created hazardous road conditions, contributing to at least six MVAs. Downed power lines and fallen trees also blocked some local roadways and led to temporary power outages.




Forty-three Grand Island High School students attended regional competition at Williamsville North High School on Sunday, January 7, 2007 and 16 students from GIHS qualified for New York State Competition being held in March.




The Grand Island High School Interact Club met to discuss activities for the year.




The Grand Island Fire Company installed officers for 2007.




Director of Interscholastic Athletics Jon Roth introduced the Scholar Athlete Award recipients at a January 2007 school board meeting. All ten varsity teams qualified this fall by achieving an overall average of 90%.



The New York State Sportswriters Association chose Grand Island Vikings football captain James Rayhill, a senior, to be on the 2006 First Team All State Football Team, representing Class A at the defensive end position.




Joanne Carr was presented with a proclamation by Erie County Legislator Michele Iannello, D-10th District, in honor of her more than 30 years of service with Grand Island's Commission for Conservation of the Environment.




Elizabeth "Beth" Dommer was chosen as the honorary survivor for the Grand Island Relay For Life 2007.



FEBRUARY


Frantically trying to break free from a drifting ice flow where he was trapped, Wayne Kingwell, 40, of Fort Erie, Ontario, was spotted and rescued from the Niagara River after being on a rubber raft for "over five hours" in sub zero temperatures while trying to reach the USA to make a business transaction.




The Grand Island High School production of "Beauty and the Beast" took place on Thursday, Friday and Saturday, February 1-3.

Assemblymember Sam Hoyt (D-Buffalo, Grand Island) announced that the Governor's state budget proposal contains an unprecedented $1,000,000 total aid increase for the Grand Island School District.




Town Historian and Isledegrande.com editor, Teddy Linenfelser, was presented a proclamation at a February town board meeting, honoring her mother, Marion Klingel, for a lifetime of service to the Town of Grand Island. In commemoration of what would have been her 100th birthday February 16, the Town Board announced the dedication of the Town Common in Marion's name and the erection of a sign to that affect in a ceremony to be held in summer 2007.



Travis James Zukic, a member of Boy Scout Troop 630, was presented a proclamation recognizing the fact that he attained the rank of Eagle Scout.

GLP Free Manufacturing, a business started by Island residents Susan Daubney and Joan Pedlow, was sold to Rich Products.




Andrew Chambers Jr., an accomplished Blacksmith, has been commissioned to make a gate for the platform that is used when political figures are laid in state in the Capitol building in Washington, DC.

Grand Island Fire Company Rescue Personnel responded Tuesday morning, February 6, 2007 to a series of MVAs involving 15 vehicles in the southbound lane of the I-190 on the south Grand Island Bridge.




A benefit held Monday evening, February 5, 2007 for Bill Aydelotte at the Island Lanes drew a tremendous crowd of 300+ friends and family of Bill and Nancy Aydelotte, several traveling across the country to be there for "B.A."




Grand Island High School senior Jessica Kuehne signed a letter of intent to accept a scholarship from Sienna College for the fall of 2007.




Boy Scouts from Troop 254 braved the cold temperatures February 9-11, 2007 to spend the weekend at Camp Stonehaven in Sanborn, NY.




The annual Grand Island High School Winter Ball was held in the school on Saturday, February 10, 2007.




Sidway Elementary's 100 Day Celebration was rescheduled a couple of times due to snow and cold days but finally happened on Valentine's Day, February 14.




Alicia Barnaby, a senior at Grand Island High School, signed a letter of intent on Thursday, February 15, 2007 to accept an athletic scholarship to St. John's of the Big East Conference.

Peter Pan Peanut Butter was removed from the grocery shelves in Tops Market on Grand Island Blvd. as of Thursday, February 15, 2007. The brand, along with Great Value brand, was being recalled due to a link to a salmonella outbreak.




The Grand Island Holiday Inn was the setting on Thursday, February 15, 2007 for Job Search Seminar 2007 where over 65 Grand Island High School business students participated in interviews with 25 local leaders from business, government and education.

The GIHS Madrigal Singers sang at a high school social studies teacher's wedding in the Canisius College chapel on Saturday, February 17. The Madrigals had already met the groom, Mr. DeDario, through his work with this year's musical. Under the direction of Mrs. Carolyn Lokken, the Madrigals performed most of the music for the ceremony and were well received by both guests and clergy.




A "Winter Break: Snow Sculpture Contest," a first for the Grand Island Parks & Recreation, drew nine participants to the Town Common on Tuesday, February 20, 2007. Weather was mild, providing perfect snow for the making of various sculptures.

The New York State Thruway Authority board of trustees voted Wednesday, January 17, 2007 to change the speed limit on the Grand Island section of the Thruway from 55 to 65 mph. The change went into affect in February 2007.

Two Veronica Connor Middle School math teachers and several of their students began the February 26, 2007 school board meeting with a very interesting presentation on "Smartboard Technology." This math program is used by the 6th and 7th grade students and is comprised of software, content and a large screen with projector.



MARCH





The annual Women's World Day of Prayer service took place at 10 a.m. Friday, March 2, 2007 in St. Stephen's main church.




Chief Greg Butcher reported that thirteen new members were recently voted into the ranks of the Grand Island Fire Company, and represent the largest group of "rookies" ever to be accepted.




The members of the Grand Island Golden Age Center helped Lillian Carpenter celebrate her 99th birthday on Friday, February 23rd.




Josh Camizzi was presented a proclamation by the Town Board on Monday, March 5, 2007 for his achievement in earning the rank of Eagle Scout.




The Grand Island Memorial Library was the scene of a 50th birthday party for the children's book, The Cat In the Hat by Dr. Seuss on Saturday, March 3, 2007.

Detective Dennis Fitzgibbons of the Erie County Sheriff's Department provided the community with a description of a suspected prowler, recently spotted in a backyard in the 2000 block of Stony Point Road.



The Grand Island Community Chorus announced its new director, Carolyn Lokken.

Grand Island High School senior Ian O'Rourke, winner of the state diving championship for the past two years, took 2nd place in the 2007 NYS Diving Championship on March 3, 2007.

"Welcome to Grand Island's "ReUnion Central" - a new page at Isledegrande.com that makes it easier for Grand Island High School reunion planners to find classmates, was introduced in March 2007





Twenty-one students from Grand Island High School took top honors while attending the New York State Career Conference on March 7-9th in Rochester, NY.

Grand Island High School indoor track star Tim Fargino, placed 2nd at the "Nike National Scholastic Championship" in Landover, MD over the weekend of March 9-11.

Harbor Towne Centre on Baseline at Alvin Road, first opened on October 24, 1991, was sold to a group of investors for $3 million.

Grand Island High School students organized a new club, Life Lessons, whose mission is to promote awareness of organ and tissue donations in Western New York. Members of the new club held a Life Lessons Fair on Saturday, March 31st.




Team MXA members Ryan Link, Rachael Kaplan, Cassie Lange and Forrest Smith won the Corporate Bowl competition on March 20th with each teammate receiving a prize of $1,000.





The Niagara Jr. Purple Eagles Peewee Major team, including Grand Island players Justin Frentzel, Michael Malaney and Mitch LaRiviere, won the New York State 12U Tier II Championship held at Chelsea Piers in Manhattan March 9-11, 2007.




The town board recognized Grand Island High School senior Sean Michael McDermott and congratulated him on attaining the prestigious rank of Eagle Scout.

The Friends of the Grand Island Memorial Library held a used book sale on Friday, March 23, 2007 and Saturday, March 24 in the Community Room at the library.

The Niagara Junior Purple Eagles including several Island players and coached by Island resident Gene Mongan, captured the New York State Bantam Tier II 14U State Championship on Sunday March 11, 2007 in Binghamton, New York.

A long discussion was held at the March 26, 2007 school board meeting in regard to a pre-K program for the Grand Island school district. A committee was to be formed to discuss the feasibility of using $60,000 in available aid to send pre-K children to existing programs located on Grand Island through a lottery system.



APRIL


The Grand Island Fire Company was requested to respond to a fire at the Praxair Technical Center in the Town of Tonawanda on Thursday morning, April 5, 2007.

A directory of Easter Week Church Services was posted at Isledegrande.com at no charge to our churches.




Grand Island High School Interact and National Honor Society members constructed a cardboard box "village" and spent the night behind Grand Island High School to promote awareness of the plight of the homeless and raise funds through donations to benefit the Friends of the Night People.




Isledegrande.com received several calls Saturday morning, April 14, 2007 when residents reported the highly unusual ice flows totally backed up on the east side of the east Niagara River. "At a complete standstill" is how the callers described the heavy ice, previously moving down the river due to the removal of the ice boom earlier in the week.




The Grand Island Historic Preservation Advisory Board's photo display, "Before Beaver Island State Park," drew a record-breaking crowd to the Grand Island Historical Society headquarters, River Lea in Beaver Island State Park on Sunday, April 15, 2007.




The Island's own twirling athletes Katelyn Benns, Rebecca Sobol, Alissa Bailey, Molly Wynne and Allison Ewert were awarded the coveted Miss Majorette of New York at a state-wide competition held in April 2007 at Williamsville North High School.




Mrs. Ethel Yuhas, a retired Grand Island teacher, visited Charlotte Sidway Elementary School on Monday and Tuesday, April 23-24, 2007, and gave a presentation in the library for students and teachers. The subject was "Let's Go Back in Time - Exploring Pioneer Life." Mrs. Yuhas demonstrated spinning on an old spinning wheel.




Connor Middle School 8th grader Jenna Raepple of Niagara Gymnastics took first place all-around with a score of 36.85 at the 2007 Region VI Level 9 Gymnastics Championships held April 22, 2007 at Stony Brook University in Long Island, NY.




The Grand Island Foundation (for Education) began a tradition on Friday, April 20, 2007. The 2006, first class of Distinguished Alumni, William Whitford, Lee Zeplowitz, Neil Tetkowski, and James Desemone, was honored at an afternoon assembly in the Grand Island High School auditorium.




St. Stephen Parish Players' production of "The Robe" was presented in St. Stephen School cafeteria and directed by Jeff Stone in April 2007.

A house fire at 355 Ransom Road in the early evening of April 26, 2007 caused damage estimated at approximately $50,000 to the structure and $25,000 to the contents.




A full house enjoyed the Grand Island High School Talent Show on April 26, 2007. The seventeen act variety show included dance, vocals and rock bands.



MAY


The Grand Island Republican Party announced the endorsement of Mary Cooke for supervisor in the November 6, 2007 general election.

Damage was set at $100,000 when a fire broke out in the Buffalo Launch Club at 11:28 p.m. Saturday, May 19, 2007.




The Niagara Regional Theatre Guild presented the musical, Sound Of Music, at the Riviera Theatre with a long list of Islanders doing everything from set design and directing to acting and music.

According to New York State Police, a Veronica E. Connor Middle School teacher was charged with attempted endangering the welfare of a child.

An emergency evacuation drill was held at Grand Island High School and Veronica E. Connor Middle School at 12:30 p.m. Friday, May 18.




Grand Island School Superintendent Robert Christmann was honored when his former employer, Newark Central School District (Newark, New York), was chosen as National Grand Prize Winner of the American School Board Journal's 2007 Magna Awards.

Lance Cpl. Daniel G. Semrau, a Grand Island, N.Y. native assigned to Weapons Company, 2nd Battalion, 8th Marine Regiment, 2nd Marine Division, was awarded the esteemed Purple Heart Medal, May 18, for wounds suffered during combat operations supporting Operation Iraqi Freedom.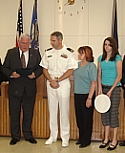 A proclamation was read at the Monday, May 21, 2007 town board meeting, paying recognition to Navy retiree Chris Affuso for his service in the United States Navy. Affuso was on active duty from 1980 to 1984 and in the Naval Reserve from 1984 to 2007.




Memorial Day 2007 ceremonies under sunny skies at DeGlopper Park Monday morning, May 28, 2007 were very well attended. Guest speaker was Island resident Col. David J. Conboy.




JoAnn Vanderheite was chosen for the fourth time to show her artistic guards, figural containers and masks in the 37th Annual 100 American Craftsmen Festival at the Kenan Center in Lockport, NY.



JUNE





A house fire at 216 River Oaks Drive at 2:52 a.m. Friday, June 1, 2007 caused an estimated $400,000 damage.

The Island Prescription Center opened at 1728 Grand Island Blvd.




Grand Island's largest event, Relay For Life, was a huge success despite rain and wind at the opening hour. Financial results were somewhere between $120,000 and $130,000.




The Kaegebein School Flag Day celebration was held on Thursday, June 14th.




The Sidway School students' celebration of Flag Day on Thursday, June 14th ended with the singing of "God Bless America."




Members of the Grand Island Conservation Commission helped disperse thousands of beetles on the morning of Saturday, June 9th to destroy the purple loosestrife that is located at Veteran's Park.




The Connor Middle School Modified Baseball Team presented the Neighbors Foundation with a check for $165 through a sweatshirt sale.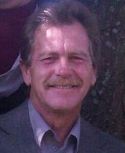 Island resident Rus Thompson accepted the endorsement of the Erie County Republican Committee to run for Legislature in the 10th district.

A Whitehaven Road resident, jailed since May 2007, gave a guilty plea on Friday, June 29th to second degree rape involving a teenage girl.

Island residents Bernie Scozzaro and Molly McMahon were injured when a car struck the motorcycle they were riding on the West River service road on June 26, 2007.

Island resident Michael T. Judson and Chad Cowell of the City of Tonawanda were seriously injured when the car they were riding in veered off the Beaver Island Parkway on June 24th. The men were wearing seat belts.



JULY


Grand Island Fire Company rescue personnel responded to a motor vehicle accident in Beaver Island State Park when a car struck a tree shortly before 8 p.m. Sunday, July 1, 2007. Joshua Greene of Grand Island was extricated from his vehicle and transported to a hospital by Mercy Flight.

A fire in a generator room of a building on the Astellas Pharma Manufacturing Inc. complex at 3125 Staley Road on July 12th caused $40,000 damage.

Grand Island Fire Company responded to a report of a pedestrian being struck by a car on the South State Parkway and searched the area for hours to no avail.

Bear-Man Specialty Foods, LLC, was named a finalist in the 35th Annual Product Awards Competition sponsored by the National Association of Specialty Food Trade (NASFT). Bear-Man's "Growlin' Grizzly" Barbecue/Dipping Sauce is a finalist in the "Outstanding Cooking Sauce or Flavor Enhancer" category, competing against some of the industry's most prominent companies such as Stonewall Kitchen and Wild Thymes.




Marion Mancuso celebrated the 50th year that his barber shop at the Grand Island Boulevard Plaza has been in business. He was the first tenant in the new plaza on July 1, 1957.




The Grand Island High School Class of 1977 held a reunion in July 2007.




Longtime resident Ora Glor-Newton celebrated her 95th birthday at a surprise party at Trinity UM Church on Sunday, July 15, 2007.

The New York State Thruway Authority's Grand Island E-Z Pass Service Center moved from the Burger King site on Grand Island Boulevard to 2293 Grand Island Boulevard, in the Town Hall Plaza on Monday, July 16, 2007.

Town officials, School District personnel and Community Youth Group Leaders met at the Town Hall Tuesday afternoon, July 17th as a collaborative initiative to address drug use concerns on Grand Island.

Myrtle Killian, who spent most of her life on Grand Island before moving to Briarwood Manor in Lockport, New York, celebrated her 101st birthday on Thursday, July 30th with a party of about 75-80 people from the Killian family.




Members of the Grand Island Lions Club, with assistance from several other Island organizations, hosted their annual Special Children's Picnic on Wednesday, July 18, 2007 at the Buffalo Launch Club.




Marion E. Klingel was commemorated Tuesday, July 17th in a ceremony that dedicated the Town Commons in her name.

A Grand Island man was arrested after allegedly providing marijuana to a minor.

An Erie County Deputy Sheriff was forced to shoot a man who had just shot a woman in a yard on Crescent Road near Broadway around 10:15 p.m. Wednesday, July 25, 2007 after repeated orders for the man to drop his weapon.

The new South Bridge Plaza on Grand Island Boulevard, completely occupied, was the site of a ribbon cutting on Tuesday, July 24, 2007.




The 2nd annual Paddles Up Niagara 2007 drew 203 paddlers of kayaks and canoes who followed a route along the south eastern shores of Grand Island on Saturday, July 28, 2007.



AUGUST





National Night Out took place on Tuesday, August 7th at the Klingel Town Commons despite the weather.




The New York State Department of Transportation began the $1.6 million project of paving 7.5 miles of West River Road.




The Grand Island Alumni Association Duck Race was held on Sunday, August 19th in the West River off of Grand Island. 175 ducks were dropped.




The new Baseline Road Heritage Center, a group home for handicapped young people, held a grand opening on Friday, August 24, 2007.

Erie County Executive Joel A. Giambra said in late August 2007 that consolidating all the 911 systems across the county could save taxpayers more than $6 million each year. Town officials are against this.




Grand Island art students Jenna Hutzler, Ariel Brucato and Erin O'Connor took 2nd place in the 23rd Annual WNY High School Chalk Walk Competition held in Lewiston.

A Grand Island resident and Kenmore pizzeria owner who was arrested four times in less than five months this year on drunken driving charges was sentenced Friday to 4 1/3 to 13 years in prison and fined $5,690.

Rus Thompson, who was running a campaign to have the tolls removed from the north and south Grand Island bridges, held a press conference Wednesday afternoon, August 29, 2007 at the south bridge on East River Road.

A feature story on former resident Floyd Anderson, told of the Island native and his family finding success with popular WNY chicken wings in Arizona.

A Bedell Road resident entered a guilty plea regarding child pornography.




Grand Island High School graduate, Class of 1987, Kris Christensen, came on board to report on the Varsity Vikings Football team.




Making a name for himself in 2007 was Bill Schultz who has competed in five AVP CROCS Pro Beach Volleyball tournaments this year.



SEPTEMBER





A large number of Vintage wooden boats and race boats were shown off at the Buffalo Launch Club on September 9th during the 30th annual Antique & Classic Boat Show.




Lillian Carpenter, 99, was honored with The President's 2007 Volunteer Service Award, presented by the President's Council on Service and Civic Participation and in recognition and appreciation of her commitment to strengthening our Nation and for making a difference through volunteer service.




Volunteers in the Trinity Methodist Church United Methodist Women's Club packed school supplies into 60 homemade book bags made by the club. The fall mission project benefited a kindergarten class in Fillmore, NY (Allegheny County).




The members of the Charles N. DeGlopper Memorial Post 9249, Veterans of Foreign Wars sponsored a 7 p.m. vigil at the post on 2121 Grand Island Blvd. in memory of those who lost their lives during the September 11, 2001 terrorist attacks on the United States.




The demolition and steel removal of the unused water storage tank/Cingular tower at 85 Carl Road was started at 7 a.m. Monday, September 17, 2007 and completed the same day.




An educational display about the history, ecology, preservation efforts and future protection of Strawberry Island, located in Beaver Island State Park near River Lea, was dedicated on Wednesday, September 19, 2007.

The Grand Island Vikings on Friday, September 28, 2007 stunned an overflow crowd at Spierdowis Field and walked away with a dramatic 33-27 come-from-behind win against previous unbeaten Albion.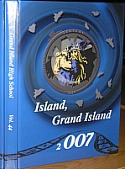 The 2007 edition of the Grand Island Venture Yearbook was given a local Cover Design Award from Lifetouch Photography. The award winning "Island, Grand Island" yearbook cover features a James Bond theme.




The Grand Island Historical Society hosted a slide presentation on Thursday, September 27th by Don Dunifon of Columbus, Ohio, who spent much time at River Lea in Beaver Island State Park in the 1950s.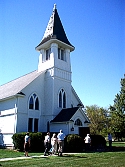 A celebration of the 100th anniversary of the dedication of Old Trinity Evangelical Church, now Historic Trinity Church, took place on Sunday, September 23, 2007 at the church at 2100 Whitehaven Road.

A birthday party held on Grand Island on Saturday, September 29 started with an invited group of about 15 high school students. Over the course of the evening the party grew to approximately 150 students who attended at least six different high schools. Parents were present other than during a brief period in which one had left to pick up take-out food. The police were called and broke up the party. No arrests were made.



OCTOBER


Freestyle figure skater, Taylor Firth, 16, of Grand Island, New York, was selected to compete in the Finlandia Trophy in Helsinki.

Quality Quest Coalition hosted a Grand Island Candidates' Forum from 7 p.m. to 8:30 p.m. Thursday, October 18th in the Grand Island Golden Age Center.




The Historical Society at River Lea in Beaver Island State Park hosted an extensive exhibit of more than 300 items of Frances Folsom Cleveland, wife of President Grover Cleveland, on Sunday, October 21st.

The Grand Island High School Girls Varsity Soccer Team won the Niagara Frontier League Championship on Thursday, October 18, 2007 just as they have for the past seven years.




Several children from each of the elementary schools won rides on a fire engine through the Grand Island Fire Company's fire prevention program.

The Grand Island High School Class of 1967 held a very successful 40th reunion icebreaker at B.A.'s Saloon on Friday, October 12, 2007 followed by attendance at the homecoming game and a dinner at the Holiday Inn on Saturday.




School Spirit week ended with a bonfire, a tradition brought back to the homecoming celebration after 35 years, thanks to the GIHS Student Council. The Varsity Vikings won the homecoming game beating the Starpoint Spartans 20-14.

Ian O'Rourke shattered a seven-year-old Niagara University record, scoring 452.14 points on 11 dives.

The Grand Island School District announced the confirmation of a case of Methicillin-Resistant Staphylococcus Aureus (MRSA). A Connor Middle School student received the diagnosis.

"Grand Endorsement For Grand Island" was the headline for a Letter to the Editor from a couple from Manchester, CT who had discovered Grand Island through the internet (Isledegrande.com) and decided to relocate here.

The main focus for Islanders in the Election 2007 was the race for supervisor between incumbent Democrat Supervisor Peter McMahon and Republican Councilwoman Mary Cooke. Town Board reporter Joelle Logue presented the views of both candidates shortly before the election.




For the first time in Grand Island history, the Lady Vikings Tennis Team finished the Niagara Frontier League season in 1st Place. With a 14-0 NFL record (14-1 overall), the Lady Vikings had their first undefeated season!

Another record number of visitors was recorded at Isledegrande.com for the month of October.















A dry evening with a temperature of 60 degrees was near perfect weather Wednesday evening, Halloween 2007, when tricks-or-treaters visited Island neighborhoods and the more rural residents at a lower rate than previous years.




The Golden Age Center celebrated Halloween on October 31st with a costume party for the members.




The GIECOM.NET and Isledegrande.com crews also dressed for Halloween.




The Cross Country Teams battled 40 mph gale force winds, rain and cold as they beat Lockport 61 to 64 to win the Niagara Frontier League Championship.



NOVEMBER





Peter A. McMahon was re-elected supervisor over opponent Council Member Mary S. Cooke on Tuesday, November 6, 2007.

The community came out in mass to help plant the first shipment of trees from Re-Tree WNY on November 10th in Veterans Park and Marion Klingel Town Common to commemorate the 1st anniversary of the 2006 October Storm.

Carolyn Schopp became Western New York's top-ranked women's tennis player.




The late Paul Facklam's memories of Vietnam in 1967 were posted at Isledegrande.com in honor of Veterans Day.




Myrtle Killian, 101, passed away Sunday, November 11, 2007. She spent most of her life living here on Grand Island.





Chosen by the Youth Ambassador committee for the Grand Island Chamber of Commerce are Ciara Morreale and Brittany Stallard who will serve as youth ambassadors for 2007-2008




The Town's Historic Preservation Board presented a special exhibit of photos taken at the 500-acre George E. Pierce Farm, "The Elms," on West River Road in the early 1900s. The exhibit, held at the Grand Island Historical Society headquarters, will be moved to several other locations.




The first ever Western New York Polar Plunge, sponsored by Special Olympics New York, drew 115 brave and willing polar plungers, young and older to Beaver Island State Park on Saturday, November 10, 2007.

The town board approved a site plan for a Whitehaven Road campground project and related pond in November.

Schools Superintendent Robert Christmann, during the November 29th school board meeting, asked for 30-45 days to research what other school districts are doing in regard to allowing home schooled children to participate in the school district's extra-curricular activities. A parent of a home schooled child made the request during the meeting.



New Island resident Joseph Robinson, 40, died of injuries suffered in a one-car accident on Staley Road.




Roman Figler was recognized as Volunteer of the Year at the 25th Annual New York State West Youth Soccer Association Banquet.




Members of the Grand Island High School Spotlighters presented the play, "The Hobbit," on November 16-17, 2007.

A State project of improvement of pedestrian and bike paths and newly paved roads in Buckhorn Park was nearing completion with the East West Road running through the Park re-opened and paving work entirely done.

At least 20 protesters marched across one of the Grand Island bridges Saturday, November 24th in protest to the proposed Thruway toll increases.

Grand Island High School senior Christian Nestark was named the Niagara Gazette's Player of the Year.



DECEMBER


Greg Butcher, running unopposed, was elected to his sixth term as fire chief.

Due to a water main break all district after school activities were cancelled on Thursday, December 13th.

Grand Island High School was under lockdown and deemed a police emergency due to a possible bomb threat in progress and reported at approximately 12:15 p.m. Friday, December 14, 2007.

Grand Island Fire Company EMS personnel responded to several Thruway accidents Thursday morning, December 13, 2007 when it was reported that there were "vehicles everywhere and that the road conditions are terrible."

The school district administration voiced concerns about the online behavior of students, and reported that a Myspace.com Action Plan was being formed. Superintendent Robert W. Christmann said at the Monday, December 10th meeting that the Grand Island School District is taking a tough stance on students harassing one another through a popular social-networking web site.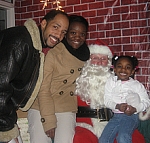 Santa visited children at the town hall while the Snowboarders Barbershop Quartet sang holiday songs.
Student artists Andy Fix, Jennifer Schaber, Sean Duff, and Sarah Webb were the first students chosen for the Grand Island High School Art Department's monthly honors.

John L. Bonora was elected president of the Chamber of Commerce.

Preliminary sketches of the proposed master plan for the Scenic Woods/Bicentennial Park parcels were released by the Town of Grand Island.

The Neighbors Foundation of Grand Island provided food and gifts for 52 Island families through generous donations to its Holiday Project.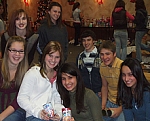 Students from the Grand Island High School DECA and Interact clubs contributed much help to the Neighbors Foundation's Holiday Project to assist the needy on the Island during the Christmas holiday.




Thank You Isledegrande.com Contributors
Thanks to everyone who contributed news and pictures to Isledegrande.com this year, especially Jodi Robinson, Joelle Logue, Dan McMahon, Ray Pauley, Jeff Stange, Christine Stange, Mary Stewart, Kris Christensen, Kim Schopp, and Shelbey Bidell and student writers, Caroline Boron, Kaitie Samland and Brooke Chamberlain. Thanks also to the teachers, coaches, parents and school officials who submitted school and sports news, and to those who added organization news, church events, photos, viewpoints and news of interest to anyone with a connection to Grand Island, NY. We have enjoyed another great year and look forward to serving you in 2008.
Teddy Linenfelser, Editor


---