Grand Island High School Class of 1981

Here is a Special Link to 1981 Graduates Guestbook . . .
Log in and Say Hi ! ! !



| | | |
| --- | --- | --- |
| | Grand Island High School Class of 1981 | |
---
Island Alumni Association

Interested in Joining?
---




Class of '81 Update - July 1-2, 2011
Friday Night - 7:00 Sailing Club -
Cash Bar
Bring an appetizer or dessert to share if you would like
Saturday Night - 7:00 Knights of Columbus
Cash Bar
RBK, Pulled Pork, Salad, Dessert will be provided
DJ starts at 8:00
No charge either night - Get together with friends, food, drink, and music!!





Class of 81 Missing Person List 2011
Contact Maura McCowan Rustowicz --macorust@roadrunner.com - if you can help

Abramo, Sandra
Allen, Sheila
Anderson, Jeanmarie
Arida, Robert
Arnst, Paula
Asbach, Ronald
Bailey, Todd
Baille, Barbara
Barichello, Lawrence
Barker, Barry
Beauchamp, Michael

Bommaraju, Mahesh
Borjeson,Leif
Broad, Barbara
Buell, Patrick
Buono, John
Burns, Kenneth
Carey, Lisa
Cherenzia, Dawn
Corcoran,Brian
Costa, Michael
Coughlin, Mark
Crawford, Charles
Culbert, David
Culbert, Scott
Cunningham, Robert
Dannels, Paul
Davis, Todd
Davisson, Loreen
Dearlove, Todd

DeBole, Mark
Dees, Alison

Dietrich, David
Dinges, Stanley
Drumm, Kathleen
Duval, Gerald
Dzielski, Donna
Fike, Karen
Fitzgerald, Mark
Garcia, John
Girard, Karen
Gleave, Dale
Glineck, Theodore
Gonda, Jill
Gondek, William
Googin, Rhonda
Green, Daniel
Group, Kristin
Hachee, Michael
Hall, David
Hansen, Mark
Harrington, James
Haupt, Kelly
Heckman, Gregg
Heim, Dennis
Herbst, David
Hill, Christine
Hoffman, Johnny
Hughes, Scott
Jankowski, William
Jerry Goodman
Johnson, Mark
Juliano, Tami
Kargatis, Michael
Kelly, Cindy
Kemsley, Roy
Kilmer, Julie
Kinsman, Beth
Kippley, Thomas
Kirsch, Colleen
Koch, Marc
Landen, Michael
Lascola, Robert
Lazarz, Richard
Lee, Daniel
Lee, Deborah
Lehman, Howard
Lenhard, Catherine
Lincoln, Kim
Lindsey, James
Lloyd, Kelly
Long, Kimberly
Ludwig, Michael
Mahiques, David
Mangin,Gregory
Marilyn Edwards
Martin, Jacqueline
McAlpine, Judy
McCarthy, Daniel
McGinn, Laurie
McInerney, Patricia
McMoil, David
Meyer, Douglas
Micon, William
    
Miller, Paul
Miller, Robert
Morrisey, Thomas
Murphy, Michelle
Myers, Frederic
Nalbach, Francis
Newcomer, Donna
Nugent, Joseph
O'Brien John
Oldenburg, Laurie
Olivieri, Daniel
Olregge, Michelle
Ostermeier, Theresa
Ott, Lori
Ouchie, Paul
Passero, Mario

Pawlak, Sharon
Payne, Jeffrey
Pearson, Barbara
Peter, Thomas
Pfohl, Roswell
Rockenfeller, William
Rogers, Alan
Rovison, Lori
Rowland, Bruce
Rupp, Michael
Ryan, Daniel
Santa Lucia,Sal
Schmidt, Kim
Schooping, Jean
Shaklee, Kelly
Shanley, Kevin
Smith, Kristy
Stafford, David
Stein, Tracy
Stoddard,Philip
Strachan, Timothy
Strasburg,Donald
Swarts, Cathy
Synder, Lisa
Thomas, Jon
Tolbert, Lori
U'Ren, Lisa
Urtel, Carloyn
Vandermey, John
Varga, Julie
Vaugh, Bobby
Wachala, Joseph
Waldron, Christopher
Webb, Jeffrey
Whetham, Patricia
Wiedeman, Michele
Winterfield, Maragaret
Wintle, Robert
Woods, Kevin
Young, Gary
Young, Michael
Zannin, Rosanna




Attention Class of 81! - 2011 - Update Jan. 13, 2011
A reunion is being planned for July 1 & 2.
July 1 will be at the Sailing Club
July 2 will be at the Knights
Everything is still in the early planning stages.
If you are on facebook, be sure to join the Grand Island High School Class of 81 facebook group.
If you are not on facebook, but would like more information, email Maura McCowan Rustowicz --macorust@roadrunner.com





Attention Class of 81! - 2011
We are presently in the early planning stages of our reunion. Please go to Facebook and look for the Grand Island High School Class of 81 group page. We will put information on that site as it is confirmed. We should get some pictures on there as well! If you have any you would like to share -- please do!





Class of '81 Reunion Photos - 2006













Click photos for larger view
The Grand Island High School Class of 1981's twenty-fifth reunion was held Saturday, July 1, 2006 at the Village Inn. Over 200 people attended and a 50/50 raffle raised funds for the Grand Island Foundation (for Education). Photos will be identified at a later date.


---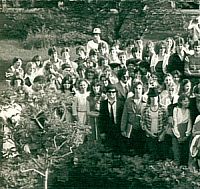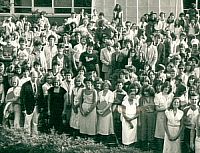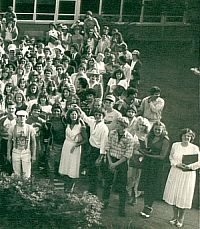 Final Plans For Class of '81 Twenty-Fifth Reunion - 2006
Members of the Class of 1981 are invited to get together for their 25th reunion at 8 p.m. Saturday, July 1st at the Village Inn, 1488 Ferry Road in Ferry Village. A cash bar and food will be available. A tent outside will be for the exclusive use of the Class of '81. "Mike Carr is planning all sorts of great ideas for food!"





Class of '81 25th Reunion To Be Held July 1, 2006
The Class of 1981 will hold its 25th reunion July 1, 2006 with a cash bar, food available, DJ, and casual and fun! Place to be announced shortly. For more information or to forward your address, email Maura McCowan Rustowicz at macorust@adelphia.net.
The Class of 1981 has compiled a database. For more information or to forward your address, email Maura McCowan Rustowicz at macorust@adelphia.net.



Class of '81 To Plan 25th Reunion For Summer 2006

The Class of 1981 is planning a 25-year reunion! Anyone interested in helping out? There will be a meeting at 7 p.m. Wednesday, July 20 at the Brick Oven. The reunion will be held over the 4th of July weekend of 2006. Cannot attend the meeting, but would like to help out or touch base? Email Maura McCowan Rustowicz at macorust@adelphia.net
Reunion Planners - send us your news and we will post it online on our front page with a link to this page with the "complete story." How about a picture of your class from the yearbook? We can scan it if that will help. Send your email to Teddy Linenfelser
---
Other Grand Island Pages to Visit:
Churches | Email Directory | Government | Groups
GIHS Gradlist | Guest Book | Please sign in! | Local Artists | New!Photo Album | Town History | UsefuLinks
| Website Design | Wildlife | Isledegrande's Home Page | GIECOM.NET'S Home Page


This website is sponsored by GIECOM.NET
1871 Whitehaven Road, Grand Island, New York, 14072-1803 USA
Copyright © 1995-2005 All rights reserved.