Trinity United Methodist Church Web Page

2007 Trinity UM Church News

Trinity UM Church 2000-2006 News Page.
Trinity UM Church Official Website.

2100 Whitehaven Road
Grand Island, NY 14072

---
Senior Pastor: Rev. J. Paul Womack
Associate Pastor: Rev. Edward McCutcheon

| Ph: 773-3322 | Fax: 773-3366
---




Teachers' Prayer Breakfast - 2007
A Teachers' Prayer Breakfast will be held at 9 a.m. Tuesday, August 21, 2007 in the Trinity UM Church family room, 2100 Whitehaven Road.
Special guest speaker will be Deacon Bonnie LeValley of Akron First United Methodist Church. The annual event is for teachers, education leaders, professors and those retiring, and those involved in any way in a school setting. For more information, or for reservations, call 773-3322.




Chiavetta's BBQ At Trinity Methodist Church - June 2007
A Chiavetta's Chicken BBQ is being held from 4 p.m. to 7 p.m. on Saturday, June 16th at Trinity United Methodist Church, 2100 Whitehaven Road. The cost is $8.00 or $9.00 for take-out and includes home-made desserts. This event is sponsored by the United Methodist Women and proceeds will be going to local and far reaching mission projects. A current project is making school bags and filling them for needy Niagara Falls students.


---



50-Family Yard Sale and Car Wash At Trinity UM Church - May 2007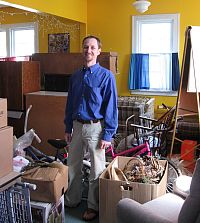 (left) Suit of armor for sale - (right) Associate Pastor Rev. Edward McCutcheon, amidst the items for sale.
Jodi Robinson photos.
Click photo for larger view.
The youth and Youth Advisory Council of Trinity United Methodist Church will hold a yard sale and car wash from 8 a.m. to 2 p.m. Saturday, June 2 at the church, 2100 Whitehaven Road. A large number of items have been collected from approximately 50+ Trinity families and include furniture, sporting goods, household items, toys, and clothes. There will also be items from the grill available for sale. The proceeds from the sale will benefit the annual mission trips where work is done on homes of people unable to do repairs themselves. The college age group will be traveling to Mt. Pleasant, SC and the high school group will be helping families in Niagara Falls, NY.


---




Private Adoption Seminar At Trinity UM Church - 2007
A Private Adoption Seminar will be held at 3 p.m. Sunday, March 11 at Trinity UM Church, 2100 Whitehaven Road, Grand Island. The seminar is free and open to the public although reservations are recommended to guarantee a seat. Light refreshments will be served. Contact Evelyn Swarts, 773-7385 or Barbara Sternberg, 626-1375.
The Law Office of Barry Sternberg invites the community to an informational seminar discussing the basics of private, domestic adoption. Many people believe that all adoptions are accomplished using the services of an adoption agency, however, there are hundreds of infants adopted in the United States each year through private adoption.
The goal of the seminar is to inform hopeful adoptive parents - or anyone interested, including hopeful adoptive grandparents - about successful private adoption through networking and advertising. Barbara Sternberg, an experienced adoption coordinator, will explain how to make a successful adoption plan and will dispel many common myths and misconceptions about private adoption. Topics of discussion will also include different ways to adopt, the role of the law office, social worker, finding birthparents, the legal process and finalization, along with consent and notice requirements.








---
If you are a member of this organization, we need your help. GIECOM.Net has partnered with the Connections program to help Grand Island as a community "Get it Together." Please visit our website G-I-Together.ORG and fill out our SURVEY. Every group on Grand Island will have its own FREE web page showing: meeting times and location, contact persons, your Mission Statement and a listing of events. We will also be linking your news events that appear in the local media and on IsledeGrande.Com, Grand Island's E-News Source, to your page, maintaining an archived journal of pictures and news. This is the perfect opportunity for your group to connect with potential new members and the community.
---
---
Other Grand Island Pages to Visit:
Churches | Email Directory | Government | Groups
GIHS Grad List | Guestbook | Please sign in! | Local Artists | Photo Album | Town History | Useful Links
| Website Design | Wildlife | Isledegrande's Home Page | GIECOM.NET'S Home Page
Please Email News Releases to Teddy Linenfelser, Thank You.
This website is sponsored by
GIECOM.NET
1869 Whitehaven Road, Grand Island, New York, 14072-1803 USA


Copyright © 1995-2007 All rights reserved.