Grand Island Business & Professional Women's Club News Webpage
BPW News 2008
---
President - Regina Schunk - 308-7263
Co-Vice Presidents Sonja C. Miller and Dr. Sherry Bradford
Secretary - Mary Anne Shea
Treasurer - Claudia Lesinski

---



BPW Christmas Meeting - Dec. 2007
The Grand Island Business and Professional Women's Christmas Meeting will be held at 6 p.m. Wednesday, December 12, 2007 in the Buffalo Launch Club. Members will bring gifts for the Christmas families. For reservations or information, contact President Regina Schunk at 308 7262.




Dr. Sherry Bradford To Speak At GI BPW Inflammatory Breast Cancer Seminar - October 2007
Dr. Sherry Bradford of Grand Island, the president and owner of Oncology Research Therapeutics,in Amherst,will speak on "The Scientific Aspects of Inflammatory Breast Cancer"(IBC) at the Grand Island Business and Professional Women's Health Seminar at 5:30 p.m., Wednesday, October 17 in the Grand Island Holiday Inn.
Oncology Research Therapeutics is a multi-disciplinary cancer diagnosis, prognosis and treatment company. Dr. Bradford, an Oncology Research Scientist, has four patents pending on the technology to deal with all cancers, including inflammatory breast cancer.
"The symptoms of IBC go far beyond the usual lump or bump found in typical breast cancer," Dr. Bradford said. "As a matter of fact, if you didn't know what to look for, you'd probably think it was something completely different, not breast cancer."
"That's why the Grand Island BPW's Seminar on IBC is so important," she added.
According to Dr. Bradford, by mid-2008 we will be able to obtain a patient's blood specimen and determine its protein pattern, thereby be able to dictate the appropriate therapy as well as determine if they are about to relapse, recur, metastasize or stay in remission.
"The profile of the four patents includes a software package that will speed up the testing process, allowing us to target first-line chemotherapy, which is not done by other labs at this time," Dr. Bradford said.
Dr. Christine Rizk, a breast surgeon at the Department of Surgical Oncology at Roswell Park Cancer Institute also will speak at the Seminar, "Inflammatory Breast Cancer—A Disease in Disguise." Dr. Rizk will discuss "Take the Warning Signs Seriously."
The Seminar is open to both men and women.
Registration is $25 and includes refreshments and appetizers. Checks made payable to Grand Island BPW should be mailed to: GI BPW, 2786 Thornwoods Drive, Niagara Falls, N.Y. 14304. Tickets will also be available at the door.
Flu shots will be given at the seminar again this year.
Profits benefit the Grand Island BPW Scholarship Fund.
For additional information, contact Grand Island BPW President Regina Schunk, 308-7262, Email: regina0698@aol.com or Seminar Chair Diane Dinsmore, 773-9184, Email: dinsdggr@aol.com.
Grand Island Business and Professional Women in a local chapter of BPW/USA, formerly known as the National Federation of Business and Professional Women, Washington, D.C.




Dr. Christine Rizk To Speak On Inflammatory Breast Cancer At Annual Health Seminar - October 2007



Dr. Christine Rizk will discuss "Take the Warning Signs Seriously" at the Inflammatory Breast Cancer Seminar sponsored by the Grand Island Business and Professional Women at 5:30 p.m., Wednesday, October 17 at the Grand Island Holiday Inn.
She is Assistant Professor of Oncology, Division of Breast and Soft Tissue Surgery, in the Department of Surgical Oncology at Roswell Park Cancer Institute.
Inflammatory Breast Cancer symptoms go far beyond the usual "lump" found in typical breast cancer.
"We call IBC 'a disease in disguise'," BPW President Regina Schunk said. "Would you suspect breast cancer if you saw something that looked like a bug bite or a rash on your breast?" Mrs. Schunk asked. "What about abnormally swollen breasts or persistent itching of the breast?"
According to Mrs. Schunk, if you didn't know what to look for, you'd probably think the symptom was something completely different from breast cancer.
"That's why we hope that women and men will take this opportunity to become educated about IBC," she added.
The Grand Island Business and Professional Women received a grant from BPW/NY Grace LeGendre Endowment to present the Seminar.
The IBC Seminar also features Sherry Bradford, Ph.D., the founder, president and CSO of Oncology Research and Therapeutics, Sweet Home Rd., in Amherst.
Dr. Bradford holds one patent and has four patents pending for her company, which provides multi-disciplinary cancer diagnosis, prognosis and treatment.
Registration is $20 before October 12 and $25 thereafter. Donation includes refreshments and appetizers. Profits benefit the Grand Island BPW Scholarship Fund. Flu shots will be available again this year.
For registration or more information, contact Grand Island BPW President Regina Schunk, 308-7262, Email: regina0698@aol.com or Seminar Chair Diane Dinsmore, 773 9184, Email: dinsdggr@aol.com.
Seminar sponsors are Fuccillo Auto Group, Diversified Management Services, Anchor Marine, Holiday Inn Resort & Conference Center, Trinity Title and Abstract Corporation, Erie County Legislator Michele Iannello, The MOG of Grand Island, BCO Industries of WNY, First Niagara Bank-Grand Island, LW Graphics, Grand Island Sales and Service, Grand Island Chamber of Commerce, Flower-A-Day, Carol Ann Hair Fashions, and Hairitage Salon.




Grant Presented To Grand Island BPW Annual Health Seminar - 2007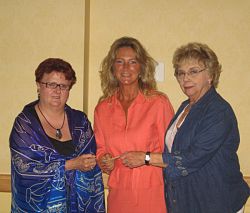 Shown from left are Susan Mager, Regina Schunk and Diane Dinsmore
Susan Mager, a Director of the BPW/NY Grace LeGendre Endowment Fund, recently presented a grant check to Grand Island BPW President Regina Schunk and Health Chairperson Diane Dinsmore. The grant is for BPW's Annual Health Seminar, "Inflammatory Breast Cancer -- A Disease in Disguise" which will be held at 5:30 p.m. on Wednesday, October 17 at the Grand Island Holiday Inn. For registration/information, call 308-7262 or 773 9184.




BPW To Host Membership Tea - September 2007



Tricia Belter
The Grand Island Business and Professional Women's Annual Membership Tea and Silent Auction will be held at 6 p.m. on Wednesday, September 19 at the home of Tricia Belter, 106 Park Place, Grand Island. According to Treasurer/Membership Chair Belter, BPW's goal is to promote full participation, equity, and economic self sufficiency for working women.
Mrs. Belter invites Grand Island women to attend to find out more about the Business and Professional Women. A light dinner will be served, followed by a silent auction. BPW President Regina Schunk looks forward to the Membership Tea each year because it gives us a chance to invite area women to learn more about BPW and to learn about making a difference for all women. "We hope they will join our BPW team that believes making a difference starts in our own community," Mrs. Schunk said.
Guest speaker will be Michele Iannello, Erie County Legislator.
For additional information or reservations, call Regina Schunk at 308 7262.
Grand Island Business and Professional Women is a local chapter of BPW/USA, formerly known as the National Federation of Business and Professional Women in Washington, D.C. The Grand Island chapter was chartered more than 25 years ago.




Businesswomen Host BPW Fall District VIII Meeting - 2007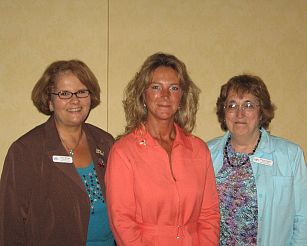 (left) District Director Carol Wilder, GI BPW President Regina Schunk and Assistant District Director Diane Rogers
Grand Island Business and Professional Women will host the District VIII Fall Meeting at 8 a.m. Sunday, October 21 in the Grand Island Holiday Inn. Grand Island BPW President Regina Schunk met recently with District Director Carol Wilder and Assistant Director Diane Rogers to plan the program for the representatives of the nine Business and Professional Womens Clubs in the Western New York who will attend the Fall District Meeting.




Andrea Monaco, Winner Of BPW Scholarship - 2007



Andrea Monaco of Pin Oak Circle, Grand Island, is the winner of the 2007 Scholarship presented to a member of the senior class of Grand Island High School by the Grand Island Business and Professional Women. Andrea, who hopes to become a pharmacist, will attend the State University of New York at Buffalo.
When Andrea first became interested in a career as a pharmacist, she decided to take part in the shadow program at Grand Island High School. She was able to shadow a pharmacist at Rite Aid for a day. "He gave me a great overview and I realized how great pharmacy would be for me," Andrea said.
Andrea maintained a 3.8 grade point average and ranked 13 out of 258 students in her class. She also participates in many sports and other activities through Grand Island High School and is involved in various community service projects through St. Stephen's Church. Her extracurricular activities include serving as vice president of SADD (Students Against Destructive Decisions), an organization that helps spread awareness of the abuse of drugs and alcohol in the community.
A member of the National Honor Society, Andrea is also a member of "Life Lessons," an organization that spreads awareness of the need for organ donors. Her community service includes "Friend of the Night," an organization that raises money for the homeless; Big Brother/Big Sister; Niagara Soup Kitchen; Association for Research of Childhood Cancer; "Crop Walk," and Renaissance House.
Additionally, Andrea was a scholar athlete, involved in the Grand Island H.S. Varsity track and field and swimming teams as well as JV Basketball and Softball teams.
BPW President Regina Schunk said that she is proud that the Grand Island chapter of BPW is able to award this scholarship each year to deserving students such as Andrea.
"I am grateful to our organization for its efforts to ensure that our scholarship will continue," she said. "And, I am grateful, too, for our additional contributors, Dr. Sherry Bradford, Attorney Tricia Belter, Realtor Sherry McDonald and Legislator Michele Iannello, for making it possible to increase our award this year."
Andrea is very determined to become a pharmacist, a field she feels would be a rewarding career. "There are so many options for a pharmacist after college," Andrea said. "I could start in retail, move to a hospital setting or veterinary pharmacy and eventually get into pharmaceutical research."




Business And Professional Women Install 2007-08 Officers - 2007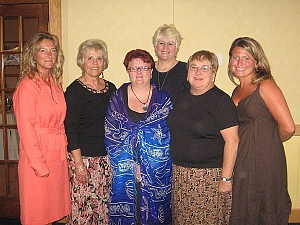 (left) Regina Schunk, Sonja Miller, Susan Mager, Dr. Sherry Bradford, Mary Anne Shea, and Tricia Belter
Past District Director Susan Mager installed Regina Schunk president of Grand Island BPW for 2007-08. Others installed in the Buffalo Launch Club on Wednesday, June 20, 2007 were Co-Vice Presidents Sonja Miller and Dr. Sherry Bradford; Secretary Mary Anne Shea; and Treasurer Tricia Belter.




Regina Schunk Receives 2007 Women In Business Leadership Award - 2007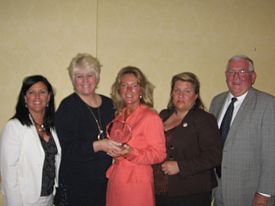 (left) Michele Iannello, Dr. Sherry Bradford, Regina Schunk, Lisa Yaeger, and Supervisor Peter McMahon
Regina Schunk, president of the Grand Island Business and Professional Women, received the 2007 Women in Business Effective Leadership Award, presented by ORT, Inc. The award was presented to Mrs. Schunk by Dr. Sherry Bradford of Grand Island, founder, president and CSO of Oncology Research Therapeutics Inc. (ORT) in Amherst.
In presenting the award, Dr. Bradford said that the Women in Business Effective Leadership Award acknowledges a woman who has provided outstanding support for women in developing professional skills.
"Regina is a strong and self-motivated woman," Dr. Bradford said. "She has increased awareness of the Business and Professional Women as well as increased membership over 100% because of her personal enthusiasm and interesting monthly programs."
"In one year, as a fairly new GI/BPW member in her first year as president, Regina has demonstrated exceptional leadership," Dr. Bradford said. "She launched the Grand Island BPW Health Series; the family in need Christmas program was the largest ever; and, she was able to double our student scholarship. It was a remarkable first term." More Women in Business Effective Leadership Award.
Regina is president of a home-based business as a distributor for a network marketing company. In addition to the ORT award, Mrs. Schunk also received proclamations from Supervisor Peter McMahon from the Grand Island Town Board; from State Senator Antoine M. Thompson on behalf of the NYS Senate, presented by Lisa Yaeger; from the Erie County Legislature, presented by Legislator Michele Iannello from the 10th District; and from the NYS Assembly from Assemblyman Sam Hoyt.
The Oncology Research & Therapeutics, Inc. (ORT) Award was established last year to honor, recognize and celebrate an outstanding woman who has demonstrated and advanced the goals of the National Business and Professional Women, while simultaneously advancing the goals of the Grand Island chapter.
ORT, Inc. is an automated biotechnology company dedicated to providing breakthough cancer diagnostics. According to Dr. Bradford, ORT individualizes cancer therapy based on the biochemical and genetic make up of an individual's tumor. "ChemoFit and PCA, presently awaiting patent approval, target only the tumor cell while leaving the normal cells of the body alone," Dr. Bradford said.
Dr. Sherry Bradford has a Ph.D. in Medical Biochemistry from the Roswell Park Cancer Institute Division of SUNY at Buffalo School of Medical and Biomedical Sciences. She is the inventor of the over 20 patents that the company holds.
Grand Island Business and Professional Women is a local chapter of BPW/USA, formerly known as the National Federation of Business and Professional Women in Washington, D.C. The Grand Island chapter was chartered more than 25 years ago. For information, call 308 7262.




GI Business and Professional Women To Meet -June 2007
Regina Schunk has been re-elected president of the Grand Island Business and Professional Women for 2007-08. She will be formally installed at the June Dinner Meeting of GI BPW at 6 p.m., Wednesday, June 20 at the Buffalo Launch Club on Grand Island. Other officers to be installed include Vice President Sonja Miller; Secretary Mary Anne Shea; and Treasurer Tricia Belter. For information or dinner reservation, contact Regina Schunk at 308-7262.




GI Business and Professional Women To Meet - May 2007
The Grand Island Business and Professional Women's May Dinner Meeting will be held at 6 p.m. Wednesday, May 16, at the Como Restaurant, Pine Avenue, Niagara Falls, New York. May is officer election month. For information or reservations contact President Regina Schunk at 308 7262.




GI Business and Professional Women To Meet - April 2007
The Grand Island Business and Professional Women's April Dinner Meeting will be held at 6 p.m. Wednesday, April 18, in the Seneca Niagara Casino in Niagara Falls, NY. For information and reservations, call President Regina Schunk at 308 7262.




GI Business and Professional Women To Meet - March 2007
The Grand Island Business and Professional Women will meet on Wednesday, March 21 at 6 p.m. at 106 Park Place, Grand Island. Dr. Sherry Bradford, President and Chief Scientific Officer, Oncology Research Therapeutics, will present a program on "Basic Cancer Prevention." For reservations or information, call 308-7262 by Monday, March 19.




GI Business and Professional Women Announces Annual Christmas Party - November 2006
The Grand Island Business and Professional Women's Annual Christmas Party will be held at 6 p.m., Wednesday, December 13, in the Buffalo Launch Club on Grand Island. "Members will bring wrapped Christmas gifts for our Island family," a club spokesman said this week. For reservations, call President Regina Schunk at 308-7262.




GI Business and Professional Women News - November 2006
The Grand Island Business and Professional Women's November meeting will be held at 6 p.m. on Wednesday, November 15 at The Java Shop, 2271 Grand Island Blvd., Grand Island. For dinner reservations or information, contact President Regina Schunk at 308-7262.




Dr. Joanne Cobler To Speak At "Healthy Heart Makeover" - 2006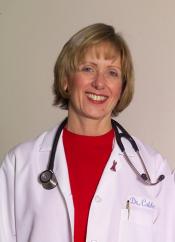 Dr. Joanne Cobler
Cardiovascular Specialist Dr. JoAnne Cobler of Buffalo Cardiology and Pulmonary Associates will be the featured speaker at the "Healthy Heart Makeover" on Wednesday evening, October 18, in the Grand Island Holiday Inn. Grand Island Business and Professional Women, in cooperation with the Grand Island Chamber of Commerce and Fuccillo Auto Group, present this heart disease education campaign, which also features testing stations for glucose, cholesterol and blood pressure. Flu shots also will be offered. Dr. Cobler, is very involved in women's health issues, particularly as they relate to women and heart disease. Dr. Cobler stresses healthy lifestyles and risk factors. She emphasizes the importance of prevention as cardiovascular disease is preventable. Dr. Cobler received her MD with Distinction in Research from the University of Rochester School of Medicine and Dentistry in Rochester.
"Healthy Heart Makeover" is part of a nationwide grassroots initiative "by BPW/USA and its 1300 local organizations, including BPW/GI. Grand Island BPW President Regina Schunk said that heart health is very important for everyone. The key is to be proactive," she said. "And it is much easier to maintain your health than it is to try and fix it." "Our 'Healthy Heart Makeover' promises to give all participants vital information on keeping the heart healthy, as well as providing glucose, cholesterol and blood pressure testing. Everyone should know their numbers," President Schunk added. Registration is $20 IN ADVANCE ONLY. Checks should be made payable to Grand Island BPW Treasurer Claudia Lesinski, 1241 Staley Rd., Grand Island, NY 14072. The program begins at 5:30 p.m. with appetizers and networking; 6 p.m. –Speaker Cobler; 6:45 p.m. Testing Stations open and flu shots begin. All profits benefit the Grand Island BPW Scholarship Fund. For additional information, contact BPW President Regina Schunk at 308 7262.




GI BPW To Hold "Healthy Heart Makeover" - 2006



BPW President Regina Schunk
The Grand Island Business and Professional Women in cooperation with the Grand Island Chamber of Commerce and Fuccillo Auto Group presents "Healthy Heart Makeover" on Wednesday evening, October 18, 2006, in the Grand Island Holiday Inn, 100 Whitehaven Rd., Grand Island. Regina Schunk, president of Grand Island BPW, said that "Healthy Heart Makeover" is part of a nationwide grassroots initiative by BPW/USA and its 1300 local organizations to teach and encourage workingwomen to advocate for a healthy heart through their personal, professional and political actions.
"Grand Island BPW is proud to join the National BPW in its efforts in this nationwide heart disease education campaign," Schunk said. "Women must maintain their health to be both successful caregivers and businesswomen.
Cardiovascular Specialist Dr. JoAnne Cobler of Buffalo Cardiology and Pulmonary Associates is the physician/speaker.
"Healthy Heart Makeover" is the first of BPW/GI's yearly health programs. There will be testing stations for glucose, cholesterol and blood pressure.
Flu shots will be offered. Most insurance plans will be accepted as payment for flu shots, although co-payments or deductibles may apply. All health services will be provided by Independent Nursing Care, LLC.
According the President Schunk, good health effects everyone and she encourages women to be more proactive than reactive and to make the effort to take control of their health.
Registration is $20 IN ADVANCE ONLY. Checks should be made payable to GI BPW and sent to Treasurer Claudia Lesinski, 1241 Staley Rd., Grand Island, NY 14072.
The program starts at 5:30 pm with appetizers and networking; 6 p.m. Speaker; 6:45 pm; testing stations open and flu shots begin.
All profits benefit the GI BPW Scholarship Fund.
BPW/USA, founded in 1919, is a multi-generational, bipartisan, membership organization with a mission to achieve equity for all women in the workplace through advocacy, education and information.
BPW local organizations, such as GI BPW, provide members with professional development programs, networking, participation in grassroots activities and opportunities to support scholarships.
For additional information, contact President Regina Schunk at 308-7262.




Grand Island BPW Sponsors Student Member - 2006


(left) M. Caitlin Hayes and President Regina Schunk
President Regina Schunk announced that scholarship winner M. Caitlin Hayes will be sponsored as a student member of Grand Island Business and Professional Women. The announcement was made at the successful BPW Membership Tea held Wednesday, September 20th at the home of Tricia Belter.




GI BPW To Hold Membership Tea - 2006



Membership Chair Tricia Belter
The Grand Island Business and Professional Women's Annual Fall Membership Tea will be held at the home of Tricia Belter, 106 Park Place, Grand Island, on Wednesday, September 20 at 6 p.m.
Club President Regina Schunk invites all Grand Island business and professional women to attend. A light dinner will be served followed by a Silent Auction to benefit BPW scholarships.
Membership Chairwoman Tricia Belter said the Grand Island chapter welcomes women interested in finding out more about BPW. "Our goal is to promote full participation, equity, and economic self sufficiency for working women," Belter said.
Grand Island Business and Professional Women is a local chapter of BPW/USA, formerly known as the National Federation of Business and Professional Women in Washington, D.C. The Grand Island chapter was chartered over 25 years ago.
For reservations or additional information, call Tricia Belter at 773 3073.




GI Business and Professional Women Announce Scholarship Winner - 2006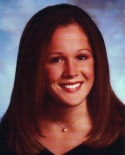 Scholarship Winner M. Caitlin Hayes
M. Caitlin Hayes of Creekside Dr., Grand Island, is the winner of the 2006 scholarship presented by the Grand Island Business and Professional Women to a member of the senior class of Grand Island High School.
Caitlin attends the State University of New York at Buffalo majoring in Biomedical Sciences, and hopes to attend medical school.
"Becoming a doctor has always been one of my biggest dreams, and with hard work and commitment to my studies, I hope that I am able to accomplish my goal," Caitlin said.
Caitlin has been active in school, sports and community. She is a member of the National Honor Society and DECA (Distributed Education Clubs of America) and was yearbook editor.
She participated in the CEIP Internship and Portfolio programs through Grand Island High School and volunteers at Women and Children's Hospital of Buffalo.
Caitlin received varsity letters for basketball and tennis, the coach's award for softball, and was named a "Scholar Athlete" by the National Honor Society.
According to Caitlin, achieving the goals she has set for herself will only come with hard work, excellent study habits and by enjoying the career path she has chosen. But there are financial obstacles to her goals. "Getting through college and medical school will cost a great deal of money," Caitlin acknowledged. "And I'm not exactly sure at this point how I will deal with that. The Grand Island BPW Scholarship is very welcome and encouraging."
The Grand Island Business and Professional Women is chartered by BPW/USA, the National Federation of Business and Professional Women. BPW meets on the third Wednesday of the month. For information, contact Sonja Miller at 773 1715.




GI Business and Professional Women -
Regina Schunk Installed President - July 2006
Regina Schunk, an independent distributor for Xango LLC, was recently installed president of the Grand Island Business and Professional Women for 2006-07 by BPW New York State Vice President Susan Mager.
Others installed include Dr. Sherry Bradford, chief scientific officer and president of Oncology Research Therapeutics; and Sonja Miller, clinical laboratory scientist at Erie Community College; are co-vice presidents. Mary Anne Shea, public relations director of the Irish American Club in Naples, FL., is secretary, and Claudia Lesinski, enrollment management officer for Trocaire College, is treasurer. Realtor Linda Kutzbach is Finance Chair.
The Grand Island Business and Professional Women meet on the third Wednesday of the month. For membership information, call 773-1715 or 773-4309.




GI Business and Professional Women News - June 2006
The June meeting of the Grand Island Business and Professional Women will be held Wednesday, June 21, at the Buffalo Launch Club, 503 East River Road, Grand Island. Networking begins at 6 p.m. with dinner at 6:30 p.m.
Contact Carol Edwards Volk at 773 4309 for dinner reservations or membership information.
Election of Officers for 2006-07 will be held, followed by Installation of Officers by Susan Mager, newly-elected vice president of BPW/NYS, the New York State Federation of Business and Professional Women.




GI Business and Professional Women News - April 2006
The Grand Island Business and Professional Women will meet at 6 p.m. Wednesday, April 26, 2006 in the lower level Conference Room at Realty USA, 2139 Grand Island Blvd., Grand Island. Speaker Mary Eichel will discuss "Exquisite Window Designs." Contact Sonja Miller at 773 1715 for dinner reservations.
At the April and May BPW meetings, members are asked to support "The Clothes Closet," The Everywoman Opportunity Center's on-going clothing drive which provides needy women clothing to wear for job interviews.
President Sonja Miller asked members to bring suits that are in good condition and other outfits that are suitable for women to wear for job interviews, to the BPW meetings.
Tricia Belter, chairperson of the BPW Clothing Project, said that "donating professional attire to The Everywoman Opportunity Center helps women in need to enter, re-enter and move forward in the workplace." She also said, "This project furthers the primary goal of BPW - to achieve equity for all women in the workplace."
Others who may want to donate suits and other professional clothing can contact Tricia Belter at 773-3073 to arrange to drop off donations at Tricia's home.




Business and Professional Women Announce November Meeting - 2005
The Grand Island Business and Professional Women will meet Wednesday, November 16 at 6 p.m. in the Grand Island Holiday Inn. Networking begins at 6 p.m. followed by dinner at 7 p.m. For dinner reservations, call Carol Volk at Hairitage, 773 4309. Members will order from the menu.
President Sonja Miller will have reports on the Membership Tea, the Second Annual Career and Professional Development Seminar, and plans for the "Adopt A Family" Christmas Gifts.




Grand Island Business and Professional Women Present Career & Professional Development Seminar - 2005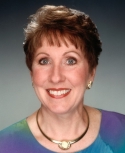 Motivational Speaker-Author Jeannie Skiffington
The Grand Island Business and Professional Women, in cooperation with the Grand Island Chamber of Commerce and Fuccillo Auto Group, present the Second Annual Career and Professional Development Seminar, Wednesday evening, October 19, at Grand Island Holiday Inn Resort and Conference Center.
Sonja Miller, president of the Grand Island chapter of BPW, said the seminar, "Delivering Customer Service Excellence," will promote habits that will assure service excellence and win customer loyalty. Profits benefit Grand Island BPW Scholarship Fund.
"The seminar is open to both men and women who are interested in customer service and professional development," Ms. Miller said. "It coincides with National Businesswomen's Week."
Motivational Speaker-Author Jeannie Skiffington of Amherst Motivational Services will be the presenter. BPW President Miller said Skiffington was chosen to present the Seminar because "Jeannie specializes in building people skills—personally and professionally."
"You'll learn the habits that are critical to bringing out the best in the people you work with as well as those you serve," Skiffington explained.
The author of "Winning is Contagious Pass It On," Skiffington is best known for presentations at conventions, corporate conferences, training seminars and sales meetings.
She helps men and women build their own unique success story by developing a pro-active high achiever mentality.
"This will be an empowering seminar that will provide insight into who your customers are and help take unnecessary 'wrinkles' out of your hectic day," Skiffington said.
The $20 registration fee includes appetizers at 5:30 p.m. and the two-hour seminar starting at 6:30 p.m. Student registration fee is $10. Seating is limited and there is no registration at the door.
Carol Edwards Volk of Hairitage Salon, 1871 Whitehaven Road, Grand Island, is registration chairwoman. Checks are to be made payable to GI BPW and mailed to Mrs. Volk by Thursday, October 13, 2005.
For additional information, contact Seminar Chair Regina Schunk at 731-4924, Mrs. Volk at 773-4309 or President Sonja Miller at 773-1715.
Grand Island Business and Professional Women is a local chapter of BPW/USA, Washington, D.C., formerly known as the National Federation of Business and Professional Women. BPW/USA's mission is to achieve equity in the workplace for all women through advocacy, education and information.
Grand Island BPW is one of eleven local business and professional women's organizations in Western New York's District Eight.




Lindsay Aronica Wins Grand Island BPW Scholarship - 2005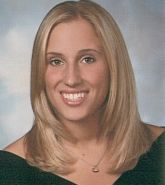 Lindsay M. Aronica of Winkler Dr., Grand Island, is the winner of the Grand Island Business and Professional Women's 2005 Scholarship, presented to a member of the Grand Island High School senior class.
Lindsay will attend Daemen College where she has received the presidents award. Through the five-year masters program at Daemen, she hopes to become a Certified Physician Assistant.
"My college education is exceptionally important to me," Lindsay said. She felt compelled to work in the medical field after her mother was diagnosed with breast cancer nearly six years ago. "Although experiencing cancer in my family was one of the most difficult things in my life so far, it has inspired me," she said.
"I would love to work with patients diagnosed with cancer and work to help them and possibly contribute to research leading to a cure."
Lindsay is listed in Who's Who in American High School Students and received the Pride of the Island Award and the New York State Scholar-Athlete Award in Swimming.
Lindsay's varied extracurricular activities include volunteering at St. Gerard's Food Pantry, teaching Children's Liturgy of the Word at St. Stephen's Church on Grand Island, volunteering at the Special Olympics and raising money for Breast Cancer Research as a volunteer at the Susan G. Komen Race for the Cure.
The Grand Island Business and Professional Women is chartered by BPW/USA, the National Federation of Business and Professional Women. BPW meets on the third Wednesday of the month. For information, contact President Sonja Miller at 773 1715.




Grand Island Business and Professional Women To Hold Membership Tea, Silent Auction - 2005
Members of the Grand Island Business and Professional Women's Club will hold their annual fall membership tea and silent auction 6 p.m. Wednesday, September 21, 2005 at the home of Tricia Belter, 106 Park Place, Grand Island, NY. Those planning to attend are asked to reply to 773-1715 on or before September 16. A light, catered dinner will be served.




Grand Island Business and Professional Women Install 2005-06 Officers - 2005
Dr. Sherry A. Bradford and Sonja C. Miller were recently installed as co-presidents of the Grand Island Business and Professional Women for 2005-06 by BPW State Vice President Susan Mager.
Dr. Bradford is chief scientific officer, chairman of the board and president of Oncology Research Therapeutics, Inc., Long Rd., Grand Island.
Sonja Miller, a clinical laboratory scientist at Erie Community College, just received the 2005 Sara Marie Cicarelli Award for Clinical Laboratory Scientist of the Year from the American Society for Clinical Laboratory Science-NY. Her nomination by the Niagara Frontier Chapter of ASCLS-NY cited Ms. Miller's dedication to teaching, her activities mentoring students and her interest in fostering continuing education.
Other officers installed are Vice President Regina Schunk, independent distributor for Xango LLC; Secretary Mary Anne Shea, public relations director of the Irish American Club of Naples, FL.; and Treasurer Claudia Lesinski, enrollment management officer for Trocaire College.
The Grand Island Business and Professional Women meet on the third Wednesday of the month. For membership information, call 773-1715 or 773 4309.




BPW's New Officers 2002-2003
Grand Island Business and Professional Women installed the following officers for 2002-2003: President Sonja Hill; Vice President Amy Pierce; Secretary Mary Anne Shea and Treasurer Carol Edwards Volk.


---
If you are a member of this organization, we need your help. GIECOM.Net has partnered with the Connections program to help Grand Island as a community "Get it Together." Please visit our website G-I-Together.ORG and fill out our SURVEY. Every group on Grand Island will have its own FREE web page showing: meeting times and location, contact persons, your Mission Statement and a listing of events. We will also be linking your news events that appear in the local media and on IsledeGrande.Com, Grand Island's E-News Source, to your page, maintaining an archived journal of pictures and news. This is the perfect opportunity for your group to connect with potential new members and the community.
---
---
Other Grand Island Pages to Visit:
Churches | Email Directory | Government | Groups
GIHS Grad List | Guestbook | Please sign in! | Local Artists | Photo Album | Town History | Useful Links
| Website Design | Wildlife | Isledegrande's Home Page | GIECOM.NET'S Home Page
Please Email News Releases to Teddy Linenfelser, Thank You.
This website is sponsored by
GIECOM.NET
1869 Whitehaven Road, Grand Island, New York, 14072-1803 USA


Copyright © 1995-2007 All rights reserved.
<! -- -- -- -- -- -- New Tracker Code Below -- -- -- -- >