Grand Island Business News - Page 4
Click For Business Page 1
Click For Business Page 2
Click For Business Page 3
---
"Become A Business Sponsor"
---



Grand Island Garden Center Celebrating 10th Anniversary - 2007
The "Grand Island Garden Center" is celebrating its 10th anniversary on Saturday (May 12). Owner Gene Ryshkus will provide free hot dogs and pop, and balloons for the kids. The Garden Center is located at 2120 Alvin Road next to Fuccillo Chevrolet.


---



Barry and Winanne Conway's Bear-Man Products Featured - 2007
Barry and Winanne Conway's "Bear-Man" line of hot sauces has been featured in a story by Janice Okun in the Wednesday, May 2, 2007 edition of the Buffalo News. See "Bear-Man" for her story.


---



"What Is Osteoprosis...And Can It Happen To You?" - 2007
"What is Osteoprosis...And Can it happen To You?" We invite the Grand Island community to come to this FREE informational seminar and learn how to prevent and treat this silent disease. We will also have nurses on site to test your Bone Density.
• When: May 23rd (Bone Density Testing starting at 5:30 Seminar at 7:00)
• Where: the M.O.G.
at Freedom Place
1801 Grand Island Blvd.
PLEASE CALL FOR A RESERVATION!!! 773-1600


---



BluesRoot, Summer Long Concerts At Martin's Fantasy Island - 2007
BluesRoot, international Americana roots rock and roll recording act with Grand Island roots, has joined with the Martin's Fantasy Island to provide a summer long series of concerts at the park's outdoor theater. Click for the BluesRoot for complete information.




---




Inside & Out Home Improvements - 2007
Inside & Out Home Improvements is now a member of the Better Business Bureau! "We are excited to announce our new custom created "Portland" countertops! These countertops can be custom created for kitchens, tabletops, islands, bars etc." Check out our Inside & Out Home Improvements Website for photos.


---




Harbor Towne Centre Sold - 2007
Harbor Towne Centre on Baseline at Alvin Road, first opened on October 24, 1991, has been sold. Click Buffalo News for the story by Matt Glynn, published March 9, 2007.




Another RE/MAX Balloon Lands In Buffalo Area
This Time On Grand Island - 2007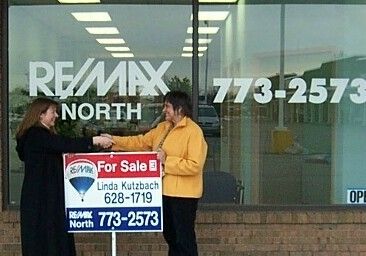 (left) Margaret (Peg) Eisenhauer, Broker/Owner of RE/MAX North with Island real estate agent Linda Kutzbach
RE/MAX, which has posted 34 consecutive years of growth, has long keyed on recruiting the top agents of the National Association of Realtors and Canadian Real Estate Association. Peg Eisenhauer, Broker/Owner of RE/MAX North in Amherst, has opened her second office on Grand Island. Joining her agent staff is top producing agent Linda Kutzbach as well as Linda's assistant Colleen Collier. Linda, an Island resident with over 20 years of experience, was formerly one of the top producers associated with RealtyUSA having over $11M in sales in 2006.
"I am proud to be a part of the RE/MAX North team and affiliated with RE/MAX International, which is the number one privately owned real estate organization in the world," said Linda. "Connecting with RE/MAX will be a significant benefit to my clients, because it has the most powerful and efficient referral system in the business. There are more than 120,000 RE/MAX affiliates in more than 67 countries, meaning that when I list a property here on Grand Island, it is exposed to a huge audience. And our technology tools can help my clients get the best possible price for their home in the least amount of time. REMAX.com lists over 1.5 Million properties for sale in the United States. I am excited to be able to offer magnificent internet exposure to my clients."
Kutzbach said another advantage offered by RE/MAX is Mainstreet, an extranet that allows its agents to share referrals, marketing techniques and the latest information about technology, regulation and related industry topics. "Ongoing education is a strong priority for me, and RE/MAX offers this in spades," said Linda.
Peg Eisenhauer, Broker/Owner, opened her first office on April 1, 2004. "I know that to attract the best agents in the business, I need to offer a combination of maximum commissions, advanced support services, and the freedom to succeed," said Eisenhauer. "RE/MAX offers the best training in the industry, training that nurtures the professional development of its members; RE/MAX agents lead the industry in major professional designations. They also have the strongest presence in U.S. television advertising coupled with the Hot Air Balloon – the most recognized logo in the real estate industry.
Eisenhauer added two additional benefits that will help the new Grand Island group. A state-of-the-art Design Center, available twenty-four hours a day, allows agents to create high quality marketing pieces for their clients and themselves. Additionally RE/MAX has built the industry's first nationwide network of ILD/IDX Web sites – with the goal of making every residential listing in the U.S. available on remax.com. Eisenhauer noted, "Within the first eight months of launch, the site had more than 3.3 million listings. This is especially powerful since our agents do not have to pay any referral fees from the leads generated through the site."
The new office is located in The Grand Island Plaza located at 2423 Grand Island Boulevard. Linda may be reached at (716) 773-2573 or (800) 410-9848 toll free, website: RMXnorth.com


---




M.O.G. - "Are You Taking Advantage of Diabetes Advances?" - 2007
The world of diabetes is changing constantly. Come to this seminar and learn about the latest advances in medications meters and much more! The M.O.G., the medically oriented gym and health club, located at 1801 Grand Island Blvd., offers this seminar at 10 a.m. Tuesday, March 27, 2007 at The M.O.G. and presented by Lynda Erick, FNP a Certified Diabetes Educator. Coffee and Refreshments will be served! To reserve a spot, call 773-1600. Those attending are asked to bring their insurance card.




Island Sisters Sell GLP Free Manufacturing - 2007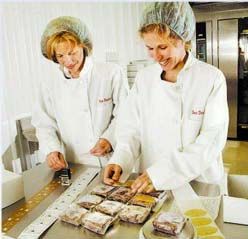 Susan Daubney and Joan Pedlow
Photo by Sharon Cantillon/Buffalo News
GLP Free Manufacturing, a business started by Island residents Susan Daubney and Joan Pedlow, has been sold to Rich Products. The sisters formed the company in 2004 "to make people with special food needs happy." Brownies baked by GLP, "are now being produced under the brand name It's OK, and being served in Orlando's Disney World and other Disney enterprises - to the tune of some 2,500 pieces a week," an October 2006 Buffalo News article about the local business by Janice Okun stated. See 2/5/07 Buffalo News Story.




Kershner Studios Launches New Website - 2007
Ceramic and Glass Tile Products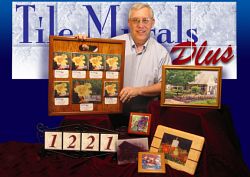 Kim Kershner shows the variety of ceramic and glass tiles, along with some of the "plus" products available.
Click photo for a larger view.
tilemuralsplus.com is a new website/division from Kershner Studios promoting their new line of custom printed ceramic tile murals...plus! What's the "plus"? It's their custom approach featuring individual and personal service, along with ceramic tile products, other than the murals, that can be used as gifts or promotional products.
"There are certainly other sites out there that sell stock ceramic tile murals," explains Kim Kershner, owner of Kershner Studios. "What sets us apart is that we're focused on working locally, as well as personally, with our customers to create the tile mural or tile product that specifically fits their individual requirements... be they do-it-yourselfers, tile contractors, designers, or individuals looking for that special gift." Created and produced in-house, a selection of ceramic and glass tiles is available in a variety of sizes and finishes to fit most situations. For more information about this new line of products, or any of the other services offered by Kershner Studios, contact them at: 773-3610, their website at www.kershnerstudios.com or visit the new website at: tilemuralsplus.com.


---




M.O.G. - "A New Year, A New You." - A FREE Day of Health and Beauty - 2007
The M.O.G., the medically oriented gym and health club, located at 1801 Grand Island Blvd., announces the following:
Ladies...Gather Your friends and come to...
"A New Year, A New You." A FREE day of Health and Beauty
We have invited a variety of experts in the field of health and beauty to come to our facility on Saturday, January 27th between 1 p.m. and 4 p.m. to demonstrate and allow our guests to sample their products. There will be free seminars, great prize giveaways, and many gifts to take home. Space is limited, so call soon to reserve your spot 773-4323.


---



Rose Liquor Offers Wine Tasting - 2007
The Rose Liquor Store will offer in-store wine tastings every friday from 3:30 p.m. to 6:30 p.m. beginning Friday, January 12, 2007. For a list of the tastings scheduled so far, click Wine Tasting..


---
Other Grand Island Pages to Visit:
Churches | Email Directory | Government | Groups
GIHS Grad List | Guestbook | Please sign in! | Local Artists | Photo Album | Town History | Useful Links
| Website Design | Wildlife | Isledegrande's Home Page | GIECOM.NET'S Home Page
Please Email News Releases to Teddy Linenfelser, Thank You.



This website is sponsored by GIECOM.NET
1869 Whitehaven Road, Grand Island, New York, 14072-1803 USA
Copyright © 1995-2007 All rights reserved.