Cinderella Isle Garden Club Webpage

President - Kathy Gruber


---



Cinderella Isle Gardeners Beautify Library - June 2006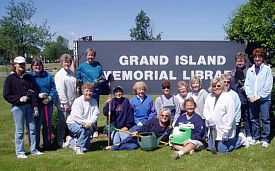 Click photo for larger view
Members of the Cinderella Isle Garden Club met on June 10, 2006 at the Grand Island Memorial Library for their annual library beautification project. The Cinderella Isle gardeners plant and maintain the gardens at the library each year as one of their civic projects.
Cinderella Isle Garden Club recently met for a plant exchange. They will travel to Warm Lake Vineyards in June to learn about vineyard horticulture and enjoy wine-tasting. If you enjoy gardening and are interested in becoming a member of the club, call Marlene Szuromi at 773-5051.


---




Cinderella Isle Garden Club Meeting - January 2006
Cinderella Garden Club members will meet at 7 p.m. Thursday, January 19, 2006 at St. Timothy Lutheran Church for a program titled "A Treat for Yourself," presented by Jacki Mathis, a massage therapist, and Sheila Eberhard, a makeup artist.


---




Cinderella Isle Garden Club Meeting - November 2002
The Cinderella Isle Garden Club will meet at 7 p.m. Thursday, November 21, 2002 in St. Timothy Lutheran Church, 1453 Staley Road, Grand Island. Cindy Miranda will discuss angel centerpieces.


---




Cinderella Isle Garden Club Flower and Craft Show 2002
Cinderella Isle Garden Club members will present a Flower and Craft Show Thursday, Septmber 19, 2002 in St. Timothy Church, corner of Staley and Stony Point Roads. Doors open at 6:30 P.M and the show begins at 7PM. Tickets are available in advance from club members. Contact Nancy, 773-2377.


---




Cinderella Isle Garden Club Installs 2002 Officers
Kathy Gruber has been installed as president of the Cinderella Isle Garden Club of Grand Island. Other officers installed at a recent dinner at Aurora Country Club include Vice President Linda Wrona, Treasurer Jeanne Anstett and Secretary Teller Gellert. The club, established in 1958, meets monthly and is a member of the Federated Garden Clubs.


---
If you are a member of this organization, we need your help. GIECOM.Net has partnered with the Connections program to help Grand Island as a community "Get it Together." Please visit our website G-I-Together.ORG and fill out our SURVEY. Every group on Grand Island will have its own FREE web page showing: meeting times and location, contact persons, your Mission Statement and a listing of events. We will also be linking your news events that appear in the local media and on IsledeGrande.Com, Grand Island's E-News Source, to your page, maintaining an archived journal of pictures and news. This is the perfect opportunity for your group to connect with potential new members and the community.
---
---
Other Grand Island Pages to Visit:
Churches | Email Directory | Government | Groups
GIHS Grad List | Guestbook | Please sign in! | Local Artists | Photo Album | Town History | Useful Links
| Website Design | Wildlife | Isledegrande's Home Page | GIECOM.NET'S Home Page
Please Email News Releases to Teddy Linenfelser, Thank You.
This website is sponsored by
GIECOM.NET
1869 Whitehaven Road, Grand Island, New York, 14072-1803 USA


Copyright © 1995-2007 All rights reserved.
<! - - - - - - New Code Below - - - - - - <( '.' )>