Grand Island High School Class of 1973

Here is a Special Link to 1973 Graduates Guestbook . . .
Log in and Say Hi ! ! !




| | | |
| --- | --- | --- |
| | Grand Island High School Class of 1973 | |
---
Island Alumni Association Forming


Interested in Joining?
---



More Class Reunion Photos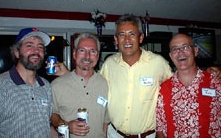 This is just one of the many photos posted at Mike McDonough's website. Just click McHomes.com/Michael McDonough. Be sure to scroll down for photos posted here!


---



Grand Island High School Class Of 1973 Reunion Photos - 2003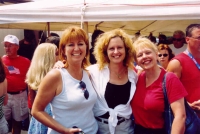 (left) Sue Radder, Ann Cheff and Sue Piszczek at the VFW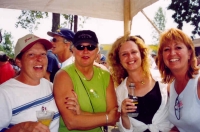 Kathy Minton, Eileen Braddell, Ann Cheff and Sue Radder at the VFW.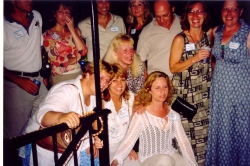 Shown front: Donna Webber, Sue Radder, Sue Piszczek, Ann Cheff;
(back) Chris Mehl, unidentified, Doug Pike, unidentified, Glenn
Combs, Cathy Kimberlin, Kathy Minton - at the Niagara Sailing Club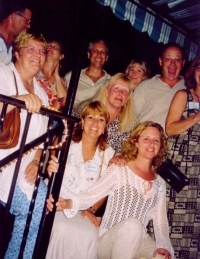 (front) Donna Webber, Sue Radder, Sue Piszczek,
Ann Cheff; (back) Chris Mehl, unidentified, Doug Pike,
Mrs. Pike?, Glenn Combs, Cathy Kimberlin - at the Niagara Sailing Club.
These photos, submitted by Sue Radder, were taken at the GIHS Class of 1973's thirtieth reunion over the July 4, 2003 weekend. Married names will be posted as they become available. Classmates are invited to submit pictures to Isledegrande.com for consideration on this page. Email to teddy@giecom.net





Grand Island High School Class of '73 - 30th Reunion
7 p.m. July 5, 2003
Niagara Sailing Club
3619 East River Road
The Class of 1973 Reunion is open to other classes



Class of '73 Reunion 2003 Information
The Grand Island High School Class of 1973 planning committee members for the Summer 2003 reunion are Mike McDonough, Rick Raepple, Mark Gollwitzer and Ross Kaiser and are being assisted by Val Buckley Swain and Mike Costello. For more information or to be placed on the Class of '73 registry and become part of the 1973 class reunion, click the Class of 1973 Reunion form, fill it out and submit it. For further information, email Mike McDonough at mike@mchomes.com.



Class of 1973 - Missing Classmates
The information on the following classmates is either incorrect or incomplete.
It would be greatly appreciated if you could contact us with accurate information
that may enable us to contact these classmates about our 30th reunion.
e-mail: Mike@McHomes.com / phone: (716) 773-8000



Harry & Patricia Beal
Patricia Rodriguez
70 Camellia Ave.
Satellite Beach, FL 32937
407-779-4224

David Gasbarro
127 Plymouth Ave.
Buffalo, NY 14201

Eric Hansen
2966 Grand Island Blvd.
Grand Island, NY 14072
716-773-9216

Michael Hassert
223 79th St.
Niagara Falls, NY 14304

Gail Kavanaugh
4801 Rim Rock Road
Rockville, MD 20853

Michael D. Kenyon
1501 Cresta Road
Corona, CA 91719

Paul Olivieri
1401 West River Road
Grand Island, NY 14072

Robert Sepanski
104 Tine Island Drive
Osprey, FL 33559

Nancy Smith

Mike McLaughlin
7655 Dryer Road
Victor, NY 14564

Robert Price
2605 Broadway
Cheektowaga, NY 14227
Phone # ???

Susan Bennett

Rakesh Bharadwaj

Larry Birtz

Deborah Brown O'Dea

Joseph Costantino

Robert Derrick

Paul Gingrich

Evan Gould

Lillian Grimm

Mark Hall

Barbara Hendricks Skicewicy

Shawn Irwin

Janene Johnson Schaff

James Hoffer

S. Wayne Kennedy

Deborah Lazarz Andrzejewski

Curtis Leeds

Lisa Long Knowlton

Deborah Luippold Allinson

Lance Lundy

Norbert Mankiewicz

Pamela Melzer

Michael Miller

Jean Muench Costello

Sheryl Nabal Smith

Patricia Naukan

Terry & Jennifer Posluszny

Todd Rowe

Richard Sepanski

Gretta Simmons
Morganay2k@aol.com

Gary Small

Diane Smith

Barbara Sowden Walker

Mary Stewart Grimmerv

Cheryl Stickle Askew
1335 Glenham Dr.
N.E. Palm Bay, FL. 32905

Jeffery Thomas

Kathy Thomas

Barry Turnbull

John Turley

Linda Vanderbles Hammond

Wayne Watson

T. Clifford White

Thomas Wilson

7693 Holiday Rd. ???

Lexington, MI. 48450 ???

Phone ???



Reunion Planners - send us your news and we will post it online on our front page with a link to this page with the "complete story." How about a picture of your class from the yearbook? We can scan it if that will help.


---
Other Grand Island Pages to Visit:
Churches | Email Directory | Government | Groups
GIHS Gradlist | Guest Book | Please sign in! | Local Artists | New!Photo Album | Town History | UsefuLinks
| Website Design | Wildlife | Isedegrande'sHome Page | GIECOM.NET'S Home Page



This website is sponsored by GIECOM.NET
1871 Whitehaven Road, Grand Island, New York, 14072-1803 USA
Copyright © 1995-2002 All rights reserved.