Conservative Committee Webpage

Contact: Conservative Party Chairman:Rev. Kevin Backus
P.O. Box 76
Grand Island, NY 14072
---



Conservative Party News - Jan. 2011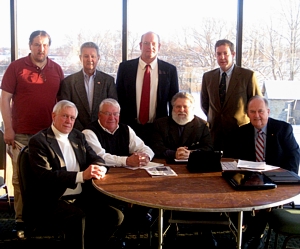 The newest slate of officers and members of the Grand Island Conservative Party recently met to plan for 2011. Shown are (front left) Zone Officer Skip Mazenauer, Secretary Gary Roesch, Chairman Rev. Kevin Backus, Treasurer Frank Williams; ((back) Zone Officer Larry Furnia, Committeeman Tony Raines, Sergeant of Arms Jeff Cooke, Vice Chairman Ethan Huber. The phone number for the Conservative party is 773-6337. Missing from the photo are Judy Mazenauer, John Gast and Paul Lamanna, Zone Officers.


GI Conservatives Host Senator Mark Grisanti - Jan. 2011
The Grand Island Conservative Party invites all interested parties to an evening with New York State Senator Mark Grisanti at the Buffalo Launch Club, 503 East River Rod., Grand Island, from 6 to 9 p.m., on Thursday, Jan. 27. Tickets are $40 per person or $75 per couple and are available at the door, by contacting any committee member, or by writing the Grand Island Conservative Committee, P.O. Box 76, Grand Island, NY 14072. Tickets will be available at the Launch Club the evening of the event, or visit www.grandislandconservativeparty.com.


GI Conservative Party To Hold Meeting - May 2010
The Conservative Party of Grand Island invites the public to attend a meeting on Tuesday, May 18 at 7 p.m. at the Niagara Sailing Club, 3619 East River Road. The featured speaker will be Erie County Legislator Kevin Hardwick Other Grand Island town officials will be available to give updates on Grand Island town activities and to answer questions. Light refreshments will be served.
Devoted to traditional American values, the Conservative Party has grown to include 155,000 members statewide. Membership is open to those who believe in its platform and are interested in political action at the local level.
For more information on the Conservative Party platform, contact the Grand Island Conservative Party at GIConservatives@gmail.com, or visit the state website at www.CPNYS.org.


GI Conservative Party To Hold Reception - A NYS Legislative Update - 2005
The Grand Island Conservative Party will hold a reception themed NYS Legislative Update from 7-9 p.m. Thursday, June 23, 2005 at the Niagara Sailing Club, 3619 East River Rd. "Speakers from the Town, County and State will discuss various issues that effect the appreciate governments," a spokesman said this week. There is no charge and light refreshments will be available. For additional information, contact Eric Berger at 773-1500.




Conservative Party Candidates Announced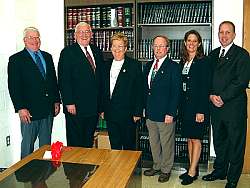 Jon Sandino Photo - Click For Larger View
During a gathering at Grand Island Town Hall Monday, May 5, 2003 Conservative Party Chairman Eric Berger announced the party's endorsed candidates for the 2003 November election. They are (left) Town Council Candidate Gary Roesch, Incumbent Supervisor Peter A. McMahon, Incumbent Town Justice Hon. Sybil Kennedy, Party Chair Eric Berger, Town Clerk candidate Patricia Frentzel, and Incumbent Councilman Richard W. Crawford Jr. (photo by Jon Sandino)

Conservatives Seek Candidates
The Grand Island Conservative Party is seeking qualified conservative candidates to fill town positions of Councilmembers (2), Town Justice (1) and Highway Superintendent (1).
The Conservative Party of Grand Island has a long history of supporting candidates who share its views. Today's conservative political dialogue deals with reducing taxes, and promoting economic growth and strong family values.
Those interested in running for office are asked to send a letter of request for an interview for endorsement to Grand Island Conservative Party Chairman Eric Berger, P.O. Box 188, Grand Island, NY 14072 by Friday, April 6, 2001. For further information contact Eric Berger, 773-1500.


---
If you are a member of this organization we need your help. GIECOM.Net has partnered with the Connections program to help Grand Island as a community "Get it Together". Please visit our website G-I-Together.ORG and fill out our SURVEY. Every group on Grand Island will have its own FREE webpage, listing: meeting times location, contact persons, your Mission Statement and a listing of events. We will also be linking your news events that appear in the local media and on IsledeGrande.Com Grand Island's E-News Source, to your page, maintaining an archived journal of pictures and news. This is the perfect opportunity for your group to connect with potential new members and the community.
---
---
Other Grand Island Pages to Visit:
Churches | Email Directory | Government | Groups
GIHS Grad List | Guestbook | Please sign in! | Local Artists | Photo Album | Town History | Useful Links
| Website Design | Wildlife | Isledegrande's Home Page | GIECOM.NET'S Home Page
Please Email News Releases to Teddy Linenfelser, Thank You.
This website is sponsored by
GIECOM.NET
1869 Whitehaven Road, Grand Island, New York, 14072-1803 USA


Copyright © 1995-2009 All rights reserved.
<! - - - - - New Tracker Code Below - - - ->