Cub Scouts Compete in Pinewood Derby - 2001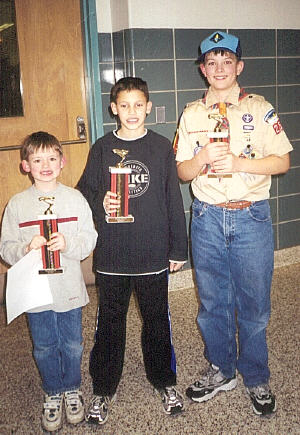 Matthew Foote Jeremy Chopra Ryan Wolfslayer


Members and families of Cub Scout Pack #254 got together Friday evening, January 12, 2001 in the high school cafeteria for the Pack's annual pinewood derby. Work on the pinewood racers began last month and individualality was the key word for the craftsmanship shown by the Cubs, all first through fifth graders. First, second or third place winners in the numerous heats were given points according to place.
After many races per car and several race offs in the finals, first grader Matthew Foote took top honors and the first place trophy. Fifth graders Jeremy Chopra and Ryan Wolfslayer placed second and third respectively and also received trophies.
The following Cub Scouts received special recognition in various categories: Best Paint Job, Thomas McDonnell; Classic Car, John Bidell; Coolest Car, Matthew Foote; Best Design, Jared Billica; Best Detail, James McDonnell; Most Futuristic, Christopher Sexton; Best Workmanship, Jeremy Chopra; Most Original, Josh Kahn; Most Artistic, Christopher Brownschidle; Most Humorous Car, Patrick Sexton; Sportiest Car, Christopher Lee; Most Colorful Car, Robert Rovison; Most High Tech Car, David McMichael; Most Aerodynamic Car, Ryan Wolfslayer; Most Unusual Car, Sam Kilb; and Most Unique Car, Eddie Nowak.
The next major event for members and families of Cub Pack #254 is their Blue & Gold Dinner on February 23 in the high school cafeteria. Debbie Billica is chairman of the dinner which will be catered by Carmine's Catering. For more information on the Cub Pack, call Barbara McMichael, 774-8761.


---
If you are a member of this organization, we need your help. GIECOM.Net has partnered with the Connections program to help Grand Island as a community "Get it Together." Please visit our website G-I-Together.ORG and fill out our SURVEY. Every group on Grand Island will have its own FREE web page showing: meeting times and location, contact persons, your Mission Statement and a listing of events. We will also be linking your news events that appear in the local media and on IsledeGrande.Com, Grand Island's E-News Source, to your page, maintaining an archived journal of pictures and news. This is the perfect opportunity for your group to connect with potential new members and the community.
---
---
Other Grand Island Pages to Visit:
Churches | Email Directory | Government | Groups
GIHS Grad List | Guestbook | Please sign in! | Local Artists | Photo Album | Town History | Useful Links
| Website Design | Wildlife | Isledegrande's Home Page | GIECOM.NET'S Home Page
Please Email News Releases to Teddy Linenfelser, Thank You.

This website was created and updated weekly since September of 1997.
Our sponsor is GIECOM.Net Inc., "Grand Island's E-Commerce Network",
providing Internet Access and Webhosting to the Grand Island Community.
If you are interested in participating as a sponsor, please email.
1871 Whitehaven Road, Grand Island, New York, 14072-1803 USA

GIECOM.Net Inc. is owned by deSignet International
a "World Class Jewelry Manufacturer and Retailer"
Store Hours: Noon-5PM Tues-Friday and Saturdays 10AM-3PM, and by Appointment
1869 Whitehaven Road, Grand Island, New York, 14072-1803 USA, 1-888-RARU.COM
Copyright © 1995-2007 All rights reserved.


<! - - - - - - - - - - New Tracker Code Below - - - - - - >