Cub Scout Pack #510

Cub Master - Dennis Bauman - 773-7652 - amazonvending@yahoo.com

Contact #2 - Committee Coordinator Debbie Held - 774-2735 - klheld@pce.net

Mission Statement
To provide boys in grades 1-5 a safe, fun way to learn many life skills.
Events
Pack Meetings held once a month at Huth Rd. School
Den Meetings held 1 - 2 times a month - to be determined by the Den Leader
Help
We could always use adults who would be willing to share his/her time and hobby or skills. Our Cub Scouts earn acheivements in many different areas and skill levels. Any help would be greatly appreciated!
Strengths
We provide the boys in grades 1 - 5 a great opportunity to have fun, while learning many new things he may not learn elsewhere. They learn responsibility, teamwork and many skills that will assist them later in life. We also have many great parents who help keep our Pack running.

(An interesting weekly newsletter that shares stories with Scouts and Scouters)
"Scouting Way"





Cub Pack 510 News 2007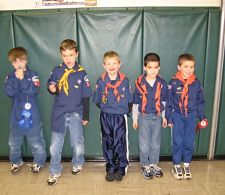 Click photo for larger view
Several members of Cub Scout Pack 510 (all Bobcats except for 1 Wolf) earned their Bobcat Badge at the January 6, 2007 Pinewood Derby. They are (left) Jason Held, Noah Fuller Delmont, Logan Fuller Delmont,Drew Withrow, and Logan VonReyn.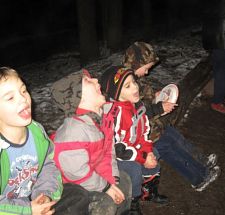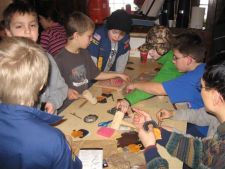 (left) The boys at the campfire singing songs - (right) Boys working on leather stamping




Cub Pack 510 "Race Day" 2007 Results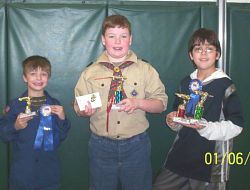 Click photo for larger view
Cub Scout Pack #510 raced in this year's Pinewood Derby at St. Stephen School on January 6, 2007. Pack 510 finishers were: 3rd place Jason Held - Tiger Scout, First place Travis LaFevre - Webelo's I Scout, First place Chris Burris - Webelo's II Scout.

Cub Packs Enjoys "Race Day" 2007



Click for story



---



Cub Scout Pack 510 Blue and Gold Dinner - 2006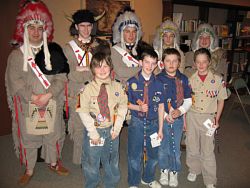 (left rear) Boy Scouts Ben Rossiter, Sean McDermott, Joe Fusco, III, Travis Zukic, and Casey Dahlstrom
(front left) Cubs Casey Bolles, James Rustowicz, Adam Heftka, and Jonathan Boorady
Click photo for larger view
Cub Scout Pack 510's Blue and Gold Dinner was held Friday, March 3, 2006 at Trinity UM Church on Whitehaven Road. Catering was done by John Matwijkow and NCCC. A group of boys from the Order of the Arrow Ceremony Team performed the Order of the Arrow for the four Cub Scouts who are moving on to Boy Scouts. This Arrow Ceremony Team will enter a competition with other ceremonial teams in the spring. A special thanks from Cub Pack Leader Kevin Rustowicz to Brian Mongielo, Polaris District Order of the Arrow advisor, and the Boys Scouts, all Eagle Scouts or Life Scouts, who helped out with a wonderful ceremony for the boys.


---



Grand Island Pinewood Derby January 21, 2006
Click Jan. 21, 2006 Island Pinewood Derby


---



Grand Island Pinewood Derby Run-off - 2005
Another great pinewood derby has faded into history. Three Cub Packs on Grand Island competed for the 75th anniversary of Cub Scouting Grand Island Pinewood Derby trophy. Click "Pinewood Derby 2005" for complete story.


---



Grand Island Pinewood Derby Run-off - 2004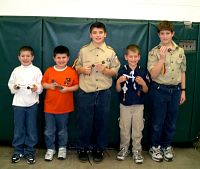 Click photo for a larger view.

Three Grand Island Cub Scout Packs got together, courtesy of St. Stephen School, for the first Grand Island Pinewood Derby Run-off on Saturday, January 10, 2004.
Each Pack (Pack 510 meets at Huth Road School, Pack 254/Kaegebein School and Pack 630/St. Stephen School) held its own pinewood derby in the school cafeteria. To begin with, each cub scout receives a block of wood, four tires and nails for axles and has a month to transform these materials into a racer. Each year the cub scouts amaze the leaders and parents with their creativity. This year's cars included a hummer, complete with "army guys" inside, a snow covered mountain complete with snowboarders coming "down the mountain," and an inch worm carved out of the block. The race takes place on a 26-foot track with timing to 1/1000th of a second.
The official winners for Grand Island this year are:


First Place      Car 9   -  Nicholas Paolini  - a Tiger from Pack 510
Second Place Car 47      -  Sam Oursler       - a First year Webelos  from Pack 510
Third Place    Car 28    -  Christopher Boulden - second year Webelos from Pack 254
 
Rounding out the Top racers are
Fastest Wolf    Car 17       -  David Mongan     Pack 510 tied with
                Car 413    - Jadon Wegrzyn    Pack 630 to 1/1000th of a second on 4 races
 
Fastest Bear    Car 55        - Zachary Re       Pack 630
Fun was had by all and John Siegel and his Race Committee wish to congratulate all the Cub Scouts for all the hard work they put into their creations. "We expect even more fun next year when Pack 425 (meets at St. Martin's Church) joins in the fun."


---



Play Ball!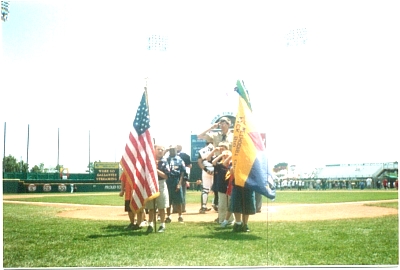 Cub Scouts from Grand Island's Pack 510 played a key role in the Buffalo Bison's June 22, 2003 game against the Charlotte Knights. A color guard from the Pack had the honors of carrying the American and Pack's flags for the national anthem before the start of the game. Cub Master Dan Skelly lead flag bearers Adam Heftka and Mark Lydle along with color guard members Eric Dudley, Nicholas Paolini, Ryan Burow, Max Grenda, Jonathan Grenda, Ryan Arsenault, Isaiah Brown and Mitchell LaRiviriere.


---
If you are a member of this organization, we need your help. GIECOM.Net has partnered with the Connections program to help Grand Island as a community "Get it Together." Please visit our website G-I-Together.ORG and fill out our SURVEY. Every group on Grand Island will have its own FREE web page showing: meeting times and location, contact persons, your Mission Statement and a listing of events. We will also be linking your news events that appear in the local media and on IsledeGrande.Com, Grand Island's E-News Source, to your page, maintaining an archived journal of pictures and news. This is the perfect opportunity for your group to connect with potential new members and the community.
---
---
Other Grand Island Pages to Visit:
Churches | Email Directory | Government | Groups
GIHS Grad List | Guestbook | Please sign in! | Local Artists | Photo Album | Town History | Useful Links
| Website Design | Wildlife | Isledegrande's Home Page | GIECOM.NET'S Home Page
Please Email News Releases to Teddy Linenfelser, Thank You.
This website is sponsored by
GIECOM.NET
1869 Whitehaven Road, Grand Island, New York, 14072-1803 USA


Copyright © 1995-2007 All rights reserved.
<! - - - - - - - New Tracker Code Below - - - - ->