One Island, One Team and One Dream to Be Drug Free
2007
---



One Island, One Team and One Dream to Be Drug Free - Dec. Meeting - 2007
A meeting for One Island, One Team and One Dream to Be Drug Free has been set for 4 p.m. Tuesday, December 11, 2007 in the Grand Island High School Small Cafeteria. See http://www.gigov.com/boards-committees/one-island-07.pdf or http://www.gi-cec.com/ for complete information.


---



One Island, One Team and One Dream to Be Drug Free - July 2007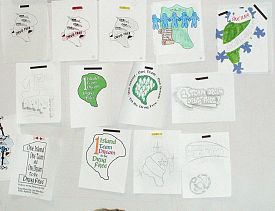 Logo entries created by Grand Island school children
Christine Stange photo/story - Click for larger view
Tuesday July 17, 2007 . . Town officials, School District personnel and Community Youth Group Leaders met at the Town Hall Tuesday afternoon as a collaborative initiative to address drug use concerns on Grand Island. In attendance were: Reg Schopp-Youth Board Representative, Mary Cooke-Town Councilwoman, Dick Crawford-Town Councilman, Robert Christmann-Grand Island School District Superintendent, Sandra Anzalone-Grand Island High School Principal, Christopher Swiatek-Assistant Principal Grand Island High School, Bruce Benson-Veronica E. Connor Middle School Principal, Dennis Albert-Youth Court/Diversion Program Representative, Jim Patterson-Grand Island High School Coach/Young Life Representative, Cheryl Chamberlain-Grand Island High School Teacher, Dolly D'Orazio-Reality Café, Neena Nohria-GIFTS Program and Christine Stange-IsledeGrande. The committee's mission is to make Grand Island a safer place to live by adopting proactive measures to combat drug problems in the community. The meeting commenced with the display of logo entries created by Grand Island school children that exemplify the mission's purpose: "One Island, One Team and One Dream to Be Drug Free." Specific drug use problems in the community were identified and discussed. Mrs. Anzalone reported that during the 2006-2007 school year, there were 16 drug related suspensions at the Grand Island High School. All of these suspensions involved the abuse of prescription drugs. It was determined that dissemination of information relevant to the hazards of inappropriate storage of prescription medication would be helpful in curbing drug abuse problems in the community. Plans to participate in the National Night Out Campaign on August 7, 2007 were discussed. In addition to providing a informational booth during the campaign, the committee discussed plans to participate in Project 365, a specific component of the National Night Out that designates a particular "problem area" in the community, sets forth an agenda to deal with the problem and reports tangible results of the project one year later. The committee's goal is to encourage community wide drug related education and thereby provide a grass roots, family based effort to eliminate drug abuse on Grand Island.






















---
---
Other Grand Island Pages to Visit:
Churches | Email Directory | Government | Groups
GIHS Grad List | Guestbook | Please sign in! | Local Artists | Photo Album | Town History | Useful Links
| Website Design | Wildlife | Isledegrande's Home Page | GIECOM.NET'S Home Page
Please Email News Releases to Teddy Linenfelser, Thank You.


This website is sponsored by
GIECOM.NET
"Grand Island's E-Commerce Bridge to the World"
1871 Whitehaven Road, Grand Island, New York, 14072-1803 USA
Copyright © 1995-2007 All rights reserved.