Emmanuel Community Bible Church News Page

Pastor - Rev. David Rodgers
773-3748
100 Whitehaven Road (Holiday Inn)
Grand Island, NY 14072
---



Emmanuel Community Bible Church
Faith & Fun At Vacation Bible School - 2006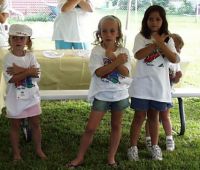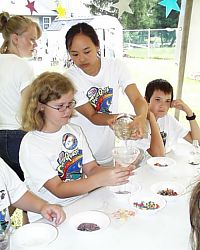 (left) Chloe and Kiana McQuestion and Meghan Frisch not only have fun
learning new songs but also the "sign language" to go with them.
(right) Jessica Mao helps Lilly Thompson create a "space capsule." Ben Cliff is also pictured.

Mary Stewart Photos - Click photos for larger view

It's 3 - 2 - 1 lift off as children attending Emmanuel Community Bible Church's backyard vacation Bible school start the first week of "Space Quest - Exploring My Mission With Jesus." Adventure filled Bible stories, "far out" crafts and "extra ordinary" music and snacks make up the morning program. VBS continues from 9:30 a.m. to 11:30 a.m. Monday, August 7 for children in grades 1-6, and runs through Friday, August 11, 2006 at the Mao backyard, 92 Trails End. The last day of this week's VBS is Friday, August 4 at 1987 Marjorie Drive.


---
Below is News of 2003
---



Emmanuel Community Bible Church Opens - 2003
March 2003. . .Emmanuel Community Bible Church has opened in the former Emmanuel United Methodist Church at 1136 Baseline Road. Services have been held each Sunday at 10 a.m. for several weeks. The Sunday morning service begins with music at 9:40 a.m. Rev. Brian Albrecht is the guest pastor and all are invited to attend the weekly services.


---
---
Send Us Your News
How to Submit News/Photos
If you are a member of this organization, we need your help. GIECOM.Net has partnered with the Connections program to help Grand Island as a community "Get it Together." Please visit our website G-I-Together.ORG and fill out our SURVEY. Every group on Grand Island will have its own FREE web page showing: meeting times and location, contact persons, your Mission Statement and a listing of events. We will also be linking your news events that appear in the local media and on IsledeGrande.Com, Grand Island's E-News Source, to your page, maintaining an archived journal of pictures and news. This is the perfect opportunity for your group to connect with potential new members and the community.
---
---
Other Grand Island Pages to Visit:
Churches | Email Directory | Government | Groups
GIHS Grad List | Guestbook | Please sign in! | Local Artists | Photo Album | Town History | Useful Links
| Website Design | Wildlife | Isledegrande's Home Page | GIECOM.NET'S Home Page
Please Email News Releases to Teddy Linenfelser, Thank You.

This website is sponsored by

GIECOM.NET

1869 Whitehaven Road, Grand Island, New York, 14072-1803 USA


Copyright © 1995-2007 All rights reserved.


GIECOM.Net Inc. is owned by deSignet International
a "World Class Jewelry Manufacturer and Retailer"
Store Hours: 9-5PM Mon-Friday and Saturdays 10AM-3PM, and by Appointment
1869 Whitehaven Road, Grand Island, New York, 14072-1803 USA, 1-888-RARU.COM
Copyright © 1995-2007 All rights reserved.



<! - - - - - - - - - New Tracker Code Below - - - - - - - >