GIFTS Seeks Social Worker

The GIFTS Family Support Center is seeking a social worker (BSW/related degree) to be an after-school director. Ability to establish and maintain collaborative working relationships with multiple service providers is needed. Send resumes to GIFTS Family Support Center, 2255 Baseline Rd., Grand Island, NY 14072.


GIFTS Family Day of Celebration

GIFTS (Grand Island Family Town and Schools) held its second annual National Family Day of Celebration Saturday morning (Oct. 28) at Kaegebein School. More than 70 Grand Island parents and children were at the event. The focus of the event was to have community support of families according to GIFTS Coordinator Heather Maris.
The day started with a family fun walk around the school with many participants in Halloween costume. Children and parents then made craft items including painted newspaper hats, colored pasta necklaces, and wooden pendants (decorated with foil stars and spices). A family fun quiz was given to everyone. Following the crafts program, children went to the gym where they separated into teams and competed in events like making a dummy (with old clothes, newspaper, tape, and balloons), and running an obstacle course.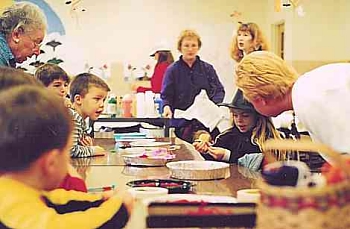 Aubrey makes a pasta necklace in her witch costume.
According to Maris events were designed to make family members cooperate and interact with each other. Craft projects were designed so that parents would help their children make cool stuff. Events in the gym were judged on "cooperation, communication, creativity and laughter." And the quiz was designed with a mix of questions that could be answered only if parents and children worked together.
The idea for the program came from the GIFTS organization. For more information about GIFTS call 773-9600 ext. 690. Thanksgiving Week (Nov. 20-26) is National Family Week.

---
If you are a member of this organization, we need your help. GIECOM.Net has partnered with the Connections program to help Grand Island as a community "Get it Together." Please visit our website G-I-Together.ORG and fill out our SURVEY. Every group on Grand Island will have its own FREE web page showing: meeting times and location, contact persons, your Mission Statement and a listing of events. We will also be linking your news events that appear in the local media and on IsledeGrande.Com, Grand Island's E-News Source, to your page, maintaining an archived journal of pictures and news. This is the perfect opportunity for your group to connect with potential new members and the community.
---
---
Other Grand Island Pages to Visit:
Churches | Email Directory | Government | Groups
GIHS Grad List | Guestbook | Please sign in! | Local Artists | Photo Album | Town History | Useful Links
| Website Design | Wildlife | Isledegrande's Home Page | GIECOM.NET'S Home Page
Please Email News Releases to Teddy Linenfelser, Thank You.
This website is sponsored by
GIECOM.NET
1869 Whitehaven Road, Grand Island, New York, 14072-1803 USA


Copyright © 1995-2007 All rights reserved.

<! -- -- -- -- -- -- New Tracker Code Below -=-=-=-=-=- >