Grand Island Soccer Page
Official Grand Island Soccer Club Web Site
---



Soccer Club Receives $4,000 Check From Legislator Swanick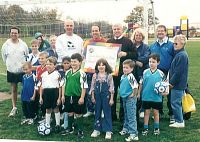 November 9, 2002
Click for larger view
Fred Claus Photo
The Grand Island Soccer Club was the recipient of a check for $4,000 which was presented by Erie County Legislator Charles M. Swanick on Saturday morning, November 9, 2002 at the Sidway School Complex Soccer Field. Receiving the Erie County funded check are Soccer Club President Ray Billica (left center) and Vice President Thomas Armkusewicz. The funding will be used for the rehabilitation of the Field. In attendance for the presentation were soccer players and parents from the various age groups. The $4,000 appropriation will correct the rutted surface, aerate, topdress and overseed the top surface. Completion will create a safer playing surface for the estimated 1200 youths who use these fields.



Soccer Carnival and Clinic
A Soccer Carnival and Clinic will be held from 1:30-4 p.m. Saturday, July 21, 2001, at Veterans Park on fields 1, 2 and 3 along Bedell Road. The clinic is scheduled from 2-3 p.m. The event is sponsored by the Grand Island Soccer Club



GI High School Soccer Booster Club
The Grand Island High School Soccer Booster Club will hold its second meeting 7 p.m. Tuesday, April 3 in the Veronica E. Connor Middle School Little Theater. The purpose the the Club is to support the JV and Varsity Boys' and Girls' Soccer teams. Everyone is welcome to join. For more information, contact Joe Sirianni at 773-6803 or Mary Loiselle at 774-8349.

Special Thanks
Letter To The Editor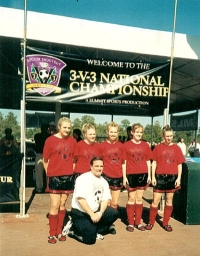 Grand Island Chicks Soccer Teammates (left) Tina Coates, Kim Walker, Jenna Podlucky, Katie Loiselle and Jen Rogan with Coach Peter Kuehne. Click for larger view.
On Martin Luther King Jr. weekend, I had the privilege to coach five young ladies at a National 3V3 Soccer Tournament in Orlando, Florida. These young ladies, named the GI Chicks, are: Tina Coates, Katie Loiselle, Jenna Podlucky, Jen Rogan and Kim Walker. This is whom I will be talking about. With the bad publicity our children of Grand Island have been receiving lately, it'll be nice to report how these young ladies made us proud to be Islanders.
What started to be friends entering a local 3V3 soccer tournament, it turned out to be so much more. After winning locally, the next step was the regionals in Hershey, PA. The Chicks placed third, giving them the opportunity to go to the nationals in the Wide World of Sports Complex at Disney World in Orlando, Florda. Understanding that this was going to be a great financial burden, the Chicks reached out to our community for support. They wrote letters to local businesses and various clubs, sold candy bars at Bills' games and conducted a raffle. The overwhelming support received surpassed all expectations.
This is written to tell you that the support did not go to waste, and we can be very proud how these five young ladies represented Grand Island.
The Chicks played their hearts out, going undefeated in the first round. Then, unfortunately, we were eliminated in the playoffs.
Their sportsmanship on and off the field was another outstanding attribute. One example of this is when the teams were waiting for the next game to be played, the Chicks went out of their way to talk to an Under 7 girls team from Tampa, Florida. The team was named the Knights; they were in the recreational divison and hadn't won or even scored a goal.
The Knights were so excited that the Chicks took interest in them that they came to the Chicks next game to root them on. We also went to watch the Knights, cheering them every scoring opportunity or even if they just crossed the mid field. Their love for the game and just having the opportunity to participate made everyone excited. They were so overwhelmed that the Chicks came to watch their game that they sometimes just stopped on field to hear them cheer. The parents of the Knights were so thankful and appreciative of the Chicks, telling us numerous times how nice and thoughtful our five young ladies were. It made me proud to be associated with this team. It also prompted me to write this letter letting everyone who supported the GI Chicks know that contributions they gave were not wasted. We do have something to be proud of with the youth of Grand Island.
I would like to personally thank the chicks and their parents for including me in a wonderful experience.
Thanks again.
Coach Peter Kuehne



GI Chicks - Pride of Grand Island

The GI Chicks were among 650 teams from 35 states (eight from WNY) who played in the Sunny Delight 3v3 Tournament at the Wide World of Sports Park in Disney, Orlando, Florida over the weekend of January 13, 2001. The Chicks went undefeated in the first round posting a 1-0-2 record. In the first game against a very physical Rome, NY team the Chicks posted a very convincing 8-4 victory. In the afternoon game against a local Florida team, the Chicks took a quick lead not letting their apponents into the game. But as the temperature hit a balmy 80 degrees, the Chicks began to fatique but hung on to a 5-5 tie. The third game the Chicks played was against a strong Illinois team. In a defensive struggle the game ended tie 2-2. With a 1-0-2 record, this allowed the Chicks to advance to the second round. In a match against another team from Illinois this was the first time the Chicks fell behind. The Chicks battled back but in the end they were elimated 5-3.

Good Luck G.I. Chicks
Off to Sunny Delight 3 v.3 Championships in Florida
GI Chicks Grateful To Sponsors
The G.I. Chicks Soccer Team travels to Orlando, Florida to represent the Island and WNY at the Sunny Delight 3 v. 3 Soccer National championships this Saturday and Sunday, January 13 and 14.
Teammates Jenn Rogan, Kim Walker, Jenna Podlucky, Katie Loiselle & Tina Coates and their families would like to thank the following sponsors for supporting them and making the trip possible.
Grand Island Soccer Club, Grand Island Lions Club, Dick Gerspach/Island Pools, Councilman Dick Crawford, George Casey, GaryAstridge/astridge International, Lou Macro/Grand Island Optical, Chris Stedman/Blue Water Marina, Dr. and Mrs. Russell Colosi, Dr. Harper & Dr. Rohan/Grand Island Small Animal Hospital, Thomas DeCarlo/DeCarlo Collision, Councilman Mary Cooke, Supervisor Peter McMahon, Frederick Mellon/Melltronics Industrial, Inc., Cheek Certo/G.I. Physical Therapy, John Simon/Super Gas, BOC Edwards, Grand Island Rod & Gun Club, Deb Hutzler/Heatherstone Kennels, Lyn Laman, Grand Island Rotary Club, VFW Post #9249, Elizabeth Hopkins/E.H. Enterprises, L. Wright, DDS, Citizens for Sam Hoyt, Allan Glessner/Cozy Landscaping, William Franger, Dr. Charles G. Rader/Occiental Chemical, Zonta Club,WELCA/Lutheran Women of St. Timothy Church, Dick Krawczyk/Adrians Pizza, Mike Mongan/Beach House Restaurant, Ilona Lang/Cathy & Jim's Restaurant, John Baedeker/Chocolate House, Anthony Gelose/Gelose Art in Flowers, Councilman Mike Heftka, Larry Demme/Holiday Inn Grand Island, Mike Samland/HSBC Bank-Grand Island, Patty Hachee/Island Tanning, Kathleen Conn/Jaco's Pizza, Joe Sirianni/Empire Sportswear, Kevin Kelly/Kelly's Country Store, Maria DelSignore/Maria's Hallmark, M&T Bank-Grand Island, Bev Davey/Peppermill Restaurant, Kevin Slaichak/Picasso's Pizza, Pizza Hut-Grand Island, Mike Hachee/Rose Liquor Store, John Ali/Soft & Shine Car Wash, Tim Callahan/Tim's Sunoco, Michelle Harris/Tops Markets Grand Island, Mike Carr/Village Inn Restaurant, Applauzz Hair Salon/Tonawanda, Robert Schiffauer/Buffalo Athletic Club, Dr. Mark L. Delmonte/Niagara Family Chiropractic, Ted Knox/Target-Amherst Store, and BarbiLare/Images.
The G.I. Chicks and their families would also like to thank all the people who purchased candy bars and raffle tickets from them at various locations around Grand Island. "Because of the generosity of everyone who contributed, the team has raised the money needed to attend the tournament. We are very appreciative of the enthusiasm and support that these individuals, service organizations and businesses have shown us. Their contributions made it possible for us to reach our goal." In addition, the G.I. Chicks and their families would like to extend an extra spacial thank you to the members of VFW Post #9249 for their extremely generous sponsorship contribution.
"Thank you again for your overwhelming support. We are very fortunate to have experienced first hand what a caring and giving community Grand Island truly is."
Our best wishes to Jenn Rogan, Kim Walker, Jenna Podlucky, Katie Loiselle & Tina Coates.

GI Chicks announce raffle winners
The G.I. Chicks Soccer Team thanks everyone who purchased tickets for their fundraising raffle. Winners of gift packages from the following sponsors are: Linda - Sabres Tickets/Village Inn Cert.; Paul Kieffer - Holiday Inn/Pizza Hut/Rose Liquor; Sharon Kane - Buffalo Athletic Club/Niagara Family Chiropractic; Brian McFee - Target Gift Card/Adrian's Pizza; Carla Rader - Island Tanning/Niagara Family Chiropractic/Pizza Hut; Josephine Zelawski - Maria's Hallmark/Beach House Restaurant; John Podlucky - McMahon's Steak House/Regal Movie Passes; D. Hoffman - Beach House Rest./Gelose Art in Flowers/Chocolate House/Regal Movie passes; Mike Redmen - Kelly's Country Store/Jaco's Pizza; Toni Brown - Fantastic Sam's/Picasso's Pizza; Diane Grant - Adrian's Pizza/Applauzz Hair Salon; Judy Lowes -Soft & Shine Car Wash/Cathy & Jim's Restaurant/Tim's Sunoco; Lance Frieday - Tops Markets/Peppermill Restaurant; Bob Coe - Grand Island Afghan.

GI Chicks thank sponsors
The G.I. Chicks Soccer team would like to thank the following sponsors for supporting them in their efforts to represent Grand Island and Western New York at the Sunny Delight 3 v. 3 Soccer National Championships to be held in Orlando, Florida this coming January:

GI Chicks soccer team seeks sponsors


Grand Island Chicks teammembers Katie Loiselle, Jenna Podlucky, Tina Coates, Kim Walker and Jenn Rogan
The Grand Island Chicks U-16 three person team played well enough to make it to the natonal chamionships in Florida, January 12 -13, 2001.
The Grand Island Chicks are a U-16 3 vs. 3 soccer team that has done very well in recent competition. In June they took first place in a qualifying match in Fort Niagara. In August they placed third at the 2000 Northeast Regional Championship in Philadelphia, PA.
The team qualified to compete in the national championship tournament held at Disney's Wide World of Sports Complex in Orlando FL, January 13th and 14th, 2001.
They will be the only girls (or women's) team representing Grand Island or Western New York at the tournament. They are seeking business or service club sponsors to defray expenses associated with the trip, including airfare, hotel accommodations, and other expenses. The Grand Island Soccer Club has already donated the team's registration fees. The team estimates these costs to be approximately $550.00 per person or $2,750.00 for the team.
Readers who would like to help the team should write to GI Chicks Soccer Team Donations, 85 Riverview Ct., Grand Island, NY 14072 or call 775-1131.
---
If you are a member of this organization, we need your help. GIECOM.Net has partnered with the Connections program to help Grand Island as a community "Get it Together." Please visit our website G-I-Together.ORG and fill out our SURVEY. Every group on Grand Island will have its own FREE web page showing: meeting times and location, contact persons, your Mission Statement and a listing of events. We will also be linking your news events that appear in the local media and on IsledeGrande.Com, Grand Island's E-News Source, to your page, maintaining an archived journal of pictures and news. This is the perfect opportunity for your group to connect with potential new members and the community.
---
---
Other Grand Island Pages to Visit:
Churches | Email Directory | Government | Groups
GIHS Grad List | Guestbook | Please sign in! | Local Artists | Photo Album | Town History | Useful Links
| Website Design | Wildlife | Isledegrande's Home Page | GIECOM.NET'S Home Page
Please Email News Releases to Teddy Linenfelser, Thank You.
This website is sponsored by
GIECOM.NET
1869 Whitehaven Road, Grand Island, New York, 14072-1803 USA


Copyright © 1995-2003 All rights reserved.