Golden Age Center Webpage - 2008 - 2009

3278 Whitehaven Road
773-9683

Golden Age Center News 2005
Golden Age Center News 2006
Golden Age Center News 2007
Golden Age Center News 2009


Previous Golden Age Center News

Town of Grand Island Website
To E-mail the Golden Age Center

---
OFFICERS 2008

President Nonnie Carroll, Vice President Joyce Good, Treasurer Chris Bihler,
Secretary Ruth Cunningham, and Sgt-at-Arms Jerry Goodwin

October 2008 Golden Voice
October 2008 Menu
November 2008 Menu
November 2008 Golden Voice






Golden Agers Host Annual Gram's Garage Sale - 2009
Members of the Grand Island Golden Age Club will host their annual Gram's Garage Sale from 9:30 a.m. to 1 p.m. Saturday, May 16 at the Golden Age Center, 3278 Whitehaven Road (Nike Base). Featured will be Hot Dogs, Baked Goods and Garage Sale Items for sale.




HEAP Program At Golden Ager Center - 2008
The Golden Age Center will host a HEAP program on Monday, November 10th starting at 8:00 am.




Holiday Happenings At Golden Age Center - 2008
Members of the Golden Age Club will host a Holiday Happenings event from 11 a.m. to 3 p.m. Sunday, November 2. The day will feature hand crafted items, raffle baskets, and lunch items all reasonably priced.




Native American Artifacts Displayed - 2008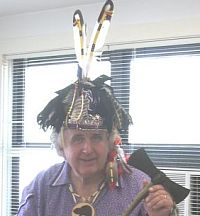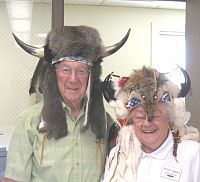 (Left) Chuck Dulak; (right) Hank & Nonnie Carroll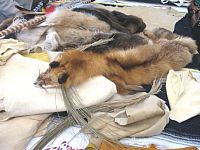 (Left) Fox Pelt; (right) Musical Instruments
Jodi Robinson Photos - Click for larger view
Collector of Native American artifacts, Chuck Dulak, made a visit to the Grand Island Golden Age Center on Friday, September 5, 2008. At the invitation of Book Discussion Group leader Joan Droit, Mr. Dulak exhibited many different headdresses, animal pelts, clothing and musical instruments. Mr. Dulak became interested in Native American history in the 1970's while spending four years as a counselor at the Cattaraugus Indian Reservation. Six years ago his interest increased and he now gives presentations to historical societies, church groups, schools, and assisted living centers. To acquire his treasures, Mr. Dulak travels to the Six Nations Reservation in Canada, antique malls, and to local collectors. The large collection Mr. Dulak brings to his presentations is just the "tip of the iceberg" as far as his total collection.
The Golden Age Center "Book Discussion Group" has been meeting most Fridays at 11 a.m. for 10 years with Joan Droit as leader. There are group discussions, field trips and speakers. Everyone is welcome.




Golden Agers Host Annual Gram's Garage Sale - 2008
Members of the Grand Island Golden Age Club will host their annual Gram's Garage Sale from 9:30 a.m. to 2 p.m. Saturday, May 3 at the Golden Age Center, 3278 Whitehaven Road (Nike Base). Featured will be Hot Dogs, Baked Goods and Garage Sale Items for sale.




Sweetheart Luncheon at Golden Age Center - 2008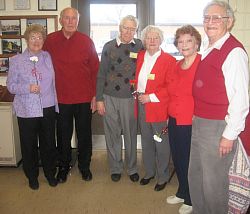 Larry and Louise Zelonis - 54 years, Art and Carolyn Broadway - 67 years, Joe and Ruth Padlog - 54 years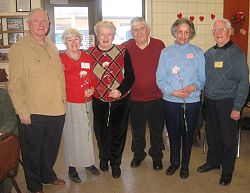 Walter and Norma Orton - 57 years, Dick and Betty Pachter - 56 years, Lloyd & Ann Potter - 55 years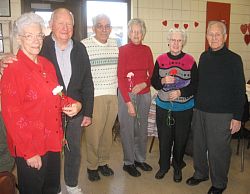 Anita and Don Wasson - 60 years, Louie and Rita D'Orazio - 55 years, Merle & Maisie Dommell - 61 years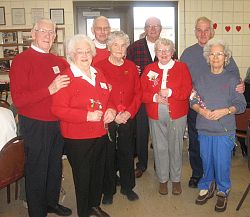 Hank and Nonnie Carroll - 63 years, Norm and Bertha Matteson - 66 years, George and Eileen Minton - 56 years, Ray & Sue Whitbeck - 55 years
Jodi Robinson Photos - Click photos for larger view.
The Golden Age Center's Annual Sweetheart Luncheon took place on Valentine's Day, Thursday, February 14th. Each year members who have been married 50 years or more are honored. This year there were 13 couples who made the grade. The longest married were Art & Carolyn Broadway at 67 years!




Presidents Of Golden Age Club Honored - 2008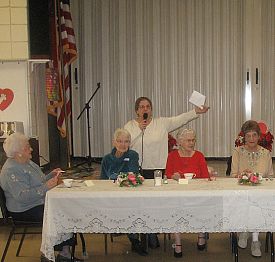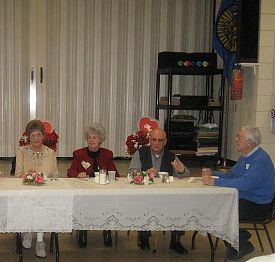 (Left) Nonnie Carroll, Dorothy Lew, Maisie Dommell, Gloria Diringer, Joan Raab, John Roberts and Hank Carroll. Golden Age Club assistant Betty Clayton is standing in the back
Dan McMahon Photo - Click for larger view
"We are here today to honor the Past Presidents of the Golden Age Club, who, with out their dedication to their office, the club would not run as smoothly as it does," Golden Age Club assistant Betty Clayton said at the February 12, 2008 luncheon to recognize the organizations presidents. "They have worked with the staff to make this a place away from home for our senior members to come and spend time. They are the ones responsible for the many activities that so many of you enjoy," Mrs. Clayton said. Town Supervisor Peter A. McMahon thanked the Past Presidents for their dedication and support on behalf of the members of the Town Board and the members of the Golden Age Club who could not be in attendance.




Senior Citizens Offered Colorado, Rocky Mountain Trip - 2008
The Grand Island Golden Age Center announces some openings for the Colorado & Rocky Mountain Trip taking place from April 13th through April 23rd. The package includes 10 nights, 10 breakfasts, and 6 dinners. Cost is $880 per person for double occupancy. For more information call the Grand Island Golden Age Center at 773-9682.




Seniors Help At Town Hall - 2008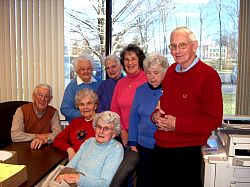 (seated eft) Hank Carroll, Bertha Matteson, Leah Gollwitzer; (standing) Nonnie Carroll, Dorothy Lew, Martha Muller, Betty Marinell and Norm Matteson.
click for larger view
Every January and September seniors from the Golden Age Center help prepare tax bills for mailing. This year's volunteers worked over 50 hours helping Town Clerk Pattie Frentzel and her staff to affix labels, and fold and stuff envelopes for the 2008 Town and County bills. The Town and County taxes are due without penalty on February 15th.




HEAP Information For Island Residents - 2008
Erie County 10th District Legislator Michele Iannello has announced that residents will be able to apply for the Home Energy Assistance Program (HEAP) through three sessions she is sponsoring in her district. Staff will be available from 9:00 a.m. to 4:00 p.m. to receive applications (with exception of Kenmore Senior Center).
• Wednesday, January 16, 2008 - City of Tonawanda Senior Center, 35 Main Street, City of Tonawanda - 9 a.m. to 4 p.m.
• Thursday, February 28th - Kenmore Senior Center (Mang Park), 135 Wilber Ave., Kenmore - 9 a.m. to 3:30 p.m.
• Monday, March 10th - Grand Island Golden Age Center, 3278 Whitehaven Road, Grand Island - 9 a.m. to 4 p.m.
The first 80 applicants at each session are guaranteed assistance if they meet the eligibility criteria. No appointment is necessary.
Applicants will need to bring identification for each member of the household, (license, birth certificate, or Social Security card); proof of monthly income for all household members, shut off notices if applicable, bank statements, stocks, IRA's or 401K's, and current utility bills.

   Monthly income ceilings are as follows:
		Family of 1 - $1,876
                Family of 2 - $2,454
		Family of 3 - $3,031
		Family of 4 - $3,609
                 Family of 5 - $4,186
Income ceilings continue to increase with family size. For further information, call Legislator Iannello's office at 858-6757.





---
If you are a member of this organization, we need your help. GIECOM.Net has partnered with the Connections program to help Grand Island as a community "Get it Together." Please visit our website G-I-Together.ORG and fill out our SURVEY. Every group on Grand Island will have its own FREE web page showing: meeting times and location, contact persons, your Mission Statement and a listing of events. We will also be linking your news events that appear in the local media and on IsledeGrande.Com, Grand Island's E-News Source, to your page, maintaining an archived journal of pictures and news. This is the perfect opportunity for your group to connect with potential new members and the community.
---
---
Other Grand Island Pages to Visit:
Churches | Email Directory | Government | Groups
GIHS Grad List | Guestbook | Please sign in! | Local Artists | Photo Album | Town History | Useful Links
| Website Design | Wildlife | Isledegrande's Home Page | GIECOM.NET'S Home Page
Please Email News Releases to Teddy Linenfelser, Thank You.
This website is sponsored by
GIECOM.NET
1869 Whitehaven Road, Grand Island, New York, 14072-1803 USA


Copyright © 1995-2008 All rights reserved.