Golden Age Center Webpage - 2006

3278 Whitehaven Road
773-9683

Golden Age Center News 2005
Golden Age Center News 2007


Previous Golden Age Center News

Town of Grand Island Website
To E-mail the Golden Age Center

---
OFFICERS 2005

President Gloria Diringer, Vice President Irene Thompson, Treasurer Chris Bihler,
Secretary Dorothy Lew, and Sgt-at-Arms Al Ackerman



Golden Age Club Installs Officers - 2006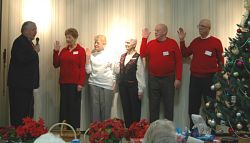 (left) Supervisor Peter McMahon, President Gloria Diringer,Vice President Irene Thompson, Secretary Dorothy Lew, Treasurer Al Ackerman and Sgt-At-Arms Don Forster.
Jodi Robinson Photo - Click for larger view
The Golden Age Center celebrated the Christmas holiday on Thursday, December 21st with a Pot Roast luncheon that everyone raved about. Following lunch, Supervisor Peter McMahon presided over the installation of the new slate of officers for 2007. They are: President Gloria Diringer, Vice President Irene Thompson, Secretary Dorothy Lew, Treasurer Al Ackerman and Sgt At Arms Don Forster. Santa was stopped by following the lunch.




Golden Ager's Decorate For The Holidays - 2006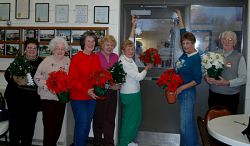 Shown from left are Jane Consier, Nonnie Carroll, Martha Muller, Chris Bihler, Irene Thompson, Gloria Diringer and Hank Carroll
Jodi Robinson Photo - Click for larger view
Members of the Golden Age Center took time after their lunch on Friday, December 1st to make the Center look festive for the holidays.




Senior Volunteers Help Erie County - 2006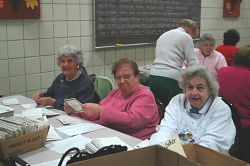 Shown from left are Lil Carpenter, Mary Jane Fancher and Shirley Killian.
Jodi Robinson Photo - Click for larger view
The Retired & Senior Volunteer Program (RSVP) of Erie County is sponsored by the Erie County Department of Senior Services and has over 1100 volunteers. The RSVP members of the Grand Island Golden Age Center volunteered early Friday morning, December 1st by mailing out newsletters for the Journey's End Refuge program.




Holiday Happenings & Open House at Golden Age Center - 2006
A Holiday Happenings & Open House will take place at the Grand Island Golden Age Center, 3278 Whitehaven Road, from 11 a.m. to 3 p.m. Sunday, November 5, 2006. The event is sponsored by the Golden Age Club and will feature crafted items, a baked goods sale and a variety of lunch items (hot dogs, hearty chicken noodle soup, roast beef sandwiches, coffee, tea and soft drinks). Tables may still be available for crafters wishing to sell their work. Call Betty at 773-9682 for information.




Golden Age Tai Chi Class Picnic - 2006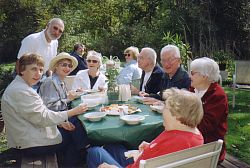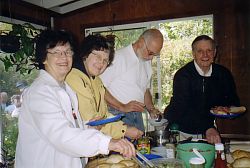 (left) (standing) Elwood Hausler, Betty Burski, Pat Akenbami, Sharon Nichols, Dorothy Lew, Mary Merritt, John Muerle (leader), Norm Gibbon, Gladys Gibbon and Pat Wydra
(right photo) From left are Joyce Neill, Sharon Nassoiy, Elwood Hausler and Don Merritt.
Click photos for larger view.
Lee Tetkowski entertained her Tai Chi class at a picnic at her Whitehaven Road home on Monday, October 2, 2006. Unlike the heavy rain that fell on Tuesday, October 3rd, the day was sunny and beautiful and almost the entire Golden Age Club class attended. John Muerle leads the Tai Chi at the senior center, 3278 Whitehaven Road, on Mondays and Fridays at 9 a.m.




Golden Age Center Improvements - 2006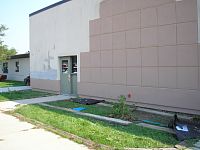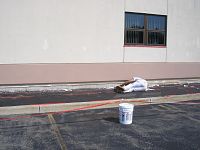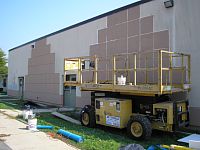 Dan McMahon Photos - Click for larger view
Friday, September 8, 2006 . . .The Golden Age Center at 3278 Whitehaven Road has undergone recent repairs and improvements to the exterior of the buiding, damaged by time and people.




Golden Age Center Members Assist With Tax Bills - 2006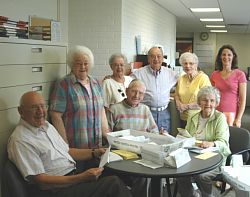 Sitting from left are Ed Kij, Norman and Bertha Matteson, and standing are Nonnie Carrol, June Marble, Ed Maselli, Rose Kij and Pattie Frentzel, in the town hall on Wednesday, August 30, 2006.
Jodi Robinson Photo - Click for larger view
Several members of the Grand Island Golden Age Center spent many hours on Wednesday, August 30, 2006, stuffing envelopes for the residents of Grand Island. The volunteers prepared the school tax bills for mailing, saving the town many dollars. "Residents can expect to see the bills in the mail around the 15th of September," Town Clerk Pattie Frentzel said. The school taxes are due without penalty Monday, Octobear 16th.




Golden Age Center CLOSED FRIDAY - 2006
The Grand Island Golden Age Center, 3278 Whitehaven Road, is CLOSED today, Friday, July 28, 2006 due to water in the building. Members reading this are urged to call and alert their friends who may be planning on attending activities or having lunch there today.




Gram's Garage Sale At Golden Age Center - 2006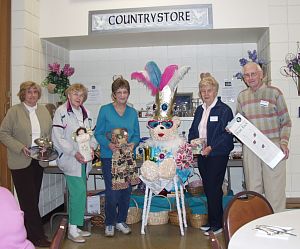 Members of the Golden Age Club getting ready for their annual "Gram's Garage Sale."
Barbi Lare Photo. Click for larger view
Members of the Golden Age Center will hold their annual "Grams Garage Sale" from 9:30 a.m. to 2 p.m. Saturday, June 10, 2006 at the Golden Age Center, 3278 Whitehaven Road. Tables are available to senior citizens at no charge, by calling Betty Clayton, 773-9682. Along with the Garage Sale, senior citizens will hold their annual Bake Sale and weather permitting, there will be a grilled Hot Dog Sale and cold drinks available. A feature of the day will be a special raffle for a "Glamorous Teddy Bear."




Golden Age Center Trips - 2006
The Grand Island Golden Age Center, 3278 Whitehaven Road, offers a New Hampshire trip on September 25-29, 2006. The tour package includes four nights accommodations at Indian Head, four dinners (choice of menu), four breakfasts (choice of menu), Woodstock Emporium, Annalee's Doll Museum, Basket World, Cabot's Creamery, Clark's Trading Post, Fairbanks Museum, Hand Crafter's Barn, Hobo Railroad with lunch, Mt. Washington Cruise with lunch, Maple Grove, Tour of the Mt. Washington Hotel, Cocktail Reception, FREE individual photos for everyone, floor show and evening entertainment. Cost with tipping and gratuities is $645 if 40-45 members sign up for the trip. For more information, call 773-9682 or 773-9683
Macinac Island, Detroit, Frankenmuth, Michigan Trip June 26-30, 2006. 4 nights accommodations including: a night in the Detroit/Dearborn area, 2 nights in Mackinaw City and 1 night in the Frankenmuth area. Package includes 4 breakfasts and 4 dinners, a visit to the world famous Grand Hotel, visit to the Henry Ford Museum, Ferry boat ride to Mackinac Island, horse drawn carriage tour of the Island, city tour of Frankenmuth, visit to Bronner's Christmas Wonderland and a visit to Casinos. Cost if $491. A $50 deposit is required.
August 10th - Harbortowne Belle/Mark Twain Cruise - Rochester, NY. Enjoy a morning visit to the Greece Antique Craft Coop, then board the Harbortowne Belle for a fabulous cruise and entertainment starring Mark Twain. Enjoy a BBQ lunch buffet, followed by a tour and tasting at Casa Larga Vineyards. Departs at 8:30 a.m. and returns at 5:30 p.m.
To take advantage of the trips, you must be 50 or older and join the Golden Age Club at no cost. For more information, call 773-9682 or 773-9683




Gram's Garage Sale At Golden Age Center - 2006
The Golden Age Club's annual Gram's Garage Sale will be held from 9:30 a.m to 2 p.m., Saturday, June 10th, 2006 at the Nike Base Community Center, 3278 Whitehaven Road. Baked goods, grilled hot dogs and, or course, garage sale items will be sold, rain or shine.




Golden Age Center Honors Golden+ Anniversary Couples - 2006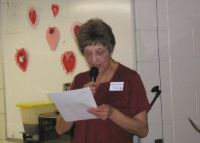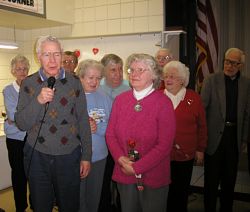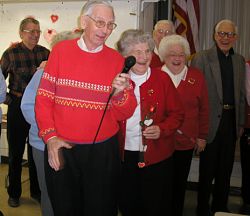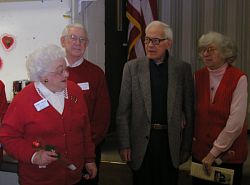 (left) President Gloria Diringer - Art and Caroline Broadway (65 years) - Norm and Bertha Matteson - (right) Nonnie Carroll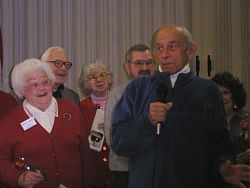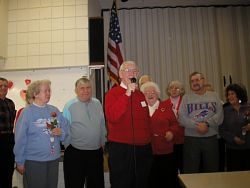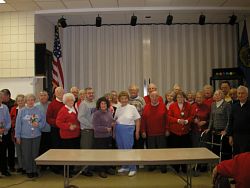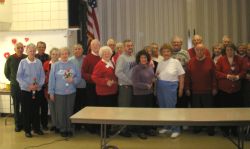 (left) Eddie Piszeczek - Hank Carroll ("When Your Wedding Ring was New") - Group photos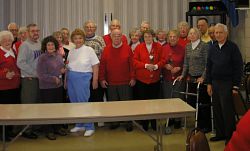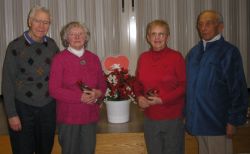 Longest and shortest Married (left) Art and Caroline Broadway and Eddie and Irene Piszczek

Dan McMahon Photos - Click photos for larger view
Valentine's Day at the Golden Age Center was a very special day for 14 couples, all married 50 year or more. Following lunch each couple was introduced and presented with a long stemmed rose. Celebrating the highest number of years married, 65, were Art and Caroline Broadway. Eddie and Irene Piszczek were honored for 51 years of marriage.
Other couples honored were Bertha and Norm Matteson (64 years), Nell and Herm Roberts (61 years), Nonnie and Hank Carroll (59 years), Stella and Don Hess (59 years), Herta and Andrew Krein (57 years), Jeanette and Jim Ray (55 years), Betty and Dick Pachter (54 years), Reta and Lou D'Orazio (53 years), and Barbara and Wilton Kilmer, Ruth and Joe Padlog, Edith and Walt Sutor, Peg and Bill Winterfield (52 years).
The two most common responses from several husbands to the questions of what they thought was their secret for being married as long as they have been, were "I love you" and "Yes Dear." Golden Age Club President Gloria Diringer read a poem about love and Hank Carroll sang a song "When Your Wedding Ring was New." Photos of the honored couples were taken for display at the center.




Golden Age Center Volunteers Assist With Medicare Project - 2006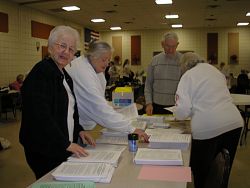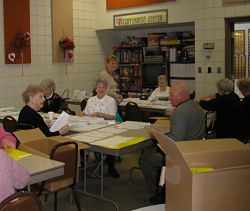 (left) Rose Kij, Lorraine Wilcox, Hank Carroll and Shirley Killian are shown during their January 20th stuffing project to benefit the Medicare Part D Seminars being held throughout the county.
Dan McMahon Photos - Click for larger view
The Grand Island Golden Age Center's RSVP – Retired Senior Volunteer Program volunteers assisted Eric County Senior Services on Friday, January 20, 2006 by stuffing folders to be provided at the various Medicare Part D seminars throughout the county. To date they have provided the county with over 5,000 folders each containing pamphlets, forms, information sheets comparison charts and contact numbers. Other RSVP activities include the stuffing of Town Tax bills, which were mailed out last week.
For a list of Golden Age Center activities offered to senior citizens, 50 years of age or over, click Golden Age Calendar Of Events.




"Mitten Recognition Day" At Golden Age Center - 2006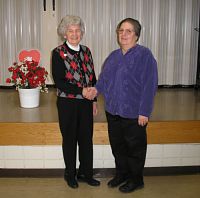 Ninety-seven-year-old Lil Carpenter being congratulated by Betty Clayton of the Golden Age Center
Dan McMahon Photo - Click for larger view
Members of the Golden Age Center recently held their "Mitten Recognition Day" to pay tribute to the ladies who have knitted mittens, hats and scarves for the needy. Over 1000 items were made and distributed to five missions at Christmas time, including the Grand Island Neighbors Foundation. Many women were commended for their efforts, but one, Lillian Carpenter, stands above the rest for her contributions over the years. Lillian, 97 years young, knitted 216 pairs of mittens and 110 hats through November 3rd of last year. A Golden Age Center staff member stated there have been many years when Lillian knitted over 100 pairs of mittens. Along with her knitting, Lillian remains a very active member in the Golden Age Center.
This year's totals for the needy were 1100 pairs of mittens, scarves and hats.




Golden Age Center Members Volunteer At Town Hall - 2006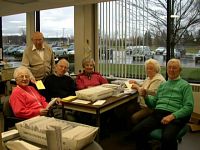 From left are Rose Kij, Ed Kij, Norman Matteson, Bertha Matteson, Nonnie Carroll and Henry Carroll, shown in the town hall on Wednesday, January 18, 2006.
Jodi Robinson Photo - Click for larger view
Several members of the Grand Island Golden Age Center spent many hours on Tuesday and Wednesday, January 17-18, 2006, stuffing envelopes for the residents of Grand Island. The volunteers spent close to 70 hours combined to prepare the town and county tax bills for mailing, saving the town many dollars.




Golden Age Center News - January 2006
The Grand Island Golden Age Center, 3278 Whitehaven Road, offers a daily noon meal, served with one cup of home-made sop, vegetable, potato or other starch, bread, butter and tea or coffee. Cost of the daily lunches is $2 except for the birthday lunches/General Meeting, now $2.50. Meal reservations should be made a day in advance to guarantee a place at the next day's luncheon. Reservations may be made by calling 773-9682 or 773-9683.
The Golden Age Center provides numerous activities including a Computer Club, several different exercise classes, dance classes, crafts, cards, bowling, ceramics, bingo, chorale, trips, parties, transportation (on priority basis) and much more. For the complete list of January events, click Golden Age Calendar Of Events.
The Golden Age Center, located at 3278 Whitehaven Road, is open to Island residents who have reached their 50th birthday. There is no charge to become a member. Barbara Gannon is the Golden Age Center director.


---
If you are a member of this organization, we need your help. GIECOM.Net has partnered with the Connections program to help Grand Island as a community "Get it Together." Please visit our website G-I-Together.ORG and fill out our SURVEY. Every group on Grand Island will have its own FREE web page showing: meeting times and location, contact persons, your Mission Statement and a listing of events. We will also be linking your news events that appear in the local media and on IsledeGrande.Com, Grand Island's E-News Source, to your page, maintaining an archived journal of pictures and news. This is the perfect opportunity for your group to connect with potential new members and the community.
---
---
Other Grand Island Pages to Visit:
Churches | Email Directory | Government | Groups
GIHS Grad List | Guestbook | Please sign in! | Local Artists | Photo Album | Town History | Useful Links
| Website Design | Wildlife | Isledegrande's Home Page | GIECOM.NET'S Home Page
Please Email News Releases to Teddy Linenfelser, Thank You.
This website is sponsored by
GIECOM.NET
1869 Whitehaven Road, Grand Island, New York, 14072-1803 USA


Copyright © 1995-2006 All rights reserved.