Golden Age Center Webpage - 2007

3278 Whitehaven Road
773-9683

Golden Age Center News 2005
Golden Age Center News 2006


Previous Golden Age Center News

Town of Grand Island Website
To E-mail the Golden Age Center

---
OFFICERS 2007

President Gloria Diringer, Vice President Irene Thompson, Treasurer Al Ackerman,
Secretary Dorothy Lew, and Sgt-at-Arms Don Forster





Gram's Garage Sale At Golden Age Center - 2007
Members of the Golden Age Center will hold their annual "Grams Garage Sale" from 9:30 a.m. to 2 p.m. Saturday, May 19, 2007 at the Golden Age Center, 3278 Whitehaven Road. Tables are available to senior citizens at no charge, by calling Betty Clayton, 773-9682. Along with the Garage Sale, senior citizens will hold their annual Bake Sale. A Hot Dog Sale/cold drink ($2) will be available.




Golden Age Center Travel/Trips - June/August/October 2007
The Grand Island Golden Age Center, 3278 Whitehaven Road, open to Island residents 50 years of age or older, lists the following trips:
• June 24-29 - Maine - Cost $670
• August 20-24 - Quebec - Cost $535
• October 1-4 - Washington, D.C. - Cost $425

• Maine - June 24-29, 2007 - Cost $670 - Included is 5 nights accommodations: 1 night in the Salem, Maine area, 3 nights on the Central Coast of Main and 1 night in Vermont at the Cortina Inn & Resort or similar. 5 breakfasts, 5 full dinners, including a lobster dinner, Tour of Salem, visit to Freeport, visit to the Main Lighthouse Museum, a visit to Mount Battie, a stop at the Maine Prison Store, Visit to the Farnsworth Museum, tour of Acadia National Park, a visit to Bar Harbor, a visit to Woodstock, Vermont, a tour or Sugarbush Cheese and Maple Farm, baggage handling, hotel taxes, and meal gratuities.

• Quebec - August 20-24, 2007 - Cost $535 - 5 days, 4 night accommodations including: 2 nights in Montreal, 2 nights in Quebec, 4 breakfasts, 4 dinners, an evening at the Casino de Montreal, a city tour of Montreal, visit to Old Montreal, view of St. Joseph's Oratory, a tour of Notre Dame Cathedral, a tour of Quebec City, visit to Old City of Quebec, visit St. Anne de Beaupre Basilica, view Montmorency Falls, a visit to the Quebec Experience, visit to the Copper Museum, all baggage handling, hotel taxes and meal gratuities.

• Washington, D.C. - October 1-4, 2007 - Cost is $425 and will include 3 nights accommodations, 3 breakfasts, 3 dinners including a Dinner Show. Guided city tour of Washington, D.C. to include: The White House, US Capitol, Lincoln Memorial, Jefferson Memorial, FDR Memorial, Korean War Veterans and Vietnam and World War II Memorials, Washington Monument, visit to the Smithsonian Institute and a visit to Ford's Theater. All baggage handling, hotel taxes and meal gratuities are included.
The Golden Age Center is open to Grand Island residents 50 years of age or older. Golden Age Club activities, including daily lunch. The above mentioned trips are for Grand Island residents, 50 years or older. Stop at the Golden Age Center, 3278 Whitehaven Road or call Director Barbara A. Gannon at 773-9682 for more information.
In order for a trip to take place, there must be 36 participants.




Gas Leak Closes Golden Age Center - 2007
When a gas leak was detected on Monday, March 19, 2007 at the Golden Age Center, the building was evacuated. Due to the fact that Golden Age Center Director Barbara Gannon was not given a date to reopen safely, it was decided that the center would be closed on Tuesday and Wednesday and was re-opened on Thursday, March 22, 2007. According to Mrs. Gannon, there will be no lunch service Thursday and Friday (March 22-23). "We have heard from many of the seniors and told them to continue to call us for updates," she said. "There was always someone at the center to handle phone calls and medical transportation, as well as grocery shopping," she said.
The problem with the gas line caused there to be no heat in the building. Town Parks and Recreation Director Linda Tufillaro said, "Thanks to National Fuel and MJ Mechanical, we are up and running again." Complete replacement repairs are to be made in late spring/summer when the demand for gas is down, she said.




Golden Age Travel Club Meeting Date Change - 2007
The Golden Age Center Travel Club will meet at 10:45 a.m. Monday, February 26, 2007 at the Center. The original date has been changed.




Lillian Carpenter Turns 99 Years Young! - 2007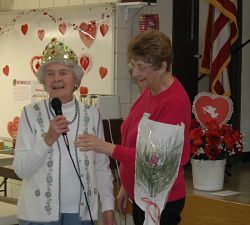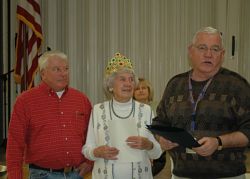 (left) Lillian Carpenter with Golden Age Club President Gloria Diringer.
(right) Councilman Gary Roesch, Mrs. Carpenter and Supervisor Peter McMahon.
Jodi Robinson Photos - click for larger view
The members of the Grand Island Golden Age Center helped Lillian Carpenter celebrate her 99th birthday on Friday, February 23rd. She has been a very active member of the center for 35 years. Town Supervisor Peter McMahon and Councilman Gary Roesch were on hand to make a proclamation that February 23, 2007 is officially Lillian Carpenter Day.




Golden Age Center Seeks Chess Players - 2007
The Golden Age Center is seeking chess players of all levels to play on Friday mornings at 9 a.m. at the Center at 3278 Whitehaven Road, Grand Island. For more information call Ray at 773 3449.




Golden Age Center Members Assist With Tax Bills - 2007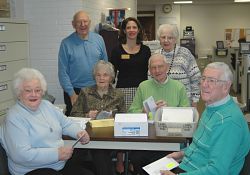 Shown stuffing envelopes on Wednesday, January 10, 2007 are (seated) Nonnie Carroll, Bertha and Norman Matteson, Hank Carroll; (standing) Ed Kij, Pattie Frentzel and Rose Kij.
Jodi Robinson Photo - Click for larger view
For the past few years a group of Golden Age Center members have assisted the Town of Grand Island at tax time. The die-hard group shows up in early fall and early January to stuff thousands of envelopes over two days. Town Clerk Pattie Frentzel would like to remind everyone that a new service is available to pay your taxes online and that a service charge does apply. Go to the town website and click on the Online Tax Receipts & Payments button.


---
If you are a member of this organization, we need your help. GIECOM.Net has partnered with the Connections program to help Grand Island as a community "Get it Together." Please visit our website G-I-Together.ORG and fill out our SURVEY. Every group on Grand Island will have its own FREE web page showing: meeting times and location, contact persons, your Mission Statement and a listing of events. We will also be linking your news events that appear in the local media and on IsledeGrande.Com, Grand Island's E-News Source, to your page, maintaining an archived journal of pictures and news. This is the perfect opportunity for your group to connect with potential new members and the community.
---
---
Other Grand Island Pages to Visit:
Churches | Email Directory | Government | Groups
GIHS Grad List | Guestbook | Please sign in! | Local Artists | Photo Album | Town History | Useful Links
| Website Design | Wildlife | Isledegrande's Home Page | GIECOM.NET'S Home Page
Please Email News Releases to Teddy Linenfelser, Thank You.
This website is sponsored by
GIECOM.NET
1869 Whitehaven Road, Grand Island, New York, 14072-1803 USA


Copyright © 1995-2007 All rights reserved.