Huth Road Elementary School News Web Page

1773 Huth Road
773-8850

Huth Road Elementary School Website

Principal
Mary E. Haggerty
---



Early Christmas Presents From Huth Road PTA - Dec. 2003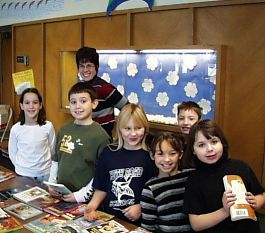 Students pick out books with PTA Volunteer Amy Garten
Jodi Robinson Photo
Volunteers from the Huth Road PTA helped children select a free book on December 18 and 19, 2003. The program is sponsored in part by the PTA and the New York State RIF (Reading Is Fundamental) program. RIF is the nation's largest nonprofit children's literacy organization.


---



Huth Road Fifth Graders Enjoy Each Other's Traditions - Dec. 2003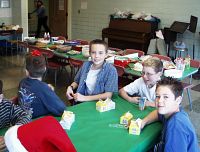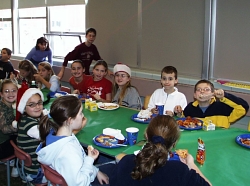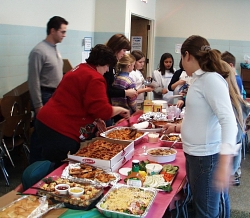 Jodi Hayes Robinson Photos
Four of the five fifth grade classes at Huth Road participated in a buffet luncheon based on the students' family traditions. The lunch was held on Monday, December 22, 2003. A diverse fare included lots of Italian items such as pasta and meatballs, pizza, lasagna and gnocchi. Other offerings were a large submarine sandwich, salad, sausage, ham, turkey, stuffing, pierogi and pomegranate seeds. The desserts filled two large tables and included plum pudding along with Christmas cookies and cakes. The students, teachers and parent volunteers all enjoyed trying each other's traditional foods.




Huth Road Student Service Club Very Active Group - 2003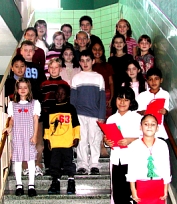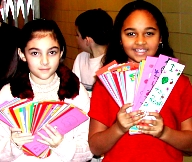 Kathleen Ganz Photos - Click left photo for larger view
Huth Road Elementary School's Student Service Club, made up of about 50 fourth and fifth graders, raises money and coordinates collections for needy people in the area.
This year the Club adopted the Bilingual Early Childhood Center on the recommendation of Huth Road Principal Mrs. Mary Haggerty. Huth Road collected 315 books and made bookmarks as holiday presents for the children at the school. All of the books were wrapped by the Service Club one day after school, and 16 students from the Club were randomly selected to go with Club coordinators Mrs. Jennifer Kropidlowski and Miss Roseanne Russo on December 16, 2003 to deliver the books to the Buffalo school.
"We were able to attend their holiday program, which was adorable," Mrs. Kropidlowski said. "It was neat because it was both in English and Spanish, as most of the children who attend that school are of Puerto Rican heritage. The children who attended with us were amazed to see the differences between our school and the Bilingual Early Childhood Center," she said. The principal of the Bilingual Early Childhood Center invited the Grand Island group back to visit again. In the meantime, the coordinators are planning on working on a project with the Service Club in January when the members will be making bilingual learning games (ie. colors, shapes) for each classroom in the school. "We will go with another group of students to deliver them sometime in February or March," Mrs. Kropidlowski said.


---



Bookmark Club Breaks Record, Raises $325.50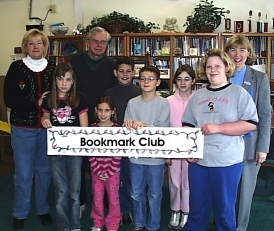 Faculty member Kathy Brown, Neighbors Foundation President Henry Kammerer, Bookmark Club and Principal Mary Haggerty
Photo and Story by Jodi Robinson
The Bookmark Club, in its second year, raised $325.50 to give to the Neighbor's Foundation. The bookmarks were sold at the school and churches of members. Foundation president Henry Kammerer met with the students on Friday, December 19, 2003 to accept their check. The money will be used to buy paper products and turkeys or hams for the 55 families being helped this year. Club members are Kaitlyn Rose, Alie Cook, Justine Call, Sarah Webb, Ryan Thompson and founder of the club, Chris Rose. Members Melanie Thompson and Ivey Spier attend other schools.


---



Huth Road Elementary Spreads Goodwill - December 2003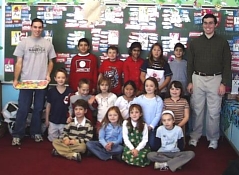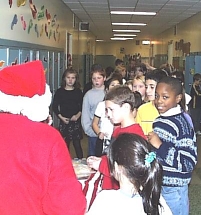 3rd Grade class with (left) Steven and Michael Pfetsch. Cookie buyers line up.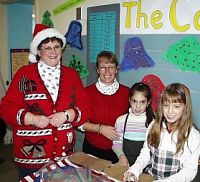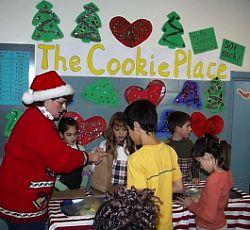 Kathy Hoppel and Diane Lipp with student salespeople.
Photo and Story by Jodi Robinson
Huth Road School students and teachers have been very busy this holiday season making other people happy. Mrs. Diane Lipp's third grade classroom started by adopting a family through the Neighbors Foundation. Their family has two boys, two and four years old. Presents were bought and the students wrapped the gifts and donated food items. The next project was a cookie sale with all the proceeds again going to the Neighbors Foundation. Mrs. Lipp and volunteer parents are making hundreds of cut-out cookies which are being decorated in the classroom with donated sprinkles and frosting. Steven and Michael Pfetsch, older brothers of a student, came in on Tuesday, December 16th to help decorate. They are home from college and their mom donated their services. The cookies are being sold for 50 cents each in the hallway, and so far have sold out each day. Over 400 cookies were sold as of Tuesday morning (Dec. 16, 2003)!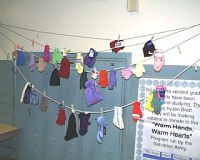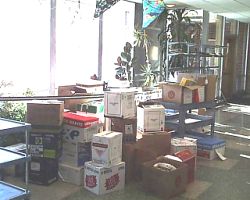 The Mitten Collection Donated food and toys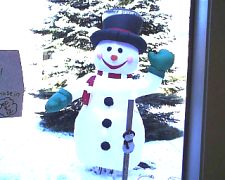 Snowman in the courtyard.
Many other wonderful projects are taking place at Huth. Members of the Service Club, advised by Jennifer Kropidlowski and Roseanne Russo, collected, wrapped and delivered over 300 books to the Bilingual Early Childhood School in Buffalo. Some second grade students have been reading and studying "The Mitten," a story written by Jan Brett. They are collecting new mittens and hats to be donated to the Salvation Army's "Warm Hands, Warm Hearts" program. There is also a "Food For Friends" drive where food and toys are being collected for the Neighbors Foundation.
Fourth grade student Nathan Kulak of Jennifer Kropidlowski's class thought the school needed an inflatable snowman for the courtyard. He asked for 25 cent donations and before too long there was a smiling snowman set up.


---



Huth Road D.A.R.E. Graduation - December 2003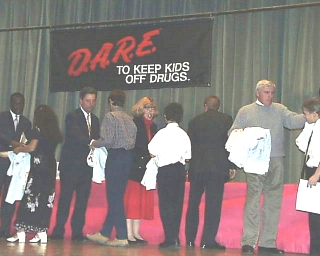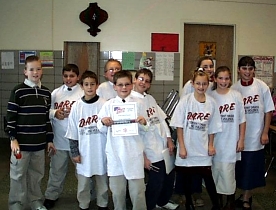 Photo and Story by Jodi Robinson
110 fifth grade students graduated from the Erie County Sheriff Department's Drug Abuse Resistance Education (D.A.R.E.) class at Huth Road School on Tuesday, December 9, 2003. The premise of the program is "teaching kids to never take drugs." The class is a ten-week program at which Deputy "Bob" discusses drug, alcohol, tobacco and violance avoidance. Requirements include writing an essay and signing a pledge. One student from each class was voted by their peers as writer of the best essay. Andrew Yockey, Aman Cheema, Nick Kellner, Katie Rustowicz and Melina Lombardo read their essays at the ceremony and received a ribbon, water bottle and gym bag for their efforts. Nick Kellner's essay was so well liked by Sheriff's Department officials that it will be posted on the Department website!
Each of the graduates received certificates from the Erie County Sheriff Department, the Erie County Legislature, the New York State Assembly and Senate. The graduates also received t-shirts, pens and rulers with the D.A.R.E. logo. In attendance were Grand Island School Superintendent Dr. Thomas Ramming, Deputy Town Supervisor Richard Crawford, County Legislator Charles Swanick, State Assemblyman Sam Hoyt and State Senator Byron Brown, along with proud parents, grandparents and siblings.


---



PTA Sponsored Glenn Colton Day - November 2003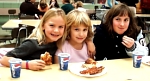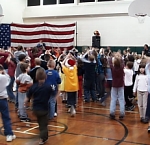 Jodi Robinson Photos - Click for larger view
The Huth Road Elementary PTA sponsored Glenn Colton Day on Tuesday, November 25, 2003. The children were entertained by Mr. Colton at two separate concerts during the day, through the use of live music, humorous props, short stories, kids on stage, movement and visual aids. Glenn has been performing since 1992 and has given over 3000 concerts over the years. He has taught elementary school, so he understands this age group very well.
In the evening, parents and children were invited back to school to enjoy pizza and a Family Sock Hop.
All the kids and lots of parents were dancing to a variety of "sock hop" tunes including At The Hop, The Twist, The Limbo, Great Balls Of Fire, and more in the gymnasium. The conga line was so large it had to be taken out in the hallways and back around to the gym. Thanks to the Huth Road School PTA, everyone had a great time!




Huth Road Students Invited To Audition For Stage Play - 2003
Auditions for the St. Stephen's Parish Players children's production, "Hound of the Clackervilles," are being held at St. Stephen school from 3-5 p.m. Wednesday, December 3, 2003 and from 6-8 p.m. on Thursday, December 4th. The stage play, produced by St. Stephen's Parish Players, is a mystery and a comedy! Children in grades 3 through 12 from all Island and off-Island schools, including Huth Road Elementary, are welcome and encouraged to audition.
No prior acting experience is required. For a copy of the script or for more information, call Linda Burkhart at 774-0447.


---



Channel 2 Film Team Visits Huth Road Elementary - 2003
Channel 2 made a visit to the Huth Road Elementary School on Wednesday, November 5, 2003 to interview Carol Jones, Director of Pupil Personnel and Principal Mary E. Haggerty, regarding how the school accommodates students with food allergies.
Instructed to use only wide shots without close-ups of particular children, the film team shot several scenes of the students in the cafeteria. The children, of course, were delighted to see the cameras and Mrs. Haggerty said she was proud to say that they behaved themselves very well. The film team was very impressed with how respectful and polite the children were and how positively the food allergy issue is addressed in Huth Road School.
The story on food allergies wil begin running November 17, 2003 on the 5 p.m. news show on Channel 2.


---



Huth Elementary Third Graders Dress "Wacky" For Halloween - 2003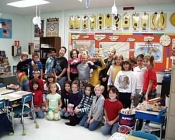 Jodi Robinson Photo
The third graders at Huth Road School continued a tradition this year by dressing "wacky" for Halloween. There were silly hair-do's, upside-down and backward clothing, pajamas and crazy jewelry and hats spotted. Shown above is Mr. Bob Banks' class being "wacky." The students made their own masks out of paper grocery bags that were decorated with items brought from home. The winner of the mask contest was Jacob Zimmerman who was awarded a very large chocolate bar.


---



Huth Rd. 4th Graders Visit Fort Niagara - October 2003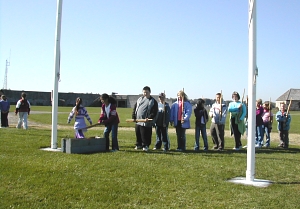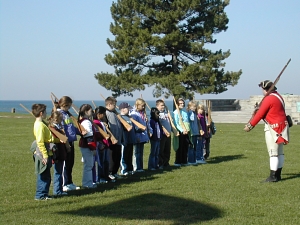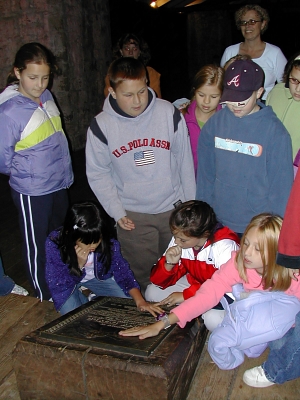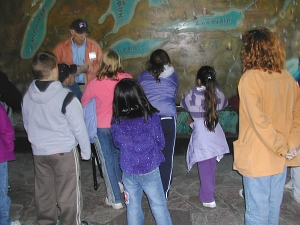 The 4th grade classes of Mrs. Kaspryzk and Mr. Luzi spent a beautiful indian summer day at Old Fort Niagara on October 8, 2003. Tour guides former Grand Island School District Biology Teacher Toby Jewett and Mrs. Elaine Kasprzyk provided a wealth of information for both students and parents! The children actually had the opportunity to re-enact life as a soldier with re-enactor Brian McClellan.




Meet The Lunch Ladies - 2003




Martha Rager Muller, cook-manager, Huth Road School,
is shown next to her brand new stove and with her "crew."
Click photos for larger view.
Story and Photos By Jodi Robinson
Martha Muller and her kitchen crew were presented with new kitchen attire last week in honor of "National School Lunch Week." Principal Mary Haggerty gave the staff decorated chefs hats to go along with the aprons they received last year at this time. Mrs. Haggerty really appreciates the efforts of Mrs. Muller and her staff. "Martha is the 'best cook' and will do anything to accommodate the kids," she said.
Martha moved to the western New York area from Pennsylvania in 1958 when her brother found her a job at the Dupont mailroom. She lived in Buffalo, met her husband, Jack (now deceased), and moved to Grand Island's Sandy Beach area in 1969. In 1971, after being a homemaker for a number of years, Martha started as a food service helper at Huth Road School, working three hours a day. It was a convenient place to work, her three children went to Huth Road and she could walk over. Over the years Martha became the baker and well over 10 years ago became the cook-manager. She now works a schedule of 7:30 a.m. to 2:30 p.m. but comes in early and stays late to get the job done. Martha mentioned that she has an excellent crew that she is proud of and enjoys working with. Five employees take care of two cafeterias and serve 300+ lunches per day. The staff was larger when dishes were used. Now the children have separated trays. The favorite lunches include stuffed crust pizza, personal pan pizza and brunch for lunch. Martha's favorite item to make at school is the spaghetti sauce. She gets a kick at the kids' pronunciation...basghetti, pasghetti etc. Martha says that she is pleased with the manners of most of her students. She hears a lot of please and thank you's and lets them know she appreciates it. Breakfast is becoming more popular at the school, and for 75 cents the students get cereal, a baked good, juice, milk and also get to talk with their friends.
Martha has had thoughts of retirement but someone keeps talking her out of it. When she is not at work, walking an hour every day and a love of square dancing keeps her in great shape. She doesn't cook much at home anymore but every Tuesday her daughter and grandson come for dinner and favorites include porkchop recipes. Martha's other children live at opposite ends of the country, a son in Portland, Oregon and a daughter in eastern New York State. With over 30 years at Huth Road School, she still enjoys her work.


---



Huth Road Second Graders Walk to Pumpkin Patch - October 2003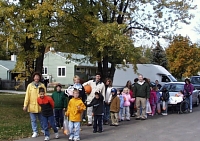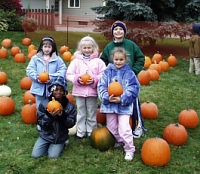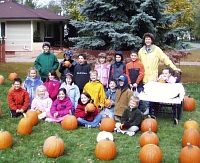 Jodi Robinson Photos - Click each photo for a larger view.
Second grade teacher Beth Boron is shown above with her students on their pumpkin adventure. All the second grade classes took turns on Friday, October 17, 2003 visiting the Holka Family pumpkin patch on Warner Drive. The students walked from school to pick out their very special pumpkin and then were treated by Jessie and Becky Holka to cider, donuts and a piece of indian corn to take home with them.


---



Mills Family Juggles For Huth Road Students - October 2003








Jodi Hayes Robinson Photos - Click each photo for a larger view - note the puppy in last photo.
The Huth Road PTA is to be thanked for the wonderful assembly presented Thursday, October 16, 2003. The Mills Family from Marion, Ohio juggled balls, pins and even a student during the morning assembly. They also rode unicycles, a double wheeled unicycle, and performed many balancing tricks. The family consists of dad Steve, a 3-time national juggling champion; mom Carol, who is a national unicycle champion; 17-year-old daughter Michelle, a 3-time junior national unicycle champion; and 12-year-old son, Tony. It was interesting to the students to hear that the talented children are home-schooled except for a three year period when son Tony was in third-fifth grade. In those three years, Tony had all A's and was an honor roll student.
Steve, at times, balanced a bike on his face, juggled two balls and a student, unicycled with the family's toy poodle, "Snowy," balanced on a platform and also unicycled with both his son and daughter on his shoulders. The rest of the family is equally as talented in juggling and unicycle riding. The students of Huth Road Elementary certainly had an exciting start to their day.


---



Huth & Kaegebein School Teachers Walk For Breast Cancer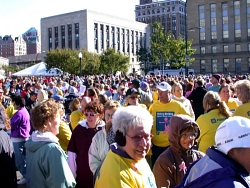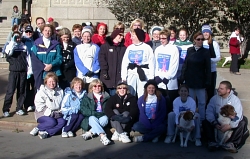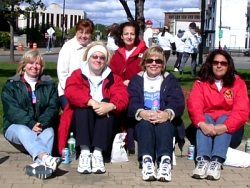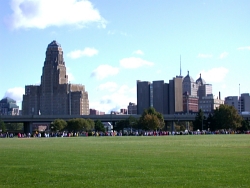 Bob Kopf Photos - Click each photos for a larger view.
The Breast Cancer Walk along the downtown Buffalo waterfront took place Sunday, October 5, 2003 and Grand Island was well represented. Teachers from Kaegebein and Huth Road elementary schools joined thousands of walkers on the slightly chilly and windy day and all for a great cause.




Puppets Visit Huth Road Auditorium



Click photos for larger view.
Jodi Hayes Robinson Photos
The Zadecki Puppet Theater visited Huth Road Elementary School on Thursday, September 18, 2003. The two young puppeteers, Matt and Justin, entertained the audience for forty minutes, thanks to the Huth Road PTA. In the story, a group of students signed up for an after school class called "Adventures in Science." The puppet students traveled through time to Kansas where they met a talking cow. The puppet students also visited prehistoric earth, a classmate's bloodstream, and took a trip to the moon. At all of these destinations, the Huth Road students learned principals of science and at the end that it was a trip through the imagination. The clever storyline was enjoyed by all.




Volunteers Help Smooth Rocky Start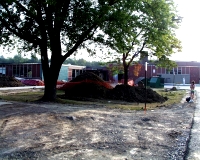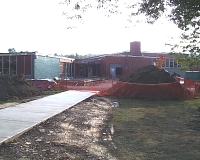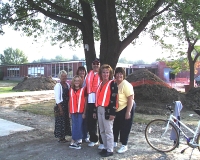 Safety patrol volunteers who have been monitoring the Huth Road Parking Lot since the second day of school are (left) Joanne Hugill, Carol Zimmerman with daughter Rebecca in front of her, Tom Petz, Judy Tafelski and Sharon Petz. Jodi Robinson Photos - Click for larger view
The major construction project at Huth Road Elementary, which includes an addition, floor replacement, and a new and larger parking lot, made for a rocky start to the 2003-2004 school year. The poor weather over the summer is to blame for the construction delay. Students who walk to school are the most affected as there are no sidwalks in spots, rough drop-offs from the sidewalk that is in place and the fact that construction vehicles are moving about during arrival of students. Carol Zimmerman, a resident in the immediate neighborhood, spearheaded a volunteer adult safety patrol of neighborhood parents after seeing conditions on the first day of school. Progress is being made, but it will be a while before construction work is finished. Volunteers are needed from 8:15-8:35 a.m. daily until the sidewalks are completed. Those interested in volunteering may contact Jodi Robinson.


---



Huth Road Moving-Up Day - 2003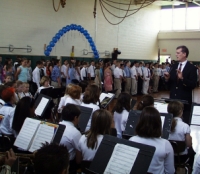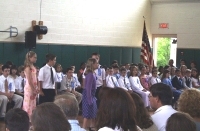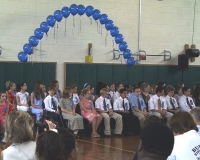 Jodi Hayes Dodd Photos - Click for larger view
The 5th graders at Huth Road School were celebrated at the Moving-Up Day ceremony on Friday, June 20, 2003. As the Huth Road Band played "Pomp & Circumstance," the departing class entered the gym proudly. Awards, recognition of special achievements, the H-pin awards and presentation of the class gift followed. Good luck to all the students heading into 6th grade.




Some Fun At Huth Road Field Days 2003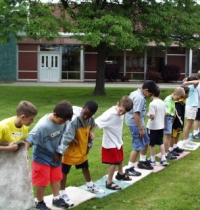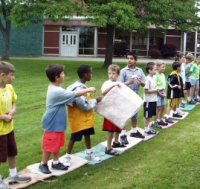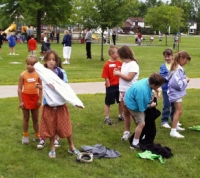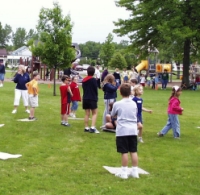 Huth Road - Second Grade Field Day - June 2003
Jodi Hayes Dodd Photos - Click photos for a larger view.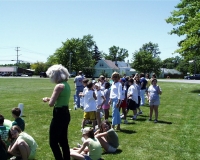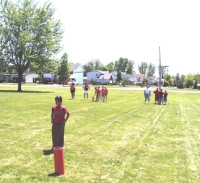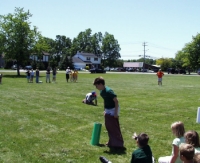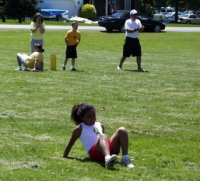 Huth Road - Fourth Grade Field Day - June 2003
Jodi Hayes Dodd Photos - Click photos for a larger view.
---



Miss Tweedy's Second Graders Perform "Sideways Stories"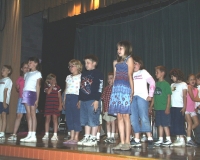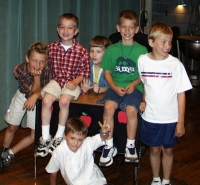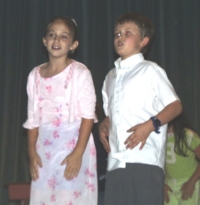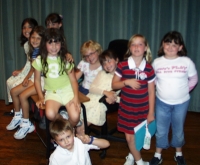 Jodi Hayes Dodd Photos - Click For Larger View
The second grade class of Miss Melissa Tweedy performed a crazy, three act play on Monday, June 16, 2003. The play, "Three Sideways Stories From Wayside School," takes place at a school that was mistakenly built vertical, one class on each floor, with the 19th floor missing. Strange and silly events happened to the students and teachers of this school. Cole Smith began the play by singing the National Anthem accompanied by music teacher Miss Robin Crowden.


---



Kiss 98.5 Visits Mrs. Redlinski's Third Grade Class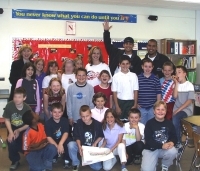 Jodi Hayes Dodd Photos - Click For Larger View
Third grade teacher Mrs. Frances Redlinski was surprised when she heard that the Kiss 98.5 radio station Street Team was going to visit! It all started when the class was given an assignment to send a business letter. Student Lynne Huffnagle sent a letter to Kiss 98.5 and for her efforts, the Kiss 98.5 Street Team of Miguel and Kevin brought Krispi Kreme Doughnuts and autographed pictures of the morning team. There was lots of excitement for Mrs. Redlinski and her students first thing in the morning last Thursday, June 5, 2003.


---



Maelstrom Percussion Ensemble "WOWS" Huth Road Students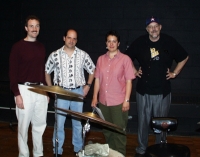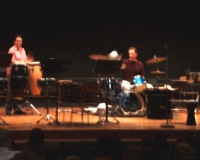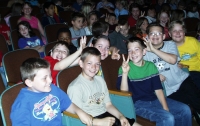 Jodi Hayes Dodd Photos - Click For Larger View
The Huth Road PTA on Wednesday, June 4, 2003 sponsored the Maelstrom Percussion ensemble for an all-day residency. The four very talented, professional musicians in "Maelstrom" showcase music and instruments from Asia, Africa, Latin America and the latest in modern percussion. Two morning assemblies were performed for the Huth Road School student body.
Especially exciting were the workshops held in the afternoon when all Grand Island district percussionists in the fourth through twelfth grades were invited to work directly with the Maelstom musicians. The first session was for the 4-6 grade students and the second session was held for 7-12 graders. This was a very special opportunity for the percussionists to receive guided, hands-on experience with a variety of instruments, styles and teachers.


---



Huth Road Elementary Second Graders Learn About Careers




Jodi Hayes Dodd Photos - Click For Larger View
As part of Mrs. Elizabeth Diliberto's second grade social studies curriculum, the class has been learning about jobs and careers, the responsibilities and duties of a variety of careers, the education needed, tools used and clothing worn. The class recently participated in a jobs and careers presentation. Each student chose a job they may want to do when they are older. They had several weeks to prepare, and then did an oral presentation, dressed in their career "costume" and told the students and parents about what was involved in that particular job.
The class also had several relatives come in to tell about their jobs. Visitors included a lawyer mom, a social worker mom, an engineer dad and an art teacher dad. Uncle Harry Carter was visiting on Thursday, June 5, 2003 to tell about his jewelry designing career. Mr. Carter showed the students the process of jewelry design from start to finish, describing how the designs are drawn, molds made, wax poured, and finishing. The children especially loved to see the stones that were brought in.
Meanwhile, out in the circle, one of Mrs. Diliberto's students was diligently reading with volunteer Sarah Tollner. The second grader was reading "Cats Wild Cousins." She usually reads animal books, and cats are a particular favorite.


---



Huth After School Pajama Party - 2003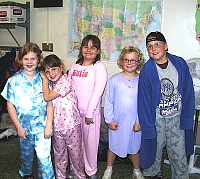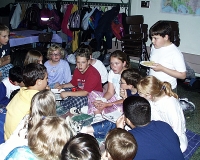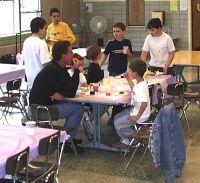 Jodi Hayes Dodd Photos - Click For Larger View
The Huth Road Elementary After School "Y" Program hosted a family get together on Tuesday, May 20, 2003 by staging a pajama party. This is an annual event with a different theme each year. Parents of the students received a handmade invitation made during "Y" which featured a drawing of pajamas on the cover. Many students and some parents wore their P.J.s and robes while they enjoyed the delicious buffet of snacks and listened to ghost stories told by some of the students.




Huth Road Students Visit With Professionals From India


Kathleen Ganz Photo - Click For Larger View
A Rotary Group Study Exchange team from India visited Huth Road Elementary School to learn about education in America. The group stopped in at the school's library-media center to talk with the children, who showed them part of their collection of books about India. With the children, from left, are Noel Britto, Mayur Jhala, Naresh Gandhi, Hiral Dholakia, library-media specialist Vinnie Passanese and Huth Principal Mary Haggerty.
A group of professionals from India and the children at Huth Elementary School learned a bit about each other during a recent visit to the school.
Four men and women from India, visiting the United States as part of a Rotary International Group Exchange Study, stopped at the school to see how an American elementary school is run.
A Group Study Exchange consists of a Rotarian as a team leader, who accompanies a group of professionals who travel to a foreign country to learn about how their job is conducted in another part of the world.
John Harbison Jr., a member of the Grand Island Rotary Club and District 7090's World Community Service chairman, accompanied the group to Huth, where they were met by Principal Mary Haggerty, who is also a Grand Island Rotarian.
The visitors spent time discussing the similarities and differences in the education policy and practices of India and New York State. Mrs. Haggerty said they were impressed by the level of knowledge the students possessed in science and mathematics.
They also visited the school's library media center, where the children were eager to tell them about American school libraries. Members of the GSE team were:
Team leader Naresh Gandhi, a mechanical engineer who owns two chemical firms in India.
Mayur Jhal, a Ph.D in veterinary microbiology, who specializes in virology and does research on major viral diseases of livestock.
Hiral Dholakia, a feature writer and copy editor at The Times of India.
Noel Britto, a physician who works as a consultant anesthesiologist who is involved in health programs and health services.




"Fourth Grade and Friends Bake Sale" - Huth Road Elementary School 2003
April 17, 2003 . . .The Huth Road Elementary School will sponsor a "Fourth Grade and Friends Bake Sale" on Thursday morning, May 1, 2003 to benefit one of the students' parents who needs help. Genelle Shanor, whose children, Aren and R.J. are students at Huth Road, is waiting for a kidney donation. In the meantime, her medical expenses are very high.
"So we wanted to do something to help," a spokesman from the school said this week. The fourth grades will hold the bake sale in the morning, and then in the afternoon, the proceeds from the sale will be presented to Mrs. Shanor's cousin, Baby Joe Mesi, at a school assembly. Mr. Mesi works tirelessly for many community causes, but at the top of his list is working for people who need organ donations.




Huth Road School Talent Show - 2003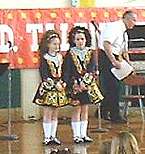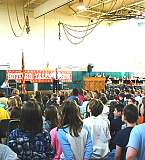 From left are Mrs. Chapin's 4th grade (Ain't No Mountain High Enough), vocal group (Rebecca Zimmerman, Nikki Zimmerman, Danielle Wegrzyn, Kristin Wegrzyn) singing "Sisters" from "White Christmas," Huth Road Jazz Band, performers in the audience, Irish dancers, MC third grade teacher Robert Banks
Click photo for a larger view.
Huth Road Elementary School's annual talent show took place on the school stage Friday afternoon, April 11, 2003. The 28 acts began with student Sarah Dolan singing the national anthem with musical accompaniment by Ashley Rutland on the oboe. Other acts in the show that dates back 30+ years included singing, modern dance, Irish dancing, the Huth Road Jazz Band playing "Watermelon Man" and "Spinning Wheel," a Karate demonstration, and baton twirling. Program cover design was the artwork of Joe Fischer.




Historical Society Hosts 4th Grade Grand Island Tour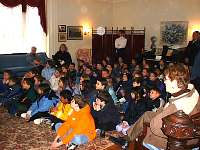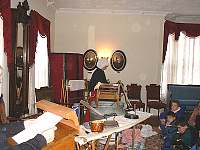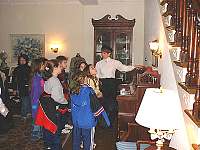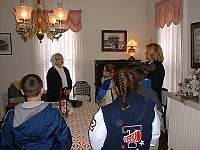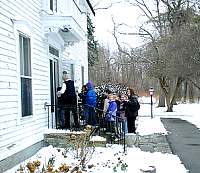 Shown are Huth Road School students in the 4th grade classes of Mrs. Barbara Fontana, Mrs. Pat Chapin and Mrs. Elaine Kasprzyk.
Jodi Hayes Dodd Photos Click photo for a larger view.
Every year the town's fourth grade classes study the history of Grand Island and then are treated by the Grand Island Historical Society, to a bus tour of its historical sites. Society member Maggie Gushue serves as chairman and Mary Cooke is bus tour coordinator. First to make the tour on Tuesday, April 8, 2003 were the Huth Road School students. This year's event began with a visit to River Lea in Beaver Island State Park. Society docents described what life was like in the mid-1800s as the children toured the home. The next stop on the tour was to historic Ferry Village. The students traveled past Tucker's Store, the last remaining "general store," the Bedell House site, the old ferry landing, Davern House and Davern's Tavern, which is now the Niagara River Station Fishing Club. Also mentioned was the Staley House, home of the first island telephone switchboard and the fact that Ferry Village at one time had its own gas well, sewer system and water tower.
The next destination was the Holiday Inn area at the east end of Whitehaven Road. Along the way the last remaining ice house was viewed at the old Rumsey farm on East River Road. The ice was taken from the river in the winter and would last until the summer in the specially designed house. At the Holiday Inn, the students were told of two historic events. The first was Ararat, the Jewish city of refuge that never came to be. The second was the Whitehaven Settlement, Grand Island's first industrial development established in 1834. All that remains of the settlement today is the smokehouse, saved when the Holiday Inn was built in the early 1970's.
The last stop was to view the smokestacks jutting out of the water just off shore at East River and Kirkwood Drive. These stacks belong to the SS Corona, a wooden steam-powered ship built in 1869. This ship transported passengers and freight for many years on Lake Michigan and Lake Erie. A fire broke out on November 18, 1898 and the Corona burned to the waterline and sank.




2nd Graders Tour The Town







Click photo for a larger view.
Jodi Hayes Dodd Photos
The second graders from Huth Road School toured the town on Tuesday, April 8, 2003. The classes visited the Library, Town Hall, the Grand Island Fire Company and the Grand Island Small Animal Hospital. At Fire Headquarters, Firefighters Norm Mrkall, Ray Pauley, Tammy Jo Gorman and Bob Cleveland gave a tour of the trucks, the EMT room, and the rest of the hall. A special tour of the Fire Company's dispatch office was given by Mrs. Roseanne Krause, the on-duty dispatcher. The students were very interested to learn exactly what happens when 911 is called.




Art Experience - Quilted Paintings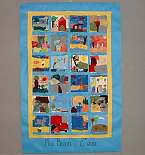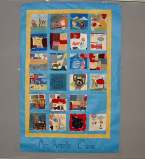 Click photo for a larger view.
Jodi Hayes Dodd Photos
Second grade students at Huth Road Elementary created their own story quilt square in the style of the artist, Faith Ringgold. Ringgold is a world renowned African-American artist known for her quilted paintings. Each square tells the story of the student's favorite place, real or imaginary. Students also created a name for their favorite place square. Each square makes up part of their "Class Quilt."




Mystery Faces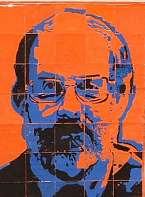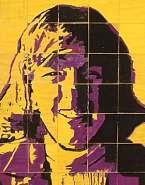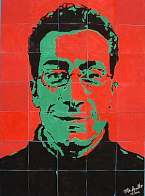 From left: Mr. Peter Sloan, Mrs. Mary Haggerty, Mr. Annello.
Jodi Hayes Dodd Photos - Click photo for a larger view.
The fifth graders at Huth Road Elementary School under the direction of art student teacher Mr. Anello, Buffalo State Fall 2002 created the faces above. The art project was called "Mystery Faces" because the students did not know who they were working on until it was completed. The students began by voting on a color scheme to use for their picture. Each photo was separated into 35 larger squares and painted. As the pieces were completed, they were put on the grid.
This lesson was inspired by the artist Chuck Close, who painted large portraits of himself and those people who were important to him. An interesting fact about Mr. Close is that he had trouble concentrating, so he developed a grid technique that helped him focus on smaller sections of a painting. He began by drawing a grid over a photo of his subject which was usually 12" tall. Then he drew a grid onto a very large canvas, sometimes up to 20 feet tall! The scale of his work was sometimes so big that he used over 50,000 squares in one painting and took over 14 months to complete.


---



Huth Road Fourth and Fifth
Graders Rock Climbing At High School - March 2003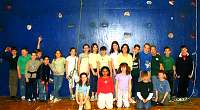 Click photo for a larger view.
Jodi Hayes Dodd Photos
Huth Road School's P.E. teachers Ms. Nancy Keller and Mr. Craig Warthling have been holding an intramural gym class this past winter. The students have played hockey, basketball, guard the ball and had the opportunity to go to the high school for rock climbing. This class was open to the fourth and fifth graders as a way to keep the kids active in the winter months. The classes will continue until mid-May.




Good Time At Huth Road School Bazaar 2003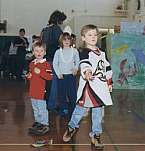 (left photo) Brothers Alex (left) and Mathew Tollner play
the ball game together as other Bazaar visitors look on.
Fred Claus Photos - Click photos for a larger view
Children of all ages took advantage of the hours of fun at the Huth Road Elementary School's annual Bazaar on Saturday, March 15, 2003. Food, games, prizes, baked goods and basket raffles were the order of the day.


---
Island Schools Students Chosen for All County Festivals
---



PTA Presents Huth Road School Bazaar 2003
The Huth Road Elementary School PTA will present its annual Huth Road School Bazaar from 11 a.m. to 4 p.m. Saturday, March 15, 2003 at the School. Food, games, prizes, baked goods and basket raffles will be featured and there will be family fun for everyone.


---



Author Visits Elementary School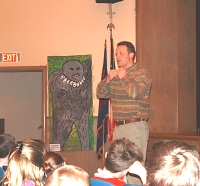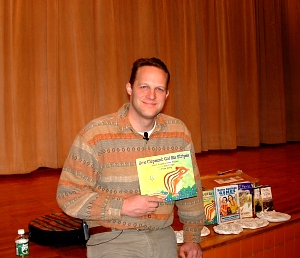 Author James Bruchac spoke at Kaegebein Elementary (left) and at Huth Road Elementary.
Jodi Hayes Dodd Photos
The students of Huth Road School and Kaegebein School had the pleasure on March 4-5, 2003 of a visit from James Bruchac, an author of Native American children's books. Four presentations were made to each grade level throughout the day. Mr. Bruchac, a nationally known author and Adirondack storyteller, has been sharing Native American legends of the Northeast Woodland Indians for the past 10 years. Raised in the Adirondack foothills town of Greenfield Center, New York, he is also a wilderness instructor, tracker and adult book author. He is a member of the Abenaki Nation and the eldest son of Joseph Bruchac, III, also a nationally known author and storyteller. An interesting aspect of his presentation was the hey-ho exchange. At the beginning of his talk, Mr. Bruchac said that during his presentation he would say "hey," and the students were to respond with "ho." That way he knew the students were really listening.


---



Huth Road Book Fair 2003





Jodi Hayes Dodd Photos - Click for larger view
Mrs Graziano's 5th graders and Mrs. Fontana's 4th graders are shown enjoying the annual Huth Road School Book Fair 2003 which was held on the stage in the auditorium on Wednesday and Thursday, February 26 and 27, 2003. Two classes at a time were invited to look at the books and to take advantage of a special buy one book and get one free offer - so many choices, so little time!


---



Huth Display, Meet Laura Ingalls Wilder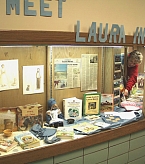 Grade 4 teacher Deborah Beis is shown on the right in the middle photo.
Jodi Hayes Dodd Photos - Click for larger view
Huth Road School teacher Deborah Beis has been putting together a collection of Laura Ingalls Wilder memorabilia ever since taking a course at Buffalo State many years ago. The display in front of the Huth Road School library includes over 20 books and articles about Wilder family life on the pairie in the mid 1870s. A side view of the Wilder homestead along with replicas of bonnets and cooking utensils gives the viewer a good feel for life at that time.


---



Mr. Sloan's Second Graders Venture Into Inner Space




Jodi Hayes Dodd Photos - Click for larger view
The second graders at Huth Road School ventured into Inner Space (under the water) During Mr. Peter Sloan's art classes. Each artist had to make all of the colors of the rainbow - using only primary colors. The next step was to create a collage creature in the style of artist Eric Carle.


---



Huth Families "Love A Good Book"



Sidway School Principal Frank Cannata reads to Mrs. McMann's second graders.
Jodi Hayes Dodd Photos - Click for larger view
Huth Families "Love A Good Book".
The above was the motto of the PARP (Parents as Reading Partners) Program that ran from February 3-14, 2003. This was accomplished by reading with a partner for 15 minutes per day for ten days. The students filled out a reading contract which entitled them to a free ice cream voucher. They also designed book marks to exchange with fellow students. Spirit days gave the students a chance to wear slippers one day, crazy socks another, a polka dots day and a favorite hat day, among others. A book swap night and a read-a-thon were enjoyed on February 5. Students got comfortable with a favorite pillow or blanket they brought from home, and read for 20 minutes. Sponsors for the read-a-thon donated one penny per page with proceeds going to the Grand Island Memorial Library. The final day was guest reader day, and a long list of readers included school Superintendent Dr. Thomas Ramming, Councilwoman Mary Cooke, Councilman Dick Crawford and former Huth Road School Principal Peggy Koppman.


---



Huth Road Cited For Student Achievement
The New York State Education Department has recognized Huth Road Elementary as one of the most improved elementary schools in Erie County. In 1999, only 64% of fourth grade students scored at proficient levels (Levels 3 and 4) on the State assessment for English/Language Arts. In 2002, 90% of the students demonstrated proficiency on this assessment. Dr. Karen Karmazin, Assistant Superintendent for Curriculum and Instruction, credited the steady improvement in test scores to collaborative instructional approaches where teachers worked together in a focused effort to address the needs of all students.
The English/Language Arts assessment is given to fourth graders across the state in January or February. Results from the 2003 assessments will be reported in the spring.


---



Huth Road 2nd Graders Study Geographic Landform




Second graders shown with their teacher, Miss Melissa Tweedy
Jodi Hayes Dodd Photo - Click for larger view
Miss Melissa Tweedy's second grade class at Huth Road Elementary School has been studying landforms and land masses in geography since school resumed in January. The students chose a geographic landform and made a salt map to show lakes, rivers, mountains, peninsula, hills and plains. They have also been working on a play since December 2002. Before their performance, the class displayed knowledge of the different landforms by answering Miss Tweedy's questions. The Readers Theatre play was based on a book, "Tacky the Penguin," that they read in class. This is the second Readers Theatre play the second graders have performed since school started in the fall.


---



Huth Road School Holiday Choral Concert 2002



Shown are the Boys' Chorus (left) and the Select Chorus (right), both made up of 4th and 5th graders
Jodi Hayes Dodd Photo - Click for larger view
Huth Road Elementary School students drew a standing-room-only audience to their Holiday Choral Concert Thursday evening, December 5, 2002. Over 180 boys and girls made up the four choral groups: Third Grade Chorus, the Select Chorus, Boys' Chorus, Girls' Chorus and the Combined Boys' and Girls' Choruses. The Third Grade Chorus was especially well received with their presentation of Deck the Nutcracker Hall. This young group sang the lyrics of Deck The Halls to the melody of The Nutcracker.
The Boys' Chorus was directed by Robin Crowden and Carol J. Horrigan directed the other four choral groups. Accompanists for the various choirs were Margaret Kiehl, Gretchen Kiehl, Carolyn Lokken and Carol J. Horrigan.


---



Pilgram Play By Huth Road 2nd Graders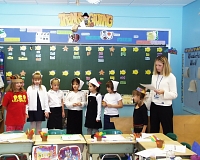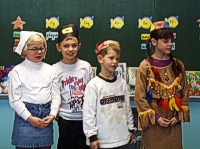 Miss Tweedy and students are shown left and more students are in the right photo - click for larger view
Jodi Hayes Dodd Photo
Miss Tweedy's second grade class entertained their families on Wednesday, November 27, 2002 by presenting a three act play by Kay Gugisberg called "The Pilgram Story." The young students practiced their lines for two weeks in preparation and also made props for the production, including a boat, cornstalks and hats for all the participants. Great job by Miss Tweedy and all the fine young actors!


---


New Huth Principal Has Strong Academic, Special Ed. Background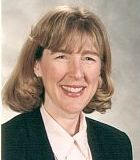 Mary E. Haggerty, Huth Road's new administrator, left a tenured principalship at Pinehurst Elementary School in the Frontier Central School District to come to Grand Island. An Amherst resident, she looks forward to working with a unique school configuration (grades 2-5) and in a true community situation. (Grand Island is one of the few school districts where all students come from the same town.)
As Pinehurst principal she implemented inclusion classes (class within a class program) for special education students, facilitated curriculum mapping for math and English/language arts district-wide, promoted writing programs and computer use, developed a parent library, instituted a character education program, created a K-5 curriculum guide for a balanced literacy program (working with the district's reading teachers), and served on several district committees.
She began her career as an elementary teacher in the Sweet Home School District in 1990, where she was also PTA liaison and advisor to the high school drama club. While working toward her master's degree in educational administration at SUNY Buffalo, she was an intern with the Niagara Falls School District. Her undergraduate degree, from Buffalo State College, is in elementary education/exceptional education/learning and behavioral disorders. She has a second master's degree (in elementary education) as well as her School District Administrator certificate from SUNY Buffalo.
Haggerty has been a mentor to teachers and principals, and has worked on the Frontier district Strategic Planning Committee. She is a published writer, having co-authored the instructor's manual for Teaching Elementary School Mathematics. In addition she has written several articles dealing with hemophilia, including "What's Missing," a booklet for young children describing the disorder, and "Princess Addi," a mathematical fairy tale. In 1995 she received the Women Leaders Award from the Western New York Women in Administration organization, presented to outstanding female leaders in the educational community.
Thanks to a grant from the American Federation of Teachers, Haggerty participated in a two-year "Thinking Math" training program, which she then shared with the teachers in her district. At Pinehurst she instituted a unique math-challenge program. Once a month classes would try to come up with a math problem to "stump the principal." If she was unable to solve the problem, she would supply ice cream from the school cafeteria for the class. It happened only once, she reported, when a 5th grade class came up with a magic square that stumped the principal.
Haggerty began her duties here on August 22nd and was greeted with a large fruit basket, presented by the PTA, as well as flowers and chocolates from the staff. Also, former principal Peg Koppmann stopped by to say "Hello" and offer assistance. "I was overwhelmed by such a generous welcome," she said. "This is truly a wonderful community. It's a privilege to be a part of it, and I hope to do some good and serve it well by living up to their expectations."




Students, Teachers Surprise Principal Peggy Koppman on Flag Day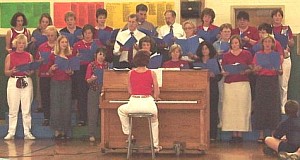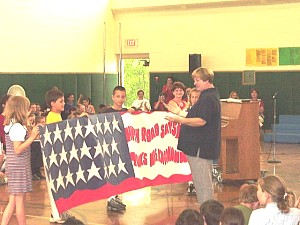 Jodi Hayes Dodd Photos
Click photos for a larger view
The Flag Day program at Huth Road School on Friday, June 14, 2002 turned into a tribute to retiring Principal Peggy Koppmann. After a patriotic start, gears were switched as each grade performed a different song that featured Mrs. Koppmann.
The teachers, parents and longtime principal were teary-eyed time after time listening to grades 2-5 sing. Towards the end of the program the faculty sang a beautiful rendition of "An Irish Blessing" and the entire student body signed a card in Mrs. Koppmann's honor. Mrs. Koppmann was Huth Road School principal for 17 years.


---



Elementary Orchestra Brings Home "Silver"
By Amy Margaret Bidell
Orchestra students from Kaegebein and Huth Road schools competed in the New York State School of Music (NYSSMA) Festival on Wednesday, April 24, 2002. Their teacher, Mrs. Kelly Robertson, led the orchestra. Grand Island should be very proud of the orchestra. Out of bronze, silver, or gold, the orchestra received a silver award. Grand Island elementary schools were the only elementary schools at the festival. The pieces they played were "Sailor's Song, Wexford Circle," and "Sourwood Mountain."
Hosting the festival were Mr. Wally Goodman and Mr. Peter Kent. They were both former orchestra conductors. Although the Grand Island Orchestra did not get the gold, Mrs. Robertson is still very proud of her students as should all of Grand Island.


---




Elementary Orchestra Going for the Gold
By Amy Margaret Bidell
Orchestra students from Kaegebein and Huth Road elementary schools will be very busy on Apri 24, 2002. The students will be on their way to Transit Middle School for the annual NYSSMA Festival. NYSSMA stands for New York State School of Music. Mrs. Kelly Robertson, their string music minded conductor will be leading them in this competition. The Grand Island elementary orchestra is the only elementary school in the competition.
Although they may not get the gold, we should all be proud of our elementary school orchestra and their efforts. A special thanks to Mrs. Kelly Robertson for the orchestra couldn't have done it without her.




DARE Students Graduate At Huth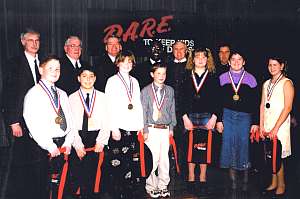 Barbi Lare Photo
Click photo for a larger view
Fifth graders of Huth Road Elementary School completed their course in Drug Abuse Resistance Education (DARE)and after many weeks of classes, graduated with high praise, and awards for their efforts. The students, who wrote essays on what that had gained from the course, were honored by their teachers, parents and local dignataries including Rob Sandford representing the office of Joel Giambra, Supervisor Peter McMahon, Schools Superintendent Dr. Paul Fields, State Senator Byron Brown, Legislator Charles M. Swanick and Erie County Sheriff's Deputy Robert Rine.
Amy Bidell, Joseph Khreis, Melissa Fargino, Amanda Albrecht, Matthew Ludwig, Erin O'Brien and Timothy Lewis were chosen by their peers to read their essays during the assembly in the school auditorium. All 5th graders received DARE T-shirts and the outstanding essay authors received medals and gym bags. The program was followed by a PTA sponsored reception.

"Voices of Freedom" Honors Veterans; Victims of Tragedy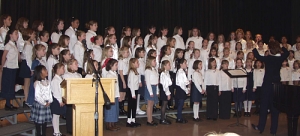 Click for larger view. Barbi Lare photo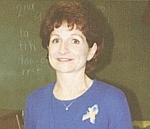 Carol Horrigan

By Lee Cohen
The September 11 tragedy provided the impetus for Carol Horrigan, Huth Road music teacher, to organize a program that would provide a way for youngsters to participate in expressions of patriotism. Music filled the crowded high school auditorium Tuesday night (Nov. 6, 2001) as five different choruses presented "Voices of Freedom," a concert of patriotic music.
Veterans from the Charles N. DeGlopper Memorial VFW Post 9249, led by Honor Guard Captain Jerry Korzen, opened the program with the presentation of the Colors. Following the Pledge of Allegiance and the singing of the National Anthem, Post Chaplain Mike Rogan read the poem "I Am the Flag of the United States of America."
Remarks by Schools Superintendent Paul Fields introduced the musical section of the program, which opened with selections by the Huth Road Boys Chorus, directed by Robin Crowden. They were followed by the Girls Chorus, directed by Carol Horrigan.
A highlight of the evening was the introduction of the Veterans portion of the program. As the names of veterans (and their branch of service) who were in the audience were read, they stood to audience applause. Taps then was hauntingly played by students Joe Martino, Christopher Goelz and Adam Fetzer in honor of deceased veterans as well as the victims of the September 11 disaster, and a minute of silence was observed.
A 45-member Community Chorus, organized and directed by Horrigan for the occasion, sang two numbers, accompanied at the piano by Leanne Kern. The Huth Road 50-member Select Chorus, also directed by Horrigan, sang two numbers, one of which, "America, We Are One Nation Under God," was written by her the weekend after the tragedy. A selection of slides, organized with the help of Huth Road technician Mike Dunlop, accompanied the music.
Members of the Grand Island High School Concert Choir, whose 64 voices blended in stirring harmony, participated in the program as well. They were directed by Carolyn Lokken, who also served as piano accompanist for two of the Huth Road choruses. The program concluded with the concert choir and the select chorus singing "God Bless America," by Irving Berlin. Select Chorus youngsters "signed" the words as they sang and the audience joined in a resounding final chorus.


---
Third Grades Visit Eco-Island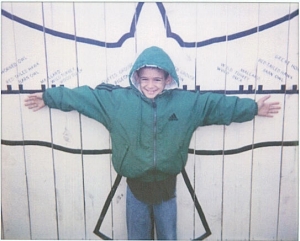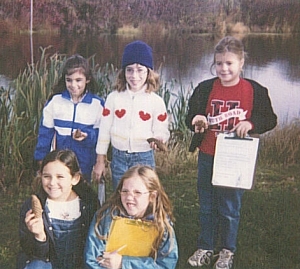 Third grade students of Mrs. Redlinski and Miss Canavan at Huth Road Elementary School recently enjoyed a field trip to Eco-Island Nature Center on Staley Road. Joey Piazza is shown measuring his "wing span" which is equal to that of a barn owl. The third grade girls holding pine cones are (front left) Alexandra DeMita and Alexis Gieselman; (top) Rebecca Sturniolo, Sarah Webb and Amanda Sutter.


---

"Voices of Freedom" Concert
A "Voices of Freedom" concert will be presented by Huth Road School students and the high school concert band at 7 p.m. Tuesday, November 6, 2001 in the high school auditorium. Billed as 'an evening of song to honor the nation's veterans and the victims of the September 11th tragedy,' the program is under the leadership of music teacher Carol Horrigan and will feature the Huth Road Boys Chorus, Girls Chorus, Select Chorus, a volunteer community chorus and the high school concert band. A slide show, a sing-along of patriotic songs, and a special song written by Carol Horrigan will complete the program.

2001 Students Awarded H-Pin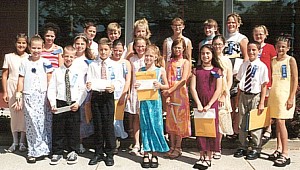 Barbi Lare photo
The following Huth Road Elementary School students were awarded the coveted H-Pin, first awarded in 1958 by Thomas Tierney, the first school Principal:
Eric Roetzer, Amber Hultgren, Elizabeth Wilson, Bailey DeGlopper, Jeremy Meyer, Ashley Mazurkiewicz, Rebecca Donnelly, Carrie Schooping, Michael Heftka, Shannon Martin, Nicole Goelz, Kacey White, Alexander Hultgren, Alicia Sommer, Jessica Sturniolo, Jaclyn Coe, David Benko, Alexandra Armusewicz, Courtney McCoy, Shana Wierchowski and Rebecca Sobol. Click photo for larger view.

2001 Students Earn President's Award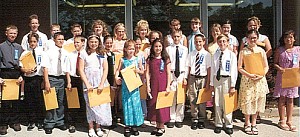 Barbi Lare photo
The following Huth Road Elementary School students were awarded the President's Award:
Shana Wierchowski, Richard Karpie, Jaclyn Coe, Alexander Hultgren, Rebecca Donnelly, Michelle Paternostro, Bailey DeGlopper, Marc Gerfin, Amber Hultgren, Alexandra Weiser, Adam Masse', Tiffani Dickinson, Matthew Klock, Carrie Schooping, Todd Kunze, Kahla Cerrillo, Ashley Mazurkiewicz, Shannon Martin, Rebecca Sobol, Nicholas Hall, Jessica Sturniolo, Taylor Cool, Jeremy Meyer, Kelcie Hanaka, Jordan Toth, Lindsey Miller, Jordan Paolucci and Caitlyn Driscoll. Click photo for larger view.

Earth Day at Huth Road School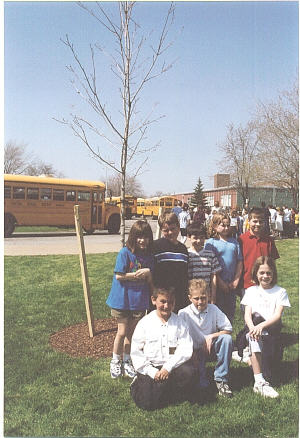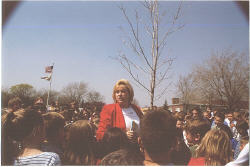 Shown are some of the children involved in Earth Day activities at Huth Road School. Ronnie Chapple, Ryan Digati, Sarah Young, Jennifer Fiels, Chris Steggs, Zachary Wojnao, Krystin Hoppel, and Jeffery Bellanci joined Kathy Brown in front of the newest tree on the circle in front of the school.
By Barbi Lare
Kathy Brown and her Earth Week Celebration Committee culminated the week with a tree planting on the grounds at Huth Road Elementary School. Proceeds from the Pepsi sales at the school provided the support for the program.
The entire faculty/student body gathered at the site, where they listened to comments regarding Earth Week and the plan to help replant trees all over the Island. Many students were able to obtain trees to raise and then plant on public property to carry out this plan.

Huth Road School Bazaar A Big Success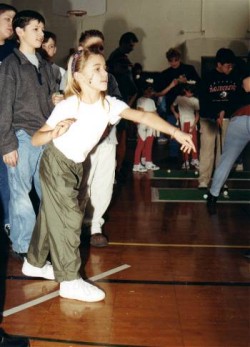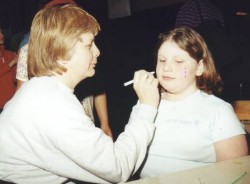 Fred Claus photos
Members of the Huth Road School PTA presented their annual bazaar Saturday, March 10, 2001. Chairman of the bazaar was PTA President Kathy Hanaka assisted by co-chair Lisa Wendling. It was expected that this year's event would break the record $2000+ raised last year. Shown left is Alexandria Bleich, a student in Mrs. Ann Agnello's 2nd grade class at Huth Road School, taking part in the Clown Toss. Also shown is Rhianna Broady, a Huth Road student in Miss Janice Guzzetta's 3rd grade class, having her face painted by Nancy Hefka.

Book Fair Fun at Huth

By Donna M. Webb
This week marks the Scholastic Book Fair's debut at Huth Road School. Their offer is a special one—buy one item and get one free (of equal or lesser value). Last evening, February 20, was Family Night from 6:30 – 8:30 PM. Boys and girls could browse through a wide selection of picture and chapter books, diaries, writing supplies, activity kits and more. To add to the fun, there was a raffle involving 30 baskets of books. Just in case the little shoppers and their parents became hungry, baked goods and refreshments were available for purchase.
All the classes will be attending the Book Fair during special times on Wednesday, February 21, and Thursday, February 22. Parents may visit the Book Fair from 9 – 10:35 AM and 1:10 – 2:20 PM on these days. Just remember to sign in at the office.
Why not make a special time to read with your child each day? Research has shown that children who can read well are successful in their school careers. A resource book you may wish to obtain is called 99 Ways to Get Your Kids to Love Reading, by Mary Leonhardt.

Handwriting At Huth Road School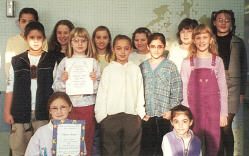 At Huth Road School, the emphasis has been on handwriting as the school displayed examples of outstanding student work in the Huth Road Handwriting Hall of Fame. The program culminated in a school-wide handwriting contest with the winners announced on National Handwriting Day, January 23, which also happens to be the birthday of John Hancock, the famous signer of the Declaration of Independence.
Pictured here are the winners of the school-wide handwriting contest: First place: Alexandra Bleich, Kelly Hooven, Brianna Wojnar, Amber Hultgren; Second Place: Rebecca Sturniolo, Alexandra Buscaglia, Sara Pici, Natalie Suppa; Third Place: Amanda Heftka, Zachary Hughes, Michaeline Dera and Bailey DeGlopper.


---
Aquarium Day Makes A Big Splash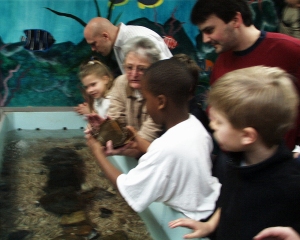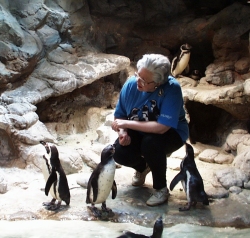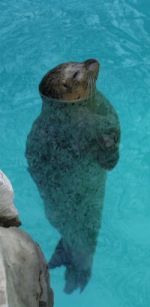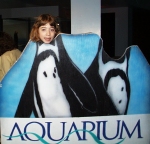 By Donna M. Webb
The second grade classes at Huth Road School took a field trip to the Niagara Falls Aquarium on Friday, February 9. This was a fun-filled and educational day. Students saw Mrs. Lillian Wosilait, one of the teachers, get right into the penguin exhibit and feed fish to these flightless wonders. Far off to one corner of the exhibit, a baby penguin sat with its protective mother right nearby. A sea lion show thrilled the boys and girls. Squirt, the sea lion, jumped through a hoop and even up to touch her nose to a ball suspended from the ceiling. In the touch tank in the lower level of the Aquarium, a staff member instructed the students on the proper ways to hold the lobster, horseshoe crab, decorator crab, star fish and other species. The boys and girls eagerly picked up the sea creatures and examined them. They learned many interesting facts as well. Then everyone ate lunch in the community room upstairs. Afterwards, they were free to explore more of the exhibits as they chose before it was time to board the buses. It was an exciting day, which these second-graders will long remember!


---
Huth Road PTA Seeks Support Of Bazaar/Raffle

The Huth Road Elementary School PTA has announced its annual bazaar and raffle will be held Saturday, March 10 in the school. Each year the PTA asks Island businesses and anyone else on the Island who would care to support the school event by donating something of value such as retail gift certificates, gift baskets (wine, food, beauty products, and misc.), merchandise (clothing, jerseys, sporting goods, keepsakes), sporting & theatre tickets (Bills, Sabres, Bisons, Studio Arena, Shaw Fest, ArtPark, etc.) or dinner certificates.
"All donations will be displayed prominently with the donor's information so there is good exposure for any business," a PTA spokesman said this week. Receipts are available upon request. Retail value of the donation should be specified and checks should be made payable to: Huth Road PTA (Grand Island Central School District).
The bazaar is attended by hundreds of families each year and has become a mainstay at Huth Road School. Donations should be made by the end of February and pick-up is available. For further information, contact Raffle Chairperson Michele Meaney, 775-1310 or Amy Garten, 773-4164.


---
Huth Road Students Keep Rolling Along!

By Donna M. Webb
Huth Road School students attended a skating party Saturday, January 27 at the Rainbow Roller Rink in North Tonawanda. This PTA-sponsored event takes place several times each school year. Besides the chance to see and skate with friends, the boys and girls had great fun with some special activities. These included the popular Hokey Pokey song and the Simple Dance, in which the skaters must increasingly speed up their motions and gestures to keep up with the song. Also, there was the three-person toboggan race. In this, the first student must skate while in a crouched position; the other two people skate in back of him and push him along. Fourteen lucky students also won either a gift certificate or a Rainbow Rink birthday party package. A newly designed game room looked to be quite a hit, judging by the number of skaters I saw in there. The rink was darkened and then illuminated with pretty colors during the "glow stick skates." Students who had purchased a glow stick from the game room could skate while the stick hung from a wrist, belt, or even a piece of hair! All in all, this proved to be an evening of good fun! A special "Thank You" goes out to Sueanne Miller, from the Huth Road PTA, who organized this event.


---
Das Puppenspiel Performs At Huth

By Donna M. Webb
Huth Road School students, earlier this month were treated to a puppet show performed by Das Puppenspiel Puppet Theater, Inc. of Westfield, NY. This event was sponsored by the PTA through its enrichment program budget. The show, "The Legend of Jumping Mouse," was based on a Native American tale. A magical frog gives the mouse the power to jump. He journeys to a far-away land that he has only seen in his dreams. Along the way, the mouse gives his eyes to a bison that cannot see; and his nose, to a wolf that cannot smell. Because of his great generosity, jumping mouse is rewarded by the magical frog. The mouse becomes a beautiful eagle at the end and can live in the new land forever.
The puppeteers dressed in black as they portrayed the bison and the wolf in costume. The mouse and other characters were stick puppets. Students gave a long round of applause to show their appreciation. Das Puppenspiel members answered the children's questions after the performance, which was based on a book called "The Story of Jumping Mouse," as retold by John Steptoe. For more information about this talented group of performers, check their Website

---
If you are a member of this organization, we need your help. GIECOM.Net has partnered with the Connections program to help Grand Island as a community "Get it Together." Please visit our website G-I-Together.ORG and fill out our SURVEY. Every group on Grand Island will have its own FREE web page showing: meeting times and location, contact persons, your Mission Statement and a listing of events. We will also be linking your news events that appear in the local media and on IsledeGrande.Com, Grand Island's E-News Source, to your page, maintaining an archived journal of pictures and news. This is the perfect opportunity for your group to connect with potential new members and the community.
---
---
Other Grand Island Pages to Visit:
Churches | Email Directory | Government | Groups
GIHS Grad List | Guestbook | Please sign in! | Local Artists | Photo Album | Town History | Useful Links
| Website Design | Wildlife | Isledegrande's Home Page | GIECOM.NET'S Home Page
Please Email News Releases to Teddy Linenfelser, Thank You.
This website is sponsored by
GIECOM.NET
1869 Whitehaven Road, Grand Island, New York, 14072-1803 USA


Copyright © 1995-2003 All rights reserved.