Huth Road Elementary School News Web Page - 2004

1773 Huth Road - 773-8850

Huth Road Elementary School Website

Principal - Mary E. Haggerty

Click for 2005 Huth Elementary News
Click for 2000-2003 Huth Elementary News
---



Huth Road 4th Graders Celebrate Their Heritage - 2004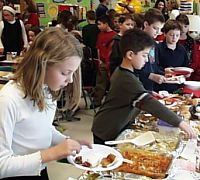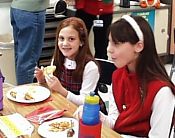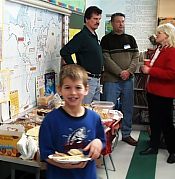 Jodi Robinson Photos - Click for larger view
Two Huth Road fourth grade classes were given an in-school research project to learn about their heritage. The students of Mrs. Maryann D'Avolio and Mrs. Jennifer Kropidlowski were given time to go to the library and find information about the holidays, special people and customs of their given country. The students also had to interview a member of their family to learn about their background. The students on Wednesday, December 22nd gave verbal reports of the information they found to their classes and brought in items depicting their heritage. On Thursday, December 23rd each child brought in a main dish or dessert from their country and there was a feast! The buffet included Italian pasta, sauce, meatballs, rigatoni, Polish sausage, pierogies, Swedish meatballs, Japanese rice balls, too many items to mention them all. The many parents who attended with their children enjoyed themselves also.


---



Ice Carving Artist Comes To Huth Road School - 2004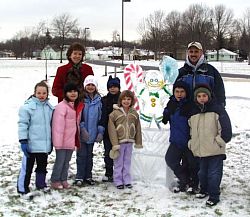 Jodi Robinson Photos - Click photos for larger view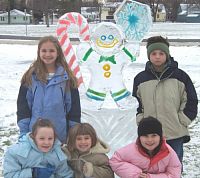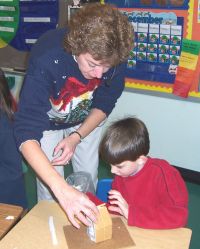 Second graders shown (left) are Rebekah Gaydosh, Enrico D'Abate, Lauren Rogoza, Kate Fonte, and Jessica Foote
Joanne Kud Photos - Click photos for larger view
The students in Mrs. Beth Boron's second grade class at Huth Road School had a bird's eye view of the creation of a gingerbread ice carving on Tuesday, December 21, 2004. Chef and teacher at N.C.C.C., Mr. John Matwijkow is the father of Mrs. Boron's second grade student, Jacob. The students watched the ice sculpture being made outside their classroom window. Mr. Matwijkow carved a gingerbread man to go along with the project of building a gingerbread house to take place in class the same afternoon. Mr. Matwijkow brought two students from N.C.C.C. to assist him in putting together the pieces that were started at home. Even so, it took one and one-half hours outside in 25 degree, windy weather to complete the sculpture. Many different tools were used in the project including chisels, a hot iron, chain saw, drills and a sander. Prior to going outside, Mr. Matwijkow spent some time in the class telling the children the process involved with creating the sculpture.


---



Cookie Sale At Huth Road School - 2004




Jodi Robinson Photos - Click photos for larger view
The students in Mrs. Diane Lipp's third grade class have been busy selling cookies this week. From Monday, December 13th thru Friday, December 17th they have been taking turns selling cut-out cookies to fellow students and teachers for an hour each day. Mrs. Lipp and parents of the students made the cookies and the students decorated and sold them for fifty cents a piece. All proceeds from the sale will be donated to the Huth Road Playground Committee. The old section of the playground, built in 1978, has seen better days and this money will go towards a replacement.


---



Holiday Candy House At Huth Road School - 2004



Click photo for larger view
Mrs. Patricia Chapin's fourth grade class at Huth Road School has the luck when it comes to room mothers. Jacob Zimmerman's mom, room mother Mrs. Carol Zimmerman, created candy houses for Del & Herb's Restaurant for years. This year she brought her expertise into the classroom where the students worked three days completing the house. The project was started at home by Jake and his dad, Michael Zimmerman, by creating a base out of boxes and a board. The graham crackers were also attached at home. The students' families donated the candies for the house and the students worked in shifts with the decorating. Over 20 pounds of sugar was used and lots of M&M's, peppermints, Hershey bars, marshmallows and ice cream cones. The fourth graders were rewarded for their time with an occasional M&M break. The house is located in the front foyer of Huth Road School, just outside the office.


---




Winter Choral Concert At Huth Road School - 2004
A Winter Choral Concert will be presented by the Huth Road School students at 7:30 p.m. Thursday, December 2, 2004 in the Grand Island High School auditorium.


---




Fall Band Concert At Huth Road School - 2004
The Fall Band Concert by the Huth Road School band students (no strings) will be given on Wednesday, November 17, 2004 at 7 p.m.



Enrichment Assembly Features "The Fast Horses" - 2004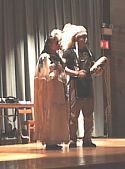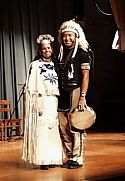 The Fast Horses are shown dancing and posing in their ceremonial finest.
Click photos for larger view
By Jodi Robinson
The Fast Horses are a husband and wife team of performers based in Cloquet, Minnesota. They are members of the Standing Rock Sioux Tribe on the borders of North and South Dakota. They brought their "Unity Through Diversity" show to the auditorium at Huth Road on Thursday, November 4, 2004 to the delight of the students. Through costume, song, dance and Native American music, Reuben and Ash Fast Horse told of the contributions of Native Americans to contemporary life. The students especially liked when the couple sang a song in their Native Lakota language and then translated it into English. It was the "Song of Sponge Bob Squarepants." Reuben performed an "Eagle Dance" with a feathered headdress, bustle and wings. Ash had the kids clapping and hollering when she did "The Butterfly Dance" with a crystal ball and wands with scarves. This show was sponsored by the Huth Road PTA.




Huth Road Fourth Grade Students Present Biography Project - 2004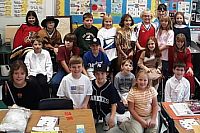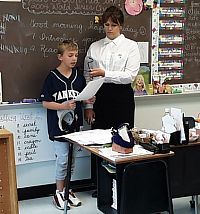 Shown left is Mrs. Kropidlowski's class and right is 'Derek Jeter' and Mrs. Kropidlowski's TA, Mrs. Patricia Kwarciak.
Click photos for larger view
By Jodi Robinson
Grand Island School District requires all fourth grade students at Kaegebein and Huth Road Elementary Schools to do a project on an influential person. This person could be alive or dead, an historical, sports, art or musical personality. You name it! The students at Huth Road in Mrs. Jennifer Kropidlowki's class did a written report and a verbal report in the first person where many of the students dressed like their project personality. Many sports figures were represented including Mia Hamm, Derek Jeter and Lance Armstrong. There were also historical figures such as Thomas Jefferson, Jackie Robinson, Amelia Erhardt and Pocahontas.


---



Huth 5th Graders Decorate Pumpkins As Book Characters - 2004

Joanne Kud Photo - Click photo for a larger view.
Mrs. Tanya Gallagher's 5th grade students at Huth Road Elementary
School are shown with the pumpkins they decorated as favorite characters from recently read books.




WGRZ Meteorologist Andy Parker Visits Huth Road - 2004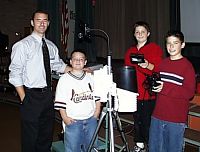 Click photo for larger view
By Jodi Robinson
The fifth grade students and one fourth grade class at Huth Road School had a unique opportunity to learn more about weather on Friday, October 22, 2004. Thanks goes to teaching assistant Mrs. Patricia Kwarciak for contacting WGRZ TV Weatherman Andy Parker through email and asking him to visit Huth Road. The students have been learning about weather since the beginning of the year and Mr. Parker was nice enough to come out and show examples of simple and computer based weather stations. The first rule of broadcasting weather reports is "look out the window," stated Mr. Parker. He also showed examples of data that comes from across the country that is analyzed by meteorologists before making a forecast. The students pictured above are from Miss Julie Roth's class and helped Mr. Parker with his equipment.


---



Huth Road Students Enjoy Mrs. McMann's Pencil Museum - 2004



By Jodi Robinson
The second grade students in Mrs. Amy McMann's class had a special treat on Friday, October 15, 2004. The classroom was turned into a pencil museum thanks to Mrs. McMann's collection. The children read a story about museums earlier in the week. Mrs. McMann mentioned that anyone could make a museum out of any collection and also told the class that she has been collecting pencils for over 20 years. Mrs. McMann started the collection at the age of ten and has over 2000 specimens in her collection. Her favorite pencil has a tiny mailbox on the end that opens and holds an even tinier letter shaped eraser. All the second grade classes came in to view this unusual museum.


---



Supervisor Proclaims Grand Island UNICEF Day - 2004



Click photos for Larger view
Town Supervisor Peter McMahon is shown above signing the UNICEF proclamation with Lee Tetkowski
along with (left) Zoe Dodd, Emily Sommer, Brittanee Ramallo and Allison Donahue.
By Jodi Robinson
Town Supervisor Peter McMahon signed a proclamation that proclaims Sunday, October 31, 2004 as UNICEF Day on Grand Island. Mrs. Lee Tetkowski is the Grand Island liaison for the program and is hoping for many participants. This year the Huth Road Service Club is organizing the UNICEF drive by making posters for the halls and commercials for the morning announcements. Next week the UNICEF boxes will be distributed to all the students by the Service Club. Supervisor McMahon made the first donation to the costumed children. Huth Road Elementary School's Student Service Club, made up of about 50 fourth and fifth graders, raises money and coordinates collections for needy people in the area.




Huth Road Students Hope To Break World Record - 2004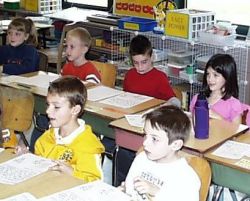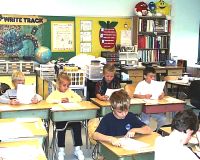 Click photos for larger view
By Jodi Robinson
Huth Road School joined many other schools in the area on Wednesday, October 13, 2004 to try and break a Guinness World Record. The record is for the greatest number of people reading simultaneously out loud. The previous record stands at 155,528. At 9:30 a.m. the poem "Hug O' War" by the late Shel Silverstein was read, led by Janet Snyder of local radio station Kiss 98.5. Above, students in Mrs. Amy McMann's second grade class join in reading the poem.

Hug O'War
I will not play at tug o'war.
I'd rather play at hug o'war,
Where everyone hugs
Instead of tugs,
Where everyone giggles
And rolls on the rug,
Where everyone kisses,
And everyone grins,
And everyone cuddles,
And everyone wins.



Fire Prevention Program At Huth Road - 2004



Click photos for larger view
By Jodi Robinson
The Grand Island Fire Company paid a visit to Huth Road School students on Wednesday, October 6, 2004. Fire Company volunteers reminded the students of what to do in case of a fire or accident and to make good choices and not play with hazardous materials. The students took a vow to "not play with fire." It was announced at the assembly that the teachers would be handing out papers to be brought to the "Open House" at Fire Headquarters planned for Friday evening, October 8, 2004 at 5 p.m. Some lucky winners will get a chance to get a ride to school in a fire truck. After the assembly, students were allowed to climb through a fire truck and meet "Sparky, the fire dog."


---



Huth Road School Welcomes Ventriloquist - 2004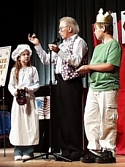 By Jodi Robinson
The Huth Road School PTA sponsored an assembly for the students on Monday, September 20, 2004. "The Yankee Doodle Diary" Show featured Mr. Dann Jones, a ventriloquist and magician from southwest Michigan, who entertained the kids and snuck in early American and colonial history. The students got a big kick out of his amusing puppets named Lenny and King George III. Mr. Jones does over 300 assemblies each year all over the country.




Pancakes Are Sweet Treat On Last Day At Huth - 2004





Jodi Robinson Photos - Click for larger view
The last day of school is always special, but in Mr. Robert Banks third grade class at Huth Road School, it was extra special. The students' parents came to the classroom and prepared breakfast. Regular and blueberry pancakes were made right in the room by a couple dads. Fruit, sausage, bacon, muffins, egg casserole and cake rounded out the delicious menu. All the students and Mr. Banks are ready to start a well earned summer vacation.




Moving Up Day Ceremonies Held At Huth Road - 2004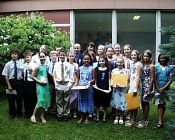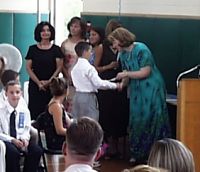 (left) H-Pin recipients; Principal Mary Haggerty presenting moving up day certificate. Jodi Robinson Photos - Click for larger view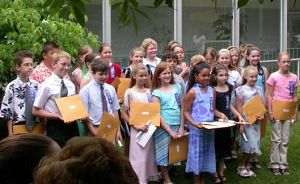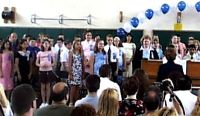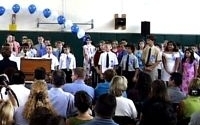 (left) Presidential Academic Award Winners; Entire 5th grade student body singing "Proud." Nathan Cook Photos - Click for larger view
The fifth grade students of Huth Road Elementary School seemed very grown up during Moving Up Day ceremonies on Friday, June 18, 2004. The student processional was accompanied by the Huth Road Band playing "Pomp & Circumstance" under the direction of Mr. Allen Ripley. During the program some of the students read essays they had written on "What Huth Road Means To Me." Awards were given to members of the safety patrol, flag patrol, spelling bee winners, string ensemble, chorus and band.
Recognition of special achievements in physical education, art club and service club were noted. The student body sang "Proud" accompanied by Mrs. Carol Horrigan.
Presidential Academic Award Winners for 2003-2004 are Christopher Ernst, Amy Schooping, James Mysliwiec, Julia Manuszewski, Jessica Yarnes, Shannon Moody, Anna Ferrante, Jennie McCoy, Rachel Schauger, Stephen Vitello, Matthew Killian, Alyssa Yaeger, Michael Seaman, Aliena Cook, Kathleen Rustowicz, Sena Tamaklo, Robert Dickinson, Rebecca Sturniolo, Brooke Chamberlain, Christopher Meyer, Emma Henderson, Laureen Kissel, Julie Hasselbeck and Emily Pease.
H-Pin Winners for 2003-2004 are Kathleen Rustowicz, Megan Tates, Julia Manuszewski, Emma Henderson, Kyle Held, Danielle Wegrzyn, Julie Hasselbeck, Christopher Ernst, Rebecca Sturniolo, Sena Tamaklo, Aren Shanor, Alexandria Bleich, Lauren Kissel, Nicholas Colao, Matthew Killian, Andrew Yockey, Nicholas Kellner, Robert Dickinson, Jessica Yarnes, Paige Rockwood and Rachel Schauger.




Huth Road Students Celebrate End Of Year At Beaver Island Park - 2004





Fifth Graders Enjoying Kickball Tournament





Fourth Grade Students Compete In Various Field Games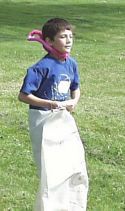 Third Graders Enjoy Beautiful Day






Bubbles and Musical Mats Entertain Second Grade Students
Jodi Robinson Photos - Click for larger view
Ten buses filled with excited children departed from Huth Road School on Wednesday, June 16, 2004. Field Day was being held at Beaver Island Park due to the construction at the school and everyone was happy about it. The students had a beautiful day to picnic and play games. The fifth and second graders were side by side at the east end of the park and the third and fourth graders took over the west end of the park. Many parents were on hand to help, along with all of the teachers. The second through fourth graders were going back to school just after lunch. The fifth grade students received a special treat by staying until 2:15 p.m. Everyone had a great day!




Huth Road Second Graders Take Local Field Trip - 2004






Students are shown at (left) town hall, Small Animal Hospital, Fire Headquarters, and the town jail.
Ginger DeMita Photos - Click for larger view
Second graders at Huth Road School, who have been studying community helpers, went on a field trip on Tuesday, June 8, 2004 to visit some of the helpers in the community. They visited Grand Island Town Hall and were given a tour by Town Supervisor Peter McMahon. He explained some of the history of Grand Island and highlights of their town hall visit were the jail and the courtroom. The second stop on their tour was the Grand Island Fire Company Headquarters, where firefighter Raymond Pauley showed them around the building and explained about some of the equipment that the fireman use. The next place that they visited was the Grand Island Small Animal Hospital where the students were given a tour of the kennels and operating room. At the Grand Island Memorial Library, their last stop, the children were shown a movie about the proper care of library books and given a tour of the library.


---



Huth Road Chorus Ends Year With A Party - 2004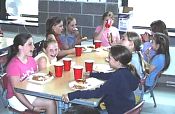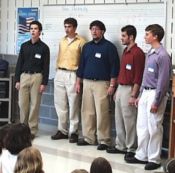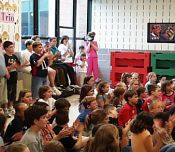 Jodi Robinson Photos - Click photo for larger view
The fourth and fifth grade chorus members at Huth Road School celebrated the end of the year with a pizza party on Wednesday, June 2, 2004. 120 members of the chorus ate a lot of pizza, pop, chips, candy and cookies after school. The PTA donated the pizza, while parents of the chorus members provided the other goodies. A special treat was a performance by a group of high school chorus members who sang a capella to the students in the new music room. Chorus director Mrs. Carol Horrigan passed out awards to the members following the concert.


---



Huth Road School Orchestra Performs At Fantasy Island - 2004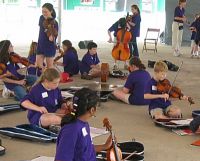 Students rehearsing before their Fantasy Island Performance
Ginger DeMita Photo - Click photo for larger view
Members of the Huth Road School Elementary Orchestra, under the direction of their teacher, Mrs. Kelly Robertson, performed at Fantasy Island on Saturday, May 22, 2004. They were critiqued by a judge and received an award for their performance.


---



Huth Road School PTA Officers - 2004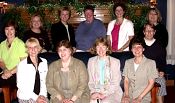 Kim Baldassare Photo - Click photo for a larger view.
Huth Road School PTA officers installed in the Buffalo Launch Club May 25, 2004 are: (seated) Corresponding Secretary Susan Pino, Recording Secretary Julie DeRubes, President Fran Seaman, Principal Mary Haggerty, 1st Vice President Mary Kulak, Council Delegate Nancy Bolles, Treasurer Cindy Kaiser, Council Delegate Barb Swagler, Council Delegate Natalie Stancyzk, 2nd Vice President Donna Yaeger and Diane Lipp.


---



Huth Road Band Members Prepare For Concert - 2004


Click photo for complete view. Fourth grade flutists from left are (first row) Gabi Ailinger and Emma Chambers; behind them are Kyle Meyers, Jessica Spiesz, Matthew Robinson, Rebecca Masse', A. J. Jasek, Sean Garten, Thomas McDonald and Nicolas Antonelli.


Click photo for complete view. - Clarinet players (left) Paige Kippley, Taylor Sweet, Danyelle Redmond, Alyssa Pino, Jessica Bamberg, Ashley Gorman, Amanda Blanton and Kyle Meyer is playing oboe
Kathleen Ganz Photos
Members of the fourth and fifth grade Huth Road Elementary Band will be performing for their families and fellow students during two ceremonies this spring. Band Director Allan Ripley said the fourth grade musicians will play for the fifth grade Moving Up Day ceremonies June 18, 2004 at their school, and the fifth grade band will play during the June 14th Flag Day event.




Huth Road Concerts And Debut Of Music Rooms - 2004




Left photo: Huth orchestra practices, Right: band members after concert.




Left: new band room, Right: new music room.




Third grade students collect for lung transplant at concert.
Jodi Robinson Photos - Click above for larger view
Wednesday, April 28, 2004 was a busy day in the music department at Huth Road Elementary School. An afternoon concert by the orchestra and the band was enjoyed by the third, fourth and fifth grade classes. In the evening, the Huth orchestra performed at Kaegebein Elementary with the Kaegebein orchestra, while members of the Huth band led by Mr. Allan Ripley performed their Spring Concert in the auditorium. It was standing room only as the beginning band played "Reveilie Rock" and "Eagle Summit March." The concert band then took over and played seven pieces including a duet by oboe players Rachel Schauger and Amy Schooping. Christopher Ernst played "Basin Street Blues," a solo piece on the trombone. An all Erie County quartet of clarinet players performed "Finale" by Mozart. They are Alie Cook, Justine Call, Jessica Yarnes and Chris Rose. After the concert, a tour of the new band and music room took place and refreshments were available. Donations were collected at the door to benefit the "Meaghan's Miracle" fund for Meaghan Grotz.




Huth Road Service Club Update - 2004






Left photo: Laura and Marissa with their completed "Math Machine" game.
Jodi Robinson Photos - Click above for larger view
Members of the after school Service Club at Huth Road School are in the final stages of their winter project. This semester's project was to create games to be taken to the Bilingual Early Childhood Center in Buffalo for kindergarten, first and second grade levels. Coordinators of the program, Miss Roseanne Russo and Mrs. Jennifer Kropidlowski, have led their volunteers in all aspects of creating these games. One game that was complete was called the "Math Machine." This board game features addition problems for the first grade level. A total of 10 games will be delivered sometime in mid-May.


---



Huth Road Talent Show - 2004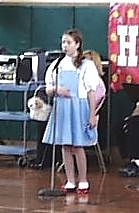 Jodi Hayes Robinson Photos - Click above for larger view
Huth Road Elementary's talent show was HUGE this year. Thirty-one acts entertained the student body in the gymnasium the afternoon of Friday, April 3, 2004. There were many dancers doing a variety of tap, hip hop, jazz and Irish, and even a STOMP act that used push brooms, cans, sticks and bottles to create noise. The show also featured piano, bass clarinet and clarinet playing along with the fabulous Huth Road Jazz Band. A karate demonstration, an acrobatic performance and many singing acts filled out the program. The student audience was very enthusiastic while watching their peers perform.


---



Fifth Grade Students Display State Projects - 2004








Jodi Hayes Robinson Photos - Click photos larger view
The Huth Road fifth grade students of Ms. Tanya Gallagher and Miss Julie Roth were given a big project last fall. Students were assigned a state which they had to write a report about, read a book about or written by someone from the state and then do a book report, make a map of the state, and do a report on an individual who lived in the state. The students also created a travel brochure and researched food native to the area. On Thursday, April 1, 2004, the students displayed their projects in the small cafeteria and brought in food items from their state. Fifty states worth of food was a lot! There was grits, chicken wings, blueberry pie, cereal bars, popcorn, French fries, seafood salad, ice cream, corn muffins, rice pudding, sweet rolls and pecan pie, just to name a few. There was so much food that many other classes were invited in to view the projects and to enjoy the buffet. The projects were well thought out and beautifully presented. Nice job!


---



A Great Day At Huth Road School Bazaar - 2004






Jodi Hayes Robinson Photos - Click above for larger view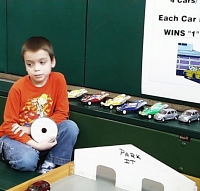 The Huth Road School PTA and volunteer parents put on another year of fun for students and their families. The Huth Road School proved to be a warm and happy place inside despite the rainy weather on Saturday, March 20th. Children played all sorts of games to win tickets to be redeemed for prizes. Favorites included a football toss, a putting green, a sombrero toss, fishing for prizes, and a ring toss. Face painting and tattoos were being offered in the auditorium and delicious baked goods along with hot dogs, popcorn and nachos were served in the cafeteria. A basket raffle with many wonderful prizes was also available.


---



Mikallie Banker Ties For 2nd in Regional Free Throw Championship - 2004
Huth Road School 4th grader Mikallie Banker entered the fourth round of the Knights of Columbus Regional free throw basketball competition championship on March 20 at Sacred Heart School in Syracuse. Makallie wound up tied for second place in her Girls Age 10 group. The first place winner had four more successful free throws than Makallie.
The first place winners in all ten groups were excellent free throw shooters with scores ranging from 20 to 24 out of 25 attempts. Each received a large trophy and qualified for the State finals at West Point on Saturday, April 3.


---



PTA Presents Huth Road School Bazaar 2004
The Huth Road Elementary School PTA will present its annual Huth Road School Bazaar from 11 a.m. to 4 p.m. Saturday, March 20, 2004 at the School. Food, games, prizes, baked goods and basket raffles will be featured and there will be family fun for everyone.


---



Makallie Banker Headed To Knights Of Columbus Western Chapter Competition - 2004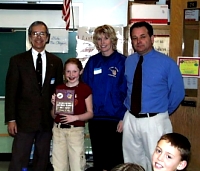 Knights member Peter Kuszczak, Mikallie Banker, mom Jenepher Banker and dad Brett Banker
Jodi Hayes Robinson Photo
Huth Road School 4th grader Mikallie Banker is headed for the fourth round of the Knights of Columbus Basketball Competition in Syracuse this weekend (March 20-21, 2004). The Western Chapter competition follows winning the local and district competitions that started January 17 at St. Stephen School.


---



The Magic Of Gertrude and Christian Seen At Huth Road School - 2004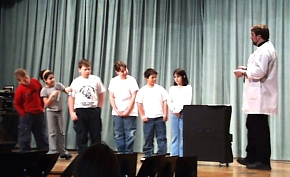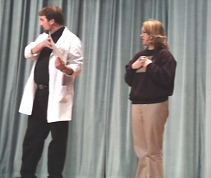 (left) Students participate in magic. Teacher Mrs. Koelemeyer with magician.
Jodi Hayes Robinson Photo
The students at Huth Road School experienced the magic of science and math on Friday, March 12, 2004. Christian and Gertrude are from Las Vegas and travel the country doing hundreds of shows each year, many for students. Gertrude called up a student assistant and taught him to juggle with scarves. Christian levitated a desk, became a human calculator with help from second grade teacher Jill Koelemeyer and had the assistance of students in the matching of magic cards. The students were thrilled with the show which was sponsored by the Huth Road PTA.


---



Isle Music Teacher Allan Ripley Is President of Music Educators Assoc. - 2004



Allan Ripley
Grand Island's own Allan Ripley is serving as president of the Erie County Music Educators Association. The Association held its 55th Annual All-County Music Festival in Kleinhan's Music Hall on Sunday, March 7, 2004 when many Island music students performed in various chorus, orchestra, band and wind ensemble groups. Allan, currently teaching in the Huth Road School, joined the Grand Island School District teaching staff in 1973.


---



Huth Road Students Take Part In All-County Band, Choral Groups - 2004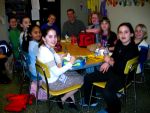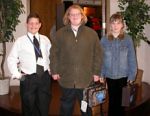 Click photos for larger view.
Shown from left are Rachel Wardour, Justine Call, Alexandra DeMita, Chris Ernst, Jessica Yarnes, Danielle Wegrzyn, Sena Tamaklo, Aliena Cook and Chris Rose. Photo (right) is of students eating lunch with Mr. Allan Ripley before practice. (Bottom): Chris Rose, Aliena Cook and Justine Call on the steps of Kleinhan's Livingston Hall after concert.
Ginger DeMita Photos - Nathan Cook photo (bottom)
Several Huth Road students had the honor of participating in the All-County band and choral groups that presented a program at Kleinhan's Music Hall on Sunday, March 7, 2004. Under the direction of Allan Ripley (instrumental music teacher) and Carol Horrigan (vocal music teacher), students have been rehearsing for several weeks for this outstanding musical experience. Participating in All-County Band were: Aliena Cook, Justine Call, Chris Rose, Jessica Yarnes and Chris Ernst. Participating in All-County Chorus were: Danielle Wegrzyn, Alexandra DeMita, Rachel Wardour and Sena Tamaklo. "Congratulations for making us proud!" a Huth Road School music instructor said this week.


---



Huth Road's Book Fair Treasure Hunt - 2004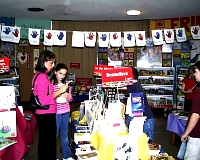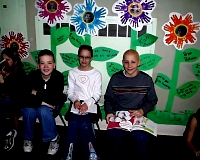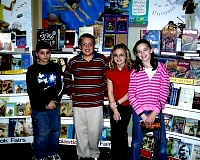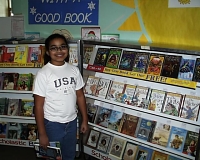 Shown above is Miss Julie Roth and her fifth grade class.
Jodi Hayes Robinson Photos
It's time for the Huth Road Book Fair. This year's theme is Scholastic Book Fair Treasure Hunt - Digging Up Great Books. All books are "buy one, get one free." The students will be viewing and buying books on Tuesday and Wednesday, February 24-25th. The Huth Road School Family Night, Basket Raffle and Bake Sale is scheduled for tonight (Thursday, February 26) from 6:30-8:30 p.m. in the gym.


---



History Of Guitar At Huth Road - 2004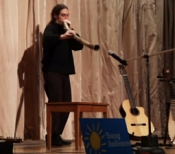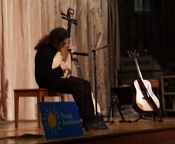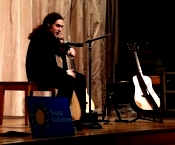 Jodi Hayes Robinson Photos
The students at Huth Road Elementary School were entertained by the nimble fingers of Stuart Fuchs on Wednesday, February 18, 2004. The Huth Road PTA and Young Audiences of Western New York, Inc. brought this guitar (and other strange instruments) virtuoso for two performances. Stuart has been playing the guitar from the age of five and has spent the last five years with Young Audiences of WNY. A graduate of the University of Buffalo, Stuart is a music teacher with the Tapestry Charter School of Buffalo.
The adventure started with Stuart playing the classical or Spanish guitar and describing the history and differences with the flat top guitar. He next played a pipa which is from ancient China circa 250 B.C. This is a four stringed lute type instrument. The flat top guitar was next and the students joined in to sing "I've Been Working On The Railroad" (one of the oldest American folk songs) and a song called "I Am A Pizza."
Next came the exotic instruments,of which the jaw harp was the favorite. This instrument is put into your mouth and through blowing and plucking at an outside part, it makes a strange, twanging sound. The didgeridoo was also well received. Stuart stated that it is "the oldest instrument (over 30,000 years old) in the world next to the voice and hearts that are drums." The didgeridoo is made of limbs and tree trunks hollowed out by termites and is an average of three feet in length. This instrument is native to the Aborigines of Australia and is played by blowing air through your mouth and lips.


---



Huth Road Students Enjoy Book Swap - 2004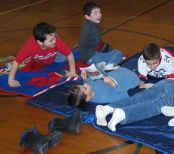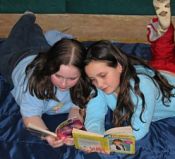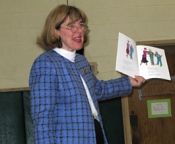 Ginger DeMita Photos - Click above photos for a larger view.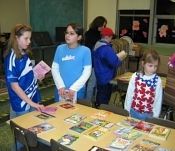 Huth Road Elementary School students have been bringing in their slightly used books to donate to the school's 2nd annual book swap. In return for their donation, they were given a Book Buck to be spent at the event held Thursday evening, February 12, 2004. The students brought their sleeping bags and pillows into the gym, purchased books of their choice and then snuggled down to read their new books. Popcorn and drinks were provided and Principal Mrs. Mary Haggerty ended the night by reading "The Principal's New Clothes" to everyone. The event, sponsored by the Huth Road PTA, is supported by the PARP (Parents As Reading Partners) reading program taking place at the school from February 9 through February 20, 2004.


---



Peg Tyran Retires After 35+ Years Of Service - 2004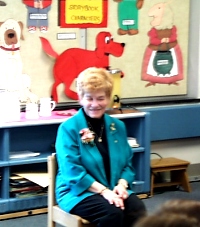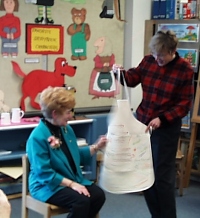 Jodi Robinson Photos
Huth Road School has had the pleasure of Peg Tyran's company for over 35 years. Peg spent two years subbing in the custodial department and the past 35 years full time. She has decided to retire and on Wednesday, January 28, 2004 the teachers and fellow staff members honored her for a job well done. Peg was not only first rate at her job but was known to bring in tasty baked treats over the years to her co-workers. At her retirement party she received the coveted "H" Pin, a recipe box filled with the teachers' favorite recipes, a signed apron and a gift basket full of shopping, dining and movie gift certificates. Peg will be sorely missed for all of her fine attributes but is going to be volunteering in the library where she will be helping the students during the school year.


---



Fourth Grade "Animals In Art" Project At Huth - 2004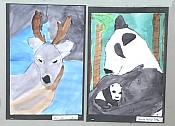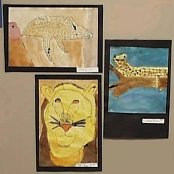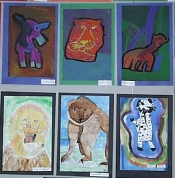 Jodi Robinson Photos - Click photos for a larger view.
The fourth graders at Huth Road Elementary used pastel chalk and paint for their recent "Animals In Art" project with Art Teacher Mr. Peter Sloan. The students began by looking at the artwork of the German Expressionist Franz Marc. The artist used color to show feeling in his work. The students chose warm or cool colors of chalk to show the feeling of their animal. A warm color may show anger or fierceness, while a cool color may mean calm or friendly. Contrast is created by the background being done in the opposite color group.


---



Huth Road 2nd Graders Visit Eco Island - 2004





Click photos for a larger view.
Mrs. Anna Agnello and Mrs. Jill Koelemeyer's second grade classes from Huth Road Elementary School spent the afternoon of Friday, January 23, 2004 at Eco Island, Grand Island's nature study headquarters. The students, who are currently learning about weather, visited three centers where they viewed and participated in a different story and an activity.


---



Huth Road Third Grade Artwork - 2004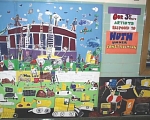 Click photos for a larger view.
Jodi Robinson Photos
The artwork of the third grade classes of Mrs. Celeste Angelo, Mrs. Diane Lipp, Mrs. Barbara Fontana, Mr. Robert Banks, Mrs. Frances Burczynski and Mrs. Candise Mye are featured in a huge mural in the fifth grade hallway. The students made the drawings during art class with Mr. Peter Sloan. The school is the background of the mural and the students made drawings of construction machinery, construction workers and tools to give their impressions of the project.


---



Chad Kelly Wins 2003-2004 National Punt, Pass and Kick Competition - 2004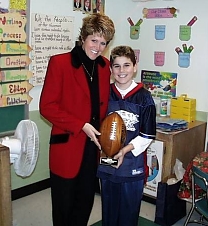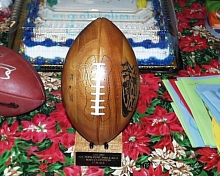 Chad and his mom, Charlene Kelly with championship trophy
Jodi Robinson Photo
Chad Kelly, a Huth Road Elementary fourth grade student, came out on top Sunday, January 11, 2004. Chad competed against the creme of the crop in the NFL Pepsi Punt, Pass & Kick Competion in Kansas City, Missouri and won the boys title in the eight & nine-year-old division. The winners competed in the morning before the Indianapolis Colts/Kansas City Chiefs game and were then introduced on national television at the end of the third quarter. Chad earned the trip out to K.C. for himself and his parents after winning the Buffalo Bills competition. Gifts received include an NFL football autographed by Donovan McNabb and the trophy pictured above.




Huth Road Student Service Club Launches New Project - 2004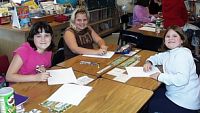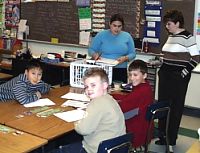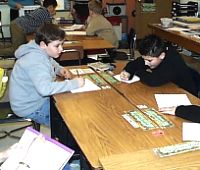 Jodi Robinson Photos
Huth Road Elementary School's Student Service Club is back in action after the holiday break. The Club, made up of approximately 50 fourth and fifth graders and is split up into two groups, meets two consecutive Tuesdays in each month. This year the Club adopted the Bilingual Early Childhood Center in Buffalo and collected 315 books and made bookmarks as holiday presents for the children at the school. Coordinators Miss Roseanne Russo and Mrs. Jennifer Kropidlowski had their first meeting with "A" group to discuss making bilingual educational games for the kindergarten, first and second grade classes. This brainstorming session focused on listing the skills of the target age groups and then breaking up into discussion groups on different types of games that could apply. The games are to be delivered after spring break. Watch for updates on the progress of these civic minded students.


---
If you are a member of this organization, we need your help. GIECOM.Net has partnered with the Connections program to help Grand Island as a community "Get it Together." Please visit our website G-I-Together.ORG and fill out our SURVEY. Every group on Grand Island will have its own FREE web page showing: meeting times and location, contact persons, your Mission Statement and a listing of events. We will also be linking your news events that appear in the local media and on IsledeGrande.Com, Grand Island's E-News Source, to your page, maintaining an archived journal of pictures and news. This is the perfect opportunity for your group to connect with potential new members and the community.
---
---
Other Grand Island Pages to Visit:
Churches | Email Directory | Government | Groups
GIHS Grad List | Guestbook | Please sign in! | Local Artists | Photo Album | Town History | Useful Links
| Website Design | Wildlife | Isledegrande's Home Page | GIECOM.NET'S Home Page
Please Email News Releases to Teddy Linenfelser, Thank You.
This website is sponsored by
GIECOM.NET
1869 Whitehaven Road, Grand Island, New York, 14072-1803 USA


Copyright © 1995-2004 All rights reserved.