Huth Road Elementary School News Web Page - 2006

1773 Huth Road - 773-8850

Huth Road Elementary School District's Website.

Principal - Mary E. Haggerty

Click for 2007 Huth Elementary News
Click for 2005 Huth Elementary News
Click for 2004 Huth Elementary News
Click for 2000-2003 Huth Elementary News
---



Christmas Cookie Sale At Huth Road Elementary - 2006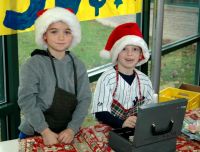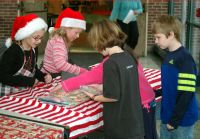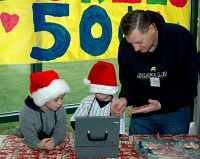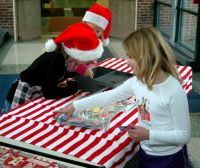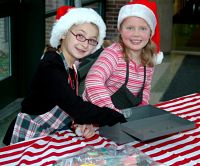 Bob Kopf Photos - Click for larger view
Students in Mrs. Diane Lipp's third grade class took part in the second annual cookie sale at the school to raise money for Team Huth Relay For Life.




Old Huth Road Playground Taken Down - November 2006


Jodi Robinson Photo - Click for larger view
The weather cooperated the week of November 27th to allow the Grand Island School District maintenance department to remove the old playground at Huth Road Elementary. The dismantling needed to be done before the spring clean-up in order to give the new playground project an early start next year. Formal bids will go out in January 2007 after the grant from the state arrives, projected to be at the end of December.


---



3rd Graders Learn Importance Of Fitness - November 2006
Third graders learn importance of increased physical
activity, healthy food choices with Univera Healthcare's childhood obesity initiative
- November 2006
Huth Road Elementary School students participated in Univera Healthcare's Fun 2B Fit program last week, which is a school-based initiative encouraging children and their families to make healthier food choices by trying new foods, increasing their level of physical activity, shopping for healthy foods and preparing meals together. This is the second year Huth Road has invited the Fun 2B Fit program to their school.
The Fun 2B Fit program was created by Univera Healthcare to combat childhood obesity and is based on recommendations from the Centers for Disease Control, the American Academy of Pediatrics, and the New York State Learning Standards. According to the American Obesity Association, of six- to 11-year-olds, 30% are classified as overweight and 15% are considered obese.
The 120 third graders of Huth Road participated in a physical activity lesson entitled Why it's Fun 2B Fit. The third grade students, along with a Fun 2B Fit fitness instructor and Univera Healthcare staff, took part in a 20-minute workout developed especially for kids that incorporates easy, fun dance moves and stretches. During the workout, students were taught the various muscles of the body and their function, and discussed the importance of physical activity and how it can be fun and easy to do at home with family members.
Before the workout, the kids discussed what it means to be fit, and that it includes healthy eating and being active. Students gave examples of healthy foods, such as apples and tomatoes, and also gave examples of activities they can do to be active, like playing with their pets at home and roller skating.
Parents of all students participating in Fun 2B Fit receive a backpack full of tools to help them make healthy choices for their families. Each tool kit contains a magnetic grocery pad for the refrigerator with pre-printed healthy items on each tear-off page, a magnet with everyday tips on how parents can keep their kids healthy, a Healthy Family Pledge to be signed and displayed in the home, and the tool kit itself is a sling-style backpack that can be reused as a gym bag, or to take on family outings.




Huth Road Playground Committee Reaches Goal - 2006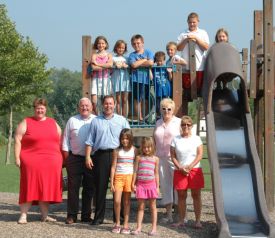 Jodi Robinson Photo - Click for larger view
Adults shown from left are Barb Swagler, Supervisor Peter McMahon, Assemblyman Sam Hoyt, Kathy Brown and Diane Lipp
Members of the Huth Road Elementary Playground Committee joined Assemblyman Sam Hoyt and Supervisor Peter McMahon on Monday, July 31, 2006 to announce the completion of the Huth Road School playground fundraising project. Thanks to a grant offered through Assemblyman Hoyt's office, $25,000 was added to the $17,000 already raised by the committee. The project will involve the removal of the old playground that was built in the 1970's, and the addition of equipment to the "newer" playground built in 1995. Through the efforts of Huth Road School parent and Co-Chair Barbara Swagler, Huth Road teacher and Co-Chair Diane Lipp and Special Ed teacher and grant writer Kathy Brown, and many parent volunteers, the Huth Road School playground should be completed within the next school year.


---



5th Grade Field Day At Huth Road Elementary - 2006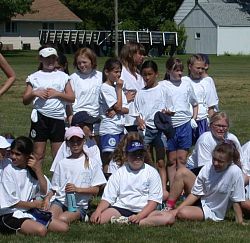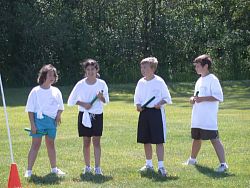 (left) Listening to game instructions; (right) Relay runners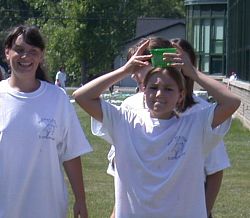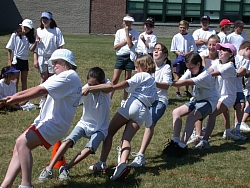 (left) Water race; (right) Tug-a-war.
Jodi Robinson Photos - Click for larger view
The fifth graders at Huth Road School celebrated the end of the year with a full day of games on Friday, June 16th. The morning activities included a sack race, tug a war, relay race, and water race. A catered lunch was enjoyed at noon, followed by a kickball tournament in the afternoon.


---



Huth Road Moving Up Day - 2006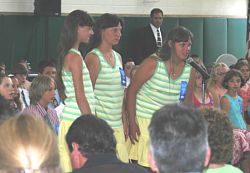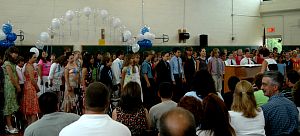 (Left) Opening Speakers, The Ruscowski triplets; (right) 5th Grade Class.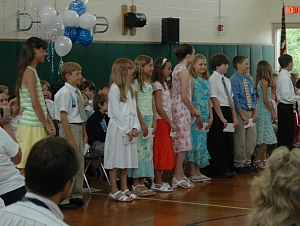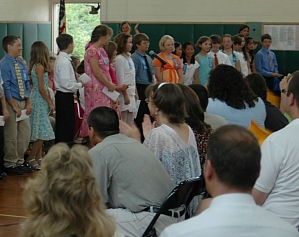 H Pin Awardees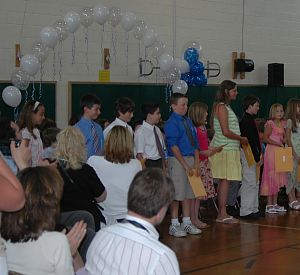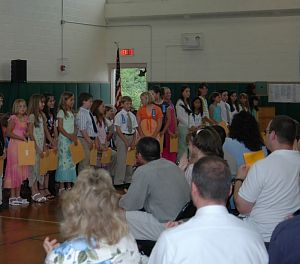 Presidential Scholars.
Jodi Robinson Photos - Click for larger view
The Huth Road Fifth Grade Moving Up Day was held in the gymnasium on the morning of Monday, June 19, 2006. The 4th grade band directed by retiring band director, Mr. Alan Ripley, played "Pomp And Circumstance," and "America" to start off the program. The Ruscowski triplets welcomed all the students and guests, while five sets of twins enrolled in the class presented the class gift and closing remarks. Over 130 students are headed to Veronica Conor Middle or private school next fall. The H-Pin and Presidential Award winners are as follows:

Presidential Award                      H-Pin

Mary Kneer				Benjamin Purrington
Alyssa Cino				Jennifer Amato
Maggie Nobumoto				Maggie Nobumoto
Joshua Tixier				Joshua Ungaro
Alexandra Bahgat			Kourtney Hoppel
Rachael Ruszkowski			Adam Wilk
Brianna Gibney				Alexandra Bahgat
Alexandra Griffin			Annaliese Corrao
Courtney Collignon			Brianna Gibney
Lydia Bernatovicz			Sarah Chamberlain
Sarah Chamberlain			Samuel Colao
Adam Stanczyk				Melissa Gibson
Ashley Serianni				Bridget Kennedy
Casey Bolles				Courtney Mergel
Megan Carroll				Aaron Schauger
Jennifer Amato				Marina Scerra
Alexis Cino				Nicholas Soos
Lauren Shepard				Andrew Yarns
James Rustowicz				Sarah Ernst
Kelsey Ruszkowski			Alexandra Brown
Bridget Kennedy				Sara Carlson
Tyler Yockey				Megan Carroll
Christopher Serra			Alyssa Cino
Joshua Ungaro				Adam Stanczyk
Benjamin Purrington			Rachael Ruszkowski
Sara Carlson




Huth Road School Read-A-Thon - 2006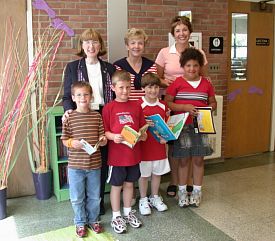 Jodi Robinson Photos - Click photos for larger view
Shown front left are Jason Kopenski, Adam Bevilacqua, Ethan Foret and Aja Price; (back) Principal Mrs. Mary Haggarty, teacher Mrs. Deborah Beis and Reading Assistant Mrs. Francine Young.
In the spring of 2006, Huth Road Elementary held a Read-A-Thon and book collection to help the victims of Hurricane Katrina. The joint effort with the Grand Island Rotary Club is called Project Dictionary and raises funds to purchase reference books for schools in need. During the Read-A-Thon, members of the Grand Island Rotary come to the school to read to the students and share the importance of volunteer activities and also their favorite book. The students read for twenty minutes and raised money from pledges for every page read. This year Huth Road Elementary School raised $2,367.81 and collected 2,653 books for the program.




Huth Road Spelling Bee - 2006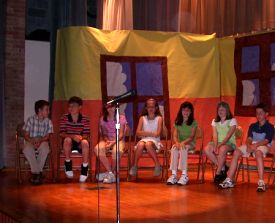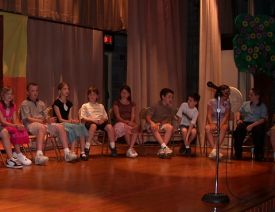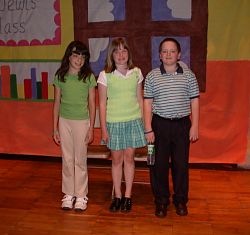 Jodi Robinson Photos - Click for larger view
All Spelling Bee contestants are shown in the group pictures (see larger view) - Winners from left are 3rd place, Mary Kneer; 2nd place, Bridget Kennedy; 1st place, Conor Atkins.
The 48th Annual Huth Road Spelling Bee was held on Thursday June 8, 2006. Twenty fourth and fifth grade students, two from each classroom, participated in the school auditorium before an audience of their fellow classmates. It took ten rounds of excellent spelling to get to the final two, with fifth grade student Conor Atkins of Mrs. Elizabeth Diliberto's class coming out on top.




Huth Road Fifth Graders Display State Projects - 2006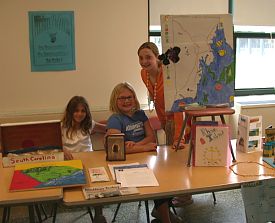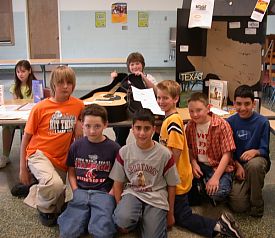 Click photos for larger view
Jodi Robinson Photos
Members of the fifth grade class of Mrs. Tanya Gallagher at Huth Road School displayed their state projects on Monday, May 15, 2006. Along with the opportunity to view each other's projects, part of the grade was to bring in a food item from the state they chose. A luncheon was held with all the delicacies brought in by the class. There were macadamia nuts from Hawaii, cranberry cookies from Massachusetts, New England clam Chowder from Rhode Island, King Cake from Louisiana, Dr. Pepper from Texas, ham from Virginia, Johnny Cakes from Ohio, and the list goes on as there are 27 students in the class. Everyone enjoyed the chance to see the other projects and to taste new food items.


---



Breakfast With Huth Road Select Choir - May 2006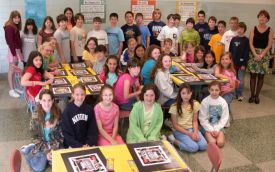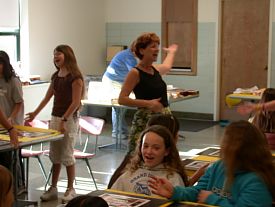 (left) Mrs. Carol Horrigan and Select Choir 2005-06
(right) Mrs. Horrigan leads the choir in song before breakfast.
Jodi Robinson Photos
Huth Road Elementary School's 42-member fifth grade Select Chorus ended their year with an early morning breakfast on Tuesday, May 9, 2006. Choir Director Mrs. Carol Horrigan made placemats for all the students with the choir picture that will be in the yearbook, and a bookmark to remember this past year's efforts. Parents sent in all sorts of wonderful breakfast items, but before anyone could eat, Mrs. Horrigan led the choir in "Let it Shine" to see which table would be selected first. A rousing rendition at 7:30 in the morning woke everyone up quickly.




Allan Ripley To Retire, Conducts Last Concert - 2006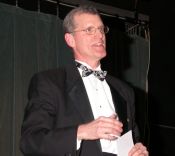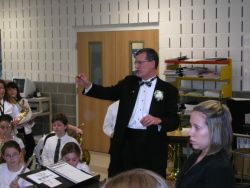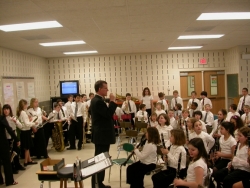 2004 photo Mr. Ripley and students in the Huth Road Elementary music room before the concert.
Nathan Cook Photos - Click photos for larger view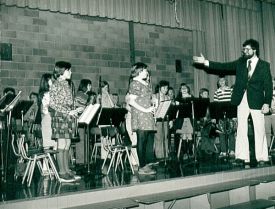 Allan Ripley with his Huth Road School Band in 1977.
Click photo for larger view
Allan Ripley, who is retiring this year after having served the Grand Island school district teaching staff since 1973, has ended his career at the Huth Road Elementary where he has been instructing 4th and 5th instrumental students and directing the Huth Road School Band. His farewell concert was performed Tuesday evening, April 11, 2006 in the Huth Road auditorium.
Al has taught elementary instrumental music in the Grand Island Schools for 33 years. A graduate of the Crane School of Music, SUNY College at Potsdam, he earned his M.S. in Ed. from Buffalo State College and additional graduate work at the University at Buffalo, Eastman and Fredonia. His bands have received the highest ratings at many state festivals and in 1985 he took the Elementary Summer Band to the Eastern States Summer Music Conference in Rochester as the featured elementary instrumental ensemble. In March of 2002, his band was the featured elementary band at the NYS Band Directors Annual Symposium in Syracuse. He has also been a presenter at county, state, and national conferences and guest conducted festival bands in Erie and nearby counties. He has played clarinet in the Erie County Wind Ensemble, and cornet with the Buffalo Silver Band. As a singer, Al spent many years writing, arranging and recording radio jingles in Buffalo, and has performed with various church choirs.
Active in the Erie County Music Educators Association, he was president (1985-87), executive director (1990-95) and is finishing a second term as president this spring. He was the recipient of the 1997 Outstanding Instrumental Music Teacher "Award for Excellence in Music Education," sponsored jointly by the Buffalo Philharmonic Orchestra and the Erie County Council Of Music Coordinators. Allan received the Grand Island Chamber of Commerce "Citizen of the Year in Education Award" in 1999 and is listed in "Who's Who Among America's Teachers." A "charter" member of the Huth Rd. School Shared Decision-Making Team and an Honorary Life Member of the P.T.A., he has taught at Sidway, Kaegebein, and the Middle School as well as Huth Road Elementary. Allan Ripley resides in the Village of Hamburg with his wife, Cindy, a music teacher also, and 20-year old daughter Sarabeth.




Huth Road PTA Bazaar Is Saturday - 2006
The Huth Road Elementary School PTA's annual bazaar will take place from 11 a.m. to 4 p.m. Saturday, April 1, 2006 at the school. The day will feature games, food, drinks, prizes, baked goods and a basket raffle. A new addition to the fun will be a "Cake Walk Game."




Local Students Recognized At Niagara Frontier PTA Reflections Program - 2006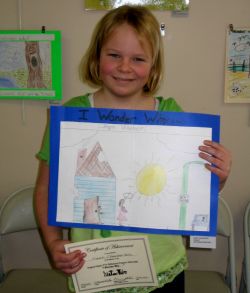 Click photo for larger view
March 2006 . . .Students from Huth, Sidway, Kaegebein and Connor Middle schools were recognized in March 2006 for their participation in this year's Niagara Frontier PTA Reflections program. Students submit artwork, photography, literature, and music based on this year's theme, "I wonder why…" Grades k-12 from all over the Niagara Frontier were involved. Huth Road student Sarah Chamberlain, shown above, was among those receiving recognition and a certificate.




13th Annual All Island 5th Grade Roller Skating Party- 2005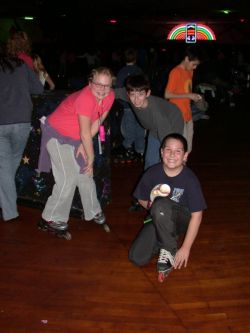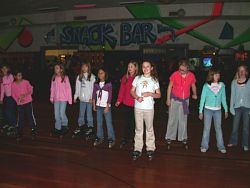 Jodi Robinson Photos - Click photos for larger view
Everyone remembers skating at the Rainbow Roller Rink in North Tonawanda sometime in their lives. Whether you were a Girl Scout, Boy Scout or Campfire girl, at a birthday party for a friend or on a date, if you grew up on Grand Island or the surrounding area, you have been there. The fifth grade classes from Huth Elementary and Kaegebein Elementary had the rink to themselves on Saturday, February 11, 2006 and they had a ball. Of course the boys were skating around like demons, while the girls giggled and watched the boys. Just like the good old days! This was the 13th annual All Island 5th Grade Roller Skating Party.




Olympic Torch Carried Through Huth Road School - 2006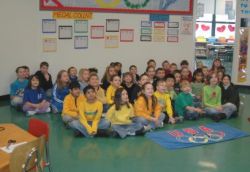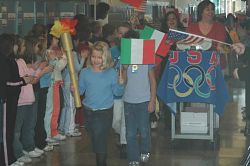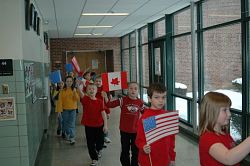 Jodi Robinson Photos - Click photos for larger view
The students in the classes of Mrs. Jeanne Percival, Mrs. Diane Lipp, Mrs. Mary Kopf and Ms. DeBacco have been learning about the Olympic Games and Thursday, February 9, 2006 they held their own opening ceremony. The students gathered in the round wing and then paraded through all the hallways, led by Mrs. Percival who was wheeling a cart with the Olympic theme blaring. The halls were lined with enthusiastic fellow students as the parading group waved flags of different countries and took turns carrying the "torch." The students will be keeping track of the medals being awarded in the next two weeks and will post the results on a large poster in the entrance hallway for all to see.




Huth Road Fifth Graders Graduate From P.I.P. - 2006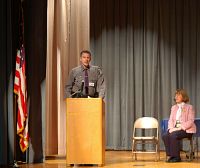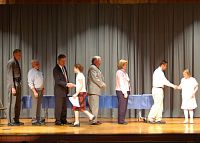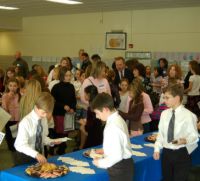 (Left) Officer Christopher Pyc and Mrs. Haggarty
(center: from left) Officer Christopher Pyc; Assistant to Legislator Ianello, Sam Scinta; Superintendent Dr. Thomas Ramming; Supervisor Peter McMahon; Principal Mary Haggarty; and PIP instructor Mark Kessler
Jodi Robinson Photos
The students in the Huth Road fifth grade celebrated the end of their "Prevention Is Primary" program on Thursday, February 2, 2006. Mr. Mark Kessler of Prevention Focus was the instructor of the nine-session program that took the place of the D.A.R.E. program previously sponsored by the Erie County Sheriff's Department. The class learned about life situations, problem solving, communication, making good choices and information about drugs and alcohol. Special guests at the celebration included Officer Christopher Pyc, Assistant to Legislator Ianello Sam Scinta, Schools Superintendent Dr. Thomas Ramming and Town Supervisor Peter McMahon.
The first place winners in the essay contest about what was learned in the class were Rachael Bailey, Nicholas Egloff, Christopher Serra, Mary Kneer and Kelsey Ruszkowski. After the assembly, students, parents, teachers and other guests enjoyed a reception in the cafeteria.


---
If you are a member of this organization, we need your help. GIECOM.Net has partnered with the Connections program to help Grand Island as a community "Get it Together." Please visit our website G-I-Together.ORG and fill out our SURVEY. Every group on Grand Island will have its own FREE web page showing: meeting times and location, contact persons, your Mission Statement and a listing of events. We will also be linking your news events that appear in the local media and on IsledeGrande.Com, Grand Island's E-News Source, to your page, maintaining an archived journal of pictures and news. This is the perfect opportunity for your group to connect with potential new members and the community.
---
---
Other Grand Island Pages to Visit:
Churches | Email Directory | Government | Groups
GIHS Grad List | Guestbook | Please sign in! | Local Artists | Photo Album | Town History | Useful Links
| Website Design | Wildlife | Isledegrande's Home Page | GIECOM.NET'S Home Page
Please Email News Releases to Teddy Linenfelser, Thank You.
This website is sponsored by
GIECOM.NET
1869 Whitehaven Road, Grand Island, New York, 14072-1803 USA


Copyright © 1995-2006 All rights reserved.