Grand Islanders
In The Service - 2007


Previous In The Service Pages


---
This page is for the purpose of posting news and addresses of Island
residents who are serving our country in the military.
See previous "In The Service" pages above
To add news and photos to this new page, email to teddy@giecom.net
or drop off at the Isledegrande.com office, 1871 Whitehaven Road (between Hairitage Hair Salon and DeSignet Jewelry)




Service Persons from Grand Island, New York
Click "Service Person From Grand Island"
---



Sgt. David S. Caputi, Purple Heart Recipient - 2007
Mar. 2007 . . .Island resident Sgt. David S. Caputi received a Purple Heart Award Sunday, March 25, 2007. Click Sgt. David S. Caputi for March 25, 2007 story by wgrz.com Channel 2 reporter Aga Dembinska.


---



SSgt Brent Helman - March 2007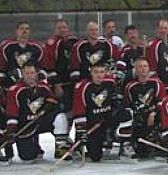 Brent is shown center front of smaller photo and is the 3rd from the left in the front row in the larger "click-to" photo taken during the Eagles All Star Game - Click photo for larger view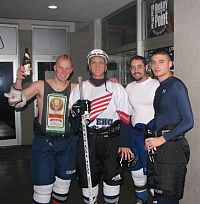 Brent is shown far right enjoying a break in between periods.
The Kaiserslautern Military Community's Eagles Ice Hockey Team's season is almost over. SSgt Brent Helman, a Grand Island, NY native, is one of the team's starting Wingers, and racked up a short-handed goal and two assists this season. Brent was out for two month recovering from a series of operations, but now is back in full form and was ready to take on the Luxembourg Puckers in an exhibition game on March 24, 2007. The Luxembourg Puckers are a national B-team for that country. The KMC Eagles compete in the German Die Playas Liga - the American NCAA equivilant. They were knocked out of the playoffs in a heartbreaking 7-6 loss to the Eppelheim KR Kristal. "The game was filled with passion and emotion, but the Eagles came up just short."
SSgt Helman is stationed at Ramstein AB, Germany and has been here for a year. His current duty postion is in the career field of Security Forces (MP) (Desk Sergeant). According to Brent, "A Desk Sergeant is kind of like a 911 dispatcher. We take emergency phone calls, type up a daily blotter, make notifications, but on top of that we are in charge of all Law Enforcement and Security operations on the installation." "Also with our game on the 24th, I received another goal, but not after I was laid out at center ice and suffered a possible minor concussion! What an end to our season!"
Posted March 27, 2007




SSGT Mike Beagle - March 2007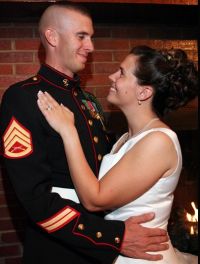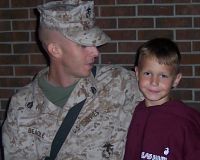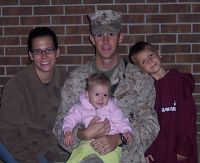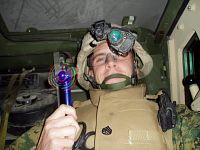 Photos show (left) Mike and Julie renewing wedding vows 2005; SSGT Mike Beagle and son Matthew on the morning of "going away," September 8, 2006; Mike with wife, Julie and children, Matthew and Bridgette, on September 8, 2006; Mike ringing in the New Year 2007
Click photo for larger view
SSGT Michael A. Beagle, 29, a graduate of Grand Island High School, Class of 1995, was featured on the FOXNEWS "War Stories" that aired on Sunday, February 11, 2007. He is now serving his country in Ramadi, Iraq at Hurricane Point.
SSGT Beagle's parents, Ken and Karen Beagle and sister, Kelly Beagle, and nieces Alex and Kaylee are Island residents. His wife Julie C. Beagle, and son and daughter, Matthew A. Beagle, 6, and Bridgette G. Beagle, 1 1/2, are not Island residents at this time.
Click for FOXNEWS "War Stories"
Click http://uscavonpoint.com/blogs/onpoint_articles/archive/2007/01/08/1062.aspx for an article on the area where SSGT Beagle, the Platoon sergeant, is stationed. (see later part of article, MAP 2)
Posted March 1, 2007


---



SPC Corey Burke Returns To Iraq - February 2007


Click photo for larger view
SPC Corey Burke, United States Army
SPC Corey Burke, son of Mr. and Mrs. Dave Burke of Panama City, Florida, returned to Iraq February 1, 2007 for his second year-long tour. SPC Burke, 598th Maint Company, Ft. Benning, Georgia, ended his first tour in November 2005. He is the nephew of Dan and Laura Dinsmore of East River Road and grandson of the late Roy and Marge Dinsmore.
Posted February 1, 2007


---



EM1 Kristopher Bennett - January 2007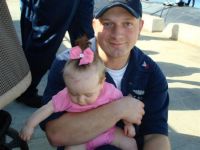 December 2006 photo - Click for larger view
The parents of EM1 Kristopher Bennett have received email from their son who is underway aboard the USS Greeneville. EM1 Bennett has been awarded the Navy Achievement Medal for repairing a piece of machinery that was vital to the Navy mission. He was also Cap'd by the Commanding Officer on January 1st, receiving a promotion. Kristopher wrote that the Captain is authorized one advancement placement to a person he feels has upheld the duties and responsibilities of a first class and shows maturity and the ability to handle the responsibilities associated with that of a first class. "We are very proud of our son and look forward to his safe return," his mother said. Kristopher is the son of Scott and Dorothy Bennett and a member of the Grand Island High School class of 2000.
For December 2006 story, click EM2 Kristopher Bennett - Dec. 2006


---



SSG. James Folger - January 2007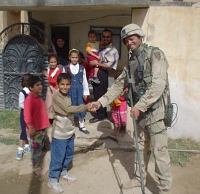 Click photo for larger view
SSG. James Folger, United States Army
Submitted by SSG Folger's mother, Susan Sorci, Grand Island, NY
My beloved son, SSG. James Folger, is currently serving his second tour in Iraq with the United States Army. He was deployed this past September (2006) and expects to be there for at least a year. I do not have to tell other parents, spouses or loved ones, how proud I am of him and all our soldiers, or how hard it is to live day to day praying that they are safe. James has a profound sense of duty stemming from his loyalty to our great Country. He also takes the time while he is there to be kind to the Iraqi civilians, especially the innocent children. The picture shown is of him shaking hands with a family that he and his men had to search their house, which naturally the family was scared when they first arrived. If you care to write to him,or his men, his address is:
SSG James Folger
C Co 1-16th Infantry
APO AE 09333
God Bless America and our Wonderful Brave Soldiers!!!!
Proud Mother of a United States Soldier
Posted January 11, 2007

In The Service - 2006
In The Service - 2005
In The Service - 2004

---
Other Grand Island Pages to Visit:
Churches | Email Directory | Government | Groups
GIHS Grad List | Guestbook | Please sign in! | Local Artists | Photo Album | Town History | Useful Links
| Website Design | Wildlife | Isledegrande's Home Page | GIECOM.NET'S Home Page
Please Email News Releases to Teddy Linenfelser, Thank You.


This website is sponsored by

GIECOM.NET

1869 Whitehaven Road, Grand Island, New York, 14072-1803 USA
Copyright © 1995-2007 All rights reserved.