Week 8 This past Sunday (Oct. 27, 2002) the 80lb Jr Vikings played their best game of the year against North Tonawanda. The Vikings started slow as they spotted North Tonawanda a 20-0 halftime lead. The second half the offense picked up scored 20 points .The comeback fell short as time ran out on a 26-20 loss.Excellent blocking lead to a 60 yard scamper by Paul Mosher for the Vikings 1st score, Thomas Bass added with the extra point run. The next touchdown came as Andrew Gugino ran around the left end from 20 yards out. Robert Vanthoff added the extra point run . The final Viking touchdown was a 2 yard sneak for Gugino's second score of the game. Please try and make the final weekend event as the Jr Vikings play the same North Tonawanda team on Saturday and take on Pendelton on Sunday . Both games are at Veterans Field with a 10:00 AM start. The 100 Lb. Team played their last regular season game on Sat 10-26-02. They had a chance to go 500 on the season with a win against NTAA..Unfortunately the defense allowed three touchdowns and the offense was unable to score.Final score NTAA 21 Jr. Vikings 0.
- For the 125 LB. Jr. Vikings it took 8 games to finally get the 1st WIN of the season a 18-6 defeat of North Tonawanda. The team finally played to its potential and was in control on both sides of the ball. The offense had a total of 315 yards rushing lead by Ed Mallwitz 145 yards a 1 TD, Matt Lewis with 65 yards and 2 TD's, Jeramy Palumbo 50 yards, Kyle Spratford with 40 yards and Dave Britten with 15 yards. The offensive line lead by blocking of Center Brandon Fetzer, Guards Anthony Gugino and Adam Masse', Tackles Rich Vanthoff and Bobby Amsdill and ends Dave Domagala and Anthony Genco, as well as Brett Dlugosz was excellent. On defense North Tonawanda only had one long run for a TD, for the rest of the game the Jr. Vikings shut them down. The defense was lead by Linebackers Dave Britten, Matt Lewis, Joey Khreis, Kyle Spratford and Chris Eley ( 1 interception), Matt Krupcyzk, the defensive line of Noseguards Andrew Ginsburg and Anthony Gugino, Tackles Eddie Mallwitz, Nathan Miles, Sam Kilb, Brandon Fetzer, Ends Anthony Genco, Dave Domagala, Joey Genco, Adam Masse' and safteys Joey Amsdill and Jeramy Palumbo ( 1 interception).
The regular seasons ends with a 1-7 record but as the year progressed we progressed as a team. The coaching staff for the 125 LB. Jr. Vikings, Ken Genova, Mark Busch, Dave Britten and Eric Ginsburg, would like to thank the parents for all the support. Also helping the team with stats was Jim Teator and last but not least the team mom Sue Fetzer.
One more group that needs to be thanked for a great season is the 125 LB. Jr. Viking Cheerleaders. Their support and spirit really helped with the long season.
Looking forward to extending the win streak in the 2 tournament games this weekend ( Nov. 2 and 3, 2002 ) at Veterans Park.
This summary is being written with two playoff games to go so there's still hope for our teams but regardless of the outcome of these games, for all of the players the season has already been a success as they have learned teamwork, discovered some talents they didn't know they had, made some new friends, and because when you're a kid "there's always next week or next year".
Little league sports, whether it's baseball, football or soccer or cheerleading are an important part of the fabric of any community. These activities improve the quality of life in your community, and make it more family oriented. These sports go well beyond a game, as they teach teamwork and sportsmanship and build character. The kids make friends that they may well have for years to come. Some of these young boys will be playing next to one another in high school football in years to come and the experience of little league football will give them an advantage when that time comes. The most important thing we are doing though, is unrelated to the scores. It's the memories we are giving these kids, memories of the laughter shared at practice three nights a week, memories of being with their father, mother and grandparents at practice and games that will stay with them for the rest of their lives, memories that are a lasting monument to our love and commitment to our children. Giving our children a happy childhood is the best thing we can do for them, making us all winners, and that then is really the final score!






100 Lb. Jr. Vikings Against the Williamsville Commandoes 10-6-02
By Pat Kelly, PR Coordinator
(100 Lb.) Last Sunday (Oct. 6, 2002) the Vikings lost to Williamsville Navy 21-6. The highlight of the day came on a 66 yard run by Andrew Gugino for the Viking touchdown. Excellent blocking was provided by Zack Smith, Thomas Bass, Tyler Yockey, Johanton Grenda, Ed Krecisz, Alex Howard, Charles Internicola and Cole Smith. This game was totally dominated by the Jr. Viking defense, which gave up only two first downs and allowed the Commandoes to cross midfield once. All the players on defense deserve a game ball, among them Tom Dzielski who had 10 tackles; Nico Kelly, 8 and a sack; Lee Schuster, 8; and Chris Avery who bothered the quarterback all day. On Offense Jordan Gibson had over 60 yards rushing on the day, most came on a 40 yard touchdown run. He also had 5 tackles and a fumble recovery. Another TD came from Christian Martinez on a 30 yard scamper.
The team is looking at a tough double header this weekend as they play a make-up game at Lakeshore on Saturday, October 12, 2002 and a home game on Sunday, October 13.
The 125 lb. Jr. Vikings took on the Williamsville Commandoes at Veterans Park Sunday, Oct. 6, 2002. The Jr. Vikings came up in the losing end 26-6. The offense was led by 54 yards rushing by Matt Lewis and 43 yards and a touchdown from Eddie Mallwitz. The defense was led by 6 tackles from both Chris Eley and Anthony Genco, 5 tackles from Joey Genco, Jeramy Palumbo and Eddie Mallwitz. This weekend the Jr. Vikings will play Saturday, October 12th at Lakeshore and then Sunday, October 13th at home against Niagara-Wheatfield for the final home game of the season. Both games start at 2:00 p.m. LET'S GO JR. VIKINGS.....




JR. VIKINGS FOOTBALL NEWS - 9-29-02
By Pat Kelly, PR Coordinator
The 80 lb Jr. Vikings lost last Sunday (Sept. 29, 2002) to the Lockport Bandits. The Jr. Viking offense moved the ball well but was unable to score against the Bandits. On defense the Jr. Vikings were led by the play of Zack Smith.
The 100 lb. team played a very good game offensively outside the red zone, but was unable to score. Among the players wo moved the ball well were Lee Schuster who broke open for a 50-yard run and had close to 100 yards rushing for the day. Christian Gibson, Ben Mikac and Kyle Leinweber helped the defense into giving up only two scores. Final score, Lockport 12 - Jr. Vikings 0. The team plays Williamsville Commandoes at home this Sunday, October 6, 2002.
The 125 lb Jr. Jr. Vikings played Sunday at home against Lockport. The Vikings came up on the losing end 19-0. The team played well on both sides of the ball. On Defense Todd Kunze blocked an extra point attempt, Matt Lewis had an interception, and Matt also gained 96 yards rushing. Jeramy Palumbo had a fumble recovery. On Offense the line, making holes for the backs, was lead by Center Kyle Spratford, Guards Richie Vanthoff and Dave Britten, Tackles Sam Kilb and Brandon Fetzer, and Ends Anthony Gugino and Anthony Genco.
The Jr. Vikings will play at home 2 p.m. Sunday Oct. 6, 2002 against Williamsville. GOOD LUCK JR. VIKINGS...




Swanick Presents $6,000 To GI Jr. Football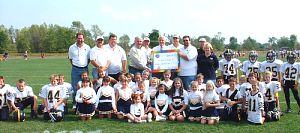 Click photo for larger view Erie County Legislator Charles M. Swanick, in attendance at the Sunday, September 29, 2002 home game of the Grand Island Junior Football League, presented Grand Island Junior Football President Mark Miles, little league football players and Town of Grand Island Supervisor Peter McMahon with a $6,000 county grant which will be used to purchase equipment for the league. The presentation took place on the football field at Veterans Park on Bedell Road (across from Grand Island Memorial Library).
"Youth involved in sports learn important lessons about teamwork, discipline and leadership that young people carry with them throughout their lives," said Legislator Swanick. "I am pleased to present this funding which will assist the league in continuing their successful program and protect the players through the purchase of new safety equipment." The county dollars are earmarked for the purchase of approximately 50 new helmets, 100 pairs of football game pants and 30 sets of protective knee and thigh pads.
"Football is a physical sport, and to ensure the kids' safety, equipment must be replaced often," said league president Miles. "The money provided by Mr. Swanick's office will go a long way toward easing these costs."
"Once again, we are happy to have Chuck's support, particularly for a cause that benefits the young people of Grand Island," said Supervisor McMahon.




JR. VIKINGS FOOTBALL NEWS - 9-22-02
By Pat Kelly, PR Coordinator
The 100 lb team played a hard fought, low scoring defensive game against TTFA Dolphins. Although they lost 13 to 0 the defense only allowed one touchdown. Jordan Gibson and Steve Santillo had an excellent game on both sides of the ball. Other players who helped the defense keep the score low were Seth Kozek and Eric Weigold. Next game is at home against the Lockport Bandits on Sunday 12:30pm
The 125 lb. Jr. Vikings traveled to Tonawanda to take on the Dolphins on Sat. Sept 21. A tough loss to the Dolphins with the final score ending up 42-6. Anthony Gugino scored the lone Viking touchdown. Defense was lead by Linebacker David Britten with 9 tackles and Safety Joey Amsdill with 7 tackles. On Offense Quarterback Matt Lewis had over 100 yards rushing. Sunday Lockport comes to Veterans Park for a 2:00 PM kickoff.
GRAND ISLAND JR. VIKINGS 155 lb. LOSE FIRST GAME
The Grand Island Jr. Vikings played the Tonawanda Warriors on Sunday and lost their first game 33-6. Outstanding performances were made by Kyle Belles as quarterback, who threw a 70 yard touchdown pass to Matt Burns. Other great plays were made by Adam Henry on defense with multiple sacks. Jarrit Dinbeste and Mike Suppa came up with some great tackles. For a new team of inexperienced players with less than a week to prepare, the Vikings did an overall GREAT job. Next game is Sunday, September 29 at Veterans Field. Go Vikings!!!!!!!!




Jr. Vikings 100 LB. Team Wins First Game
By Pat Kelly, PR Coordinator
The Jr. Viking 2002 Football season is finally here and opening day for the Jr. Vikings had both the thrill of victory and the agony of defeat. The 80 LB team kicked off the season with a hard fought game against the TFC Renegades that ended in a 19 to 0 loss with TFC scoring a last second touchdown.
The 100 LB team lived up to the expectations of all and came away with a 20 to 0 victory against the TFC Braves. Among the outstanding players were Nick Lovetro at Quarterback who scored a touchdown and made an interception. Also helping the scoring was Mike Sperazza with an interception and an extra point try. The defensive players were all outstanding and Nico Kelly lead the way with 8 tackles and a broken pass attempt. They travel to Lakeshore this Saturday (Sept. 14, 2002) on a high note.
The 125 LB Jr. Vikings started the season with a tough 12-0 loss to the Tonawanda Football Clinic Redskins. The defense, lead by Ed Mallwitz, kept the Vikings in the game with the Redskins. The offense, lead by the running of Mallwitz and Jeremy Palumbo, was able to move the ball but unable to put it in the end zone. The 125 LB team travels to Lakeshore next week to take on the Lakeshore Eagles. Good Luck, Jr. Vikings.
All of the first week games were played Sunday, September 8, 2002 at Veterans Park.



Jr. Viking Football Schedule, 2002
The Jr. Viking 2002 Football Schedule has been announced as follows: there are four home games at Veterans Park.
9/8/2 Sunday - Tonawanda Football Clinic at Jr. Vikings - Vets Park
11:00 80 lb Team
12:30 100 lb Team
2:00 125 lb Team
4:00 155 lb Team
9/14/2 Saturday - Jr. Vikings at Lakeshore
9/21/2 Saturday - Jr. Vikings at Town of Tonawanda Football
9/29/2 Sunday - Lockport at Jr. Vikings - Vets Park
11:00 80 lb Team
12:30 100 lb Team
2:00 125 lb Team
4:00 155 lb Team
10/6/2 Sunday - Williamsville at Jr. Vikings - Vets Park
11:00 80 lb Team
12:30 100 lb Team
2:00 125 lb Team
4:00 155 lb Team
10/13/2 - Niagara-Wheatfield at Jr. Vikings - Vets Park
11:00 80 lb Team
12:30 100 lb Team
2:00 125 lb Team
4:00 155 lb Team
10/20/2 - Jr Vikings at Sweet-Home
10/26/2 and 10/27/2 - Saturday and Sunday - Jr. Vikings at North Tonawanda




Jr. Viking Football News, 2002
Practice for Jr. Viking Football begins 6 p.m. Monday, August 5, 2002 at Sidway School. Registration for football players is still being accepted. Practices are Monday, Wednesday, and Friday. Registration information will be available to players at the trailer which will be set up at the school from 6-8 p.m. those days.




Jr. Viking Football Registration June 13, 2002
Representatives of Grand Island Jr. Viking Football will hold another registration from 6-8:30 p.m. Thursday, June 13, 2002 in the Grand Island Memorial Library, Veterans Park, Bedell Road. Scroll up for Registration and Medical forms.


---




Jr. Viking Football Registration 2002
Representatives of Grand Island Jr. Viking Football will hold registration from 10 a.m.-2 p.m. Saturday, May 4 and Saturday, May 11, 2002 at the Grand Island Memorial Library in Veterans Park, Bedell Road. Scroll up for Registration and Medical forms.


---
If you are a member of this organization, we need your help. GIECOM.Net has partnered with the Connections program to help Grand Island as a community "Get it Together." Please visit our website G-I-Together.ORG and fill out our SURVEY. Every group on Grand Island will have its own FREE web page showing: meeting times and location, contact persons, your Mission Statement and a listing of events. We will also be linking your news events that appear in the local media and on IsledeGrande.Com, Grand Island's E-News Source, to your page, maintaining an archived journal of pictures and news. This is the perfect opportunity for your group to connect with potential new members and the community.
---
---
Other Grand Island Pages to Visit:
Churches | Email Directory | Government | Groups
GIHS Grad List | Guestbook | Please sign in! | Local Artists | | Photo Album | Town History | Useful Links
| Website Design | Wildlife | Isledegrande's Home Page | GIECOM.NET'S Home Page
Please Email News Releases to Teddy Linenfelser, Thank You.
This website is sponsored by
GIECOM.NET
1869 Whitehaven Road, Grand Island, New York, 14072-1803 USA


Copyright © 1995-2005 All rights reserved.

<! - - - - - - - - - - New Tracker Code Below -- -- -- Old Tracker Code Above - - - - - - - - - >